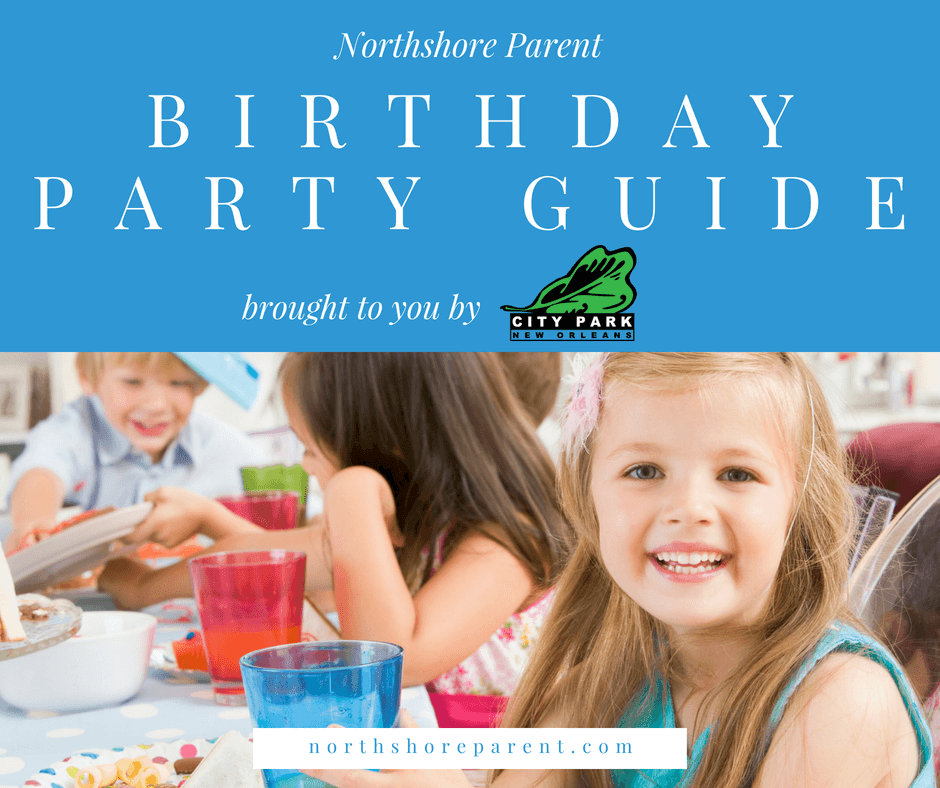 Here at Northshore Parent we love a good birthday party. Some of us like big, Pinterest-worthy celebrations and others like smaller affairs. Either way, throwing a birthday party is a big undertaking and that's why we're here to help with this Birthday Party Guide. Find all the best places for hosting, entertainment, food, and more right here in this handy guide.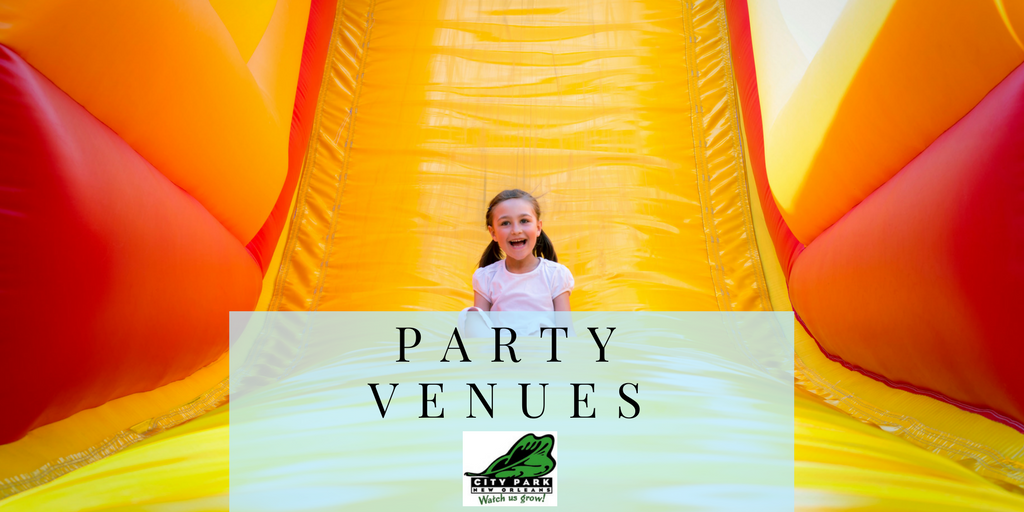 Birthday Parties at City Park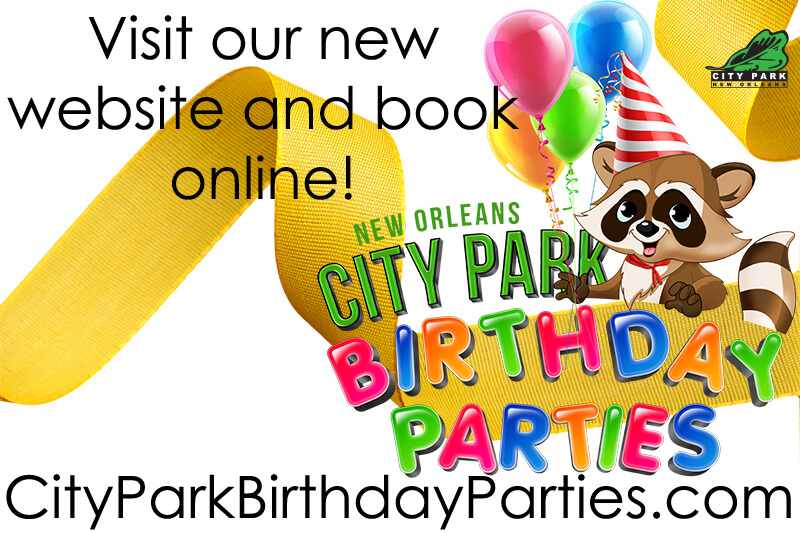 New Orleans City Park is the perfect place for your child's next birthday party. Without digital screens or flashy trends, we offer a place everyone can enjoy together. Let the kids run and play in the sunshine under 100 year old oak trees. We offer fun and affordable parties for children of all ages. You can choose between private access to a single or multiple rides in the park, and have the choice of booking a private party house, indoor or outdoor locations inside Storyland, and/or two beautiful outdoor gazebos. Carousel Gardens Amusement Park has 17 rides including the treasured antique wooden carousel. We also offer Train Garden birthdays which include a ride on the Park's mini train for all of the guests. And don't forget about City Putt Miniature Golf! City Putt has two party rooms and your choice of courses: New Orleans or Louisiana. Party packages offered include food, drinks (for kids and adults), and can include decorations. You bring the kid and the cake and let us set up and clean up afterwards. You can visit our new website to see details and book or give us a call to ask questions and book. And don't forget: birthday parties at New Orleans City Park are great for kids as well as the kids-at-heart!
City Park is the best place to have a party! When they say they take care of everything but the cake, they mean it! They even helped me get my son's birthday presents to our car. The location was convenient with lots parking for my guests and the staff was very helpful. I booked my daughter's next party before I left!" –Katie B.
Book your party today: (504) 483-9458 or visit  CityParkBirthdayParties.com
New Orleans City Park website.
New Orleans City Park Facebook page.
Birthday Parties at Audubon Zoo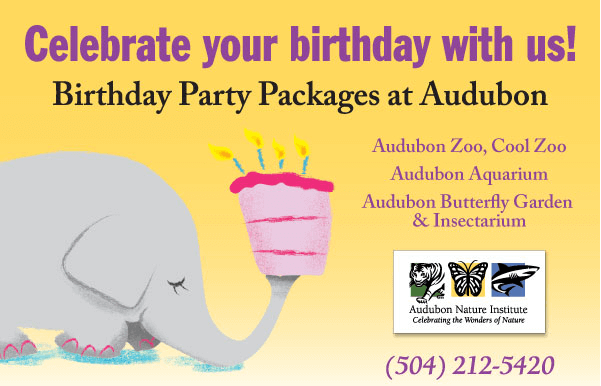 CELEBRATE your special day at any of Audubon's FUN-TASTIC attractions: Audubon Zoo, Cool Zoo, Audubon Aquarium of the Americas or Audubon Butterfly Garden and Insectarium!
Invite your guests to PARTY DOWN in places like the Zoo's popular Cool Zoo, the Endangered Species Carousel, and even the Aquarium's enchanting Gulf of Mexico, with its resident sharks!  
Take it easy and leave the party planning to our smiling, professional, and friendly staff at Audubon. Let our Audubon furry and feather friends, water buddies, and exotic, colorful 4, 8, multi-leg creatures flap, clap, tweet, and roar with EXCITEMENT. Our AQUATIC, MAMMALS, REPTILES and INSECT families would LOVE to see the new and familiar faces. You'll create MAGICAL MOMENTS to last a lifetime. Whether it's for the kids (or grownups!) your next party can be filled with wonder, excitement, and a crowd pleasing good time at Audubon!
Whether it's a special birthday, shower, family reunion, or any other important milestone, Audubon has DELICIOUSLY mouth-watering menus for the young and wise, UNIQUE and beautiful backdrop for any kind of FESTIVE celebration for any size group, and experts to help you create the SPECTACULAR party that will have everyone talking!
Come PARTY, DANCE and sing loud CHEERS! You'll be AMAZED with what we have to offer here. Book your next event with us and let us add the Audubon touch.
Recently had my son's fifth birthday party using the Jungle Hut. It was fantastic. We were running late as usual and the two party hosts helped set up and make everything perfect! They showed up at the right times to ensure pizza and cake were served. I had no worries throughout the day. I would highly recommend the zoo for any parties." – Lauren L.
Book your party today: 504-212-5420 or email-bcs@auduboninstitute.org

Birthday Parties at Paintball Command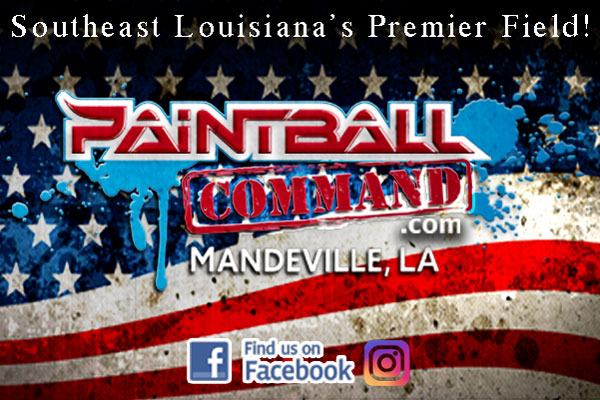 Book an unforgettable paintball party for your child! Since 2001, Paintball Command has been Southeast Louisiana's premiere paintball field with over 3 miles of trails, multiple two-story buildings, bunkers, bridges, a castle and the famed Slaughter House. We exceed the sport standard for safety. All our referees are formally trained, and we have Louisiana's only PTI certified paintball referee.
What's Included:
All paintball equipment needed to play

500 paintballs per player + discounts on additional paintballs

Reserved party area for any food, drink or decorations

2 exclusive games

FREE open play for the rest of the day

and a

paint grenade for the birthday boy or girl!
Two paintball referees will be assigned to your party to help instruct and guide your players along the way. Minimum age is 10 years.
PEE WEE PAINTBALL parties are a low-impact option designed for ages 8-10. Paintballs are .50 caliber rather than .68 caliber and markers are set at a slower velocity. Pee Wee parties are exclusive play for 3 hours. Older siblings and parents are welcome to play too!
Reserve Online Now! Weekend availability fills up FAST! Weekday availability by appointment only.
985-809-7668
21268 Emile Strain Rd
Mandeville LA 70471
https://www.facebook.com/paintballcommand/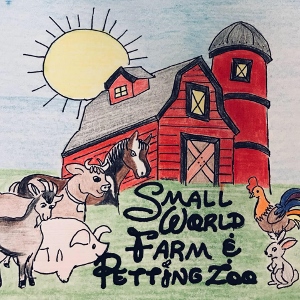 WE BRING THE FARM TO YOU!
When you book a birthday party with Small World Mobile Petting Zoo, expect an awesome, memory making event! We offer several packages for kids of all ages. Mater & McQueen – the miniature cows, Bullseye and Jessie – our miniature horses, the princess dwarf goats (Meg, Jasmine, Ariel, Anna), and the rest of our gang are used to being the life of every party! Our professional staff, charming habitat enclosure, and amazingly gentle animals will bring smiles to your guests' faces and ensure that you throw a party that won't soon be forgotten. Please see our website for more information:
Contact Info:
Laura and Travis Aysen
Small World Mobile Petting Zoo
985-373-7408
---
Regular Listings
Birthday Party Venues in Abita Springs
UCM Museum
22275 LA-36, Abita Springs, 70420
985-892-2624
Birthday Party Venues in Amite
Liuzza Land
56457 Holden Circle, Amite
Birthday Party Venues in Bush
Splendor Farms
27329 Mill Creek Road, Bush
985-866-3747
Birthday Party Venues in Covington
Riverbend Gymnastics
19540 Highway 36, Covington
985-893-4248
The English Tea Room
734 East Rutland Street, Covington
985-898-3988
Insta-gator Ranch
74645 Allen Road, Covington
985-892-3669
The Little Gym
51 Park Place, Covington
985-871-8989
X Fusion Fitness Center
1455 North Collins Boulevard, Covington
985-705-2910
Birthday Party Venues Hammond
Children's Discovery Center
113 North Cypress, Hammond
985-340-9150
Safari Quest
200 Hewitt Road, Hammond
985-340-5858
Spirit Professionals
210 Hewitt Road, Hammond
985-345-4383
Tangi Lanes
1612 West Thomas Street, Hammond
985-345-2653
Birthday Party Venues in Mandeville
Culinary Kids
3441 East Causeway, Mandeville
985-727-5553
Camp Girl Biz
5200 Highway 22
985-705-9288
Children's Museum of St. Tammany
21404 Koop Drive
985-888-1555
Elevation Station
250 Northpointe Blvd., Mandeville
985-214-1888
Kids and Family Arena
813 Florida Street, Mandeville
985-626-1414
Kids Konnection
21490 Koop Drive, Mandeville
985-888-1555
Mandeville Sports Complex
23052 LA-1088, Mandeville
985-727-7277
Tiffany Lanes
4400 LA-22, Mandeville
985-626-4441
Birthday Party Venues in Pearl River
Pearl River Fun Zone
64167 Highway 41, Pearl River
985-250-9560
Birthday Party Venues in Ponchatoula
The Big Red Barn
234 SE Railroad Avenue, Ponchatoula
985-373-0468
Birthday Party Venues in Slidell
Gymnastics Plus
58445 Pearl Acres Road, Slidell
985-643-0914
Skater's Paradise
1421 Gause Boulevard, Slidell
(985) 643-0839
Slidell Rocks
39543 Highway 190 E., Slidell
985-646-1411
Slidell Soda Shop
301 Cousin Street
985-649-4806
Should you be on this list? Email melissa@northshoreparent.com to make it happen.
The following two tabs change content below.
Hi, I'm Katy. Mom to four sweet boys ages 10, 6, 6, and 5. It's a loud, messy, chaotic life. I love connecting with other parents and am so glad you stopped by today!