Two years ago, my oldest daughter was diagnosed with a rare disease called Juvenile Dermatomyositis (JDM). JDM can be exacerbated by the sun so we became much more diligent about sunscreen.  It's not easy to escape the sun in south Louisiana but there are options to help lessen the effects. I'm the type of girl who loves products & shopping for products so we've tried many different things.
Different Types of Sunscreen
I learned there are two major types of sunscreen: chemical and physical. Chemical sunscreens use chemicals that soak into the skin and block UV radiation. These include benzophenones (oxybenzone, sulisobenzone, dioxybenzone), menthyl anthranilate, and avobenzone. Physical sunscreens use ingredients that are blockers or barriers on the skin. These ingredients include zinc and titanium dioxide. This sunscreen sits on top of the skin and is not absorbed.
Why We Chose a Physical Sunscreen
I usually try to use the most natural products and ingredients I can especially on my children–there's been a lot of talk about the chemicals used in chemical sunscreens and how they may be harmful so I choose to use physical sunscreens. I use the Environmental Working Group (ewg.org) a non profit, non biased site that gives ratings to all sorts of products (cosmetics, bath, cleaning) based on their ingredients' safety, as a guideline.
So starting on the EWG site (they have a whole sunscreen section), I chose several different brands and tried those. If you decide to use physical sunscreens, you should know that there are white marks and/or a greasy look. This is because of the ingredients not absorbing into the skin.
Our Favorite Beach Sunscreen for Kids
Our hands down favorite for the beach or any prolonged sun exposure is ThinkBaby/ThinkSport. It's the same stuff no matter which name. It's non toxic, free of PABA, parabens, & nano particles. This stuff does go on white but that goes away. When applying to Daisy's body for a day at the beach, I appreciate the white as it helps me cover every inch of her. She has been on the beach several times for hours at a time (she loves digging in the sand) and not even had a tan line.
Editor's Note: If you need more tips on taking your little one to the beach, please check out our post on taking baby to the beach!
Our Favorite Everyday Sunscreen for Kids
For everyday use, we like Honest Company and Butterbean Sunscreen. These both use quality ingredients, no potentially harmful chemicals and they work. They also go on easily, aren't overly greasy or white, and don't have offensive smells. I've only used the Simple Sunscreen from Butterbean (it comes in a non aerosol spray) but I've ordered both the Original (thicker, better for face and shoulders) and Stick versions for this year.
If you want something that blends in better to the skin, I've heard great things about Neutrogena Ultra Sheer. I asked other moms of JDM kiddos which sunscreen their families love and that one was an overall favorite. Moms report it goes on without leaving a greasy or white residue.
Other Good Sun-Blocking Options
Other options we use to help block UV are hats/shirts from Sunday Afternoon. We make Daisy wear her hat when she's on the playground at school and it really helps. She also wears long sleeve swim suit tops and shorts from Lands End.  They fit well & keep her well protected.  She doesn't complain about them being uncomfortable or hot.
There are a ton of options when it comes to sun screen and keeping kids safe from the sun, and there's nothing worse than wasting a bunch of money on a product that doesn't really work for you. I'd love it if other people shared their favorites and why they liked them so much.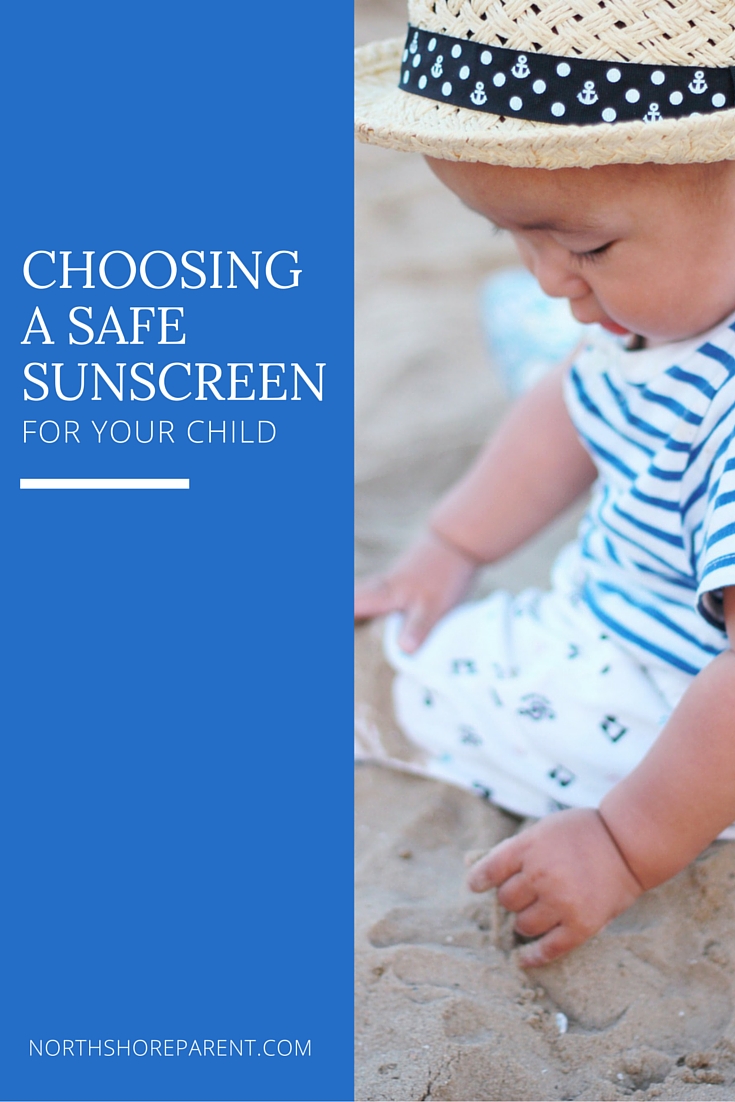 The following two tabs change content below.