As a kid I remember right after Christmas dinner at my grandma's house in Jefferson, we would drive to Metairie so we could take a peek at Al Copeland's house all done-up for Christmas. I feel like maybe over-the-top Christmas lights are a dying art form or something because I certainly don't see them like I used to. I asked the Northshore Parent Facebook Page and got some suggestions. Then I got in my rockin' mini van with the crew and went and check them out. So if you want to go see some Christmas lights with your kids, here's the scoop:
This list is updated for 2016
Private Residences:
Perriloux Road in Madisonville between Brewster and Hwy. 22. Lights set to music that you can tune your car radio to.
Close to that is:
520 Windemere Chase, Madisonville. That's the house pictured above. They've added a lot more since last year, so it will be even better!
65350 Maple Street, Mandeville. A house set to music–this one is really good! Can't believe I hadn't heard of it before.
On the other side of the parish is:
125 Chamale Cove. Slidell. This display is up in full force this year from 6:30-10:30 each evening. Read more about the Morris Family here.
Public Displays
Koop Drive. Mandeville. This is really more of a walk-through, but you can see some thing from your car. The drive-by part is first and then there's a walk-through section in the back by the Kidz Konnection Playground. This display is a little scaled back this year because of construction on Kids Town.
Zemurray Park. 400 South Oak Street, Hammond. The train will run every Friday (4th, 11th, 18th) from 6pm – 9pm and every Saturday and Sunday from 5pm – 9pm. The last day for the train is December 20th.
Cassidy Park. Bogalusa. See flyer below for information on when it's open and when they allow driver and walkers. This display is open the following dates: Nov. 24, 25, 26, 27 Dec. 2, 3, 4, 9, 10, 11, 16, 17, 18, 19, 20, 21, 22, 23, 24, & 25. Drive thru is from 6-7PM. Walk thru is 7-9PM. Adult $4, Children $1, Vehicles $8.
Worth the Drive
There are some really great displays about an hour away from the Northshore (depending on where you live)
Celebration in the Oaks. Traditional light display in New Orleans City Park. You can read a full post about it here.
Gulfport Harbor Lights Winter Festival. A new display for 2015. You can read a full post about it here.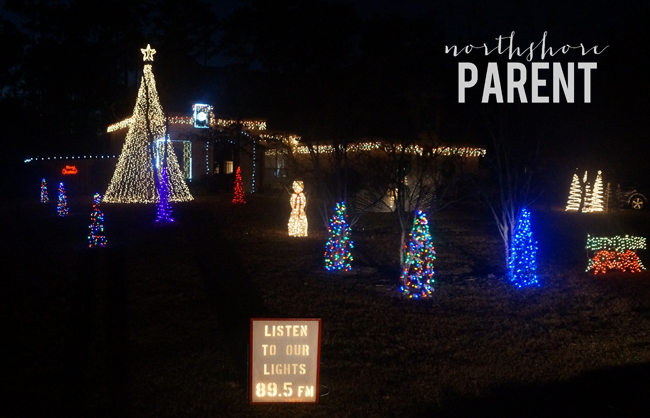 The following two tabs change content below.
Hi, I'm Katy. Mom to four sweet boys ages 10, 6, 6, and 5. It's a loud, messy, chaotic life. I love connecting with other parents and am so glad you stopped by today!