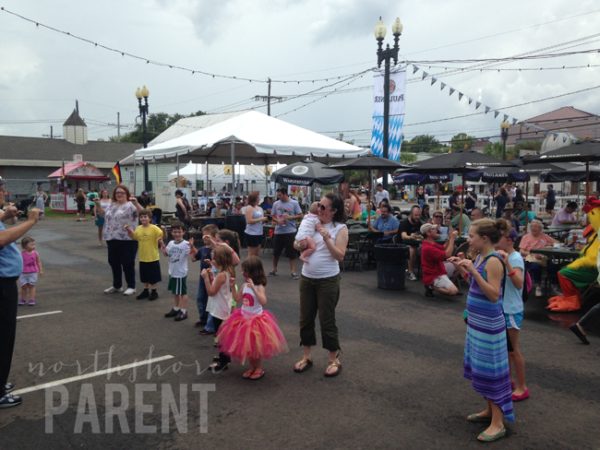 Fall is finally upon us, though you might not be able to tell because the great thermostat in the sky hasn't been lowered enough yet.
But September is behind us, and we are firmly rooted in October, which means (among other things) it's time for Deutsches Haus' Oktoberfest. Jillian and I took our little one, along with Jillian's dad and we had a wonderful time!
For those not in the know, Oktoberfest is a celebration of German food, music, beer and culture, and Deutsches Haus does not disappoint. We met with Deutsches Haus president Keith Oldendorf to find out more about the fest. He said one of the missions of Deutsches Haus and their Oktoberfest event is to introduce people German culture, and the fest does a wonderful job.
There are over a dozen different German beers on tap, plus a special brew from Gretna's 40 Arpent made just for the fest! Keith said he expects to go through over 500 kegs during the three-week celebration. My father-in-law and I both had the Spaten Optimator, and Jillian had the Paulaner Oktoberfest Marzen. Both were quite delicious and really got us in the Oktoberfest spirit.
There are 3 types of sausages (grilled bratwurst, grilled weisswurst and boiled knackwurst), German-style pizza called flammkuchen, special entrees for each weekend, assorted side dishes and a spiced nuts vendor. A full menu can be found here. We got one of the dinner plates, which includes an entree', one sausage, two side dishes, bread and butter. for only $14, it's quite a bit of food that a family could easily share. We also had one of the German pizzas and a couple of warm soft pretzels, something I was looking forward to.
And what German festival would be complete without polka/oompapa music and chicken dancing? Even though our little one is just under 9-months-old, she had a great time "learning" how to do the chicken dance. There was even a big chicken walking around to dance and take pictures with.
Oktoberfest has been held in Rivertown in Kenner for the last few years since Deutsches Haus left their South Galvez Street location because of the new Louisiana State University Hospital being constructed there.
But just because Oktoberfest isn't at its original location doesn't mean it isn't a wonderful event; it fits right in with the quaint Rivertown area, which has a European village-type atmosphere that lends itself nicely to the event. And the local retailers really embrace the spirit of the event, and the community has been very supportive according to Keith.
All in all, Deutsches Haus does a really great job with their Oktoberfest, and for only $6 per person admission it can make for some very reasonably priced fun for the entire family.
There may be some people who are hesitant about making the drive from the Northshore to Kenner, it really is worth your time to cross the lake and enjoy some wonderful beer and experience some great food that you may not be able to get but once a year. I know we're glad we did, and I think others will be, too.
Would you like more information on enjoying fall on the Northshore? We've got information on festivals, Halloween events, decorating your house for the season and more! Come check it out.
The following two tabs change content below.