I feel like everyone loves a good burger. I have friends that aren't huge meat eaters that will take a juicy burger down now and then. I, however, love a good burger…i would say they happen to be one of my guilty pleasures. So much so that one year my husband and I made a list of the best burger restaurants in hopes of trying all of the finest burgers in New Orleans. It was a fun experience and we tried a lot of great burgers over the year and , because of that, I kind of fancy myself a burger connoisseur of sorts.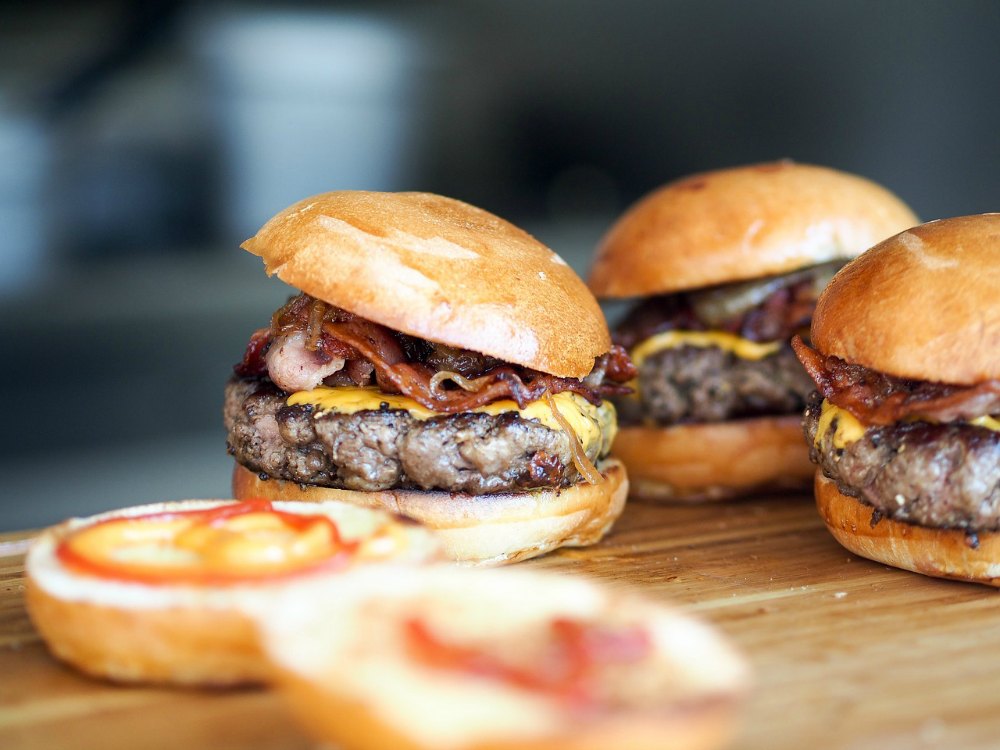 In my opinion burgers come in three main groups. Basic, upscale basic, and gourmet. Each can be satisfying in their own way and a gourmet burger is not necessarily better than a basic burger. It simply depends on what your tastes buds are looking for on a particular day.
So here are my personal picks for the northshores five best burgers.
Five Guys
Group: basic
Price: $5 – $7
Five guys is a well cooked burger with regular toppings. The great thing about five guys is that they are consistent. Their burgers are always well cooked and their fries are tasty. The burgers are hot and the cheese is melted perfectly. I have never had a bad burger there with each one is as good as the last. I also like that their ingredients are super fresh and the lettuce is always crisp.
Times Bar and Grill
Category: Upscale Basic
Price: $8 – $14
Times burgers can be basic but for the most part offer some nice complexity with a large variety of specialty burgers and several different sides. Times burgers are well cooked every time and with the variety of toppings are easily customizable. My current favorite combo is cheddar and pepper jack with pickels and doo-dads and sweet potatoes fries on the side. If you don't know what a doo-dad is go immediately to Times and ask for a burger with them on top.
Bistro Byronz
Category: Upscale Basic/Gourmet
Price: $10 – $12
Bistro Byronz burgers are a good cross between an upscale basic burger and a gourmet burger. They offer a lot of different combinations that you won't find anywhere else. For example their Sardou burger which combines the brunch time favorite eggs Sardou and a burger. Genius. One favorite is their turkey burger that will rival any beef burger on any menu. My personal favorite however is the beau coupe burger which is an open face burger covered in cheese sauce. It's a great balance with the whole grain bread they serve it on. Another hi-light of any Bistro Byronz experience are the thin frites they serve with all their burgers.
Old Rail
Category: gourmet
Price: $8.00 – $10.50
Anytime you can combine a burger and pimento cheese you get a gold star in my book. The first time my server told me that I could have pimento cheese topping on my delicious burger I think I squealed like a teenager. It was divine! Old rail has a burger of the month so that is always an option but my personal favorite is the Old Rail burger. Its a combination of premium meats which makes it extra juicy. Second they make their own pickels so insert praise hands emoji. Third they serve it on a brioche bun. There are so many things right about this burger there is no way to be wrong. Ask to have it served with their onion rings and you won't be sorry.
Baco Bar
Category: gourmet
Price: $13
In my opinion Baco Bar is the best culinary thing to happen to the northshore since Ox Lot 9 opened. The fact that they have a burger on their unique fusion menu makes me love them even more. For me it's always a difficult choice between the bacos and the burger. However I love the La 21 burger. One nice detail about the La 21 burger is that it's served with bread and butter pickles which I really enjoy. The La 21 is always expertly prepared done and the ingredients are high quality. You can ask to have it served with their brussel sprouts which is the way to go in my opinion.
So that's my top 5. Chose one and start your own personal burger tour. If you have any to add to the list feel free to comment below.