FRIDAY, January 12th, 2018
Storytime for All Ages. 10:30-11:00AM.
Bingo. 6:30PM Abita Springs Town Hall. All ages welcome. Six and under need not play. Children 6-12 must play at least a 6/10 pack–$7.00. Children 13 and older must play at least 10/12 pack–$15.00.
SATURDAY, January 13th, 2018
Covington Farmer's Market. 8AM-noon. Field next to the Courthouse.
Camellia City Farmer's Market. 8AM-Noon. 333 Erlanger, Slidell.
Mandeville Community Market. 9AM-1PM. Mandeville Trailhead.
Hammond Farmer's Market. 9AM-3PM. Downtown Hammond.
Amite's Stupendous Saturday (Ginormous January). 10AM. Amite Library.
You! Storytime. 11AM. Barnes and Noble. A life full of adventure first requires big dreams, and big dreams need big encouragement. From world-renowned author and artist Sandra Magsamen comes the new book You!, offering inspiration and hope to readers of all ages. Activities to follow.
Family Wii. Noon-2PM. Hammond Library.
Ponchatoula Wii Saturday. 1-2PM. Ponchatoula Library.
Children's Museum of St. Tammany Grand Opening. Two shifts. See graphic below for more info.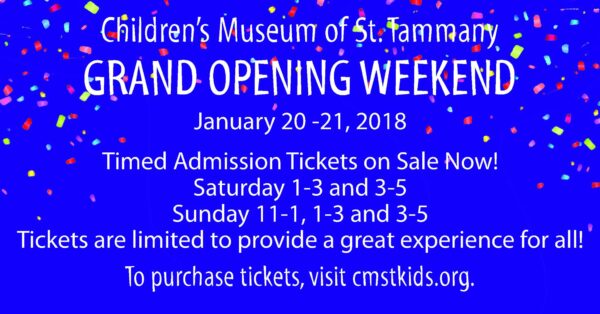 SUNDAY, January 14th, 2018
Children's Museum of St. Tammany Grand Opening. Three shifts. See graphic above for more information.
Abita Springs Farmer's Market. Noon-4PM. Abita Springs Trailhead.
Ponchatoula Farmer's Market. Noon-4PM. 10 East Pine Street, Ponchatoula.
About Our AST:
At Autism Spectrum Therapies (AST) our autism therapy services employ the latest in Applied Behavior Analysis (ABA) findings to develop tailored programs that address the needs of individuals with autism at home, school, and in the community.
Our unique approach is based on well-researched and highly effective Applied Behavior Analysis (ABA) methods, the most scientifically-validated approach to autism therapy. Our family-focused programs are designed to teach language, social, self-help and other skills within natural daily activities and family routines.
The following two tabs change content below.
Hi, I'm Katy. Mom to four sweet boys ages 10, 6, 6, and 5. It's a loud, messy, chaotic life. I love connecting with other parents and am so glad you stopped by today!