For some denominations, Fridays in Lent means no meat. Many churches aim to help you out by offering a Friday Fish Fry where you can purchase fried catfish or other seafood and save yourself the trouble of having to cook something. As a bonus, most of these events are also fundraisers for Boy Scouts or the local Knights of Columbus group! Here's a list of some local churches offering this:
Covington Fish Fries
Most Holy Trinity
5-7PM.
$11/meal $10 for grilled shrimp salad
Fried Catfish or Gulf Shrimp, or combination. Sides offered are mac n cheese or fries, side salad, hush puppies, slice of bread, drink, and dessert.
Child's plate includes one fish filet, fries, dessert and a drink for $6
To-go and dine-in available.
St. Peter
5:30-8PM
$10/meal, Fish or Shrimp
Drinks and desserts available (free Abita root beer refills)
To-go and dine-in available.
You can order your meal on their website. Just click here.
Hammond Fish Fries
Holy Ghost Catholic Church
5-7PM
Dinner varies each week–here's a schedule:
Friday (3/15)-Fried fish dinner, $8
Friday (3/22)-Fried fish dinner, $8
Friday, (3/29)-Seafood potatoes, $8
Friday, (4/5)-Seafood potatoes, $8

Friday, (4/12)- Fried fish dinner, $8
Lacombe Fish Fries
St. John of the Cross
Fish fries taking place on March 15, March 29 and April 12. No information available on pricing or menus at this time. 
Madisonville Fish Fries
St. Anselm
To-go starts at 4PM. Dine in at 5PM.
Various dinners offered ranging from a $16 for a seafood platter to $7 for homemade gumbo. See flyers below.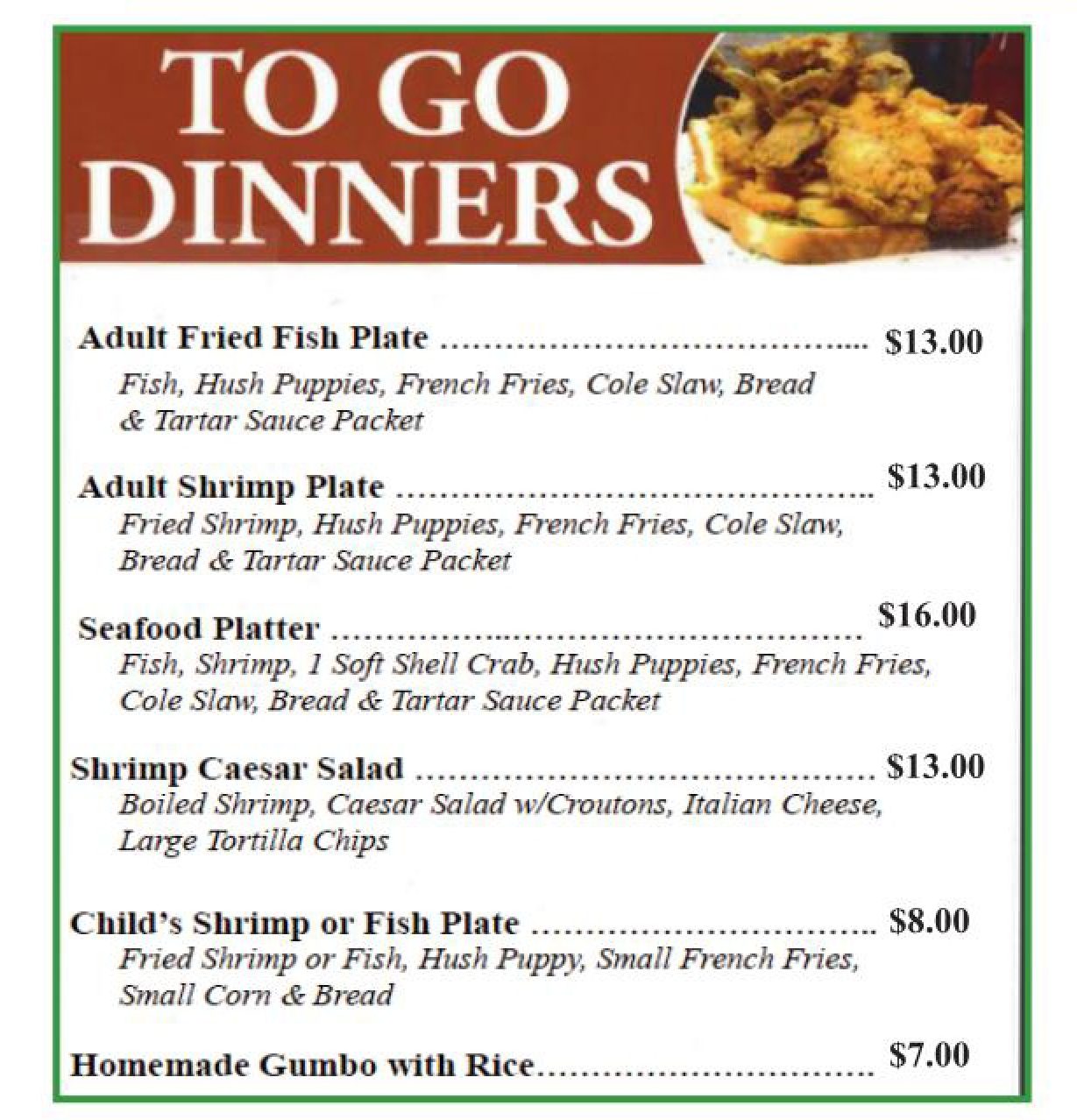 Mandeville Fish Fries
Our Lady of Lake
5-7:30PM.
$10/adults  $5/kids (ages 10 and under)
Adult plate is two pieces of fried catfish or one baked filet, three sides, bread, drink, and dessert. Kids plate is one piece of fried catfish, two sides, bread, drink, and dessert. Sides offered are coleslaw, mac n cheese, green beans, and french fries.
To-go and dine-in available
Mary, Queen of Peace
5-7:30PM
$10 for choice of fried or baked fish plate or a fried shrimp plate. New this year includes fried fish and fried shrimp po-boys. All meals come with potato salad or french fries and a soft drink. 
To-go and dine-in available. All major credit cards accepted.
Slidell Fish Fries
St. Margaret Mary
5-8PM
$10.00, for fish, potatoes, macaroni and cheese, and bread.
Dine-in or Drive-Thru available.
Our Lady of Lourdes
March 15, 29; April 5
5-8PM
Fried fish, fried shrimp, Baked Fish OLL "Ooh La La" with sautéed shrimp served with crab-boiled smashed potatoes, salad, roll, dessert. Prices vary. Cheese pizza slices: $2. Drinks available. 
Dine-in or drive-thru service
St. Luke the Evangelist
Dine in or take out will be available from 5 to 8 p.m. 
Fried or baked fish, with choice of 2 sides, and a roll for $10
Ladies' Club will be selling desserts.
St. Genevieve
$8/plate
Fried fish, mac n cheese, peas, potato salad, and a roll.
The following two tabs change content below.
Hi, I'm Katy. Mom to four sweet boys ages 10, 6, 6, and 5. It's a loud, messy, chaotic life. I love connecting with other parents and am so glad you stopped by today!