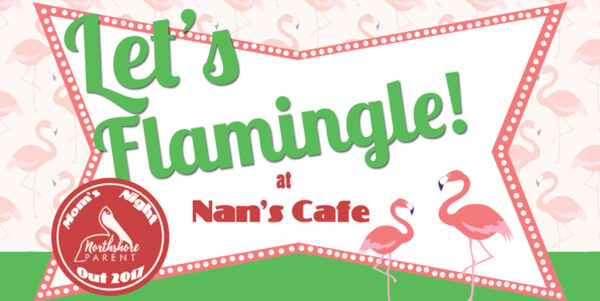 Northshore Parent is going to the birds on Sept 30,2017 with our Moms' Night Out. Will you be there?
At "Let's Flamingle: Northshore Parent Moms' Night Out", local ladies will grab their flock, eat and drink and and shake their tailfeathers on the dance floor. In between drinking, dancing and socializing, they will have the opportunity to mingle with the event's sponsors and even do a little bit of shopping.  Chef Bobby of Nan's Cafe will be serving up a tropical themed buffet and passed hors d'oeuvres, as well as mixing up a signature rum punch and white sangria that will make you feel like you've escaped away to Margaritaville. 
Our title sponsors of the event are SLENT. Located in Mandeville, Dr. Jason Guillot and Dr. James Connolly, along with their staff, also do allergy testing, facial plastics, and have an in-house medspa, which offers services such as botox, filler, lasers, and silkpeel. In addition to being title sponsors of this event, they are sponsoring a basket of ZO Skincare products to be given away to one lucky attendee at the event. Want to know more about SLENT and all they offer? Check them out on their Facebook page and on Instagram.
We're also pleased to welcome Pure Barre Mandeville, Northshore Dermatology, and Bayou Yoga as sponsors of this event. Stop by their tables and say hi, pick up some swag, and maybe even schedule a procedure or sign up for a fitness class. While you're visiting with Northshore Dermatology, don't forget to register for their special giveaway of one syringe of filler (up to a $900 value!).
Speaking of giveaways, we'll be giving away all sorts of fun stuff throughout the evening. There's the giveaway from SLENT we already mentioned, and we'll also have giveaways from Andrea's Vinyl Shoppe and Native Polishes.
This is a night to treat yo'self, and, what better way to do it than with a VIP ticket. We are privileged to have 3 VIP ticket sponsors: Kendra Scott, NOLA Lip and Soap and Fleur De Light Candles, and Kismet Cosmetics. We were floored by how fast the Kendra Scott tickets sold out, but, don't worry, the girls from the Magazine Street store will be bringing a trunk to us so you can shop at the event. NOLA Lip and Soap will also be there with hand made artisan soaps, lip balms and candles.
As if food, drinks and shopping without kids wasn't fun enough, we'll have DJ Strategy providing music.  He's provided music for the Saints and has opened for acts like Journey. He promises to keep us dancing all night long! But if you need to take a break from the dance floor, grab your girlfriends and pop into the photo booth provided by DN Orthodontics. 
And, of course, no party is complete without cake, and, we'll have a flamingo-themed confection from The Little Oven bakery.
We're giving our party a purpose and collecting donations for Restoration House Pregnancy Resource Center, a Hammond-based charity assisting mothers with unplanned pregnancies. We appreciate any donations of new baby items you can bring, but, they especially need newborn diapers, wipes, receiving blankets, footed onesies, yellow can Enfamil and baby towels. Donations are not required but are deeply appreciated!
Sound like fun? We've got a handful of tickets available, but only for another 24 hours! Click here to get yours before they fly away.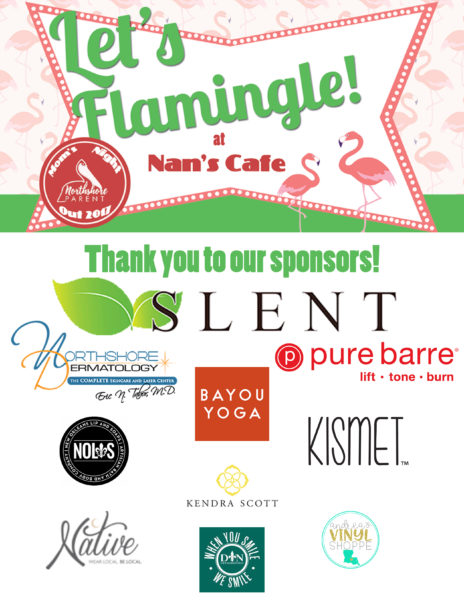 The following two tabs change content below.
Aimee
Hi, I'm Aimée, the Special Projects Coordinator for Northshore Parent. If there's a fun giveaway, a kids' clothing review, or a special event, there's a good chance that I'm responsible. I'm a lifelong resident of St. Tammany (except for time at LSU for undergrad and law school) and a mom to 3 little ones, ages 6, 6 (yes, they are twins, and no, they are not identical) and 2. Thanks for reading Northshore Parent and being a part of our community.