Friday, November 6th, 2015
Library Surplus Sale. 9AM-3PM. Amite Branch of the Tangi Library.
Abita Story Time. 10:30AM. Books, stories, rhymes, activities and music for young children of all ages and their grown ups. Please note that food may be used as a craft material. Please call the branch for details. Please inform the librarian of any food allergies at least one week in advance. We are happy to make accommodations for you.
Amite Family Game Night. 4-4:45PM. Amite Branch of the Tangi Library.
Bingo. 6:30PM Abita Springs Town Hall. All ages welcome. Six and under need not play. Children 6-12 must play at least a 6/10 pack–$7.00. Children 13 and older must play at least 10/12 pack–$15.00.
Saturday, November 7th, 2015
15 Mile Yard Sale. 7AM-2PM. Hwy 16 E of Amite, Hwy 445 Husser, Hwy 10 Wilmer & Friendship Church Road.
Covington Farmer's Market. 8AM-noon. Field next to the Courthouse.
Camellia City Farmer's Market. 8AM-Noon. 333 Erlangner, Slidell.
Mandeville Community Market. 9AM-1PM. Mandeville Trailhead.
Hammond Farmer's Market. 9AM-3PM.
Art Market. 9AM-1PM. Covington Trailhead.
Jolly Jingles Market. 9AM-6PM. Pennington Student Activity Center, Southeastern Louisiana Univeristy, 1350 N. General Pershing, Hammond, LA 70402. General admission tickets $2. All proceeds benefit Junior Auxiliary.
Esther Fest. 10AM-4PM. Bogue Falaya Park. Food, games, live music & dance entertainment, beauty booths, fashion show and fun for people of all ages to enjoy.
Slidell Noon Lions Touch-a-Truck. 10AM-3PM. Fremaux Town Center, Slidell. Fire, police, SWAT, military, antique, lift, transport trucks and many other. Free eye screening for ages 2-6.
Teen and Tween Wii Day. 10:30AM-12:30PM. Come and join us for Wii games! Ages 10+ only
Rose Revere, Engineer and Iggy Peck, Engineer Storytime. 10:30AM. Barnes and Noble, Mandeville.
Elevation Station Grand Opening. Noon-3PM. Elevation Station, Mandeville. Activities every hour.
Old Feed Store Music Series: Brent Gentry and the DDD&D. 1-3PM. Marsolan Feed and Seed, downtown Covington. 316 E. Gibston Street. FREE.
Wii Saturday for All Ages. 1-2PM. Ponchatoula Branch of the Tangi Library.
Teen Movie Matinee: Pitch Perfect 2. 2-4PM. Causeway Branch of the St. Tamm library. The Bellas must get their act together for their one and only shot at redemption at the world championships in Copenhagen, Denmark. Popcorn will be served. LIMIT: 20 teens ages 12 – 18, only please. Online registration required (opens new window).
Mini-Maker Faire: Make Workspace with Culinary Kids. 11AM. Barnes and Noble, Mandeville. Join us as we welcome special guest Culinary Kids Inc.! They will be joining us for our first ever Mini Maker Faire and will be preparing dishes and demonstrating their skills in the culinary arts! Fun for all ages!
Mini-Maker Faire: Make Workspace with Bayou Builders. 3PM. Join us as we welcome special guests from Bayou Builders to demonstrate and showcase some of the latest products in 3D printing, robotics, coding, programming and more. Fun for all ages!
Sunday, November  8th, 2015
Abita Springs Farmer's Market. Noon-4PM.
::SPECIAL BATON ROUGE EVENT::
Dressing for Daisy. 2PM. LSU Student Union, A fashion show featuring looks from Gap Kids, food, music, SmileBox photos, raffles, face painting and more! All proceeds benefit Cure JM. JM is a rare, incurable illness that currently receives no federal research dollars. To purchase tickets or make a donation click here.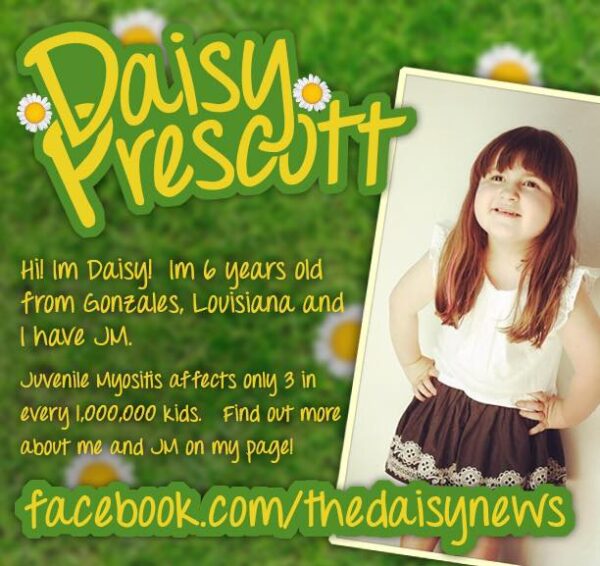 The following two tabs change content below.
Hi, I'm Katy. Mom to four sweet boys ages 10, 6, 6, and 5. It's a loud, messy, chaotic life. I love connecting with other parents and am so glad you stopped by today!