This post is brought to you by Opal Basil.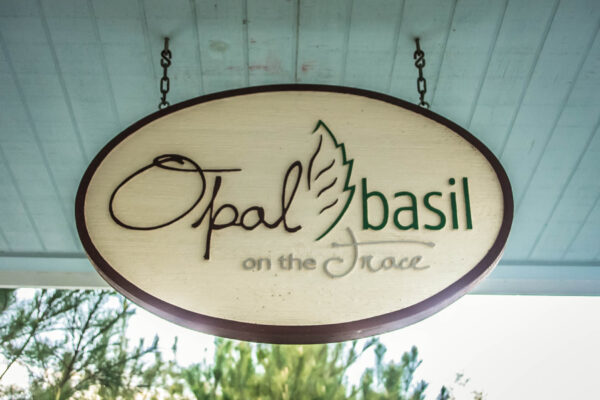 During a round of appetizers, a fellow Northshore Parent and friend of ours recently made a general comment about dining out and enjoying a great meal. I'm definitely paraphrasing, but he said something to the effect of, "Why should we waste our money here and there at substandard restaurants, knowing  we're going to walk away unsatisfied, when we can dine out just a little less and put better money toward places that are going to really fulfill us."
It was a conversation about a local restaurant we hadn't been to yet, and his advice turned out to be a solid recommendation. A week or so later, we found ourselves walking up to an establishment that a few of you may have heard about already: Opal Basil, located a few seconds' walk away from the Mandeville Trailhead.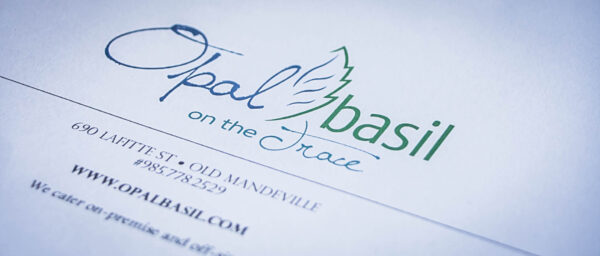 I'm still tongue-tied with wonder from our dining experience here, so I'm going to try my best to sum everything up and still stay organized about things. First, it's a privilege that we were invited out to really get a sense of what Chef Robert Vasquez and his wife Lindsey are up to with Opal Basil. From everything we saw and tasted, I can only describe the establishment from top to bottom as an on-going labor of love.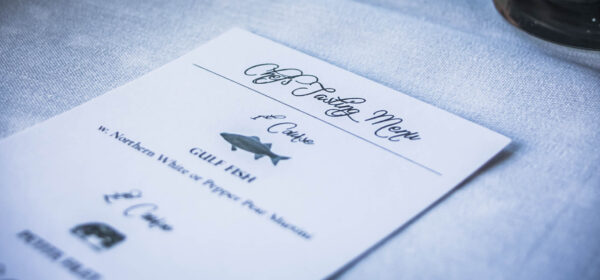 It's a step above the rest when a Chef can both own and run a restaurant, and still take time to greet each table personally, making sure that each person's tastes and preferences are going to be catered to and respected. The whole project sounds a little hard to believe, but Chef Robert makes it seem very easy.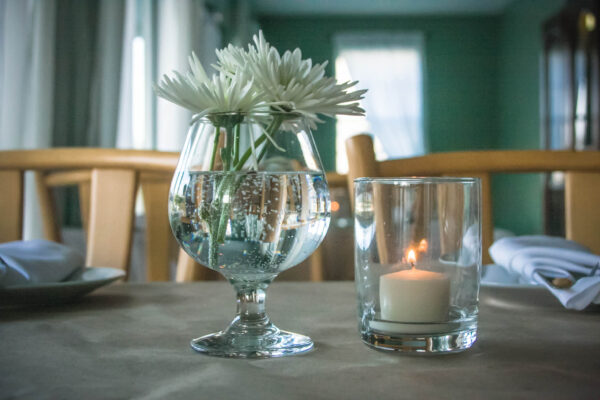 Opal Basil is in a class of its own in several respects. As a whole, I would classify spending a couple hours here as more of a 'dining experience' than simply eating out at a sit-down restaurant, starting with a seat on a balcony overlooking the Mandeville Trailhead (go for the balcony corner seat if you can, most certainly "the best seat in Mandeville"). Candle lit and white tablecloth, the restaurant is minimal and beautiful inside and out.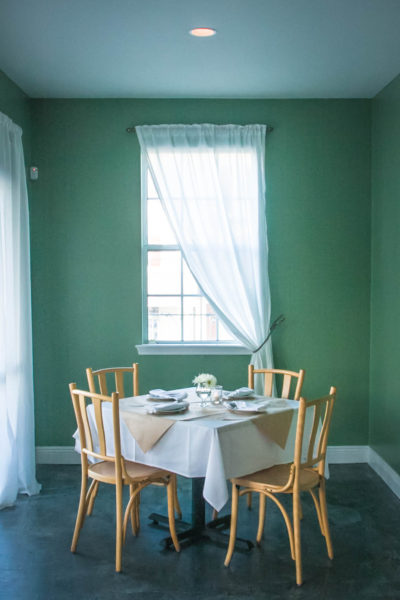 I was also impressed with the confidence and ease of the front of the house staff, who seem genuinely interested in the food they're presenting.  They're having fun and feeling the vibe of a next-level dining establishment, and it's a noticeable difference.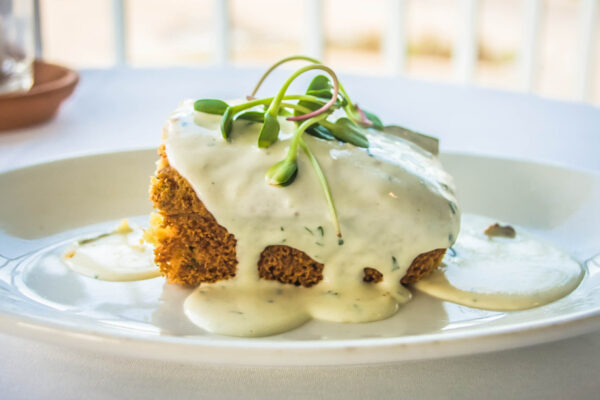 What should also interest all of us on the Northshore is that Opal Basil is entirely friendly to vegetarian, vegan, gluten-free, and paleo diets. This isn't to say that there isn't lots of meat and seafood on the menu, but that Chef Robert is absolutely open to adjusting your meal to suit your dietary preferences. This is the first time I've ever seen this, and it's something that other establishments should be taking note of.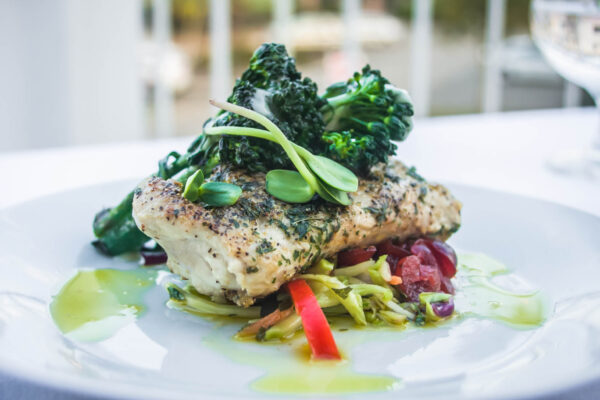 Chef Robert's influences are varied and interesting, but center largely around his upbringing in New Mexico, his father's Spanish heritage, and French and Cajun influences from our own area. One huge factor that's also very evident (and adds so much to this menu) is his 7 year experience at Whole Foods as Executive Chef.

Every dish and tasting we experienced was FRESH and included micro-greens, seafood lightly fried in coconut and almond oil, and included a good portion of local meats and ingredients. Local and fresh are really what I want to underline here. Chef Robert is intent on providing guests with food that tastes rich and complex but is, most importantly, nutritious and clean.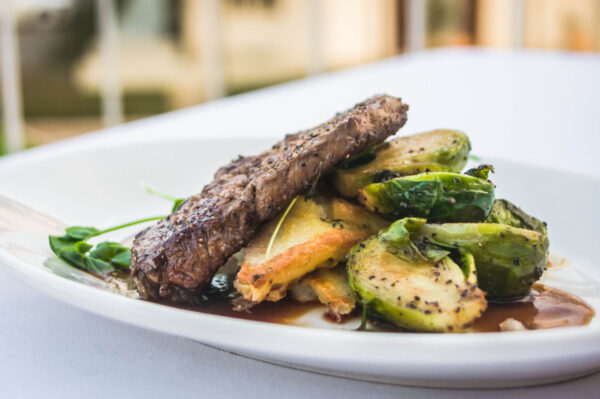 As we spoke with Chef Robert, we were really able to get down to the essence of what motivates him to create the way he does, and it boils down to simple joy. What's fun for any great Chef I speak to is the pursuit of making the best dishes you can with what you have available, and Chef Robert is no exception. On a whim he gathers local ingredients and incorporates them in to his dishes, offering diners a truly unique experience with each dining.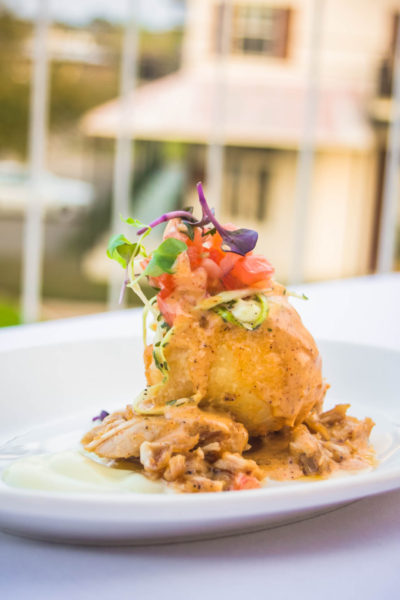 His "Chef's Tasting Menu" does something I haven't seen done in a long time. For one price, this menu includes several courses accompanied by wine, and does something pretty unique: each course is only hinted at by giving us one ingredient. Each dish then comes as a surprise guaranteed to satisfy, and fuels conversation throughout the meal.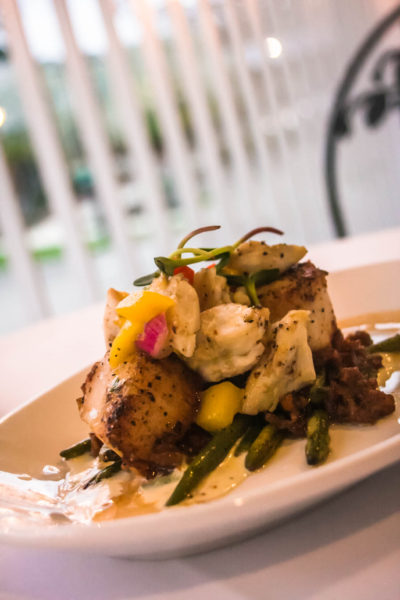 Chef Robert also keeps his patronage guessing by completely changing his Chef's Tasting each week. If it sounds inviting, it's even more fun for him, and he'll let you in on it himself. Local markets and farms play an important role in his shopping decisions, and he visits these to get a sense of where ingredients are coming from and exactly what he is serving to the guests that he's cooking for.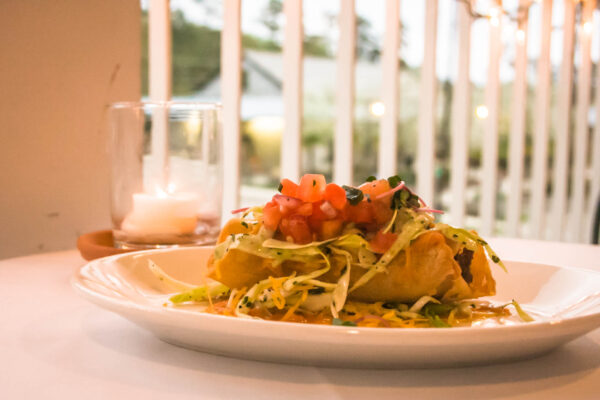 His kitchen is remarkably compact yet versatile, and he takes it with him when he shows up at events. From his work adjacent to The Scotts in downtown Mandeville, he's adapted to working very minimally, and I think it's key to the type of menu he offers. In case Allison's beautiful pictures haven't truly captured the idea, Chef Robert's menu is full of interesting and succinct dishes that act almost as artful compositions. When combined, several of these dishes offer any dining group a great chance to share and interact which really adds to the fun of the Opal Basil experience.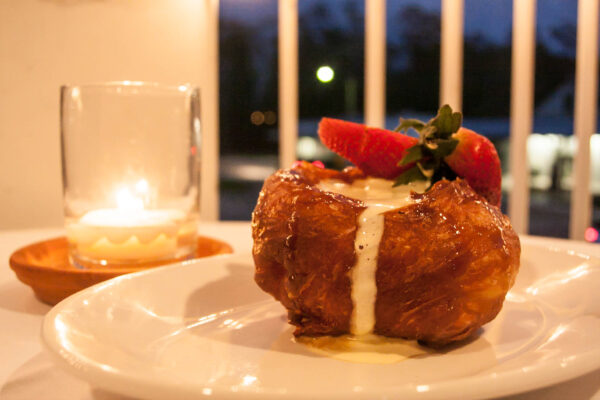 Ever-evolving and experimenting, Chef Robert Vasquez seems to intent on providing a very unique experience for Opal Basil guests. His eyes are on the changing seasons so that he's aware of what's fresh and local. He understands the opportunities of making a great showing at events like our recent Chef Soirée in Covington. He knows the importance of having a close relationship with his guests and taking care of them properly.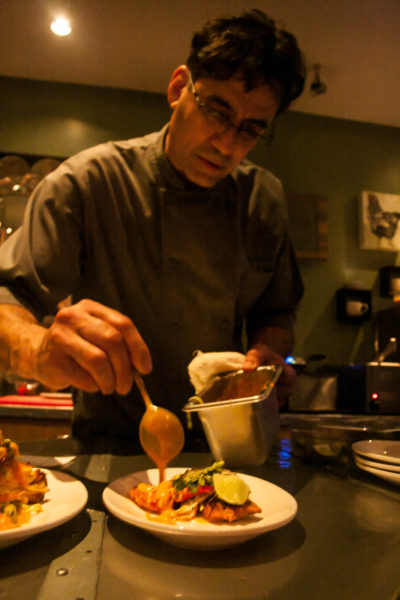 Most importantly I think, he knows how to create delicious, unique dishes, plate them well, pair them with the right wines, and set a perfect atmosphere to dine in. As the culmination of his efforts after much travel around the world, training under various notable Chefs, and bringing together all of his influences from New Mexico, Louisiana, and abroad, Opal Basil is Chef Robert Vasquez's treasure and the greatest expression of his personal brand of creativity.
Chef Robert brings a passion and motivation to the art of multicultural cuisine that lands him a prominent spot on the map of Northshore fine dining, and Opal Basil is in fact a hidden New Orleans-area gem. An attentive and fun serving staff is huge plus, and we felt really taken care of. They were excited to answer each of our many questions (thanks guys!) and were very familiar with the ingredients of each dish. As an establishment, Opal Basil is a little slice of Heaven only a few minutes drive away. Afterwards, maybe take in a walk at the Mandeville lakefront knowing that you've experience some of the best the Northshore has to offer.
Thanks again to everyone at Opal Basil for helping us write this article. We hope to see you guys in town doing such amazing work for a long time to come, so good luck!!
Til next time, we hope all you Northshore Parents can find a great babysitter and some time to relax.
Jordan & Alli
The following two tabs change content below.
Jordan Madere
Jordan is a multimedia artist and father of a kooky 4-year-old girl named Fiona. He resides in Mandeville, and is a fan of BBQ and sushi, imported beer, retro-gaming, travel, and sci-fi.
Latest posts by Jordan Madere (see all)