Parents with tattoos. There's been more than enough discussion around the web about the positive and negative roles of tattoos when it comes to parenting. Do tattoos affect how we parent? Are tattooed folks worse or better parents? As a tattoo artist, I've seen all ends of the spectrum, and everyone's got an opinion. As a tattoo artist AND a tattooed dad, however, I have a few of my own ideas about things that I'd like to present to you guys for consideration.
Tattooing, whether we want to believe it or not, is ART. There is a subtle beauty about aligning the right design for the right person to the right spot on their body. And in those situations, they leave from the shop a better person than they came in. They have come to a defining moment in their life where they know exactly what they want to display on their body, and they come to me to make that happen. Even if that defining thing they want on their body is something abstract or obscure, they have reached a very personal decision about their outward appearance.
A tattoo, which consists of nothing but ink under a thin layer of skin, has the power to transform sorrow into confidence, personal confusion into inner peace and acceptance, or even strengthen a romantic bond between two people. Tattoos serve as deep reminders to the wearer of the mental state they were in when the tattoo was first applied, and the usual goal for that person is to be transported back to those feelings whenever the tattoo is looked upon.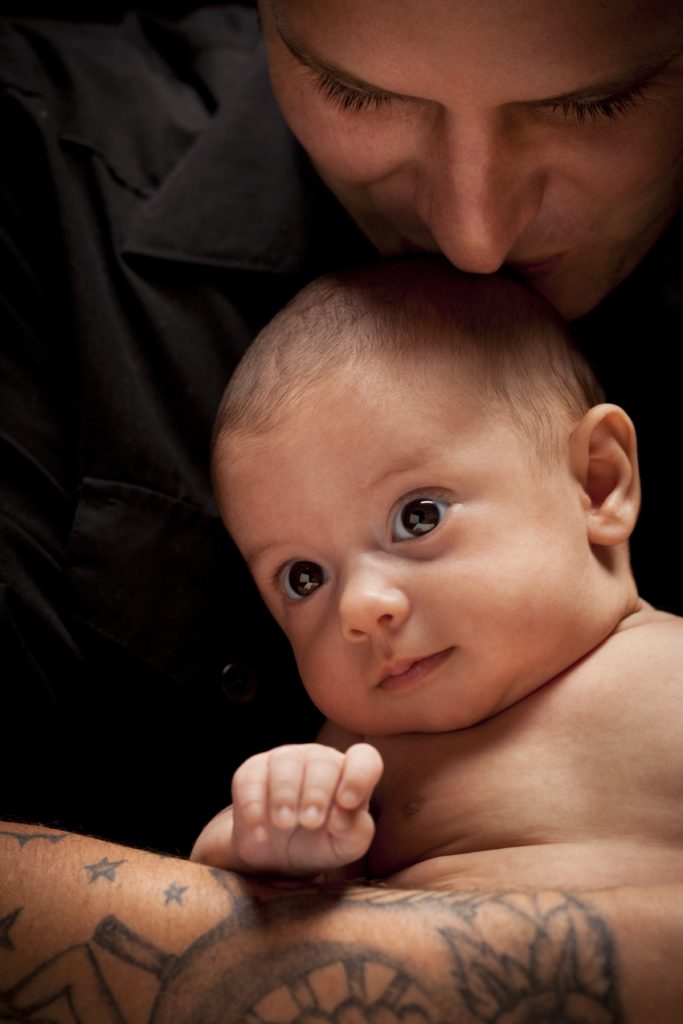 When we look at tattoos in this very personal way, we see that there are real people behind each tattoo, each with real struggles, hopes, dreams, and loves. These tattooed people come from all walks of life (trust me), and include doctors, military, policeman, veterinarians, teachers, photographers, and most certainly parents and step-parents.
And from what I can tell, there is no difference in the love and attention given to children by people with and without tattoos. To be honest, some parents just like to display art on their skin. No harm in that. Some parents like to commemorate their children's births by having their footprints or baby portraits tattooed. Some parents deeply love a certain kind of flower, or have a relationship to a special kind of music, or are dealing with a hardship that a tattoo provides therapy for. These are all very human things that each of us deal with, and tattoos simply allow these parents to display their passions and interests and tribulations on their skin for all to see, including their children.
There is nothing inherently degrading or negative about owning tattoos, despite anything the rumors or television say. In fact, you probably know and respect quite a few tattooed parents that you didn't know were inked, and it doesn't make them any less of parents. They still change diapers. They still help with homework. They still drive their kids to karate, teach them to ride horses, play with them at the park, and teach them about good and bad choices. None of these things change between tattooed and non-tattooed parents, just as the love between them and their children or step-children can never fade. Parents are parents.
The following two tabs change content below.
Jordan Madere
Jordan is a multimedia artist and father of a kooky 4-year-old girl named Fiona. He resides in Mandeville, and is a fan of BBQ and sushi, imported beer, retro-gaming, travel, and sci-fi.
Latest posts by Jordan Madere (see all)