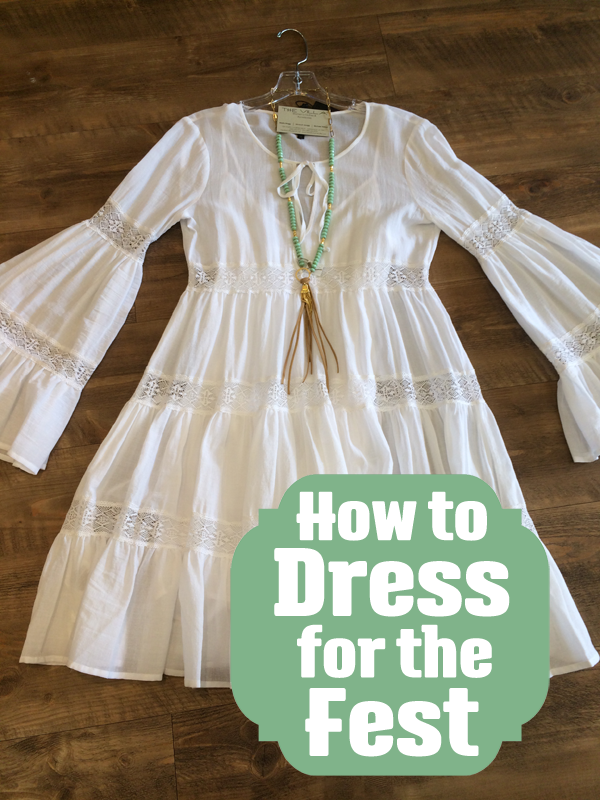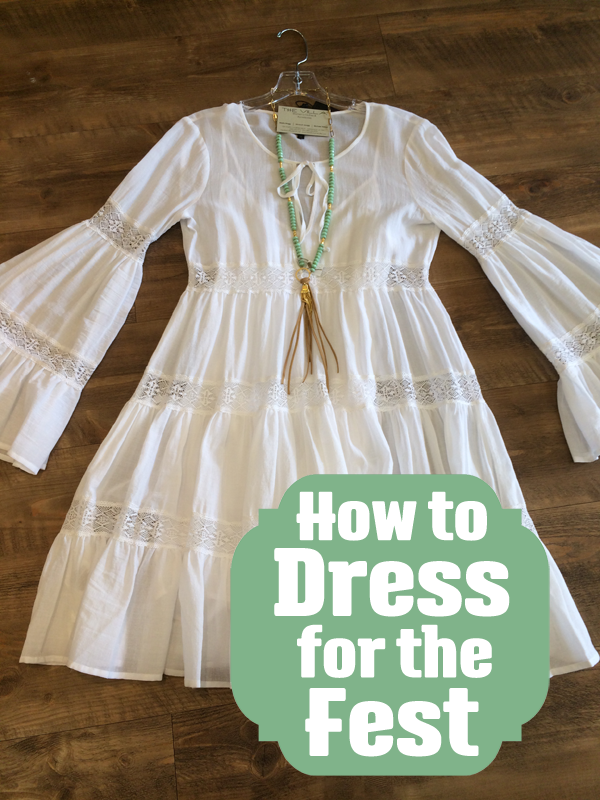 It's festival season! That time of year where Louisiana is its prettiest and everywhere you turn there's a chance for live music and delicious food you can eat with one hand. Whether you prefer to head for New Orleans or out to the country, you're bound to find a good time. You have to be prepared, though, for an entire day out of doors and the potential for a lot of walking around and a lot of sun. We touched based with a few LOCAL businesses to see what they'd suggest for a day of festing.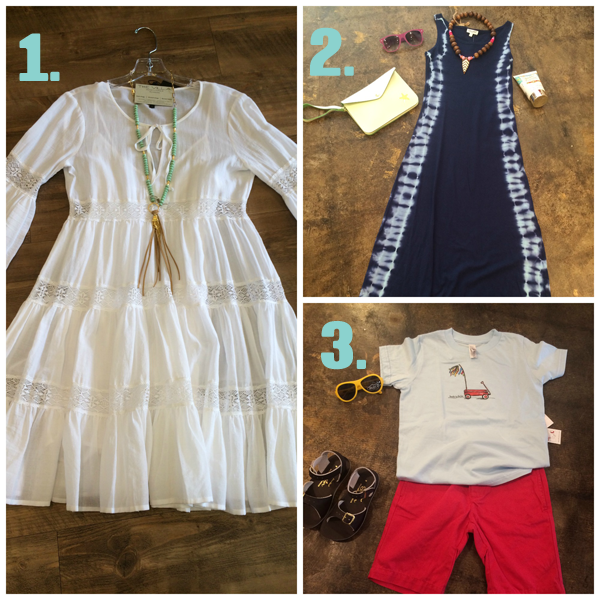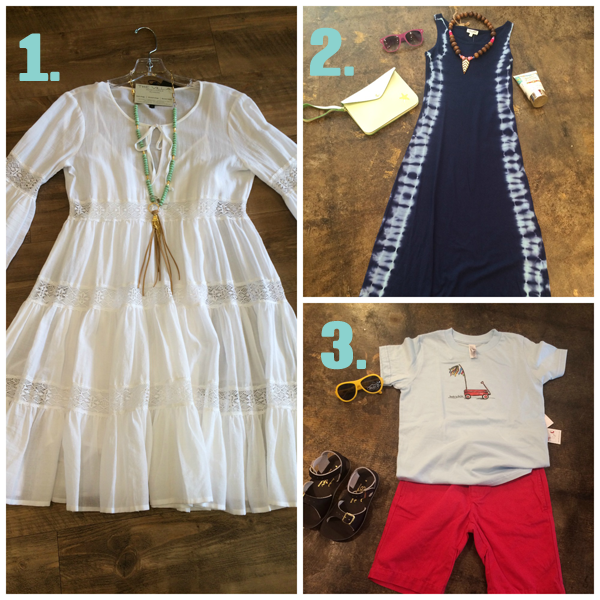 1. This beautiful white peasant dress from The Villa in Mandeville is so light and airy it will keep you cool while looking gorgeous. A turquoise necklace with fringe details completes the look. Perfect for the woman who wants to look dressy even when she's at an outdoor event.
2. This navy tie-die dress will suit your fashion tween to a T. Olive Patch in Covington pairs it with cool shades and a chunky, tribal necklace. The best part of this outfit is that little tube of glitter sunblock. When the glitter fades, it's time to reapply!
3. For the little gentleman in your life there's nothing better than this "Fest Wagon" tee from Two Sprouts! Olive Patch has this same shirt available in a variety of sizes and even in a onesie.  Red twill shorts and saltwater sandals make the outfit perfect for a day at the Parade Grounds.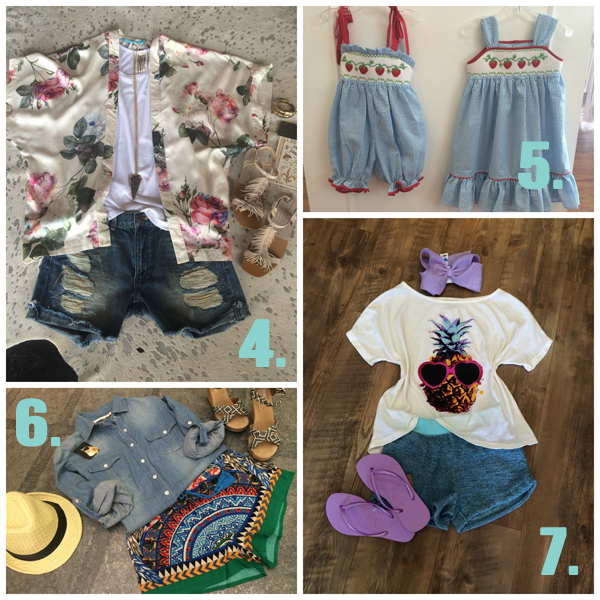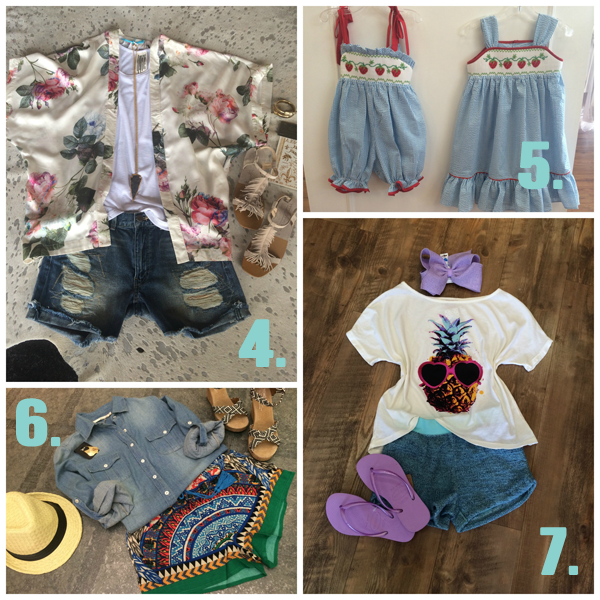 4. Posh Boutique in Covington pairs jeans shorts and a light tee with an elegant floral kimono top. Add some comfy fringe sandals, a gold bangle, and some NOLA-themed flash tattoos and you're ready for anything from Jazz to Oyster Fest. This outfit screams "effortless style."
5. Are you heading to Stawberry Fest? This adorable dress or bubble in blue seersucker from Baby's Corner in Covington will make somebody's little miss the best dressed girl at Memorial Park. All she needs is a big red bow.
6. Columbia Street Mercantile has gotten in a ton of new stock this week and so much of it is just perfect for a festival. These printed, handkerchief shorts sport some gorgeous colors and the denim top and be worn over a tank at the start of the day and then tied around your waste when the temperatures rise. A casual fedora will keep the sun off your face and some comfy TOMS wedges will keep you look good all day long.
7. For the tween set, this t-shirt from Blossom Girl features a very on-trend pineapple motif. Paired with a lilac burlap bow, lilac flip flops, and super-soft shorts, this outfit can be re-mixed and re-worn all summer long.
The following two tabs change content below.
Hi, I'm Katy. Mom to four sweet boys ages 10, 6, 6, and 5. It's a loud, messy, chaotic life. I love connecting with other parents and am so glad you stopped by today!