I love to celebrate. I love a party. I love a theme. I LOVE my birthday. . . and other people's birthdays too. I love an excuse to highlight someone and let it be all about them. Most of all, I love to decorate, so it's no surprise that I throw my kids semi-ridiculous birthday parties. I mean it's not like I hire a heard of ponies and fly in Disney characters but I do spend a lot of time and thought on their birthdays. Especially the first birthday. Now I know what some people will say, "why spend the time and money when they won't even remember it?" Well my theory is this: We are raising our kids to be experience oriented. Not looking for the gifts but to the experience we can all have together. To me this is just an extension of that theory. Plus it's fun!!! When my third son was born in December of 2015 it took about four months before I told my mom and husband that I was already planning a Where The Wild Things Are party in my head. They both laughed and were like ok we will talk to you in November but I already had it mapped out in my head. What I originally planned was a little more involved than what I ended up doing–largely because my son is not a fan but of big groups so we didn't invite any kids. Nevertheless, the adults had fun and it was a memorable experience for all of us. So here is Pop's Where The Wild "Kings" Are First Birthday..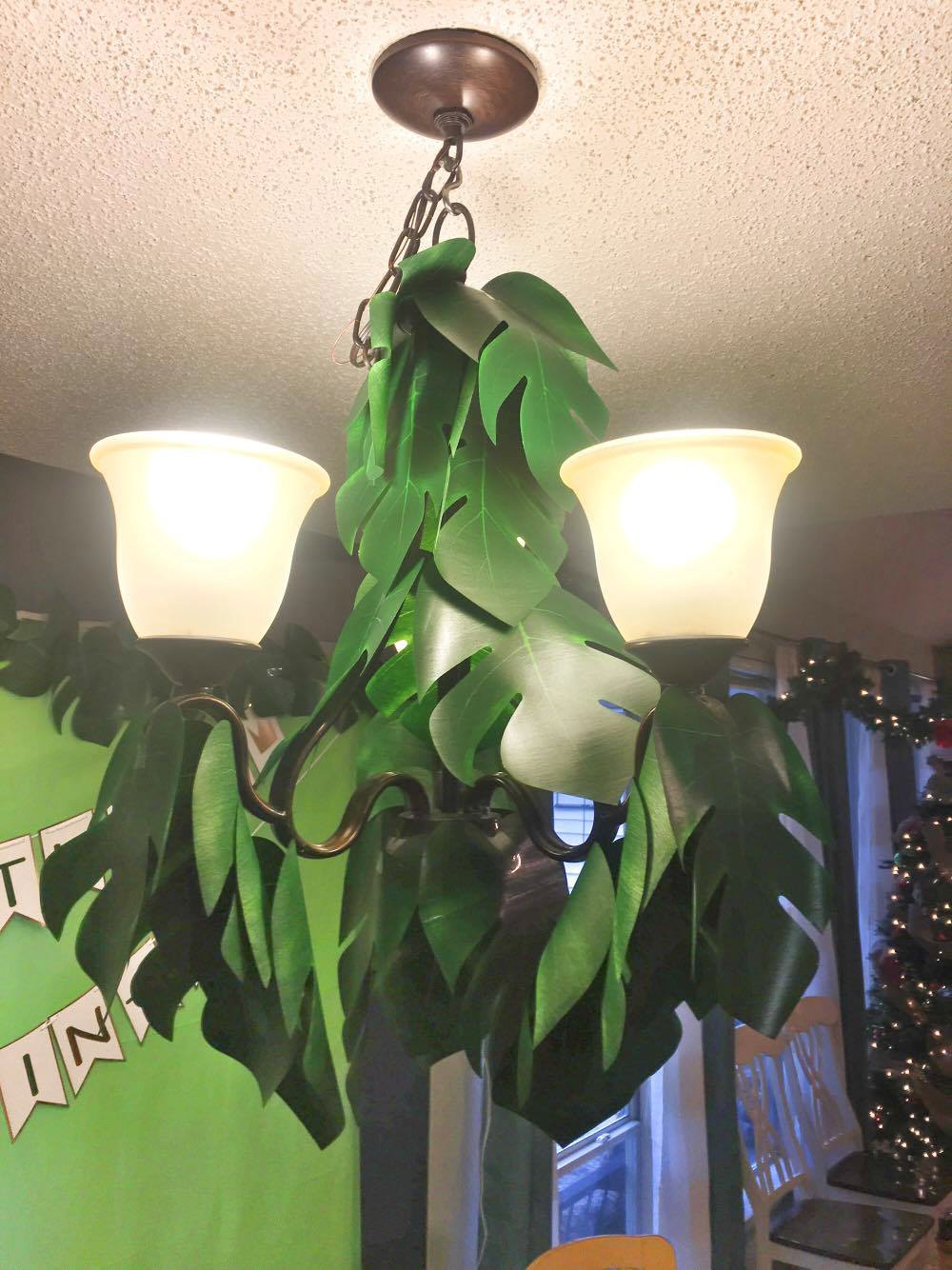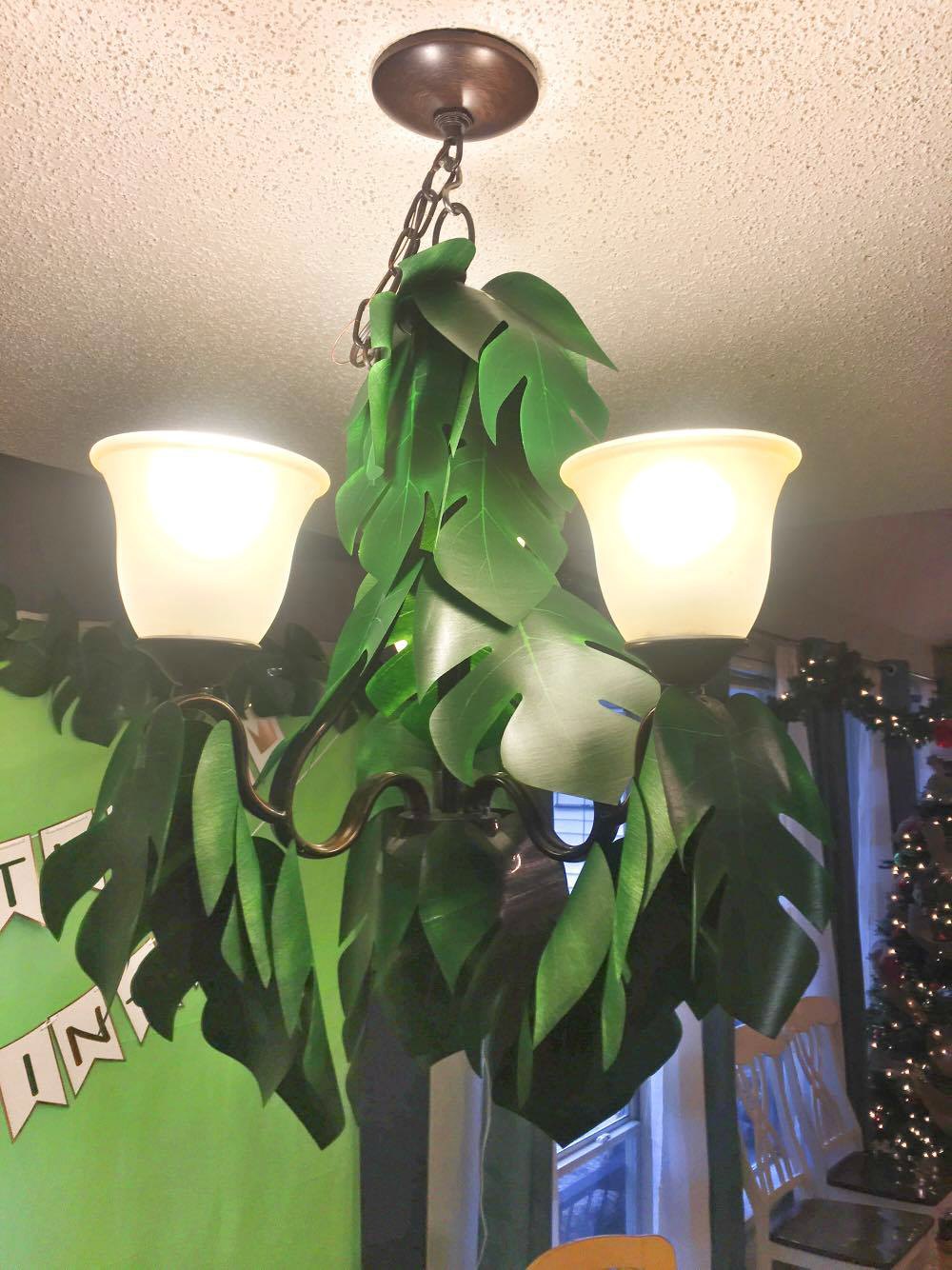 This was probably one of my favorite décor items at the party and it was a complete afterthought. I purchased the leaves at Amazon.com, Fun Express Tropical Leaves, and intended to put them all behind the cake table. When I was decorating the chandelier looked so empty I decided to decorate it too!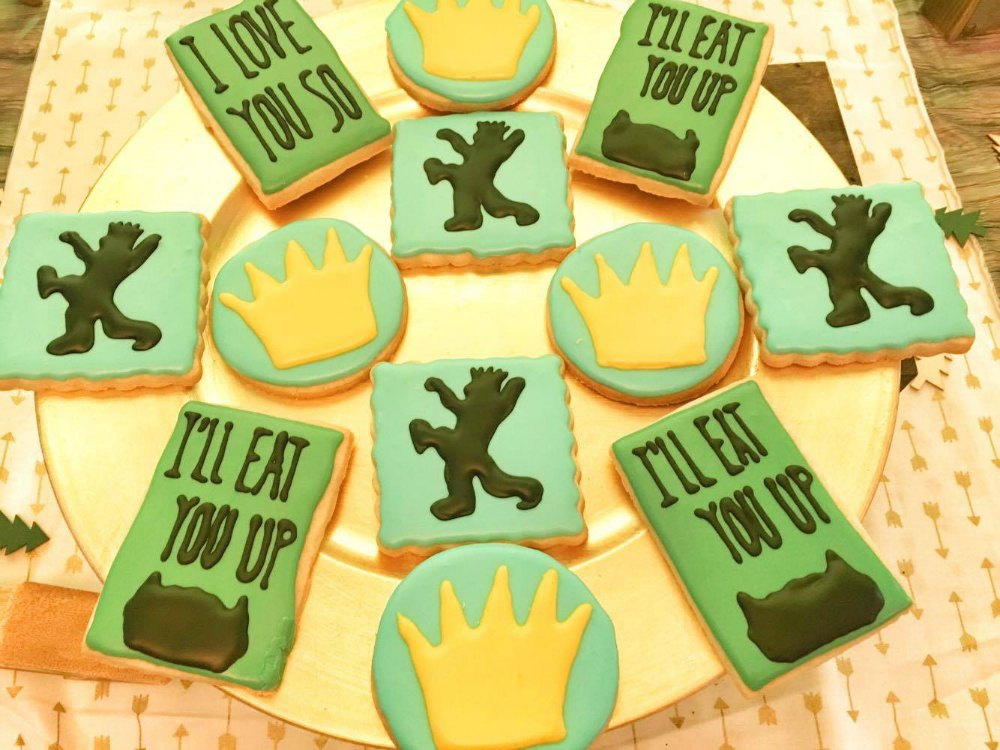 The cookies were a Pinterest inspiration turned reality by the talented Christy Ross with Un Biscotto Speciale. I didn't give her a lot of details just that I wanted Where the Wild Things Are style cookies. She came up with a wonderful design and the cookies were also delicious.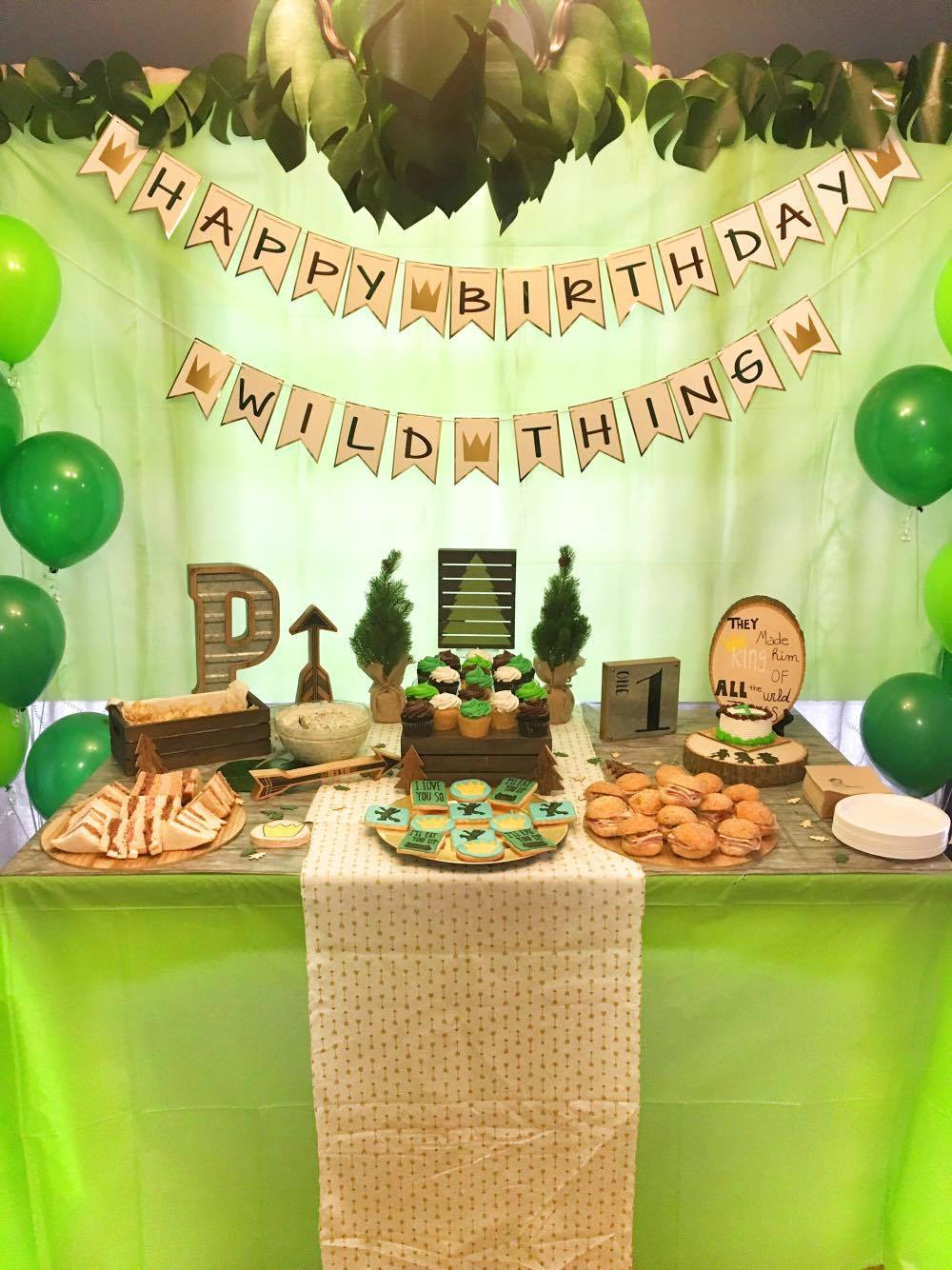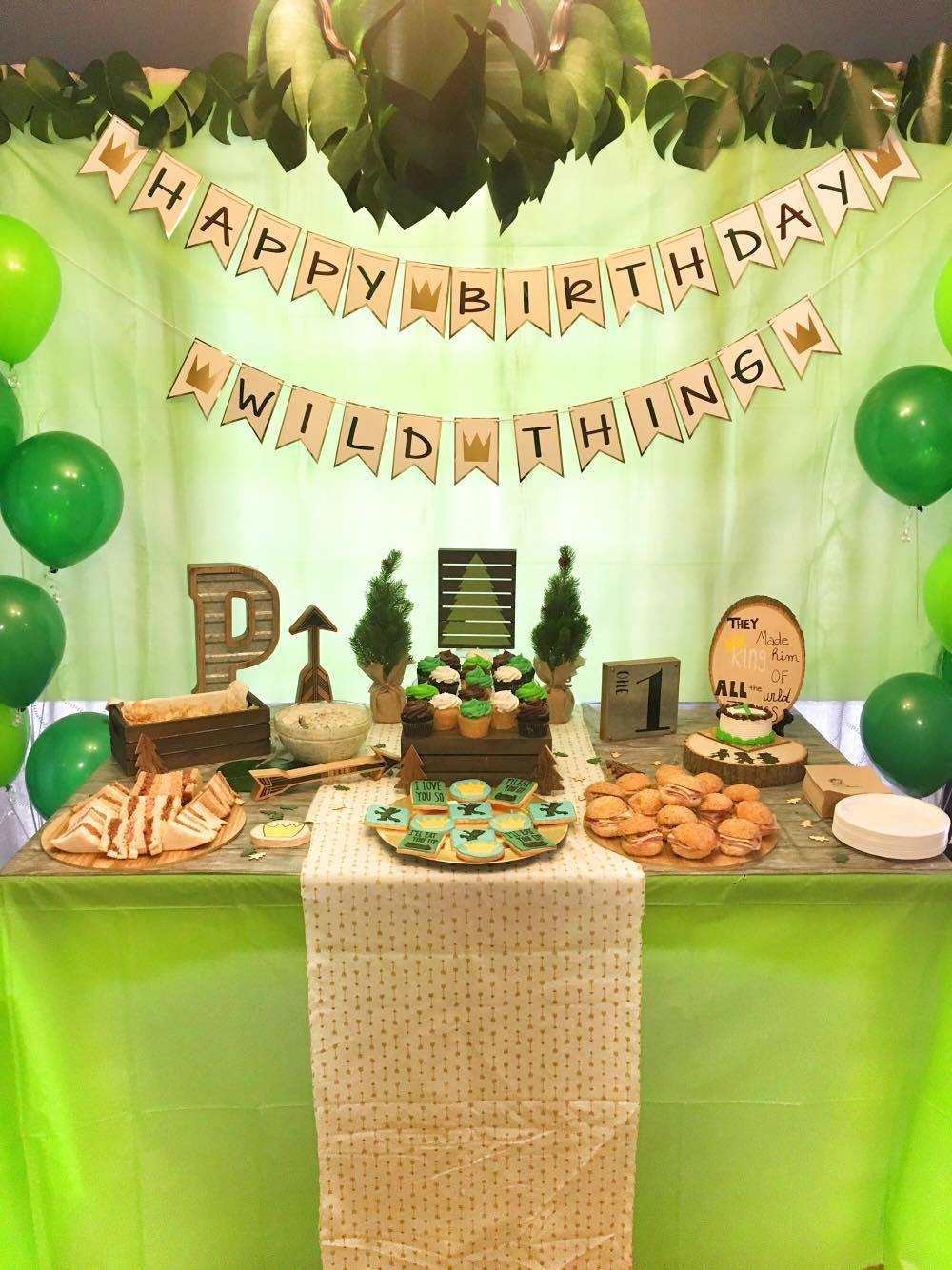 This banner was beautifully designed at Tiffany Robicheaux. She takes custom clients by email fausttiffany@netscape.net. She also designed the invitations.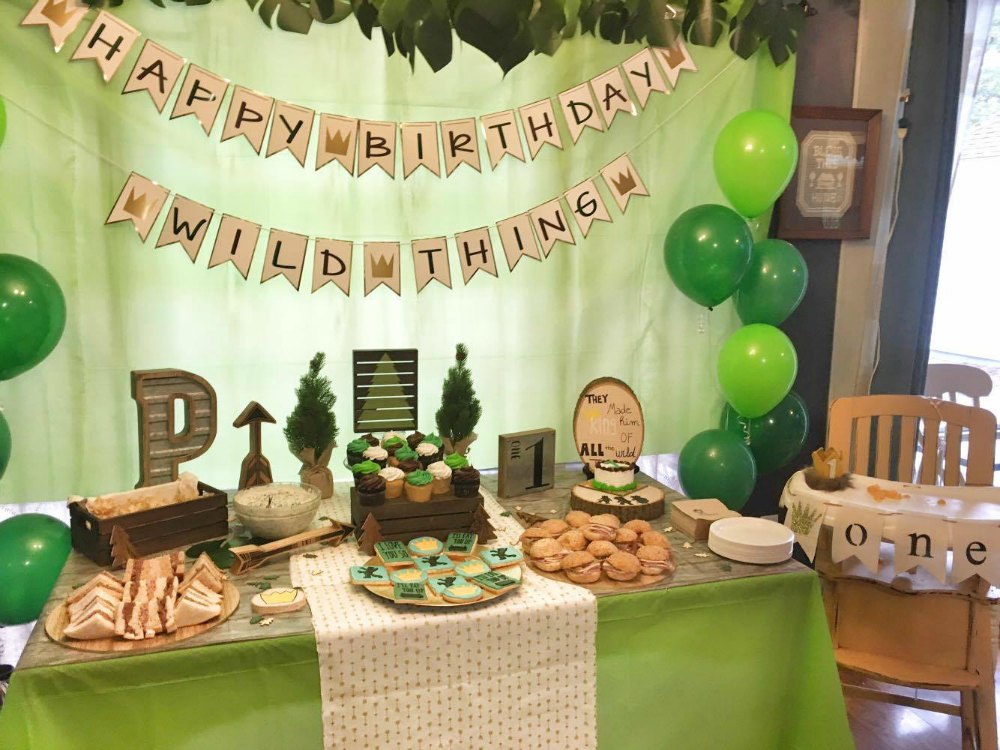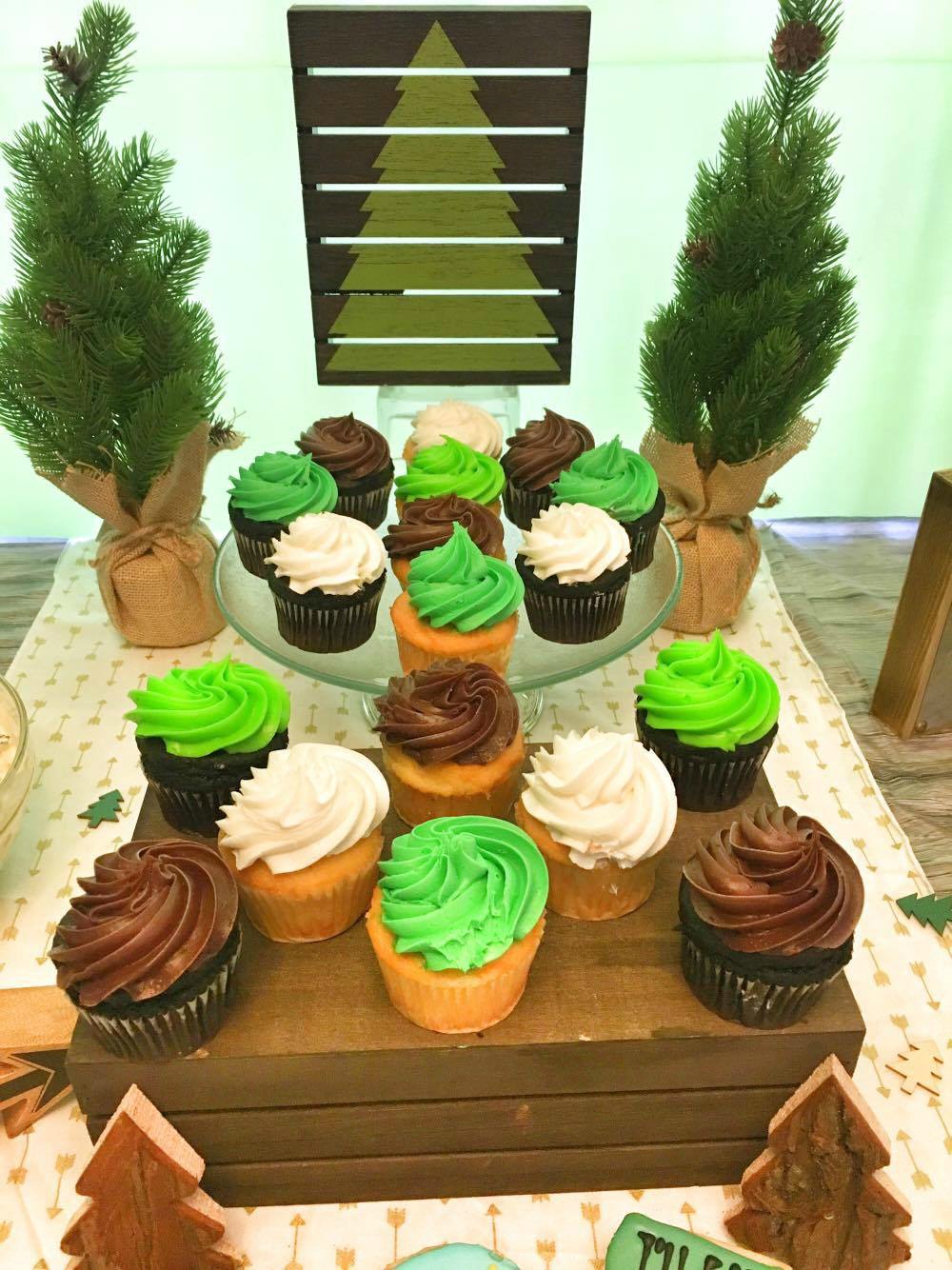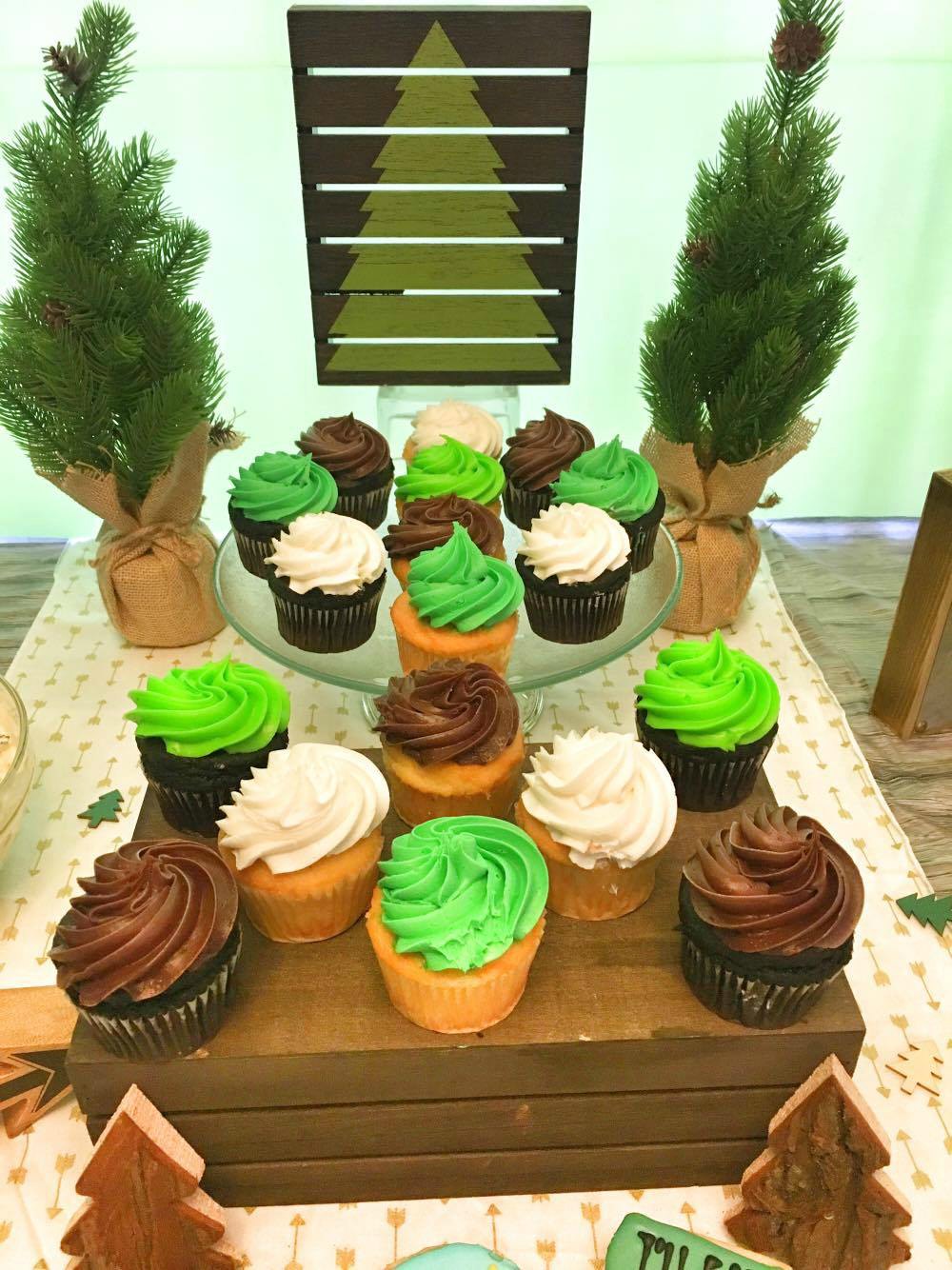 The cupcakes and other food were supplied by Rouses Markets.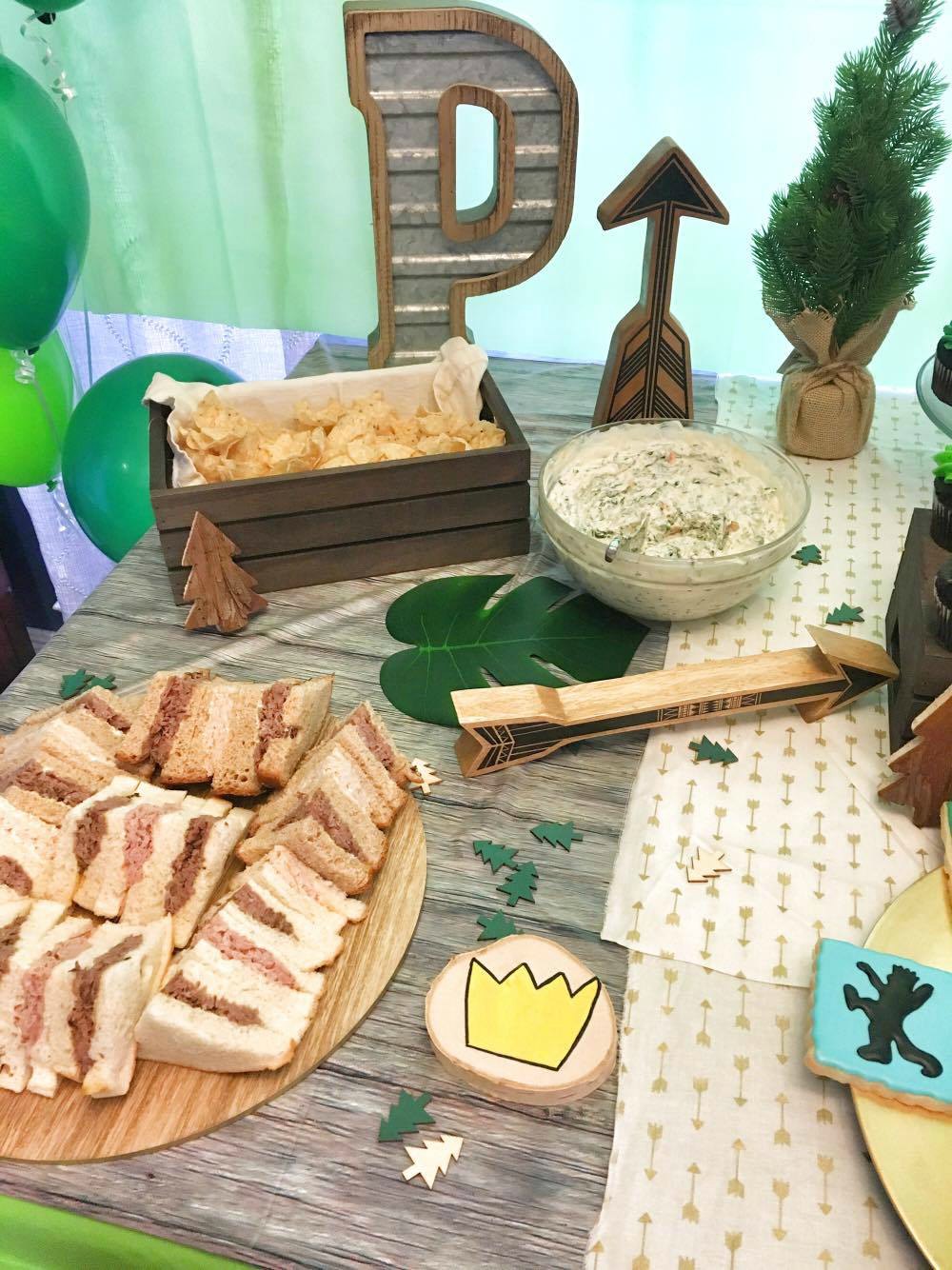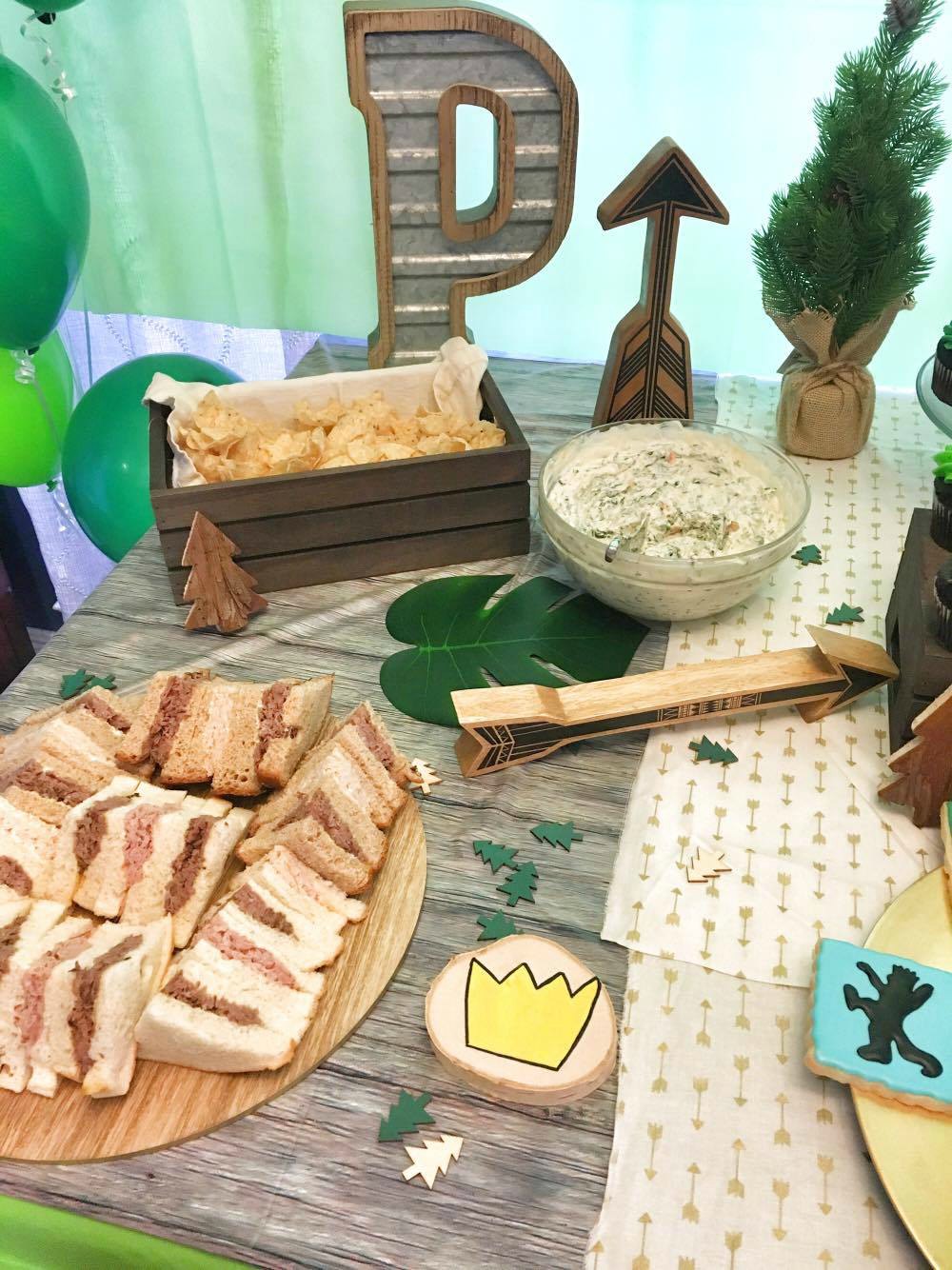 Most of the table décor came from Hobby Lobby. The table cloths and leaves were all purchased from Amazon.com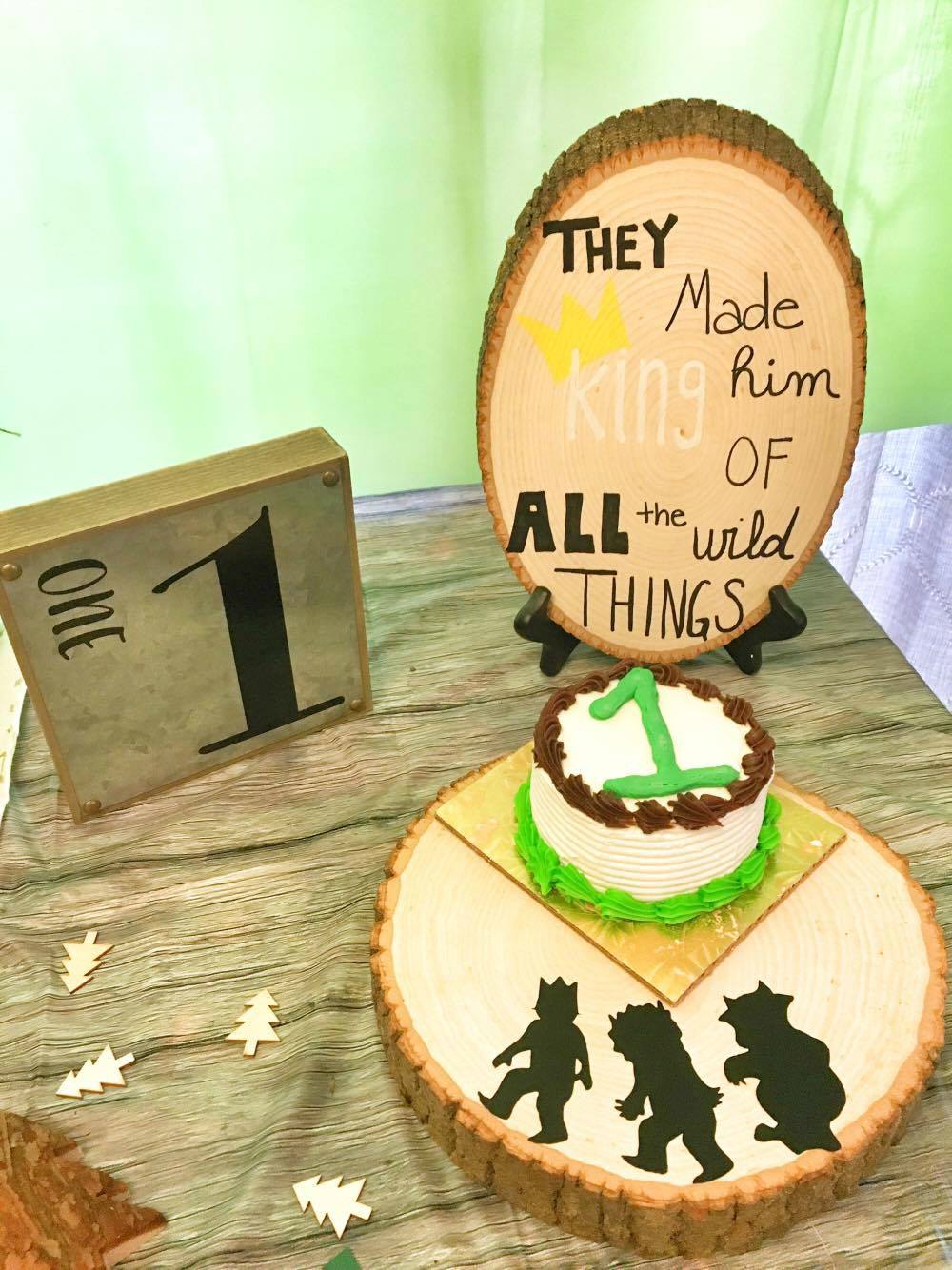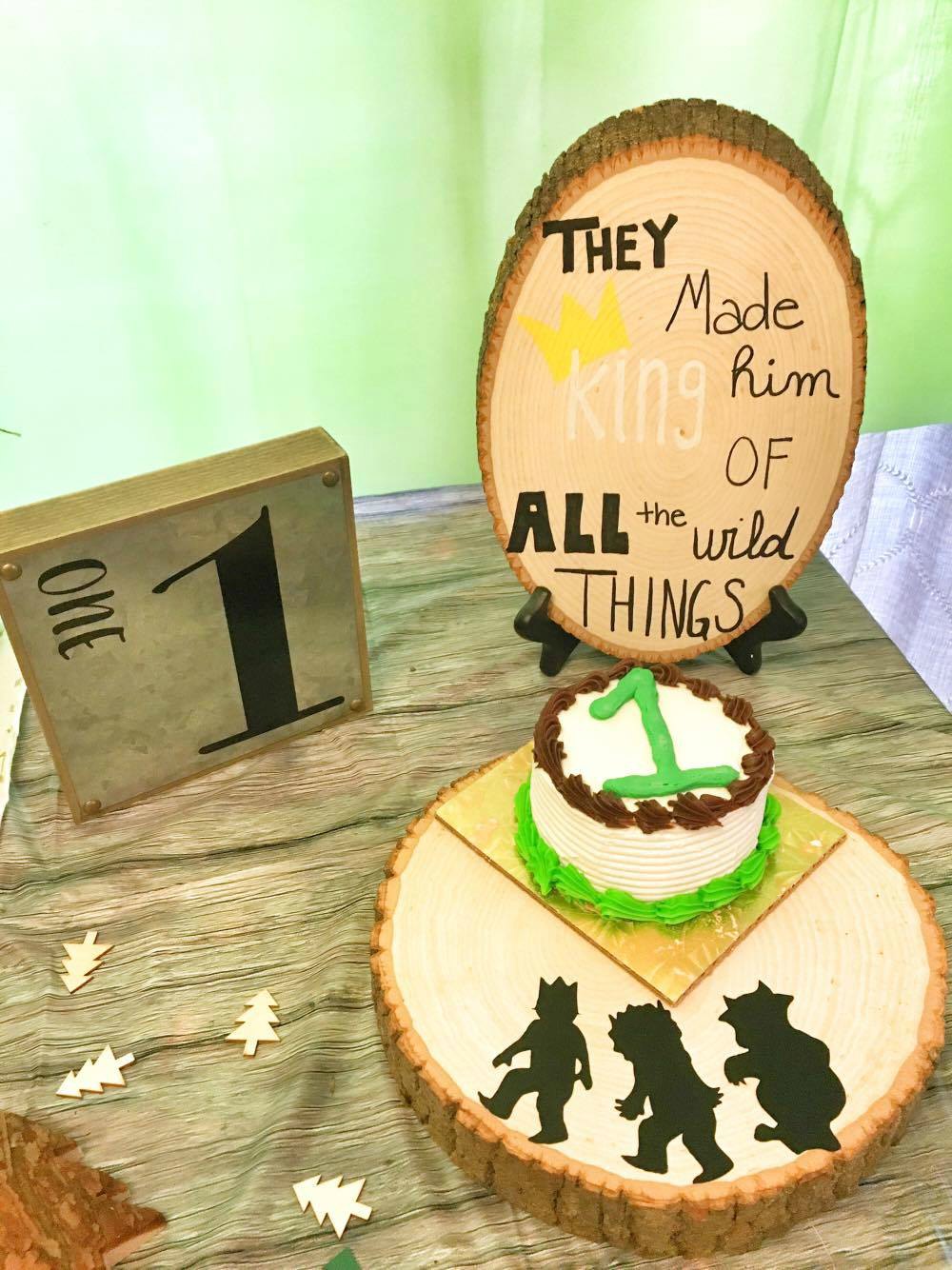 Smash Cake was made by Rouses Market in Mandeville.
The chalkboard silhouette stickers on the cake base and also on the cups in the hot chocolate station were ordered from ETSY Shop The Shindiggity Shoppe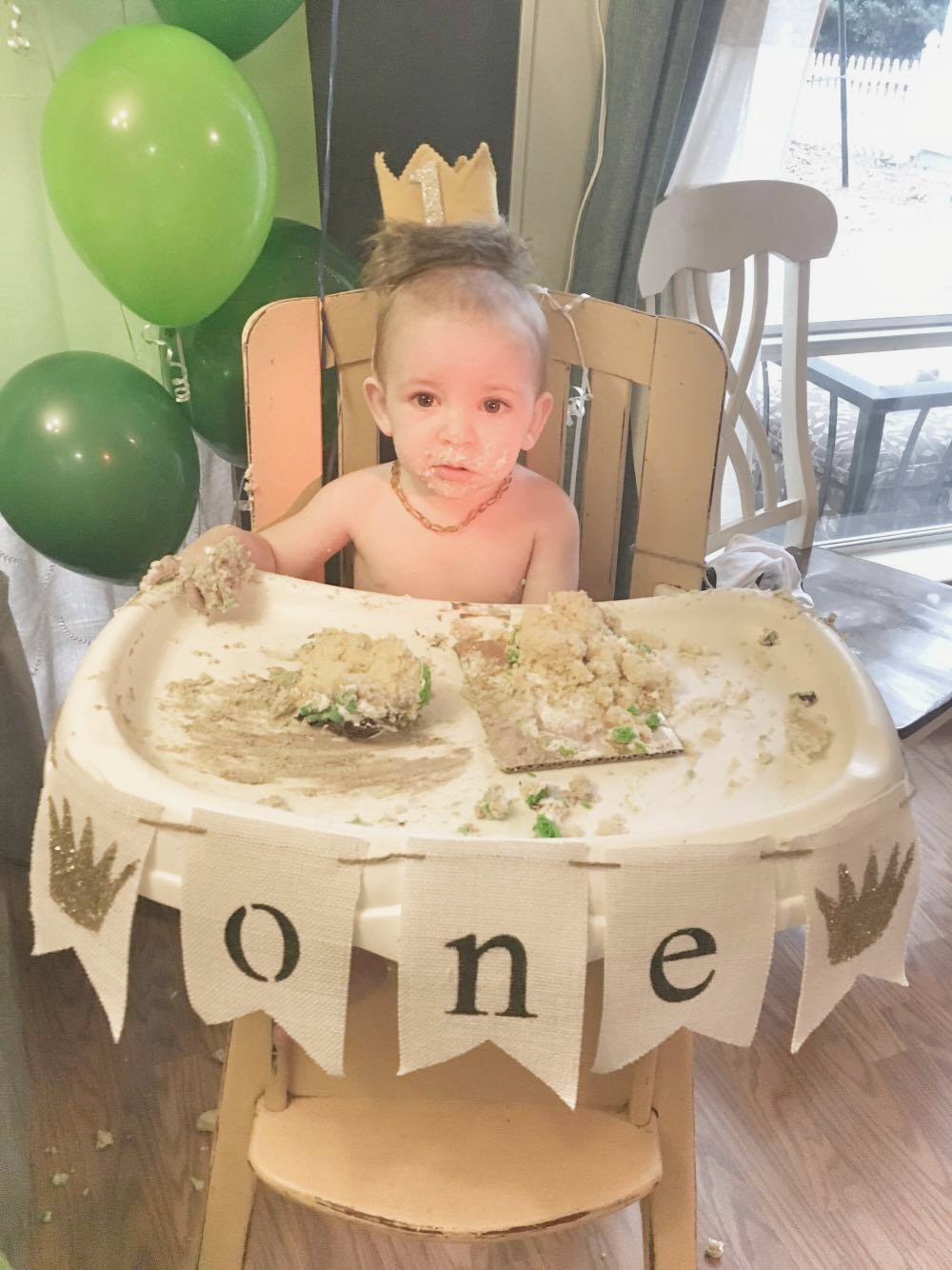 The Birthday Boy and his cake smash hat made by Mosey on ETSY.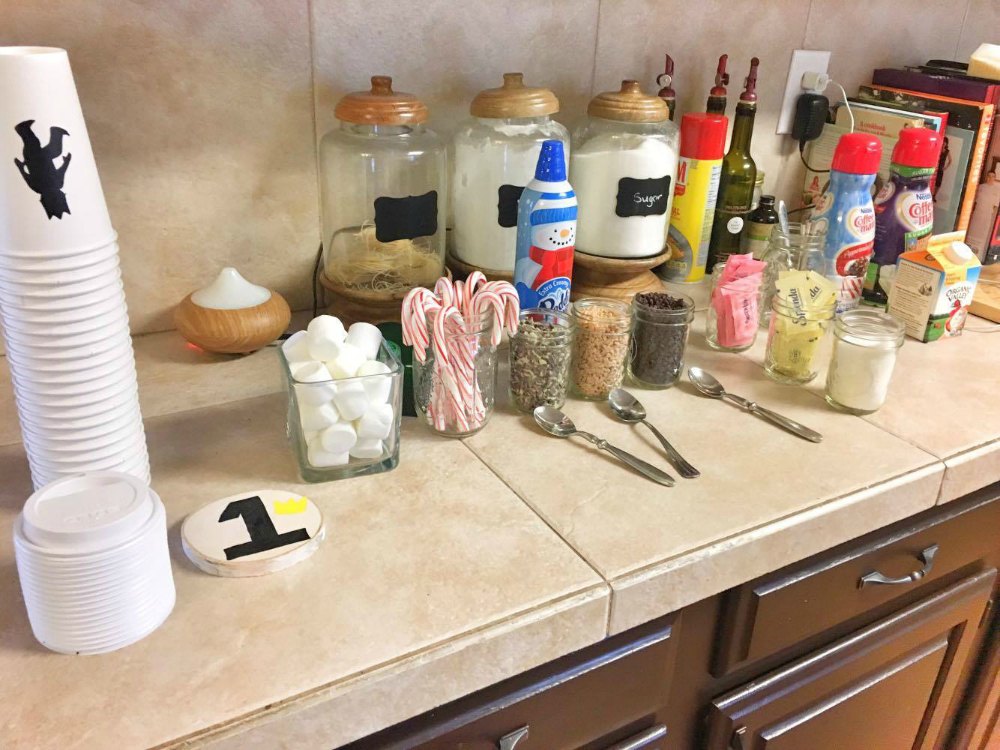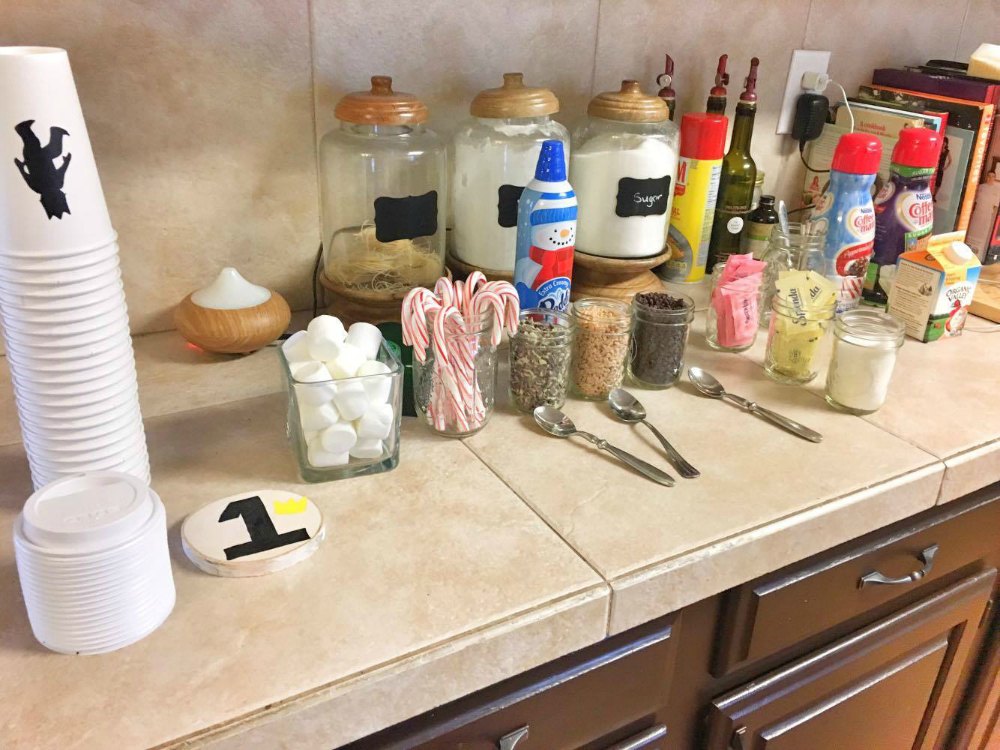 I have been wanting to have a hot chocolate bar at a party I was throwing for a long time. A baby with a birthday in December was the perfect excuse. I might have one every single year. I had hot chocolate pods at the Keurig and also coffee. Our toppings included marshmallows, peppermints, andes mints, heath bar, mini chocolate chips and whipped cream.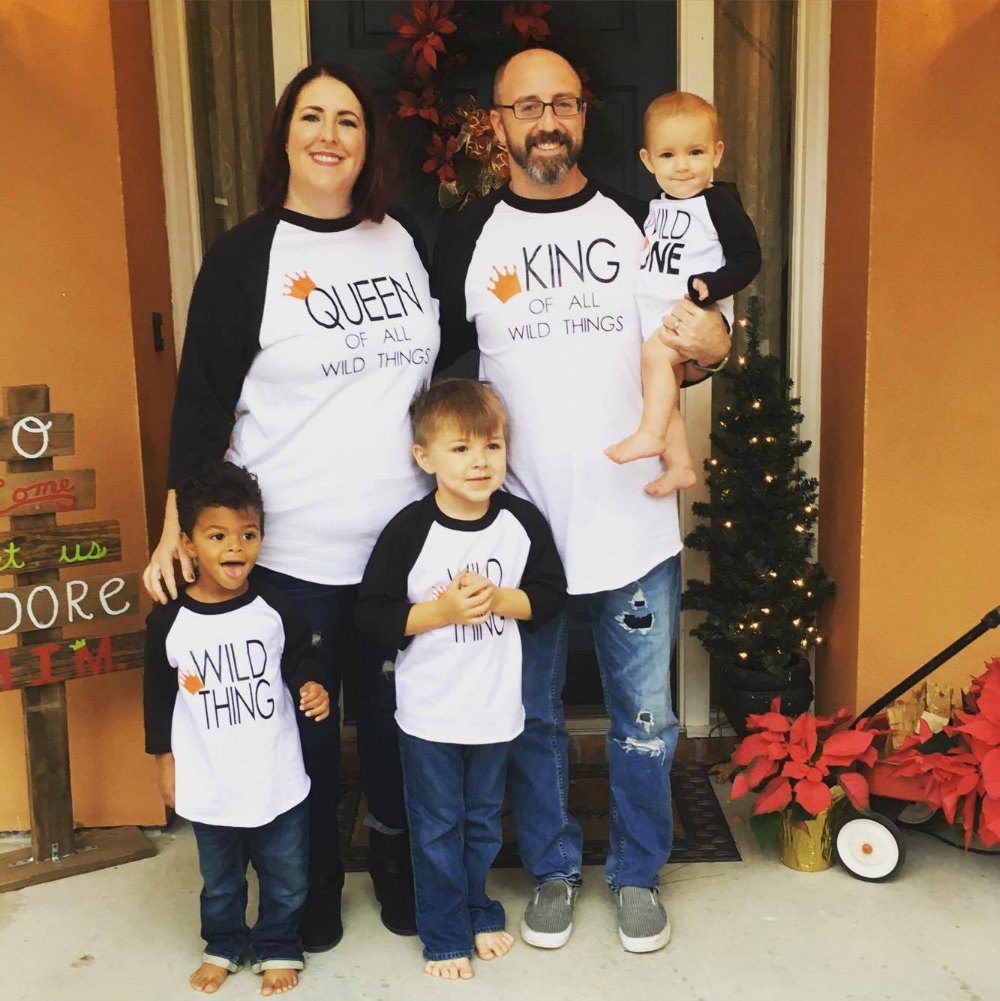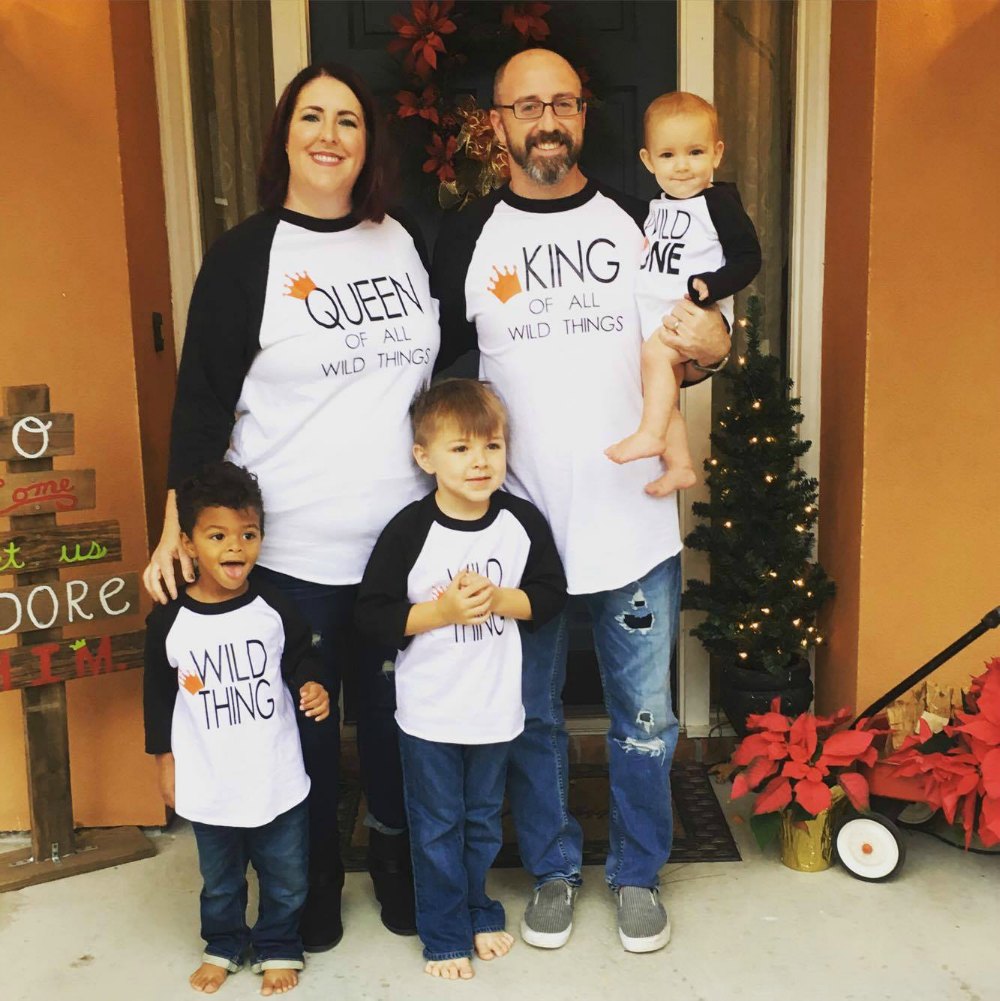 The shirts were the absolutely the icing on the cake so to speak.  I didn't realize how much we would love them and so would everyone else.  They were such a hit we are probably going to wear them to Mardi Gras too.  They were designed by my long time friend Antoinette the owner of Annie's Vinyl Creations.
When I am hosting a birthday party I usually hire a photographer so that I don't have to worry about the pressure of taking pictures myself. This party was small and I didn't think I would have an issue but gosh I wish I had hired one now. Two of the photographers I have used are Jessica Russell and Erin Cefalu. Both do great work and take fun party pics.
Planning parties should be as fun for you as it is for the child you are planning it for. Big or small parties are a time to spend with the family and celebrate your loved ones.
Did you love this party but are still looking for more inspiration? We have bunch of birthday party inspiration on our site for you to check out. And if you're looking for a venue or an entertainer we have that too! Just check out our birthday party guide.