Each year my family hosts all of our friends at our house for the first Saints game.  It's really something that we have grown to love doing.  You know as well as I do that as we get older and have more kids it's just not always possible to get together with your friends as much as you would like. Having this standing event gives us all the chance to get together at least a few times a year.
We usually smoke some meat and do something BBQ related but this year I really wanted to do something fun and different, so I decided that we would do a taco bar and have all things Mexican. I think everyone was as excited as I was. Our friends quickly volunteered for items they would make and I decorated, of course, and cooked my heart out.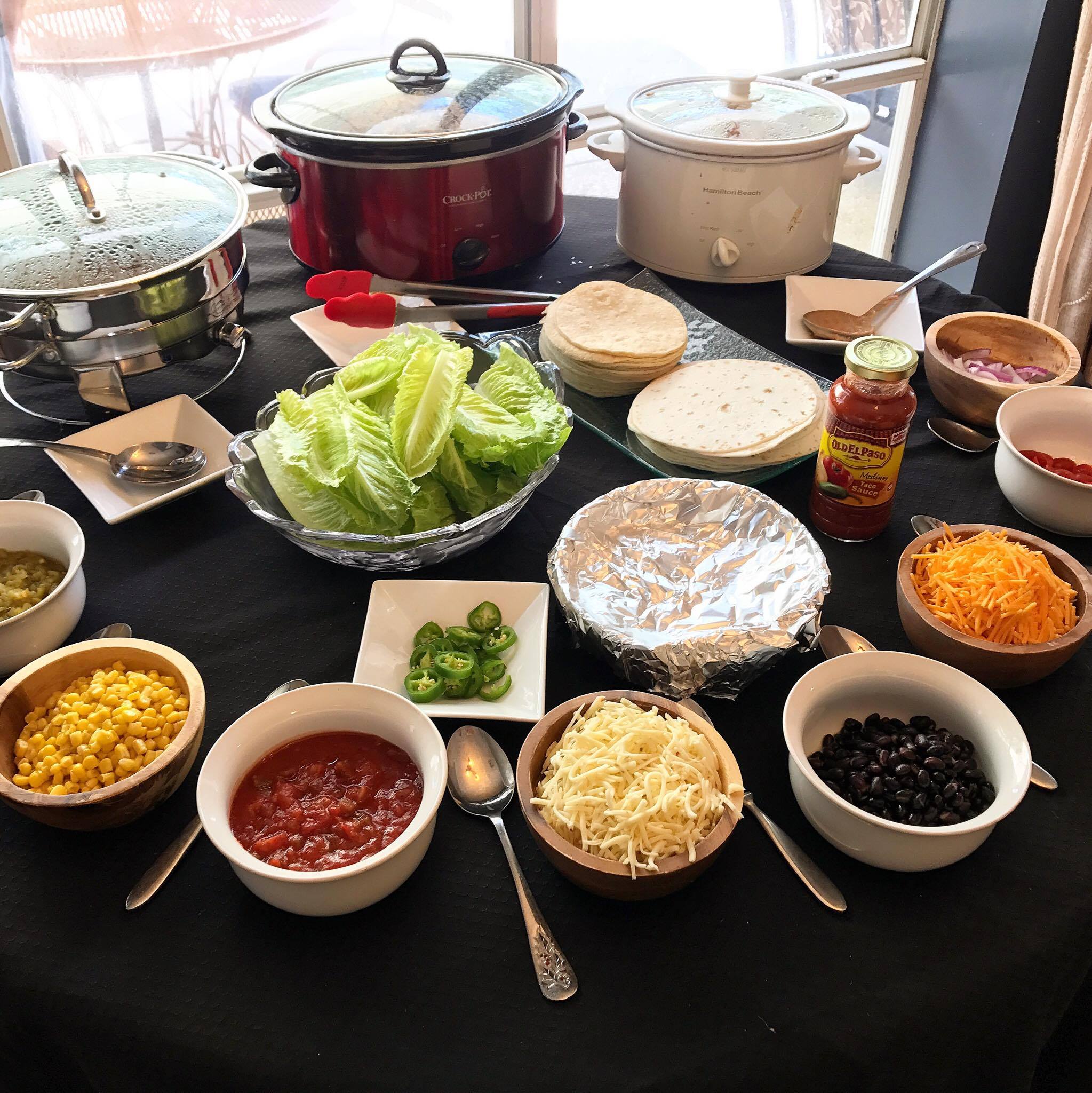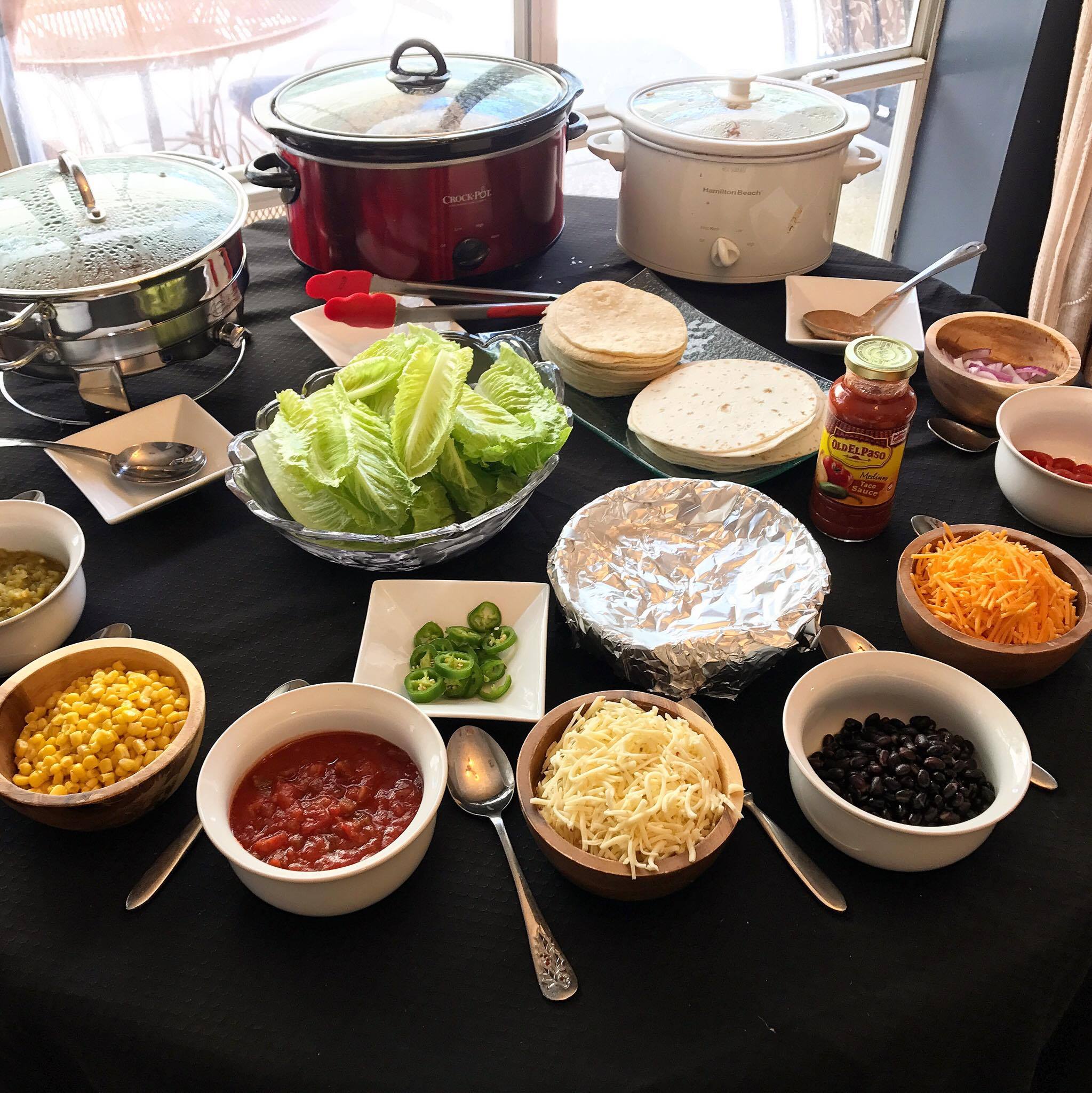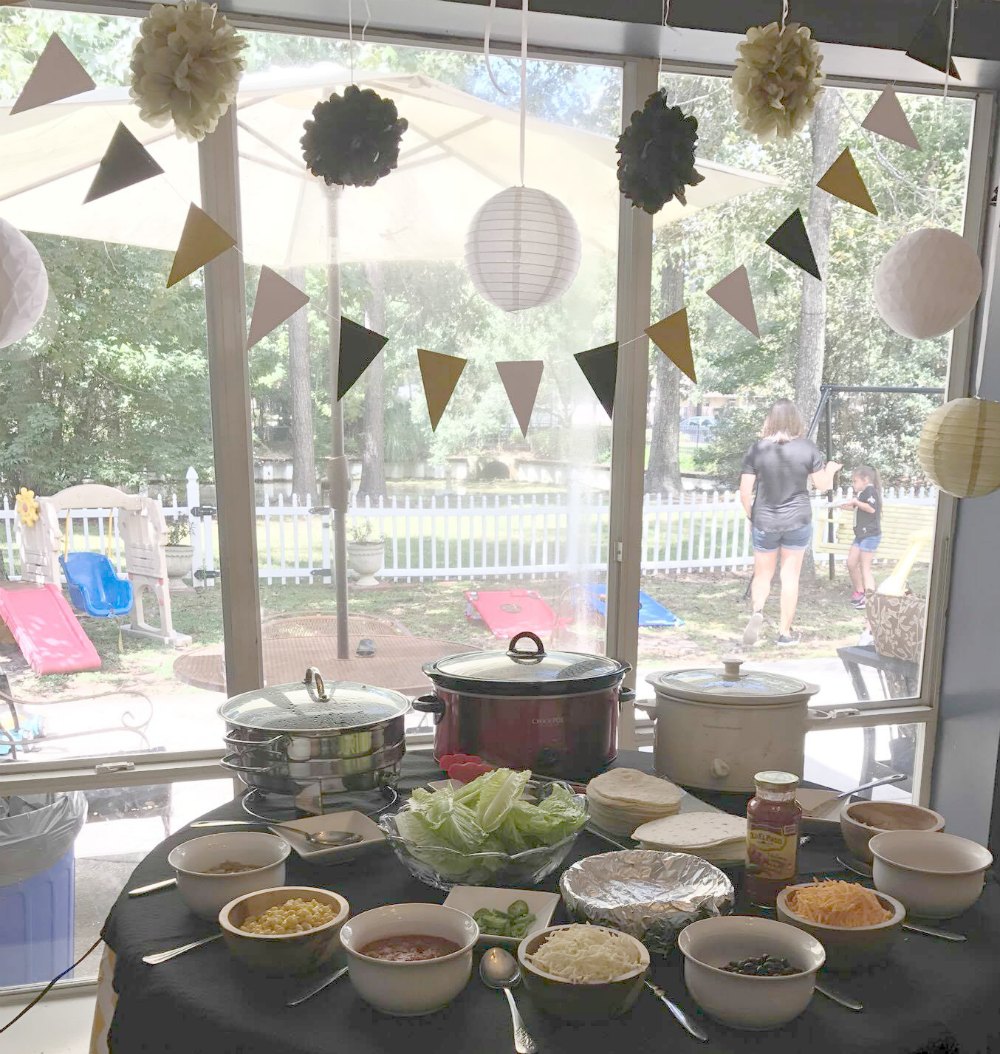 I never miss an opportunity to dress the boys alike so their matching shirts that were gifted to me by Evie's Closet were a perfect little addition to our day.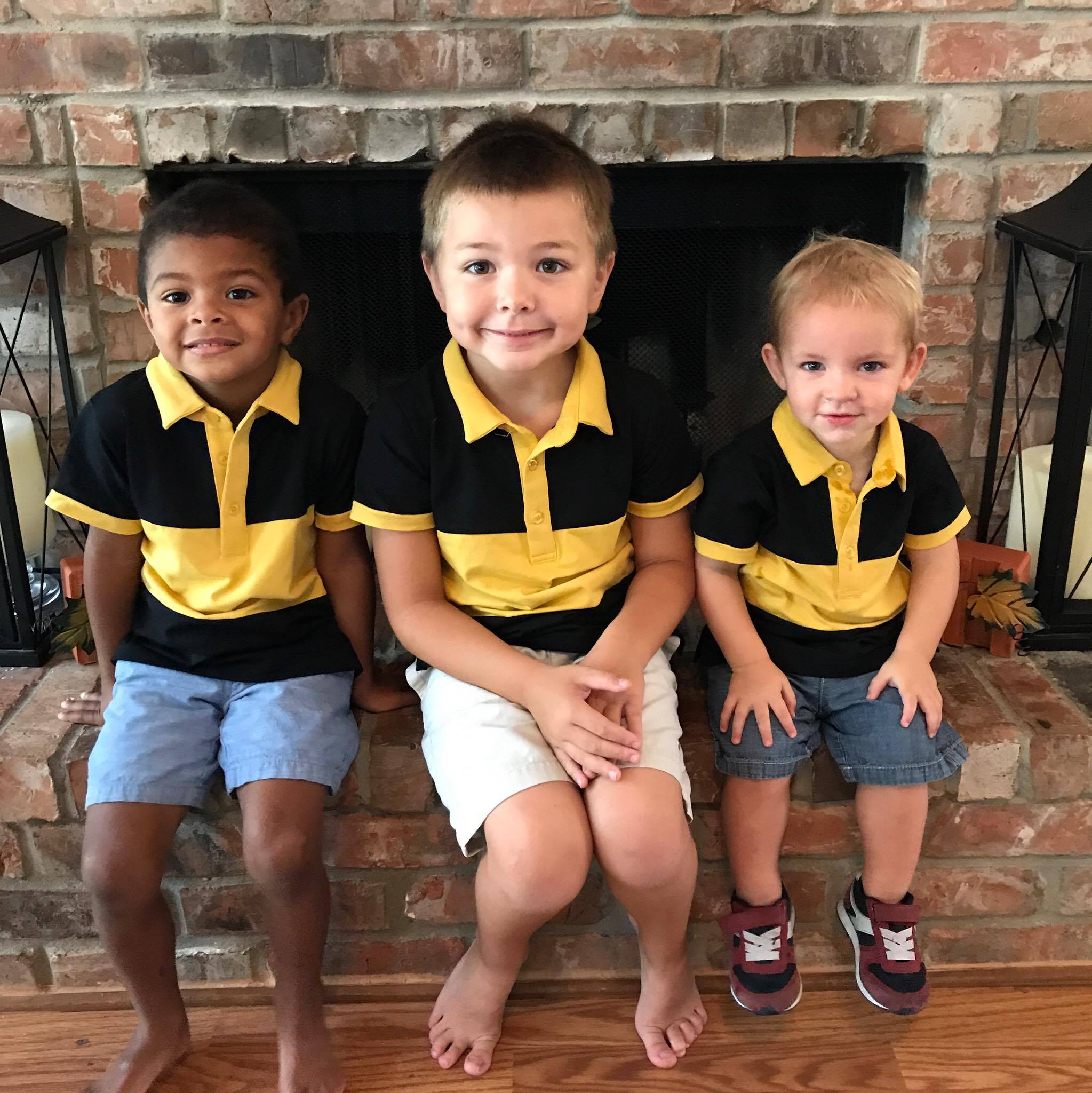 We try to keep the kids outside so the soccer goals, tv and cornhole sets definitely give them something to do.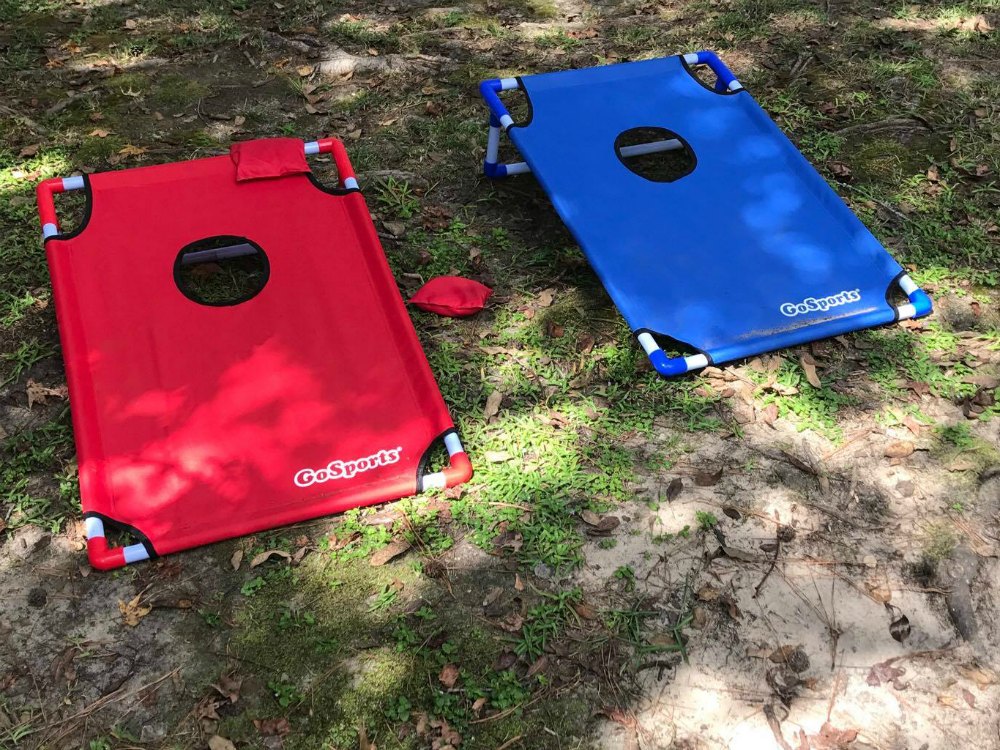 For the menu I made Beef taco meat, pork carnitas, bean dip and homemade guacamole just to name a few. Here are some of my recipes.
Beef Tacos
1/2 pound of ground beef
1/2 onion, chopped
2 cloves of garlic, minced
1 tbsp. adobo sauce
2 tsp chili powder
1/4 tsp salt
1/8 tsp cumin
1/8 tsp oregano
dash of black pepper
Brown ground meat in a skillet.  Add onions and sautee.  Drain fat and add spices and cook for 5 minutes.  If it's too thick add a little water of chicken stock.  Serve hot.
Slow Cooker Pork Carnitas
5 pounds of pork shoulder
1 onion
1 jalapeno
Wet Rub
2 tbsp. olive oil
1 small can of tomato paste
1 tbsp. soy sauce
1/4 cup brown sugar
1 tbsp. ground cumin
2 tsp oregano
2 tsp salt
1 tsp chili powder
1 tsp garlic powder
1 tsp onion powder
1/2 tsp paprika
1/2 tsp pepper
In a skillet sear pork on both sides. Add to crock post and smother with rub. Add onions and jalapenos. Cook on low for 8 to 10 hours. Serve hot. Best with corn tortillas.
I made this the day before and then reheated it for the party. I added a small amount of chicken stock to the crock pot and just set it on warm.
Bean Dip
2 24 oz containers of refried beans
8 oz of cream cheese
2 small containers of green chilis
Add all ingredients to a crock post and warm.  Serve with chips or in your tacos.
Guacamole
4 large, ripe, avocados
1/4 cup cherry tomatoes, halved
1 large purple onion, chopped
1 lime, squeezed
2 cloves of garlic, minced
2 jalapenos, chopped, seeds and veins for spicy or remove for mild
Add all ingredients to a bowl and mash. Serve cold. Avocados will brown as they are exposed to the air but they aren't bad.
It was the perfect easy way to entertain. I was able to do so much ahead of time that I wasn't rushing around when people got there and I was actually able to sit down and have a drink with my friends. Looking forward to entertaining again soon.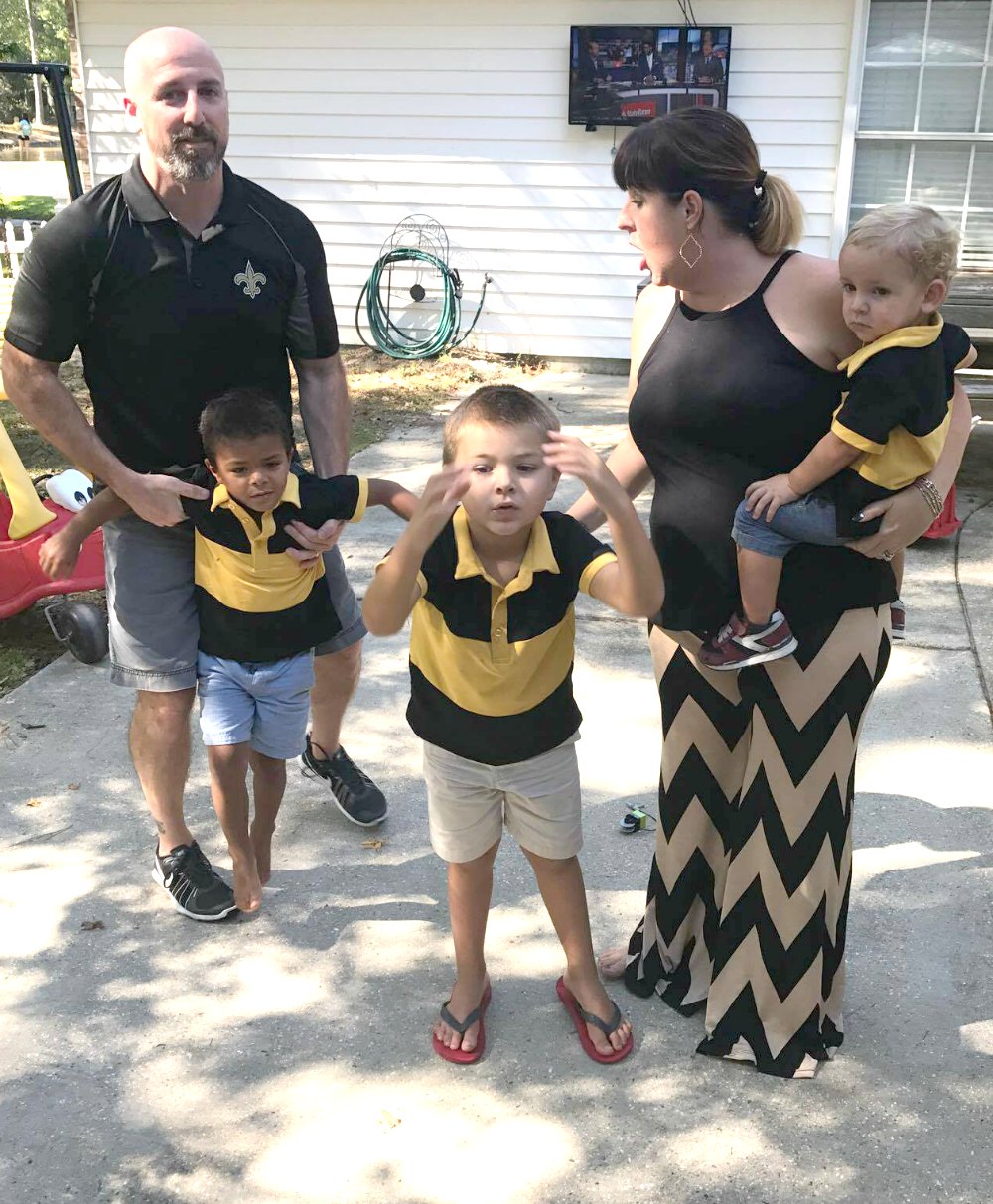 Want to hold a Black and Gold bash of your own? We've got some free Black and Gold printables to make you tables shine.