If I could use one word to describe my meeting with Sunnie it would be unexpected. Having followed her online for a while I expected to meet this loud, bubbly vivacious person and the person I met with was incredibly sincere, honest and a listener. Chances are you have probably come across one of Sunnie's vlogs if you have lived in the area for very long. She has a lot of opinions and isn't afraid to share them. She is the person saying, out loud, the things that people are too afraid to say. Her unapologetic personality is something I admire in her. Meeting with her in person though I saw a different side of someone who isn't afraid to get up on a soapbox but she also wants to know what makes you want to climb up on yours. On top of all this, she possesses an artistic talent that you don't see very often. From shoes for charity to nursery walls to Lisa Frank-inspired local landmarks, there's nothing she can't do with her paintbrush. I sat down and interviewed her to learn a little bit about this woman with multiple sides.
Northshore Parent: What is your favorite King Cake.
Sunnie Wicker: I don't really have a favorite brand I like trying all of the different flavors that places have.
Northshore Parent: Tell us your favorite local boutiques.
SW: Endless Summer and Simply Flawless
Northshore Parent: How did you get into what you do?
SW: I grew up apostolic which meant no tv and other forms of entertainment. While other girls learned to cook and sew I spent my time learning how to draw and paint. I also needed an outlet for my depression and this helped me a lot.
Northshore Parent: What do you enjoy doing with your family?
SW: We love being outside. The Lakefront, playgrounds, green spaces and more. We also like going to the Candy Bank on occasion.
NSP: What advice do you have for parents who struggle to balance being successful in business with being present in their families?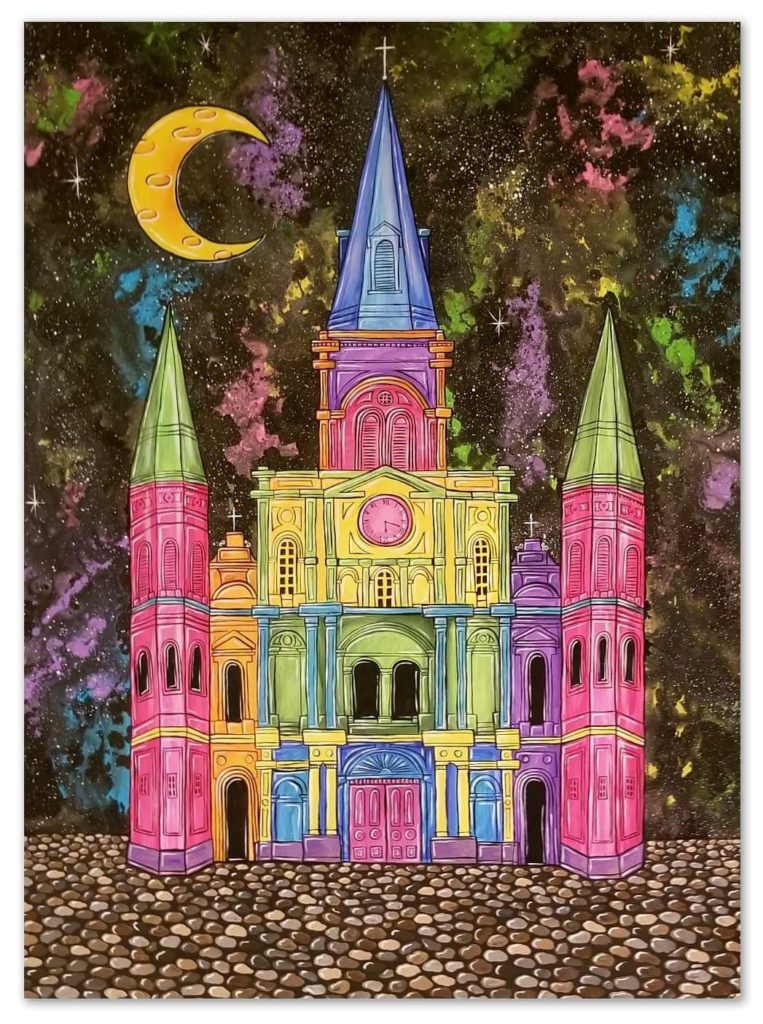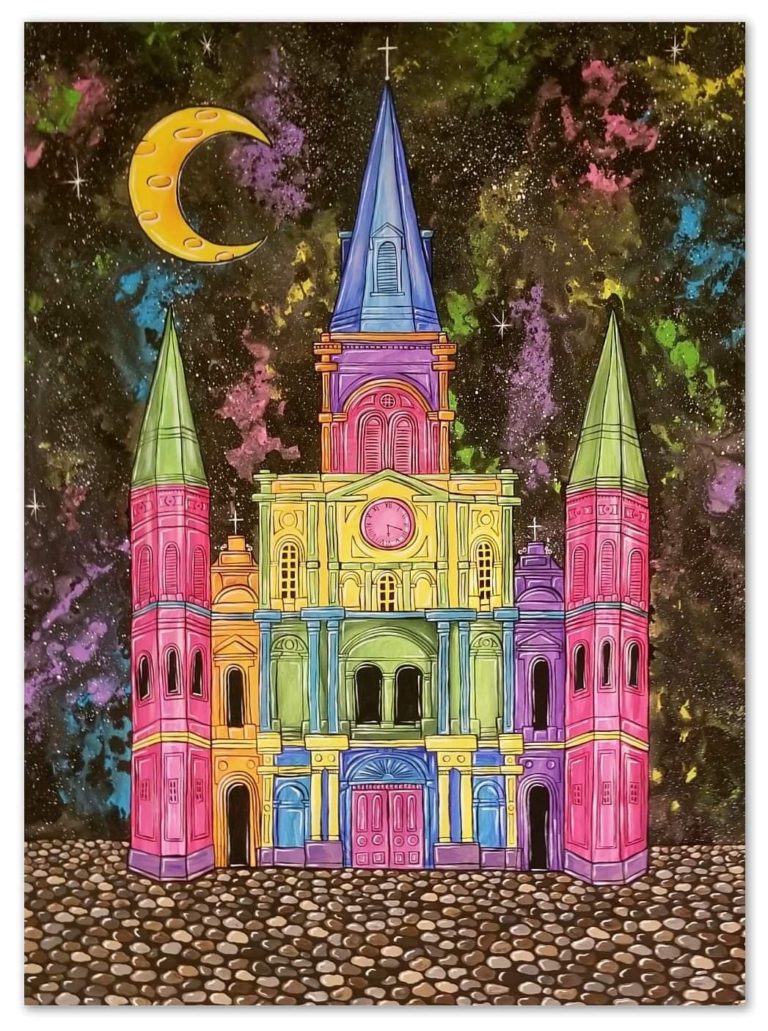 SW: advice, hmmm. . . include your family in your business when you can. Whether it's asking opinion or having them physically help with the work load–it's still time together
NSP: What cause are you passionate about?
SW: I'm a raging feminist and I'm passionate about all tings equality. I also love Peach's Neet Feet, a charity that gives personalized shoes to children facing hardships, and hate that since starting school I have less time to devote to it.
Northshore Parent: Who is your biggest influence?
Sunnie Wicker: My mom. She isn't a celebrity, she'll never have statue in her honor, but she instilled the importance of self-sufficiency and independence that I strive to achieve. Other big influence, Lisa Frank. Her work has inspired me to create, be bold, and never lose your inner child. She is my childhood obsession I never outgrew.
NSP: What is your favorite thing about living on the Northshore?
Sunnie: The schools. Hand down. I also love the ease of having nearly everything I need or want in driving distance. It's a small-town vibe with big city amenities
NSP: Where did you grow up/what brought you to this area?
Sunnie: Winnsboro, LA. Moved here to give my kids a better life, more culture, better schooling, and more opportunities without leaving my beloved Louisiana.

I'm sure you can tell she's quite a woman. Look for her art, writing or hilarious videos on a computer screen near you!