This post is brought to you by the Louisiana Children's Museum.
You may or may not have heard but the Louisiana Children's Museum is making the jump from Julia Street in downtown New Orleans to gorgeous new campus in City Park. I was recently invited to do a blogger tour of the facility (which is still being put together) and I was awed by the attention to detail that has been taken with the museum. I think that it will delight Louisiana residents both young and old.
Where is the new Louisiana Children's Museum Located?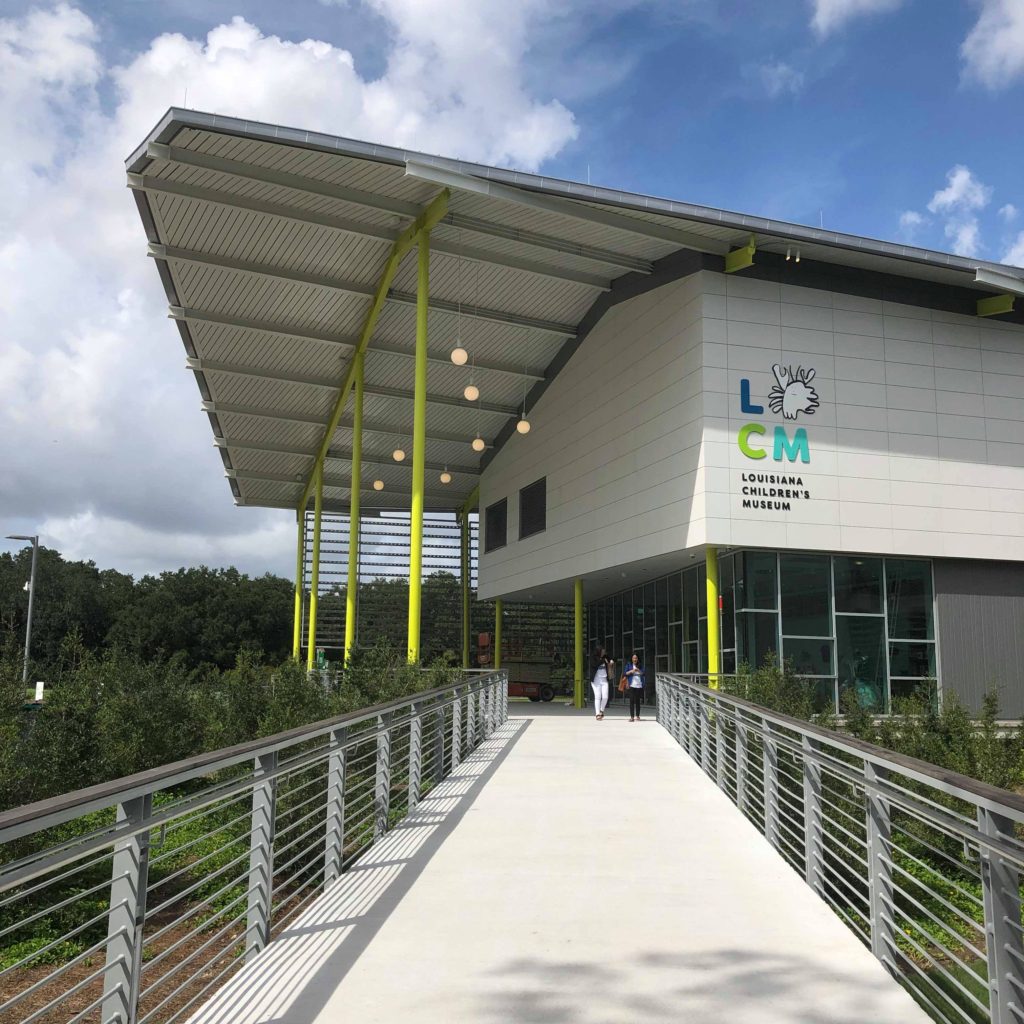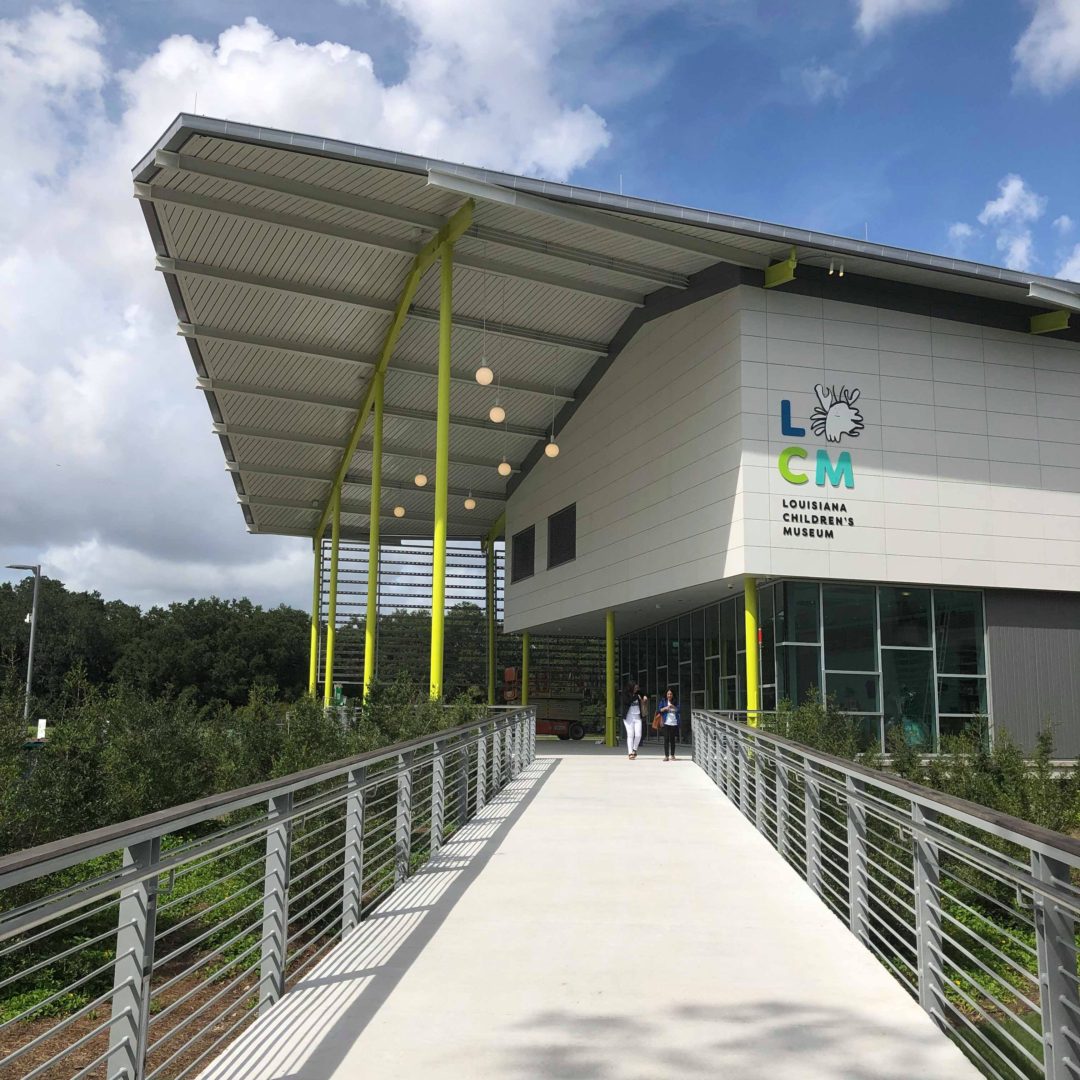 Easy enough to find, the museum is located in City Park. The address is 15 Henry Thomas Drive. The best way I can describe it is to say that it's behind the Museum of Art. It's very close to Christian Brothers School if you're familiar with their campus (I wasn't). You can look on this map to see the exact location. You'll see it to the right of "little lake."
How Much Does it Cost to Get In?
Information on admission costs can be found on their website. If you think that you may go more than once in a year, I highly recommend looking into the yearly memberships which are very reasonably priced.
What Should I Expect at the Museum?
Okay. Hold onto your hats because this is going to be a doozy. The new museum has been planned and perfected to every detail. Literally. Just to give you an example, the signage all features drawings done by local children. So instead of the traditional Man/Woman outline on the bathrooms, you get this: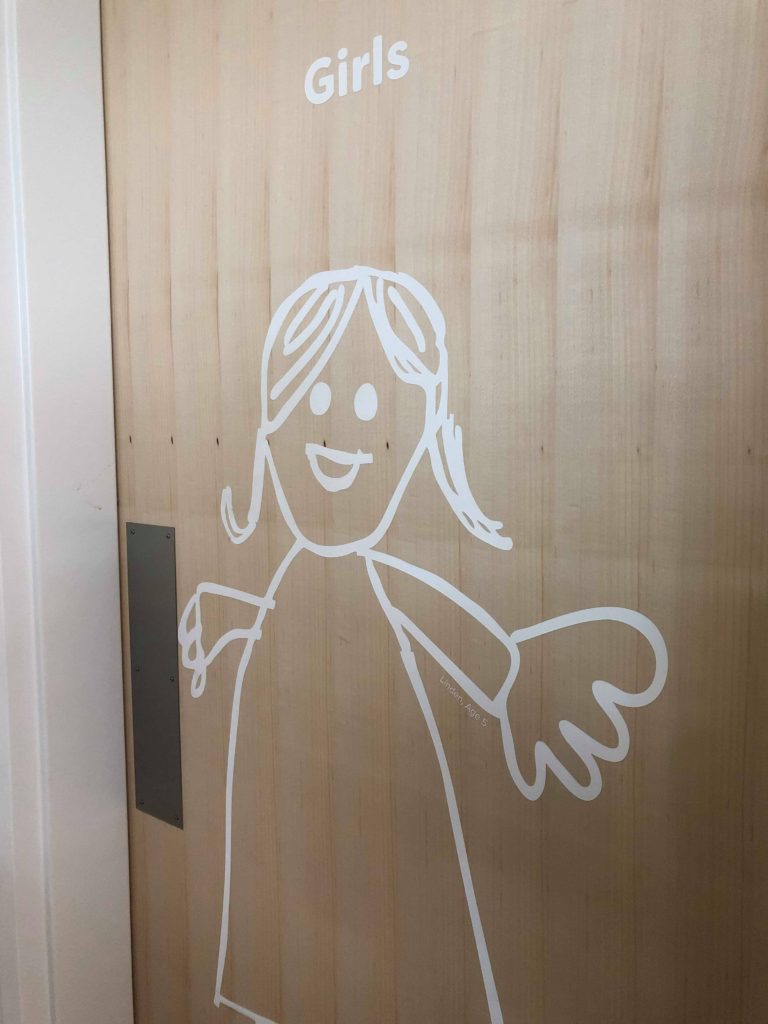 And the entire place is like that. Each exhibit and display is carefully thought out. They sought the input of local parents and grandparents. They visited Children's Museums around the country. This museum is truly a gift to the children of our city and surrounding areas. It will also be a fantastic place for visitors to take children to learn more about the state of Louisiana.
On the ground floor you will first see the education resource room which is free and open to the public. There is also a literacy center and party/conference rooms in this area. I bet birthday parties at the museum are going to be big this fall!
After this area is the admission desk. As you walk toward the other exhibit space you will circles on the ground. You will see circles everywhere actually. The circles represent the generations of families. Downstairs there's a share and exhibit space where children bring in pieces of nature and look at items brought by other children. There's the traditional animal hospital but instead of puppies and kittens it will be servicing indigenous animals. Think alligators and brown pelicans. There's a full interactive exhibit that reflects the docks of the Mississippi river and all of the machinery there that moves products on and off the river. There's a story area, and then the famous grocery makin' area. It's been expanded to include a food truck reminiscent of Mr. Okra. It even has recordings made before Mr. Okra's death of him hawking his wares–such a treasure!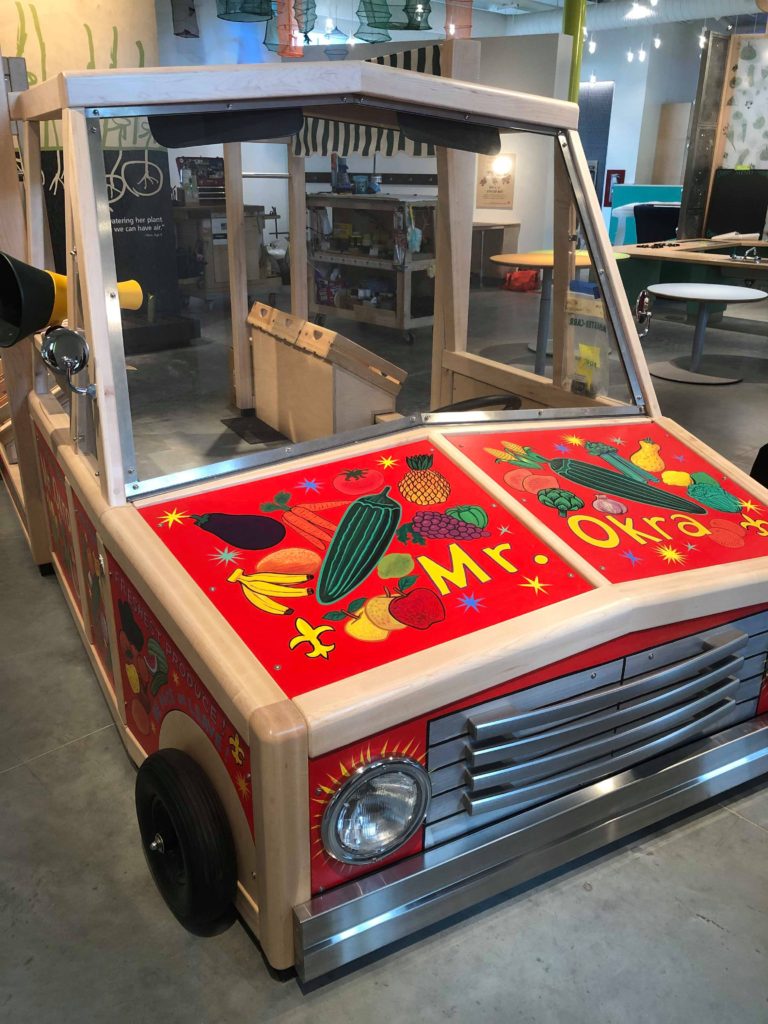 The final area on the first floor is sensorial. There's a "pond" surround by beads made to look like cattails and mirrors. The pond has the motion of water and the kids are going to love it. Moms will be tempted lie down for a nap on it.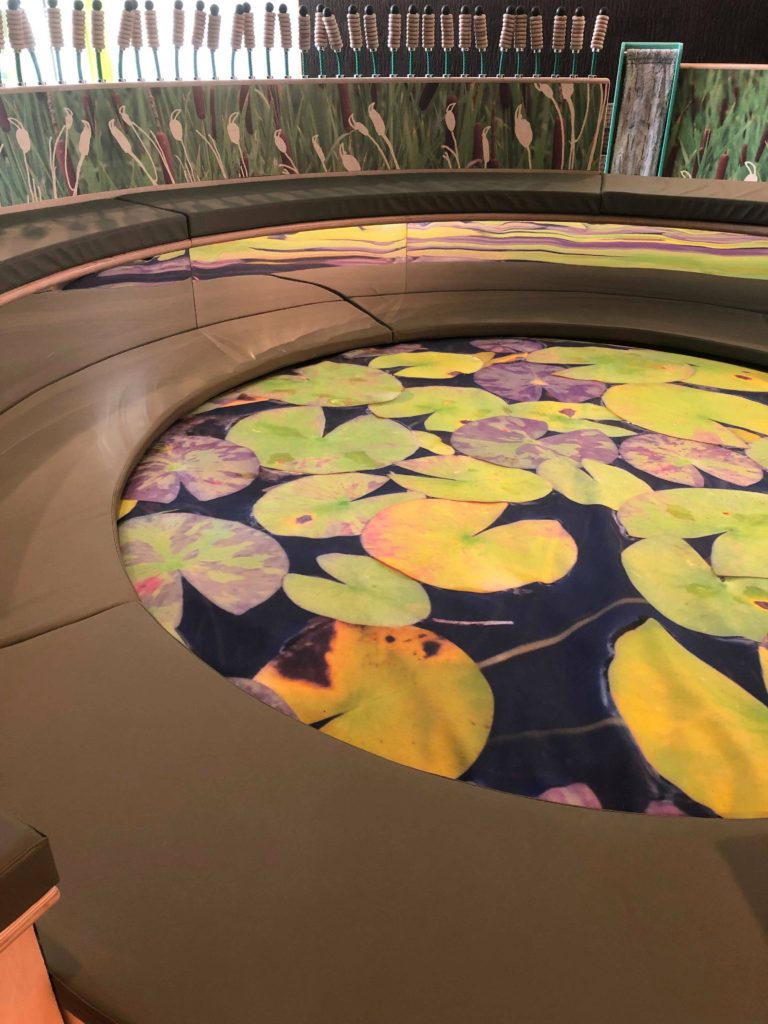 As great as the first floor is, the second floor is even better. There is a huge water display that represents the Mississippi river as it flows through our country. It has a relaxing effect on everyone who comes near it. There's a "jammin' house" which is an enclosed space for kids to rock out on a variety of items. Moms everywhere will rejoice knowing that this area has a door that can be closed so the volume of the museum doesn't get too out of control (praise hands). There's an art area, the giant blocks that make up a kid-sized St. Louis Cathedral and my favorite part of all: an interactive map that lets children listen to the sounds of the city. It's even got Lil Wayne.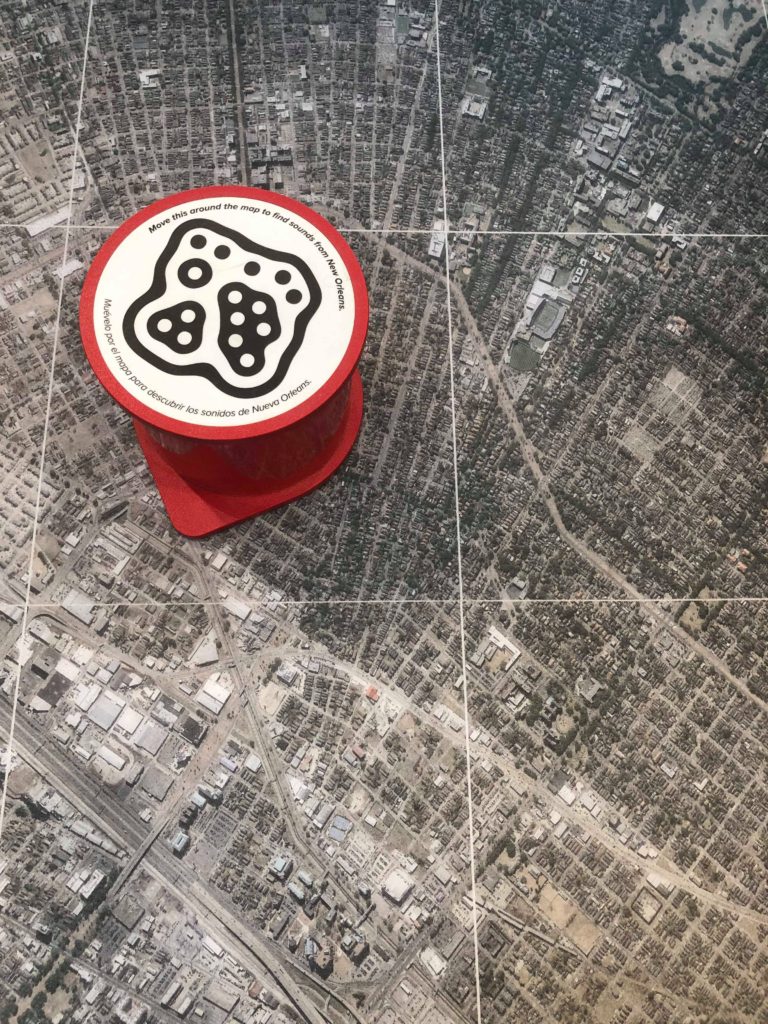 After all of that I still haven't touched on the outdoor plans they have–a floating classroom, and edible garden, and more. The place is just bursting with awesomeness for children!
Is there anything to eat at the Louisiana Children's Museum?
Yes! The Acorn Cafe is located in the same building as the museum although it has a separate entrance. It will be open 7AM-5PM every day. It is run by Dickie Brennan Company. We were given a menu sampling on our tour and the food was delicious. Plenty of options for the kids but plenty for mom and dad too so you don't end up eating chicken nuggets unless that what you really want.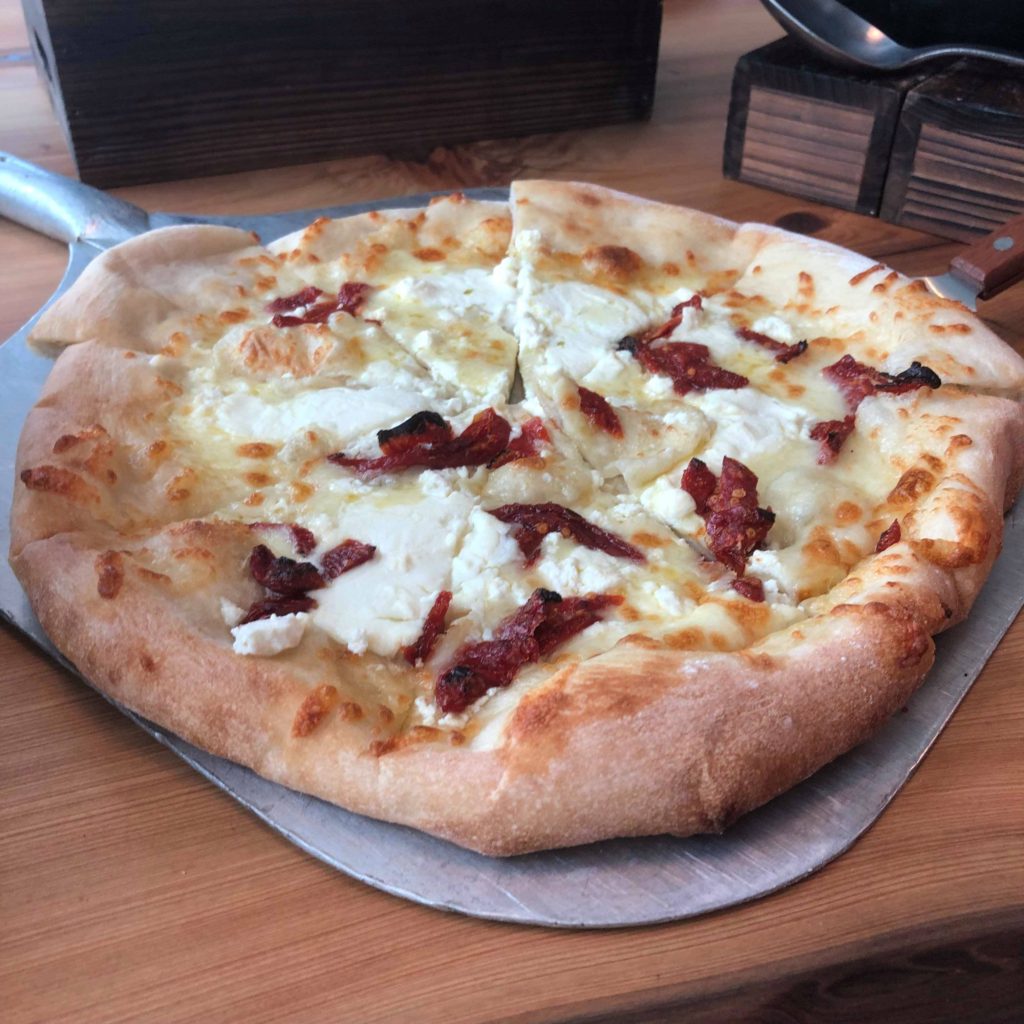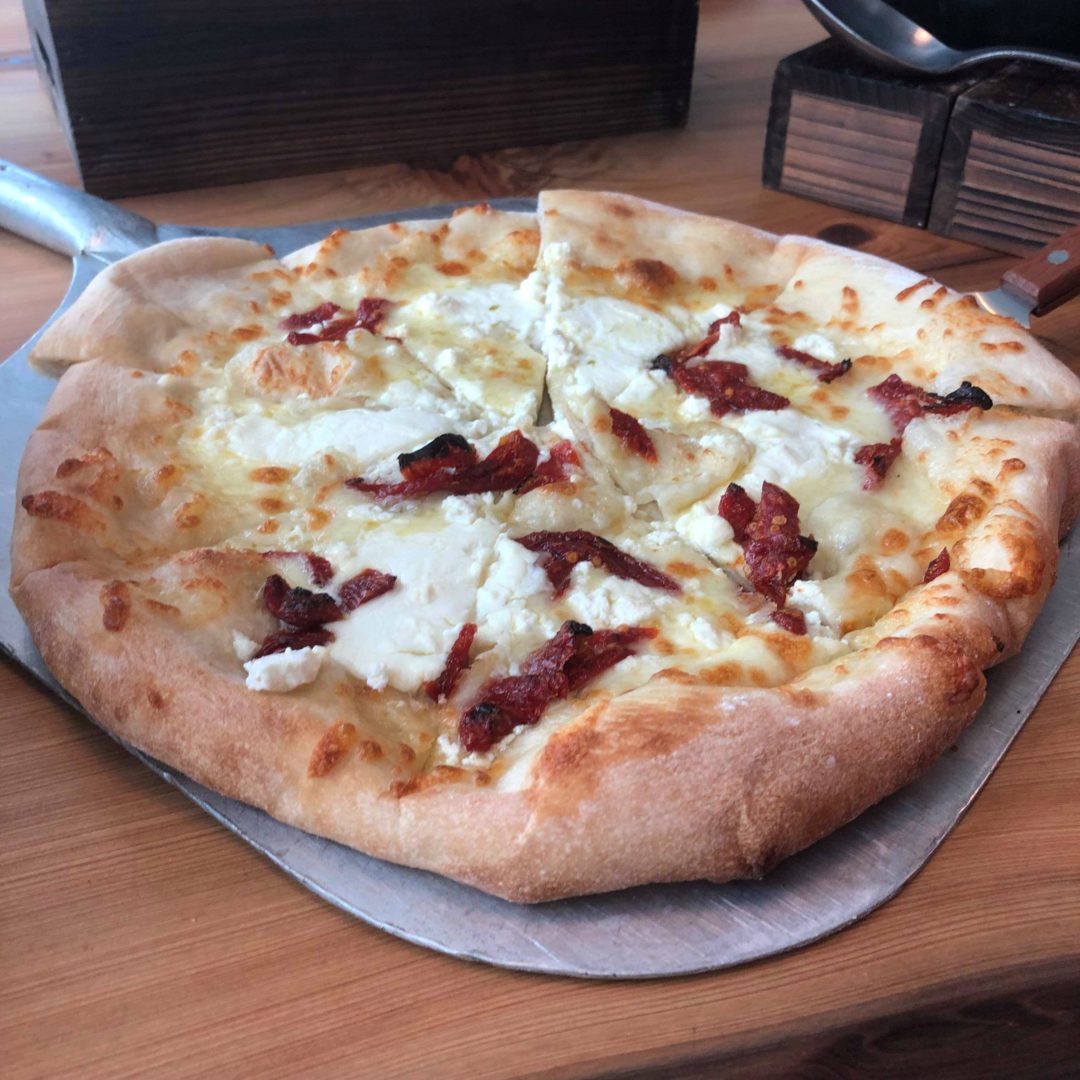 When Does the New Museum Open?
The new Louisiana Children's Museum in City Park opens on August 31st.
Is the Museum Handicap friendly?
Yes it is. Even the giant bubble maker is in the shape of a square so children in wheelchairs can use it.
————————————————
I had an absolute blast checking out the museum, meeting the CEO, and learning about all of the work and energy that has gone into this space. It is so great and I cannot wait for everyone to check it out themselves!
The following two tabs change content below.
Hi, I'm Katy. Mom to four sweet boys ages 10, 6, 6, and 5. It's a loud, messy, chaotic life. I love connecting with other parents and am so glad you stopped by today!