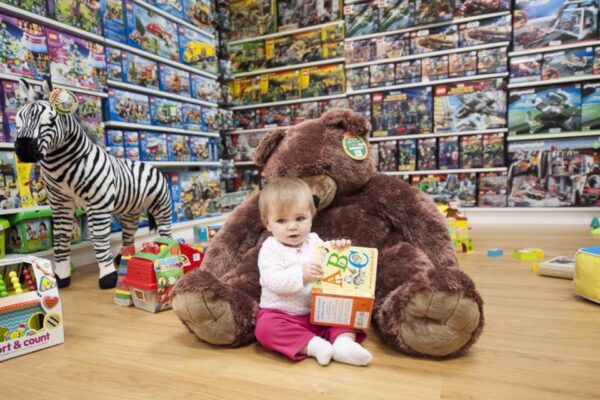 If you've hoped for a toy store in Mandeville, then you are going to be very excited because we've found out that Learning Express will be opening in Mandeville in early November!
Learning Express stores pride themselves on providing a mix of fun and educational toys from a variety of great vendors. While every store is different, some of the brands that Learning Express carries are Alex, American Girl,Blue Orange, Calico Critters, Choon's Design LLC / Rainbow Loom, Cloud B, Creativity for Kids,Gund, Hot Wheels, International Playthings, Klutz, Learning Resources, LEGO, Mattel, Melissa & Doug, Playmobil, Schylling, Scientific Explorer, Small World Toys, Sticky Mosaics, ThinkFun, Three Cheers for Girls, Toysmith, Ty, and Workman Publishing. You'll have to visit the local store to see what great items and brands they choose to stock.
Learning Express is a joint venture between two local women: Jeanne Boudreaux Murry and Rhonda Folse Solomon. The store's general manager will be Rhonda Johnson Valladares, author of the Lil Yat Adventure Books. Lil Yat books will be for sale at Learning Express and when she's working you can even have them autographed!
They are planning a big celebration for their grand opening and it's no surprise that it's happening soon–right before the holidays! This is a great time to show the support for your community by SHOPPING LOCAL!!!
Here are some details about the Grand Opening:
Events and Activities
November 5th 5-9PM Open House & Fundraiser for Ava Scaglione. 20% off storewide and 10% of proceeds will be donated to Ava's family to offset some of her medical expenses.
November 7th will include story time & crafts with Elmo 6-7 pm. Bricks for Kidz will also be hosting a workshop (please RSVP for this as there's a maximum of 25 participants (kids age 3-13) 985-231-7780. Enter to win (2) Saints tickets for Nov. 9th Saints vs. 49ers game!
November 8th will feature FREE Face Painting & Elmo from 9-11AM,. taking pictures on Fire District #4's Fire Truck from 11AM-noon, Anna & Elsa and Spider Man singing autographs & posing for photos 12:30-3:30 p.m.
November 9th will have FREE face Painting & Elmo
This looks like it's going to be a great time to have some free fun with your kids–don't miss it!
The following two tabs change content below.
Hi, I'm Katy. Mom to four sweet boys ages 10, 6, 6, and 5. It's a loud, messy, chaotic life. I love connecting with other parents and am so glad you stopped by today!