Here at Northshore Parent we love our community, and we love doing events that let us get out and meet that community and support the small businesses within it.
All of this is why I'm really excited to announce our latest event that will take place at a locally-owned business, The Painter's Palette.
We'd love for you to join us on June 14th, 2014, for a morning of crafting, food and fun all while creating a perfect gift for Dad.
We'll start the morning off by beginning work painting a wooden picture frame for Dad. After that we'll enjoy a special visit from Queen Elsa from Once Upon a Princess and sing a little karaoke.
After that we'll finish up our picture frames and then have a some lunch provided to us by Bosco's Italian Cafe.
To wrap things up we'll have a photo booth area set up so you can snap some Dad-themed pictures in case you need one for your frame.
This promises to be a fun, intimate event and I can't wait to see you all there! To make it fun, our first three tickets will be ten dollars off. The next five after that will be five dollars off. Don't wait! Hurry up and get yours today–space is limited!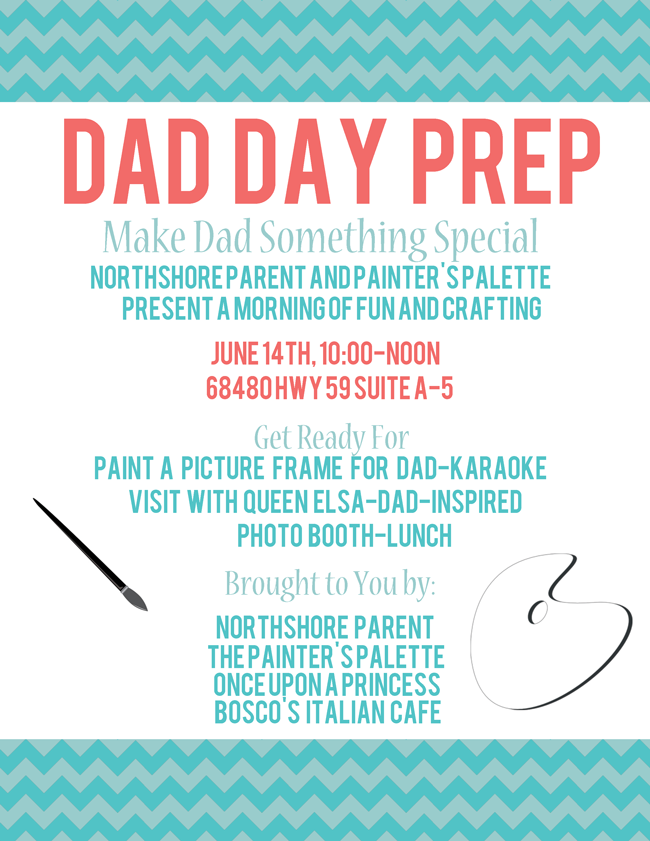 The following two tabs change content below.
Hi, I'm Katy. Mom to four sweet boys ages 10, 6, 6, and 5. It's a loud, messy, chaotic life. I love connecting with other parents and am so glad you stopped by today!