It's November and I think it's safe to say that (like it or not) Fall is finally here. I'm one of those people that could live in perpetual summer; give me margaritas and snoballs over pumpkin spice anything and flip flops over boots any day of the week. I go into fall kicking and screaming, but, one way I have found to ease the pain of the cooler temperatures and shorter days is with one of the pleasures of being a mom: new clothes for my little ones. Coordinating boy/girl twins can be a bit of a challenge so I start shopping early and am always on the lookout for brands that have brother/sister looks. I was really excited when Little English offered the opportunity to review their Fall 2013 line (they sent me two free outfits to facilitate this review). It's full of matching and coordinating outfits and the sweet smocked outfits are right up my alley. There are so, so many precious things in the Fall line that I had a hard time picking just one set. When the outfits arrived in the mail, they were wrapped beautifully in blue tissue paper bearing the Little English logo. A simple touch that made such an impact – if the wrapping was this pretty, I couldn't wait to see what was inside. And the outfits inside were every bit as fabulous as their packaging, if not more so. They were so cute that even I, lover of tropical temperatures, was excited for the weather to cool off just a tad so we could have a little fashion show and photo shoot.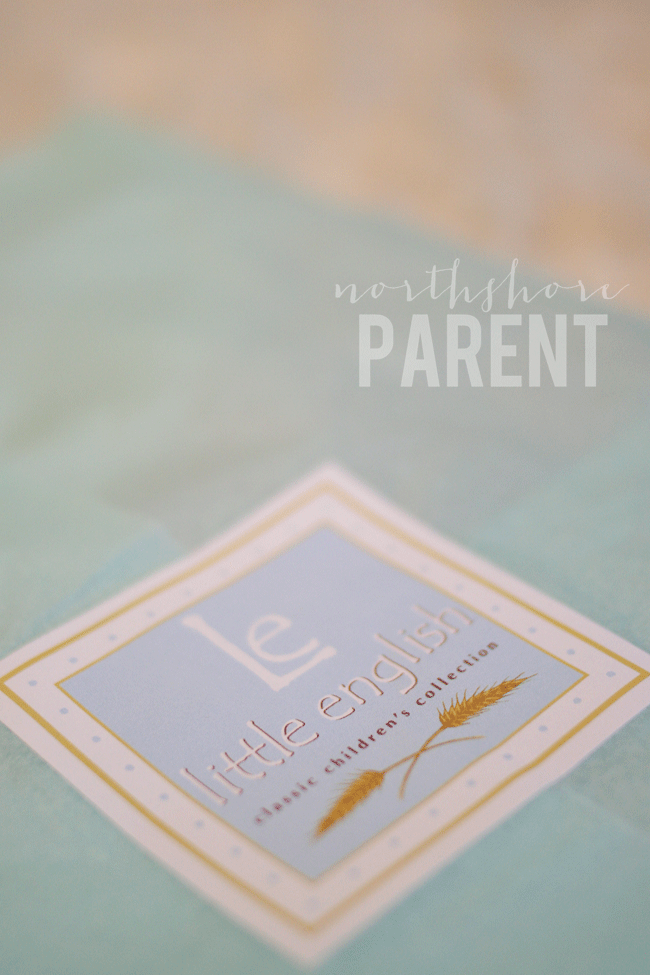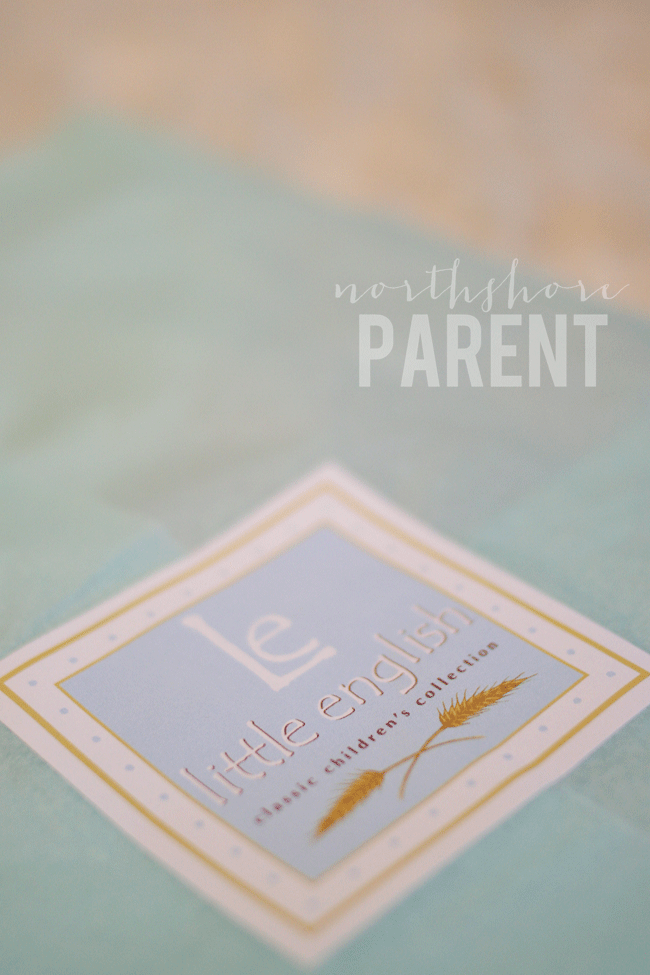 My twins are newly minted 3 year olds and are starting to develop opinions about their clothes. The elephants met their full approval. They both inspected the smocking plates (which are of excellent quality – not a stitch out of place and very tight, even pleating) and said "the elephants are having a party!"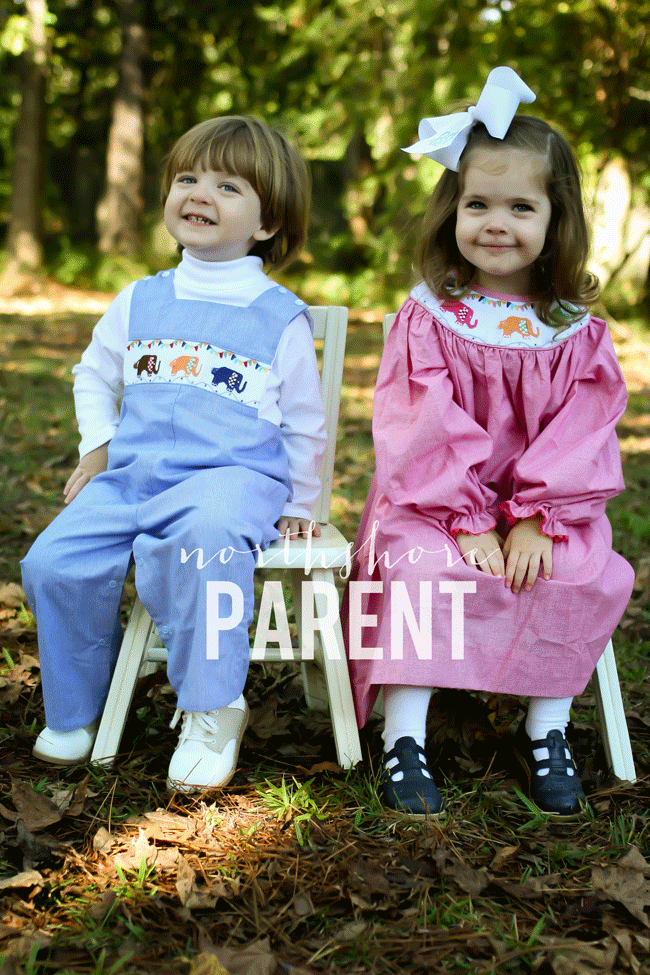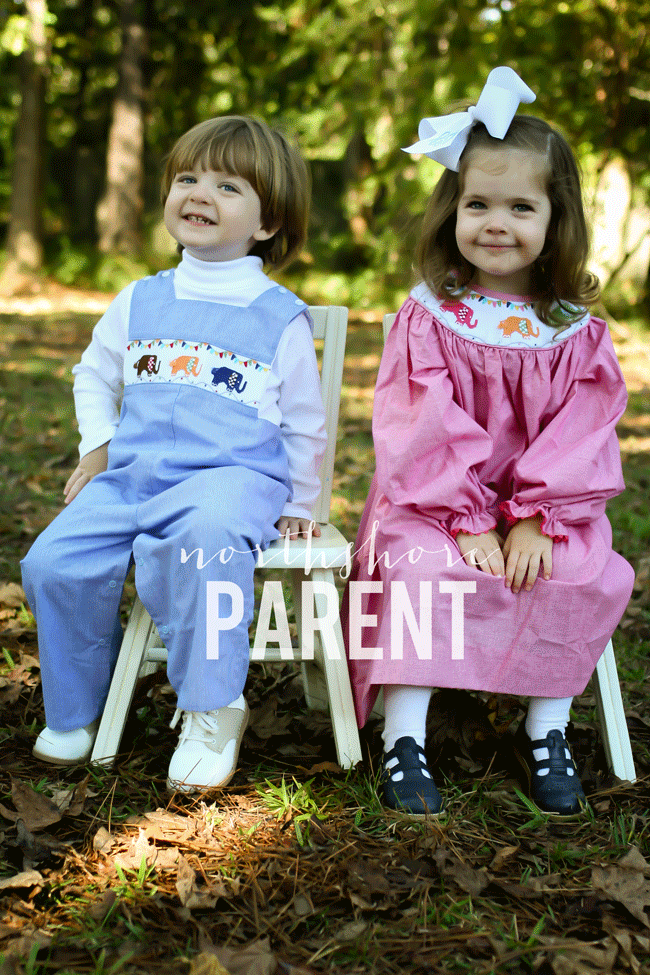 See? Happy children that are dressed like children. I'm a big believer in the mantra "they're only little once" and like to dress my children in more traditional styles. However, if smocking isn't your style, Little English has lots of classic, timeless looks for boys and girls. The Christmas outfits are just precious; if we didn't already have two sets of Christmas outfits, I'd be tempted to go back for a third. And that still doesn't mean I won't. . . because they're only little once, right?
After picture time, it was playtime. And that's when we really put the clothes to the test. I let the twins loose to on their swings set and slide, where they got dirty, as 3 year olds tend to do when playing outside. I try not to stress about it and buy lots of stain remover, but when I saw all manner of outside dirt on these beautiful clothes, I got just a tiny bit worried.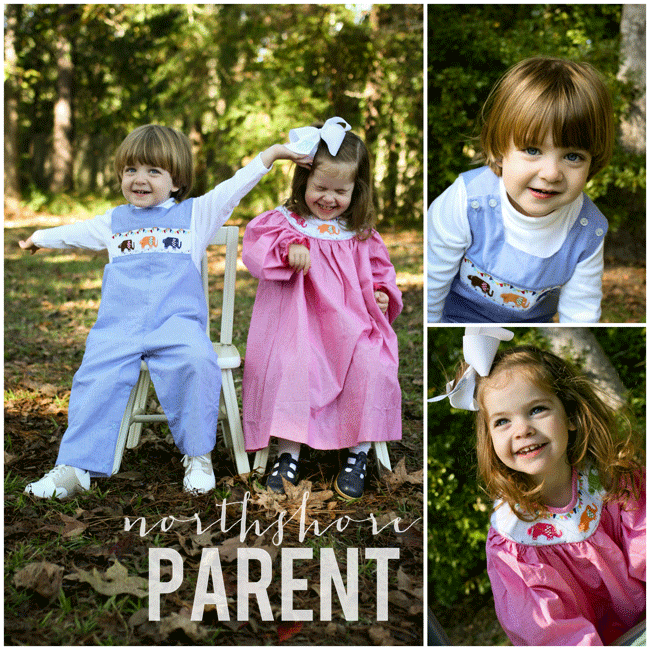 I didn't need to worry though; the Little English outfits came through as being tough. After a wash on gentle and being hung to dry, they looked just as they did out of the packaging. That made me one very happy mama.
If you're looking for classic children's clothes that work for portraits as well as they do the playground, look no further than Little English (www.littleenglish.com). Happy shopping!
The following two tabs change content below.
Aimee
Hi, I'm Aimée, the Special Projects Coordinator for Northshore Parent. If there's a fun giveaway, a kids' clothing review, or a special event, there's a good chance that I'm responsible. I'm a lifelong resident of St. Tammany (except for time at LSU for undergrad and law school) and a mom to 3 little ones, ages 6, 6 (yes, they are twins, and no, they are not identical) and 2. Thanks for reading Northshore Parent and being a part of our community.