I love Starbucks. I love unicorns. Put the two together and what could possibly go wrong?
Oh, mango syrup, creme base, sour drizzle… wait, what? Unicorns eat sprinkles and cake and ice cream and marshmallows, don't they?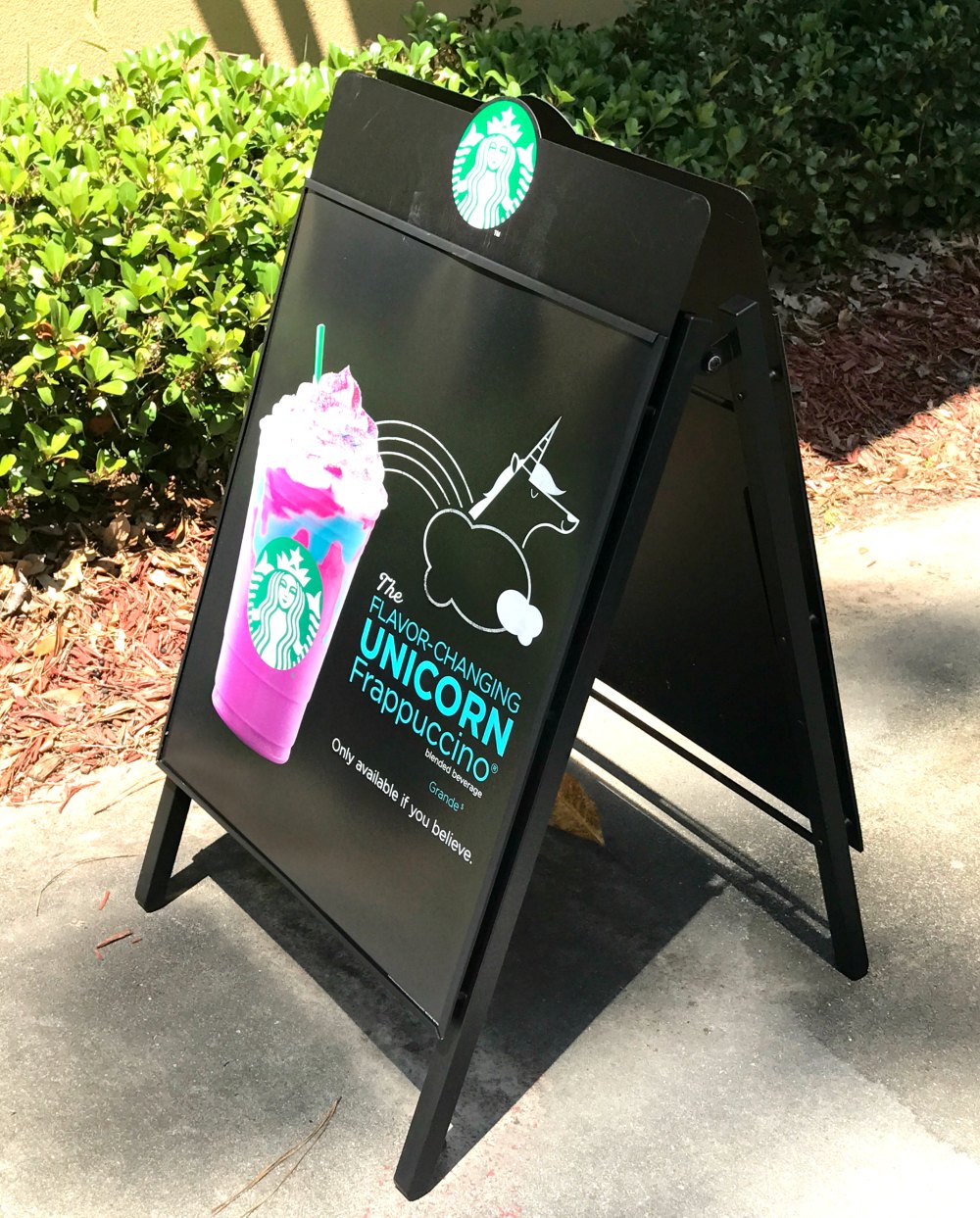 This is the conversation that my toddler and I had on our way through the drive thru at our local Starbucks.
I'd seen all the posts shaming the insane amount of sugar and carbs in the Unicorn Frappuccino, but look. It's a special treat, a one time thing. It's not going to replace my regular dry cappuccino or my daughter's tall chocolate milk. It's still better than a regular caramel frappuccino in most nutritional regards and I'm pretty sure most of us have had a "treat yo self" moment with one of those.
Plus, I'm a sucker for a limited edition, neon colored anything, especially from Starbucks (hello pink drink!) so there we went.
As soon as I posted our pictures on social media, I heard from other moms too. We all seemed to echo the same general chorus, but here it is, anyway.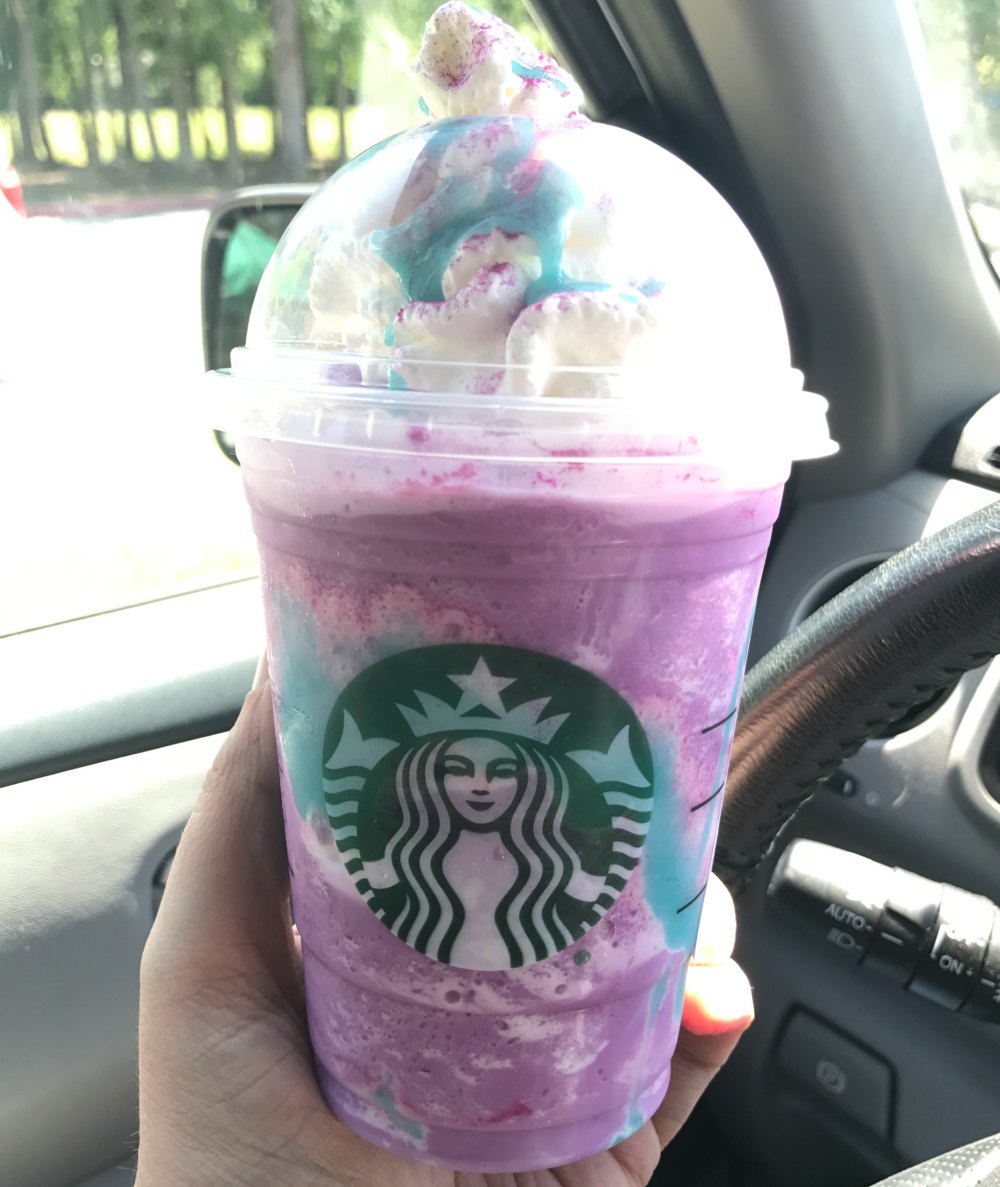 "It tasted pretty strongly of banana." – mom of 2, not a fan of banana
"My kid didn't like it. I took one sip. It tasted like a sweet tart. I will stick to coffee, thanks." – mom of 1, also strong supporter of my it-should-have-been-marshmallow theory
"I put mine in the freezer while putting the baby down. While out of the room, my toddler got in the freezer, drank it, and ate a bunch of easter candy too. He's currently trying to get more candy, refusing to sleep, and running around screaming. After all of this, I took a sip and didn't even like it, so my kid is in a unicorn-induced delirium for nothing" – mom of 2, one of whom may be a unicorn now
"My store ran out of supplies almost right away, so my kids and I didn't even get to try it. I think it's crazy that they ran a 5 day special without sending all of the stores enough stuff to keep up with demand. I would have been really bummed out if I'd gotten my kids excited to go get one, but the look on my customer's faces were awesome while it lasted. Even the adults' faces really brightened our day." – mom of 2, Starbucks barista who's not nearly as disgruntled as that other guy, unicorn-less
"Took a sip of one. The extreme sweetness then turning sour was absolutely nasty. And I'm actually a Sour Patch Kids fan, but this was just too sweet." – mom of 2, still trying to move past this tragedy
"No shame in my NOPE game. It looks pretty… and disgusting." – mom of 1, former Starbucks barista, who does not give in to peer and social media pressure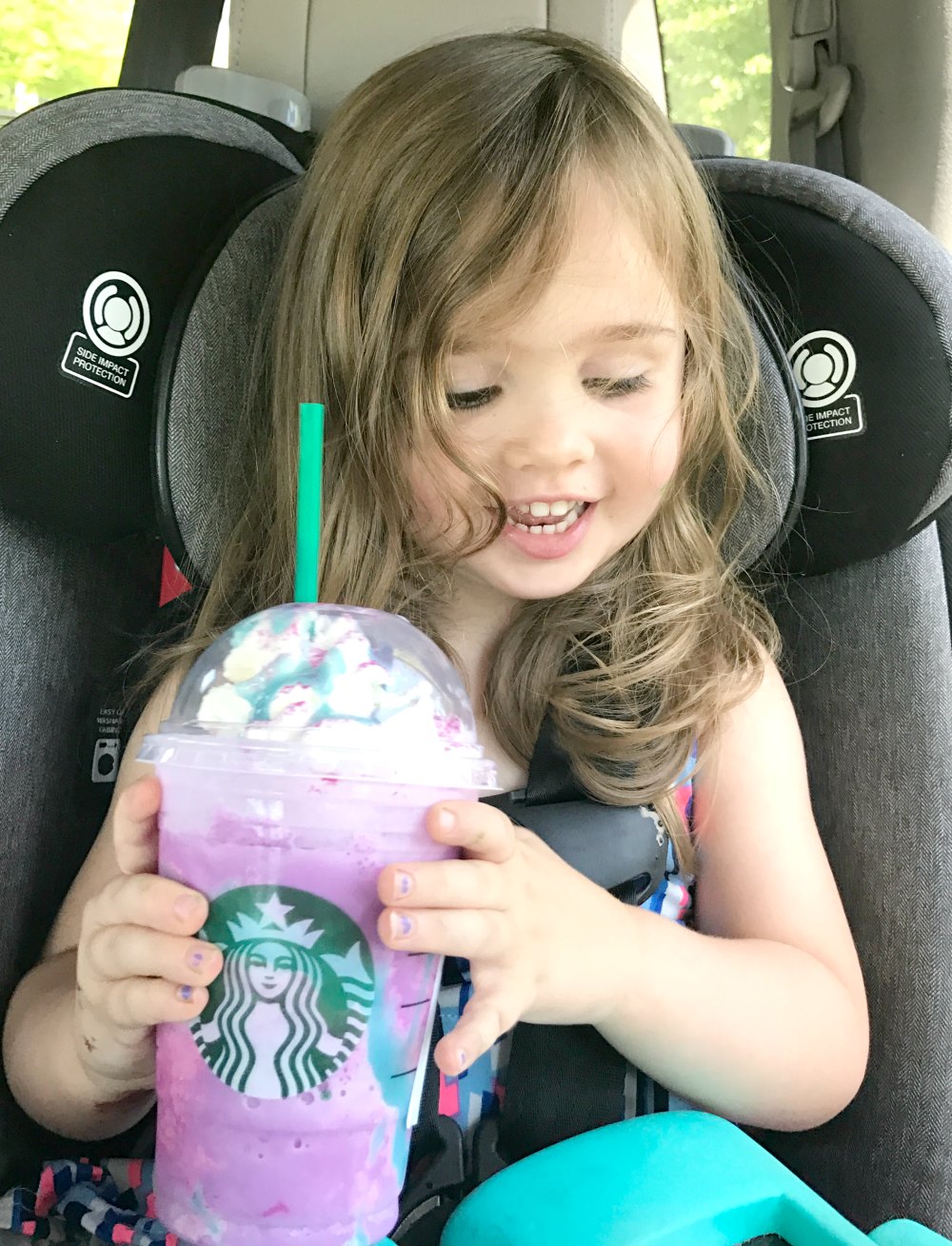 Personally, my kid said "Yummy yummy yummy in my tummy tummy tummy!", took two sips, and then asked for a juice box instead. When she was officially done, I decided to take a couple of sips, which turned into drinking the whole thing across the Causeway. I'll admit, the first couple of sips, my taste buds were like, "What is this and why are we drinking it?" but as it melted together and the sour began to spread, it became 100x more delicious. I'm still not sure I'd ever order it again, although the hack of ordering it with lemonade instead of the creme base has me curious. Don't tell the disgruntled barista that.
So, overall, did Starbucks maybe miss the mark? It doesn't seem like anyone is exactly in love with it. Maybe fascinated by its weirdness. Could this be why unicorns won't reveal themselves to us? Thanks a lot, Starbucks.
The following two tabs change content below.