Currently a lot of things are still closed. One thing that isn't closed, however, is City Park and their beautiful wildflowers display is in full bloom right now. With a little preparation this can be a very fun activity for the family.
Every year the horticulture department plants around six hundred wild flower sees and then sees the blooms materialize about 4-8 weeks later. This year's blooms went in the ground right before the stay at home order went into effect.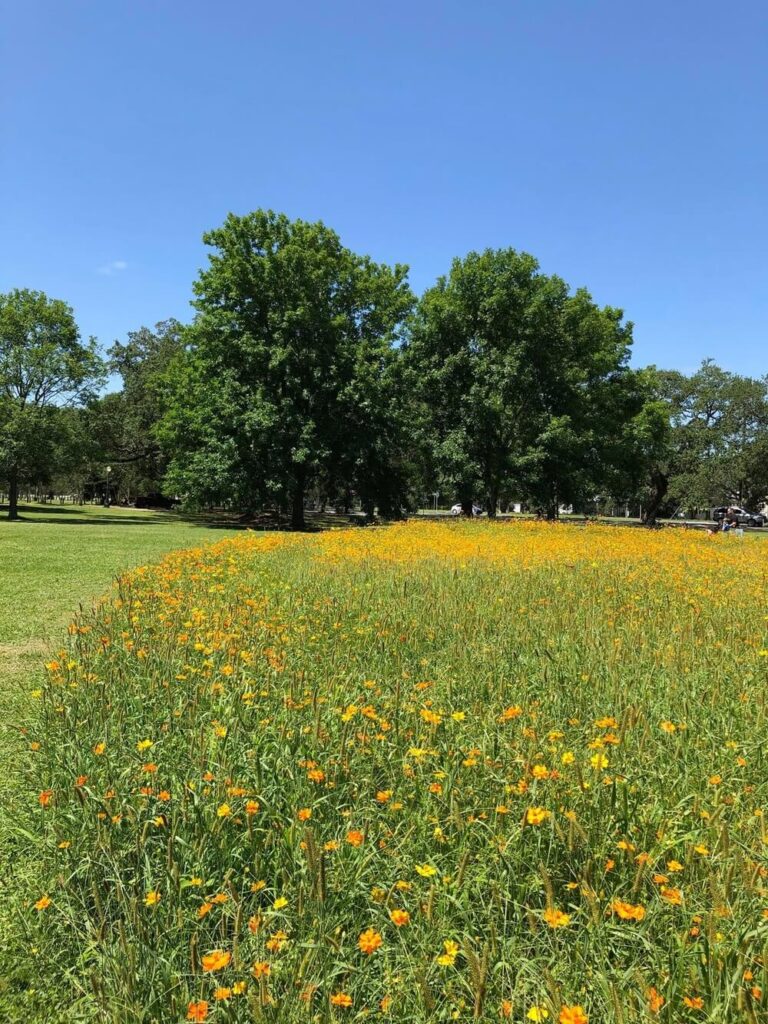 Where Are the Wildflowers Located?
The Wildflowers are located north of Tad Gormley Stadium and before the Insterstate. If you reach 610 you've gone too far! Once we knew where we were headed, they weren't too hard to find.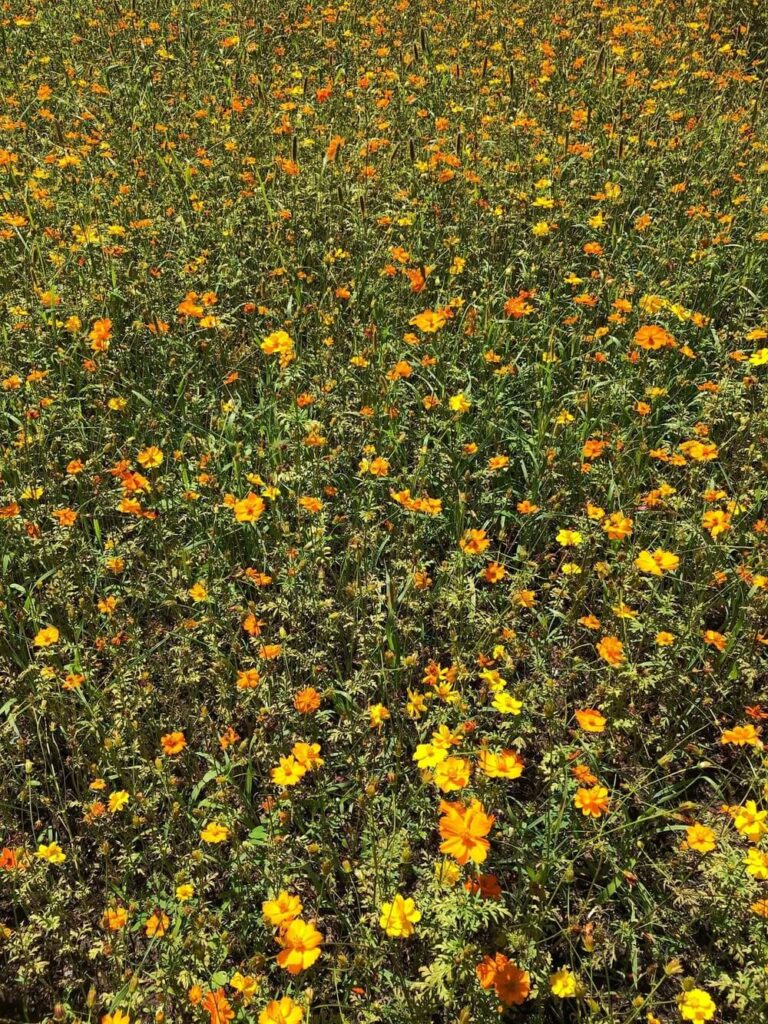 What is There to Do?
Playgrounds are currently closed at the park, but there are some nice areas to walk all around the wildflowers which is what we did. You can walk around each individual patch of flowers and some of the patches have trails inside them as well. They make a gorgeous backdrop for taking pictures. We went on Mother's Day and we also saw people setting up picnic lunches. Please be courteous and don't lunch right in the middle of the wild flowers–people are walking all around and trying to take pictures in that area. There are many beautiful oaks available for picnicking under. Acorn Cafe is now open as well (the cafe attached to the Children's Museum) and they offer food to go including charcuterie plates you can take with you.
What Do I Need to Be Aware Of?
The most important thing: the bathrooms at City Park are not currently open. Make a plan before you go. We were able to drive there, view the flowers, and drive home without anyone needing to use the restroom, but we have family on the other side of the lake who could have accommodated us if there had been an emergency. I have a friend who travels with a little travel toilet for these types of situations (she does it at Mardi Gras too). Anyway, just be aware and plan ahead.
City Park does ask that all visitors adhere to best practices as outlined by the CDC. Keep a distance of six feet from others. Everyone we saw was following this advice. I did not see many people masking but there was a lot of picture-taking going on. People occasionally walked past you going the same way but no one got very close to us that was facing us. Families gave each other a wide berth.
City Park asks that attendees not walk on or pick the flowers. They provide little trails so that people can get good pictures standing right in the middle of the flowers without trampling them. It doesn't say this explicitly, but don't lie on top of the flowers either. You do see patches of flattened flowers where people have done this.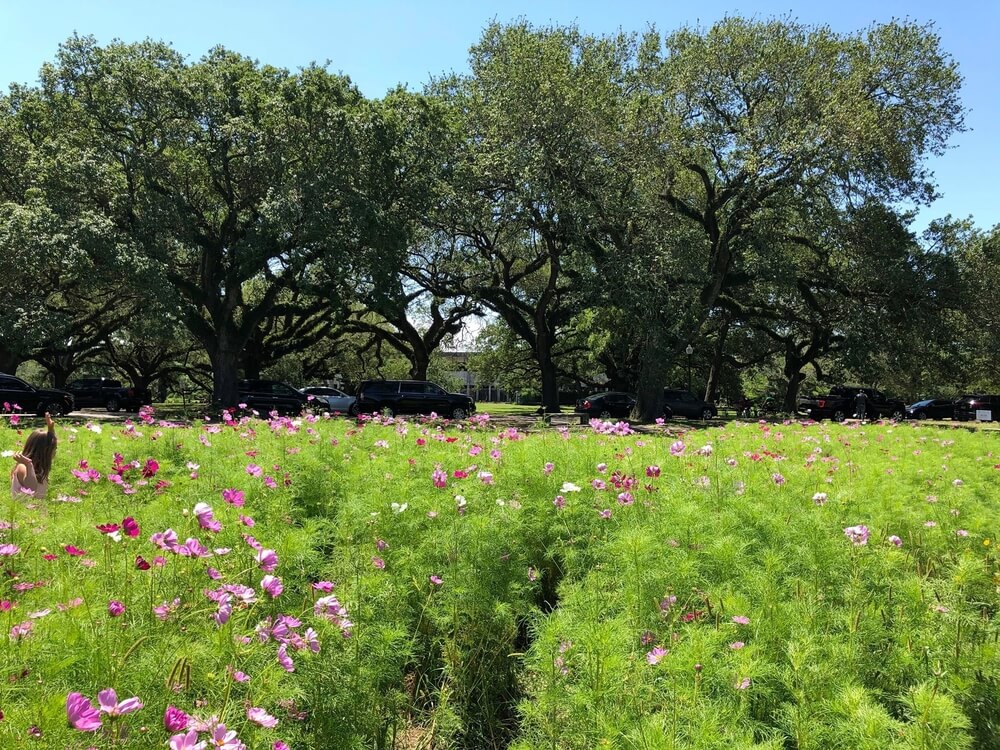 My kids felt a little nervous about being around so many people (we've been quarantined for almost two months now), but it was a gorgeous day and a beautiful sight to see. We were there maybe forty-five minutes and then we packed up the kids and headed home.
If you're getting cabin fever, this is a great way to get out of the house. The blooms still have a lot of life left in them so you definitely have time to get down there. I suspect the area will be busy on most weekends but like I said, people are maintaining good distance.
The following two tabs change content below.
Hi, I'm Katy. Mom to four sweet boys ages 10, 6, 6, and 5. It's a loud, messy, chaotic life. I love connecting with other parents and am so glad you stopped by today!