After having my twins in 2011 I didn't go on vacation for about a seven years. Twins were a handful, I had another baby, my husband was working very hard at his company. . . it all added and up and suddenly it had been seven years. So when my husband and I decided we were actually ready to take our boys on a vacation I wanted to do something that felt special. I asked my Facebook friends, I poured over websites and reviews and I finally found what I thought was the perfect Gulf Coast vacation spot for families.
I was not disappointed. Waterscape delivers for families in a big way. We have been back once before and are hoping to return this summer if possible. Here are some of my favorite features of Waterscape and why I think it's perfect for families:
It Has a Ton of Little Kid Friendly Features
We all know vacationing with the tiniest people can be tough. Waterscape makes it easy. Their largest pool is zero entry. My kids are very cautious around water and they absolutely love this feature. The can get the feel of swimming while hanging out in only two feet of water. This same pool also has a little obstacle course, and two large fountains. They also have a great splash pad for little ones as well. It's probably perfect for ages six and under. And if all this talk of little kid spots has you feeling like it will be too much for you, they also have a regular pool with no bells and whistles that's perfect for teens and adults.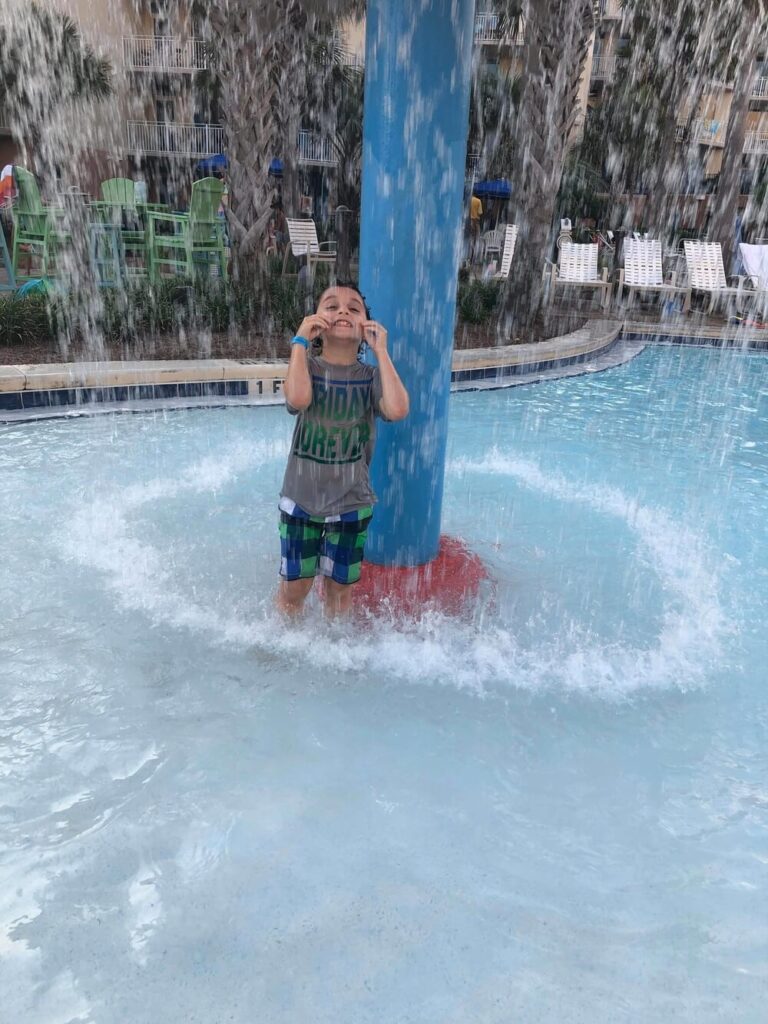 It Has a Lazy River
Guys: This is my favorite thing ever. It's about three feet deep so you can just bob along with no float and so can your kids, but they also have a TON of resort floats that you can use. Maybe I'm simple, but there is nothing better than lying in a float on a sunny day and being moved along by the water. This is also my boys' favorite activity at the resort as well.
Resort Chairs
So I'm not a luxury girl by nature. I'm used to lugging my own everything down to the beach or just walking down there with nothing and kind of roughing it. Roughing it is less of an option with kids. So for all of these reasons I was thrilled when I found out that Waterscape profides to lounge chairs with umbrella for each unit. So you head outside and someone has magically just left out two chairs for you! It's a little thing but I love it.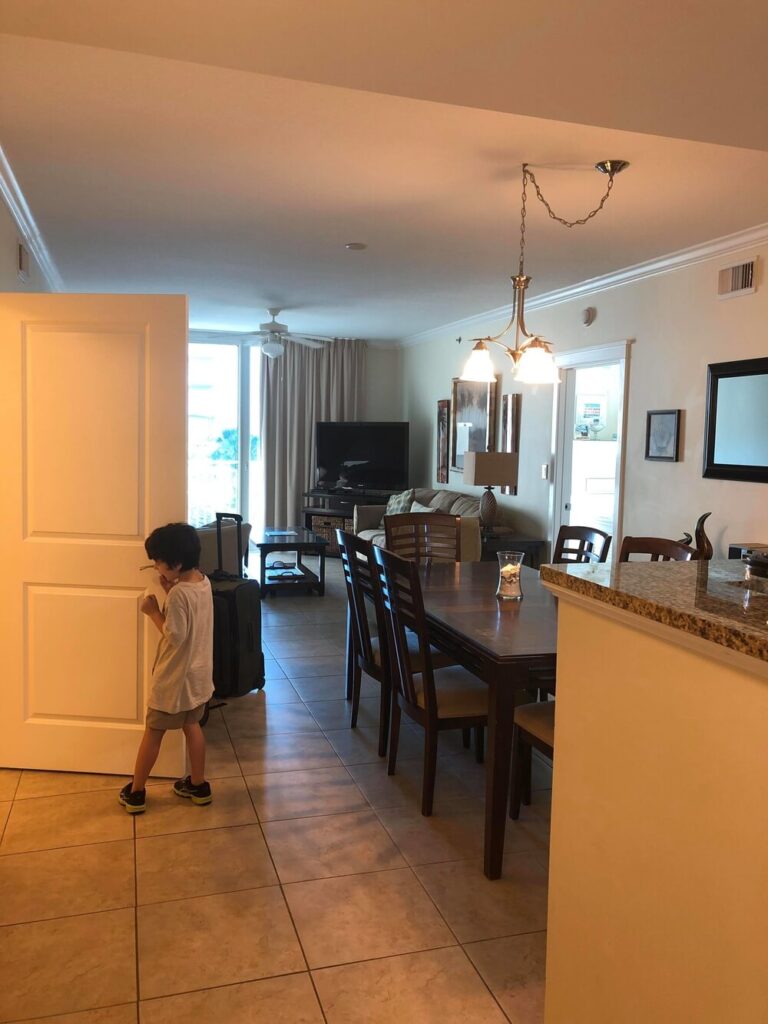 It's a Full Condo
This is something that I really appreciate with the four kids. Did I mention they're all boys? They are also not the BEST restaurant goers. I like having a full kitchen on vacation so I can just cook in the unit. Obviously every family is a little different on this front but this is what works for us. I also keep tons of snacks because all that swimming seems to turn my kids into ravenous beasts! Who am I kidding? I eat a lot on vacation too!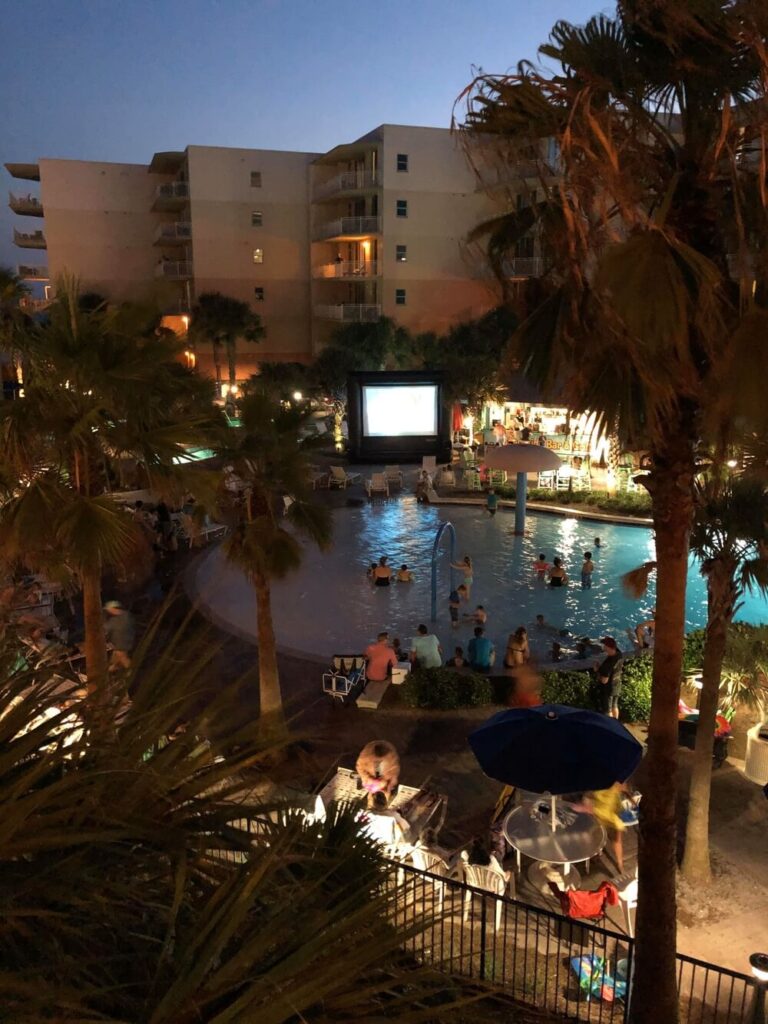 Programming
Again, my focus is on vacationing for families. Waterscape has a great calendar of events happening the whole time you're there. They have contests and activities going on throughout the summer. Our favorite is the pool movies. One night they put a movie on a big screen and you can watch from the zero-entry pool. Depending on where your unit is located, you might be able to enjoy the show from your balcony!
So that's why I love Waterscape in Fort Walton Beach. It is definitely top of the line for family vacations. We have so much fun when we're there. If you're looking for the perfect family beach vacation than this is it.
The following two tabs change content below.
Hi, I'm Katy. Mom to four sweet boys ages 10, 6, 6, and 5. It's a loud, messy, chaotic life. I love connecting with other parents and am so glad you stopped by today!