A few months back, I shared the Old MacDonald party I threw for my twins 2nd birthday. When the theme of "Celebrations" came up for March for Northshore Parent, I couldn't wait to blog about the fun that was their 3rd birthday party.
As I mentioned before, one of the challenges of boy/girl twins is finding a gender neutral theme, especially when they really don't have any serious opinions about the party (I expect that to change really soon!) One of our favorite places to go as a family is Storyland in City Park and, since the logistics of having the party there didn't work out because of the twins' nap, I decided that we were going to do our best to bring Storyland to our home. Like last time, I started with Google and Pinterest for inspiration, but this theme is a little more obscure than a farm-themed party, so lots of brainstorming (and crafting!) was involved.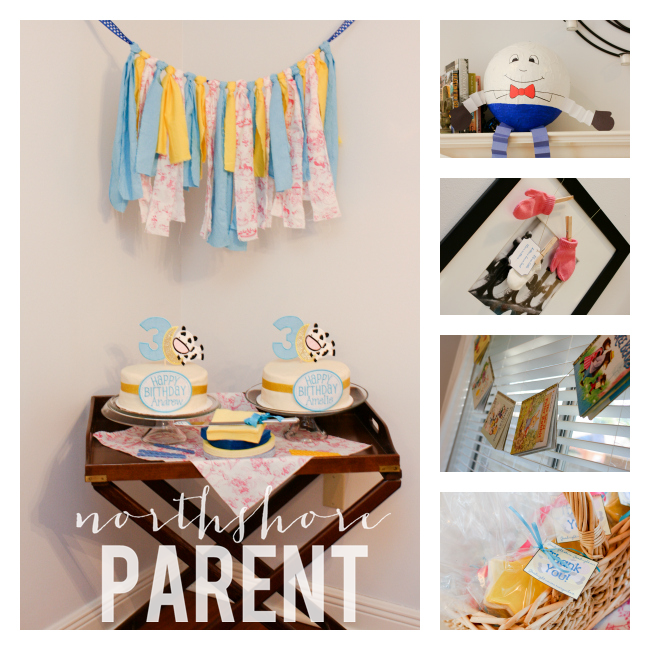 Invitations
Again, knowing my weaknesses, I did not even remotely attempt to design an invitation and headed straight to Etsy. Once, again, I found the perfect invitations that matched the party theme.
Food and Favors
This was another late afternoon party, so we stuck with heavy appetizers and finger foods. All of them with a storybook theme, of course. A few of the menu items included:
This little piggy's roast beef
Little Red Hen's bread
Mary's Little Lamb cupcakes
Three blind mice mini mac-and-cheese
Peter Piper's jalepeno poppers
Peter Rabbit's veggie tray
Jack and Jill's pail of water
Favors were bookmarks, star-shaped sugar cookies, and mini-nursery rhyme books from Dollar Tree.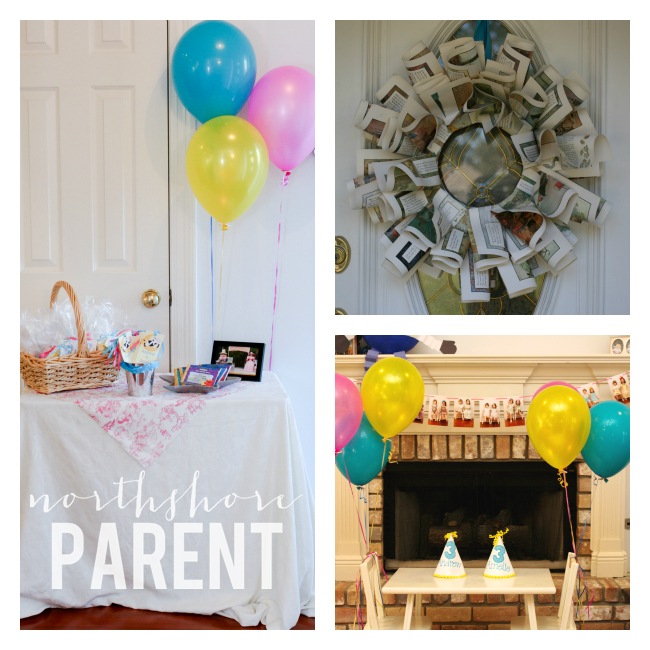 Cakes
Since my daughter's peanut allergy diagnosis, allergists have warned us that bakery items may be dangerous because of potential cross-contamination. Just because she didn't have a reaction in the past didn't mean she wouldn't in the future. So that meant that I had to learn how to make and decorate a birthday cake that looked somewhat decent. Lots of Googling and a little practice led me to an all-butter, crusting buttercream icing that can be smoothed out with a Viva paper towel. Magic! Getting icing smooth was half the battle of cake decorating for me. When it came to actually decorating the cake, I knew I didn't have the time to learn the techniques I needed to make the cake look nice, especially the writing and I couldn't find cake toppers that I liked either. So, I got crafty and designed cake toppers and name plates for the cake to be stitched on my embroidery machine. Not exactly traditional but it gave me time to create the exact look I wanted, and, the day of the party, all I had to do was attach them to the cake.
Decorations and Details
This is the part of every party where I lose my mind a little. I get way into the details. The color scheme of the party was navy and yellow (to match the twins' outfits, that had a smocked cow jumping over the moon), with hot pink and turquoise accents. I used lots of fabric in those colors (including a hot pink storybook print toile) to tie everything together, as well as plates and napkins in coordinating colors (from where else but Dollar Tree?)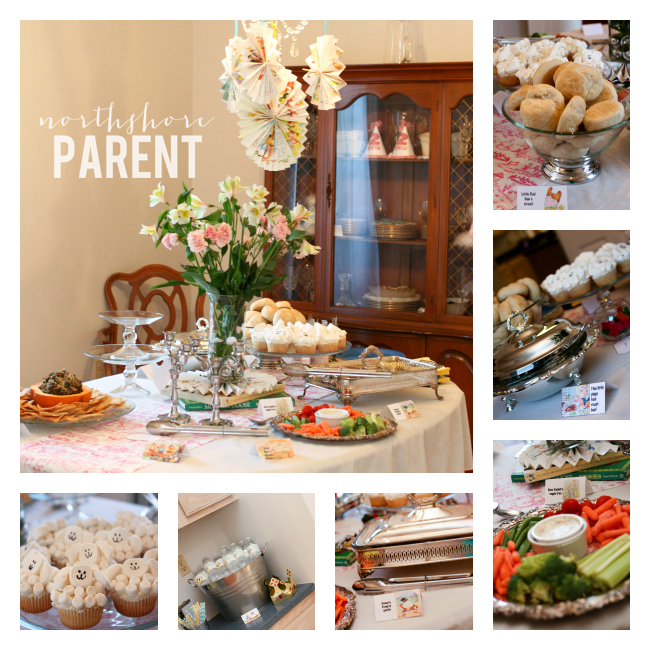 I sprinkled little pieces and parts of storybooks and nursery rhymes throughout the house. There were the 3 Little Kittens' missing mittens on a picture frame, Jack's candlestick on the dining room table, and a Humpty Dumpty pull-string pinata (made by my sweet, patient, wonderful husband) perched on the fireplace mantel. Other decorations included pinwheels made from vintage nursery rhyme books, a happy birthday banner out of the same paper (with printable letters from Martha Stewart), and a garland out of Little Golden Books that was as simple as placing the books over some cord strung across the curtain rod. Guests were greeted at the front door with a wreath made out of book pages.
I, once again, sent myself into crafting overload. But, once again, it was worth every late night and every trip to the craft store to see the look on my children's faces when they walked into their party and saw how the house had been transformed. Now, when we visit Storyland they say "remember our Storyland party?" We're all happy to have incorporated a little piece of one of our favorite places into our home.
And I still have Humpty Dumpty in the attic.
The following two tabs change content below.
Aimee
Hi, I'm Aimée, the Special Projects Coordinator for Northshore Parent. If there's a fun giveaway, a kids' clothing review, or a special event, there's a good chance that I'm responsible. I'm a lifelong resident of St. Tammany (except for time at LSU for undergrad and law school) and a mom to 3 little ones, ages 6, 6 (yes, they are twins, and no, they are not identical) and 2. Thanks for reading Northshore Parent and being a part of our community.