As a kid I remember right after Christmas dinner at my grandma's house in Jefferson, we would drive to Metairie so we could take a peek at Al Copeland's house all done-up for Christmas. I feel like maybe over-the-top Christmas lights are a dying art form or something because I certainly don't see them like I used to. I asked the Northshore Parent Facebook Page and got some suggestions. Then I got in my rockin' mini van with the crew and went and check them out. So if you want to go see some Christmas lights with your kids, here's the scoop: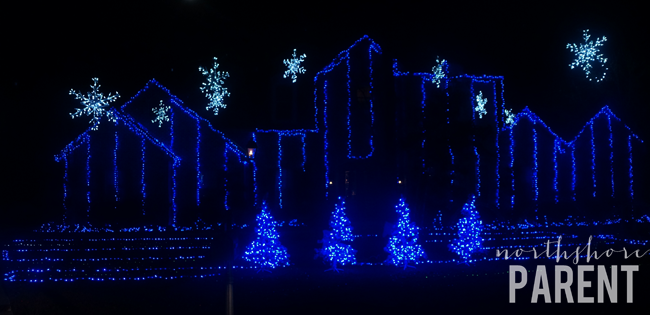 Please help us update this post! Houses with a are confirmed for 2022.
Private Residences with Great Christmas Lights
Christmas Lights in Abita Springs
Abita Brew Pub has an amazing display.
Christmas Lights in Covington
Tallow Creek
849 Capistrano, Tuscany West neighborhood.
857 Capistrano
Normandy Oaks
Windom Road. Covington. A great static display with really nice owners.
70499 11th Street (off Dog Pound)
Christmas Lights in Folsom
Eliza Lee Cemetery Road
Christmas Lights in Madisonville
Perriloux Road in Madisonville between Brewster and Hwy. 22. Lights set to music that you can tune your car radio to.
Mary Street
619 Silverthorne Lane
228 Merion Circle
White Myrtle Drive
Christmas Lights in Mandeville
Woodlawn Lane, Mandeville. A huge static display at the corner of Woodlawn and Park Drive in Mandeville.
Rosedown Way/Rosedown Subdivision >
West Ridge Drive in Quail Creek subdivision >
Christmas Lights in Ponchatoula
Azalea Drive
Brookfield Drive
Lake Orleans Blvd.
515 West Cypress Street
39744 West Timberlane Drive
Chartreuse Drive
Cypress Hollow Drive
13494 Rue Chateau
Christmas Lights in Slidell
538 Crossgates. We have a video of this display up on our Facebook page.
1121 Rue Bordeaux. We're right off Gause in Bon Village subdivision. Be sure to tune your radio to 93.9.
STARS in Flowers Estates= started as a fundraiser for our neighbor with ALS and now a tribute to his memory and the spirit of Christmas >
556 Evergreen Dr
512, 604, 611 Bellingrath Ln.
Kensington Neighborhood with a particularly good display in the back. >
Florence Drive
504 Sherwood Ct.
276 Audubon Dr.
556 Evergreen Drive
St. Scholastica Drive
Berkshire Drive and Oakley Boulevard
Willowood Drive
2739 College Street
131 Bienville Drive
109 Constellation Drive
246 & 253 Woodcrest Drive
Corner of Willowood and Silverwood
Public Christmas Light Displays
Koop Drive. Mandeville. These lights will be up and on display every weekend in December for driving through. They will also be on Christmas Eve and Christmas Night.
Griffith Park in Slidell will have a light display up every night in December from 6-9PM.
Cassidy Park. Bogalusa. Drive thru is from 6-7PM. Walk thru is 7-8:45PM.
Dates of Operation:
It will also be open Nov. 26-28, Dec. 3-5, Dec. 10-12, and Dec. 17-26 (including Christmas Eve and Christmas Day).Admission is $5 for adults, $1 for students, and $10 per vehicle for drive-through guests.
Christmas Light Displays Worth the Drive
There are some really great displays about an hour away from the Northshore (depending on where you live)
Celebration in the Oaks. Traditional light display in New Orleans City Park. Read a post about it here.
Gulfport Harbor Lights Winter Festival. A fun walk-through display located at the Harbor in Gulf Port. You can read our review of Harbor Lights here.
Christmas in Lafreniere. Part drive-thru, part walk thru. An inexpensive light experience that's great for kids. More information is available here.
Do you have a Northshore Christmas Light update for us? Please leave a comment, message us on facebook or email us at [email protected] to let us know!
The following two tabs change content below.
Hi, I'm Katy. Mom to four sweet boys ages 10, 6, 6, and 5. It's a loud, messy, chaotic life. I love connecting with other parents and am so glad you stopped by today!