Just imagine: a spread of king cakes from all your favorite places, sliced and waiting to be enjoyed. Your closest friends and family mingle, laughing, occasionally dancing, and, of course, eating. The distinct horns of "Mardi Gras Mambo" occasionally cut through the chatter, while the littlest guests play parade in the backyard. Doesn't a king cake party sound wonderful?
The idea of the king cake party has slowly but surely spread across south Louisiana within the last few years. Said to have originated in 2016 with Elizabeth Zibilich, king cake parties are the sugar-high inducing stuff of dreams. It's simple: everyone invited brings their favorite king cake to the party and guests try them all. What's not to love?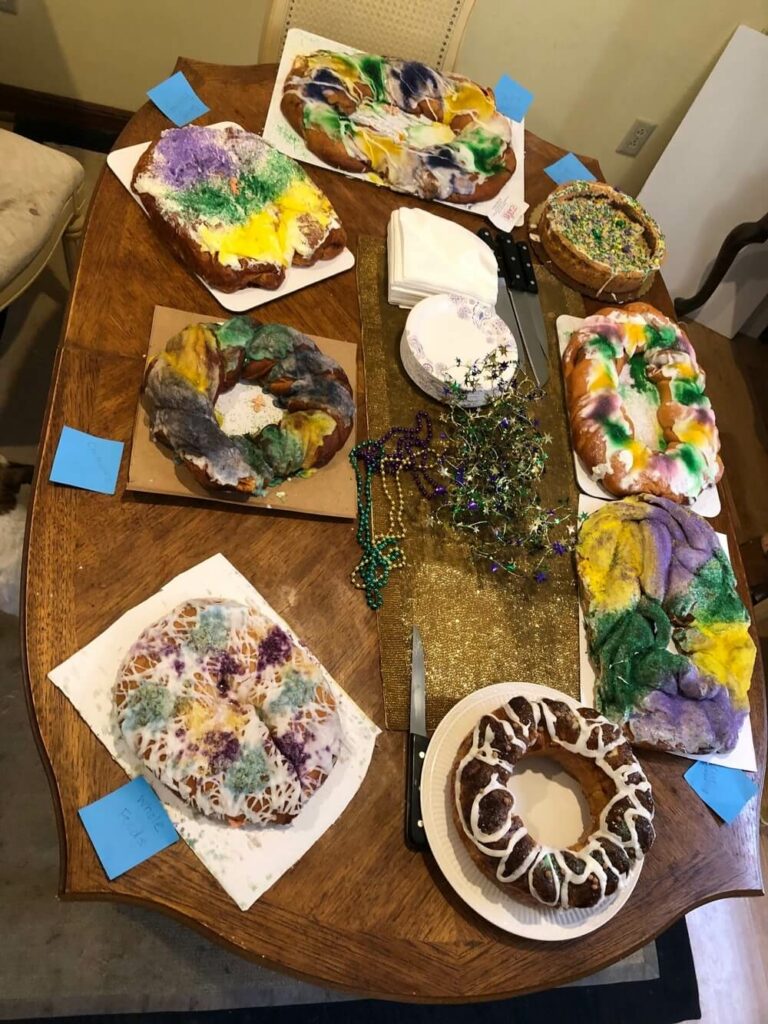 If this sounds amazing, don't wait to be invited to one, throw your own! They're very low effort, even if you're like me and have never met a theme you couldn't take too far. I'm what some would call "extra," so my idea of a great party includes stuff like custom-made invitations, coordinating food tags, centerpieces, favors, crafts and activities: the works. King cake parties don't need to include, well, any of that stuff. Friends, king cake, and plates are really all they require. Anything past that is just lagniappe.
If I've convinced you to give it a shot, the tips below can give you some ideas and directions, but are far from a step-by-step guide. Any of them can be disregarded and you'll still have a great time, eat too much king cake, and walk away wondering why you never thought to throw a king cake party before. And if you're one of the lucky few who have experienced king cake parties in years past, I'd love to hear any advice you would add!
Keep it Small
King cake parties work best when there are about a dozen families or less in attendance. With everyone bringing their favorite king cakes, more people means more cakes, which means competing for too-little table real estate. Plus, there needs to be some level of organization so you don't end up with duplicate king cakes, and the more people invited, the more overwhelming that task becomes. Speaking of…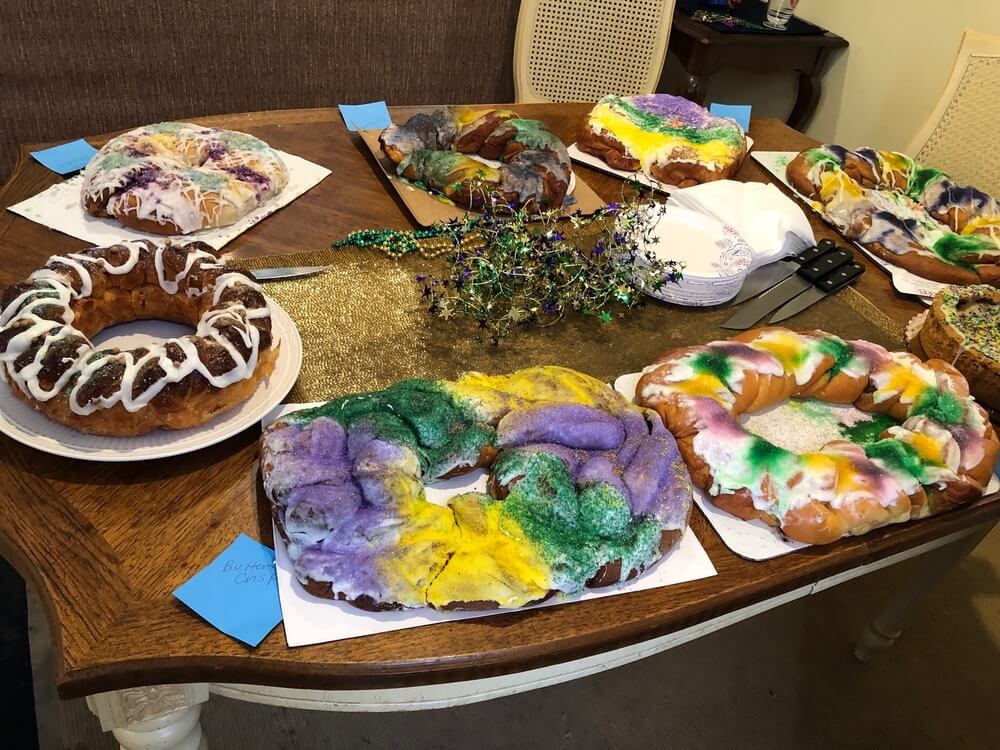 Get Organized
Whether you're a Facebook Event kind of person or have figured out how to properly utilize Google Hangout (am I the only one who still doesn't get that?), being organized is key to throwing a successful king cake party. Aside from the obvious time and date information, you'll want to keep an updated list of where guests plan to bring king cakes from. The idea is to try a variety of king cakes so don't be afraid to give some direction up front! Are you interested in king cake-inspired creations, like king cake cupcakes or king cake ooey-gooey bars, or do you want to keep it strictly traditional king cakes? Do you mind if people bring homemade cakes or do they need to be store-bought? Setting these expectations up front will ensure a smooth event.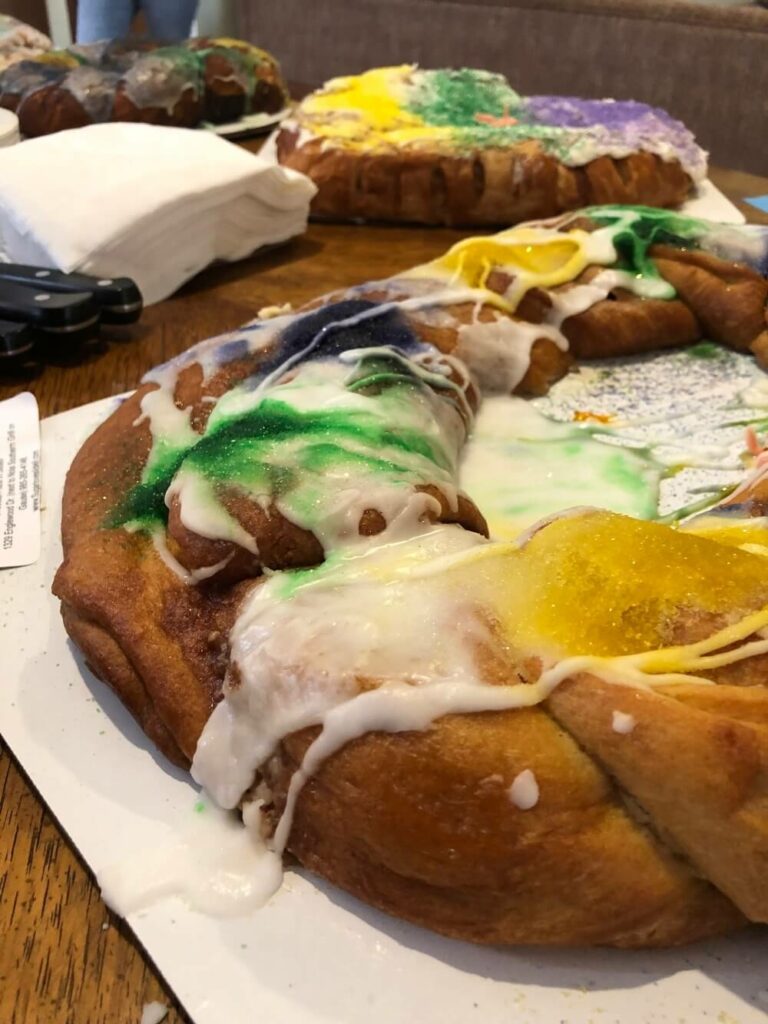 Consider Having Kid-Friendly Activities
If you'll have children in attendance, it's a good idea to have a few activities to distract them from running around like sugar-fueled banshees. Activity sheets (we have several available here as a free download), paper plate masks and crowns, and bead-based crafts like making bracelets are all fairly clean and require little parental assistance. If you're feeling REALLY ambitious, we have some other ideas here and here that require a little more parental participation.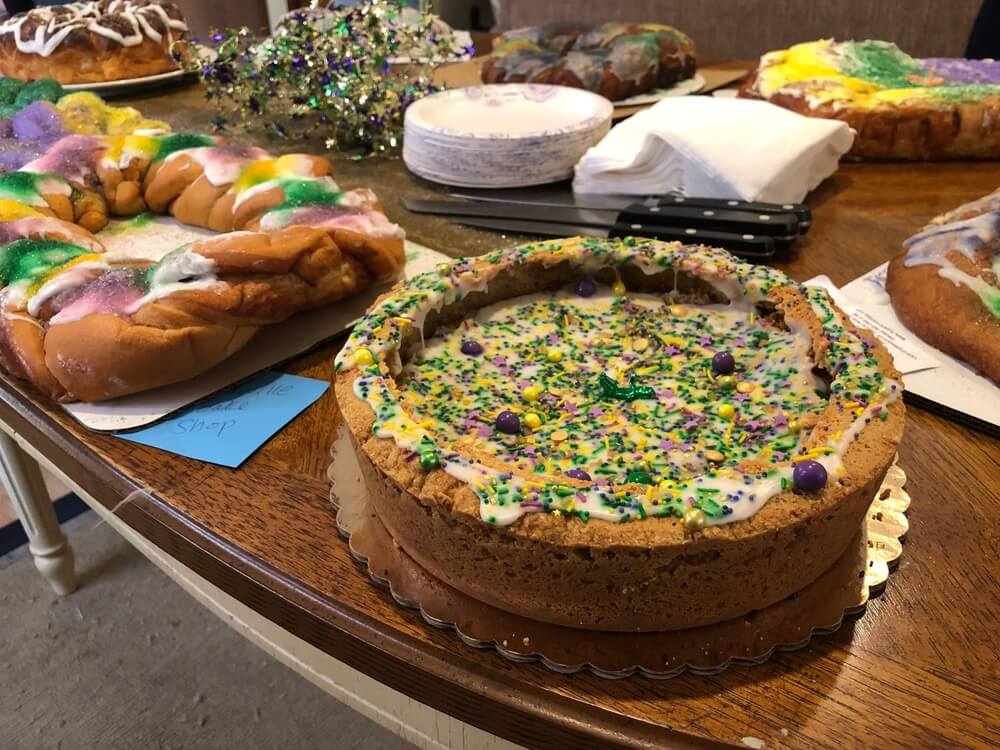 Have Other Food
With all the sweet king cake around, your guests will appreciate a break in the form of some savory foods. Depending on the time of day, a veggie plate and some chips and dip may do the trick, or a pot of jambalaya is always a crowd pleaser. And don't forget the ice chest of Abita!
Provide To-Go Plates
It's highly unlikely that your guests will consume all the king cakes while at the party. Unless you want to be left with a dozen half-eaten king cakes (hey, I don't judge) you'll want to have something guests can take slices of their favorites home in. Some good options are six-inch by six-inch treat boxes (they can be found at most Walmart locations or craft stores), styrofoam to-go boxes (Sam's carries huge packs of them and they're handy to keep around), or a plain old paper plate with tin foil.
I hope you've found these tips helpful and that they inspire you to throw your own king cake party. Happy Mardi Gras!
Other Mardi Gras Fun on the Northshore
Where to Find Gluten Free King Cake
How to Make Your Own King Cake
How to Make Your Own Gluten Free King Cake
The following two tabs change content below.
Hi there, I'm Christy! I am a Slidell native and currently live on the north side of town with my husband and our two girls, ages four and six. By day I manage for Panera Bread, and by night I bake and decorate for my home business, The Little Things Cakes. Thank you for stopping by and being a part of our parenting community!
Latest posts by Christy Broady (see all)