If you've ever attempted to bake your own gluten free pastries, you know it can be quite challenging. Ingredients often don't react in the same ways they would in typical baking, and good gluten-free baking typically requires a cocktail of special additives that most bakers, even experienced ones, are unfamiliar with. Whey protein isolate? Tapioca starch? Potato flour? It can quickly get overwhelming and expensive!
I have baked both professionally and for fun on and off throughout the years, and pride myself on being a solid scratch baker. When I was tasked with developing a recipe for gluten free king cake, at first I wasn't intimidated. Alton Brown practically raised me, for pete's sake, and who knows more about baking chemistry than him? I naively thought, "How hard could it be, I know how to bake!"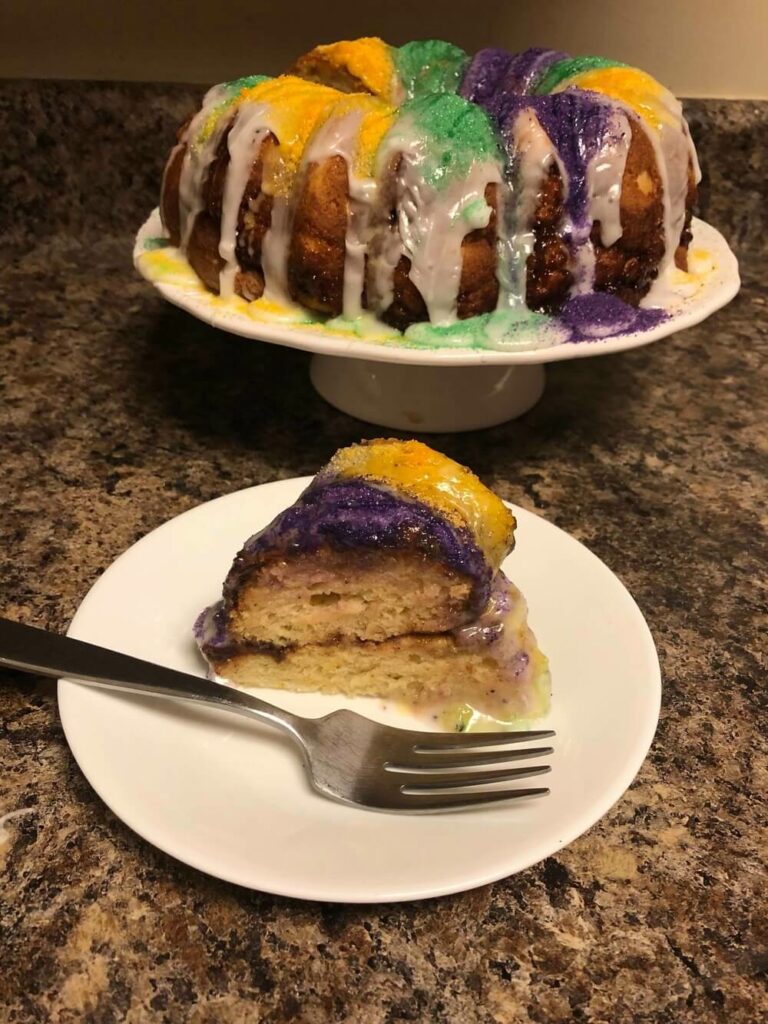 As it would turn out, I do NOT know how to bake without gluten.
Test after test came out crumbly, dry, and disappointing. Just when I had decided I never wanted to see Bob's Red Mill 1-To-1 baking flour again, I realized: I was going about it all wrong. I was trying to force my favorite king cake recipes to be gluten-free, rather than find a great gluten-free recipe that I could then make my own.
The goal when I started was to create a delicious gluten-free king cake without having to invest in specialty ingredients. All I really wanted was to occasionally be able to make a good king cake for my gluten-free friends, so I hated to spend a bunch of money for items that would likely sit and go to waste. After a good bit of Pinterest browsing, it finally hit me: what was simple, comparably inexpensive, and easily accessible?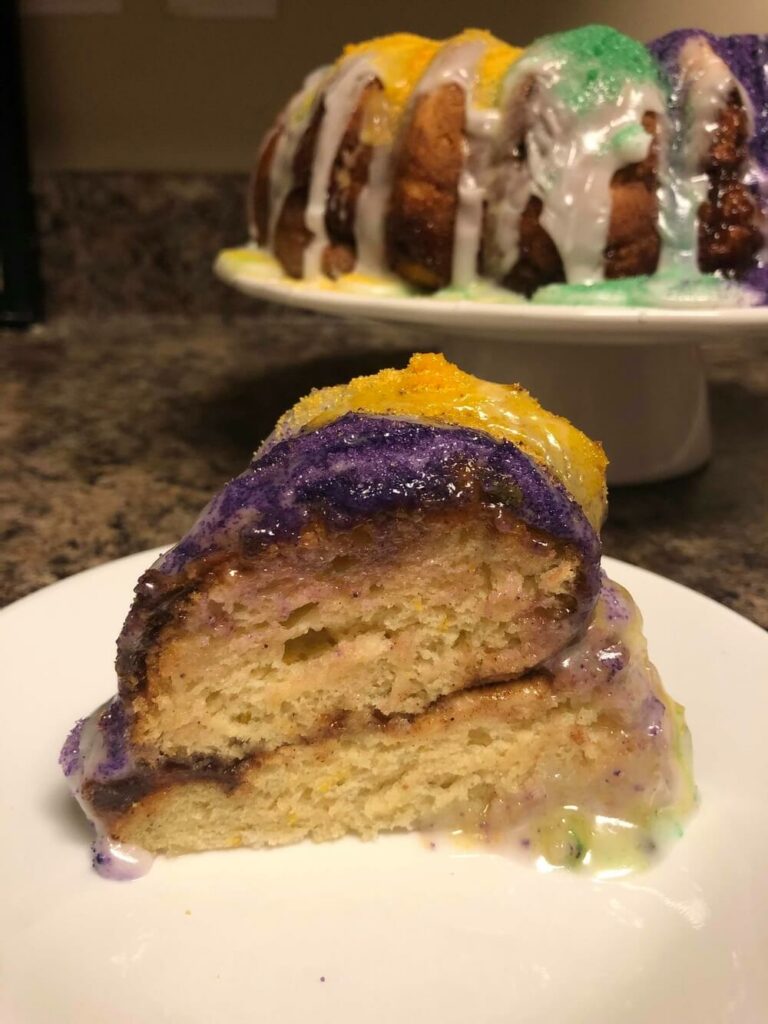 Gluten-free bread mix!

After all, what is king cake, after you strip it of all the flavors, fillings, and toppings? Just mildly sweet, soft, bread. I used Hodgson Mill brand because it was convenient to pick up at my local supermarket, but this recipe is straight-forward enough to work with whatever your favorite may be. For best results it should be the type that stays loose, like the consistency of a thick cake batter. 
The finished king cake is soft and springy, with bites of cinnamon sugar throughout and topped with a thick, sweet glaze. I like a touch of almond flavoring in my king cake glaze, but you can certainly leave it out if you prefer. The citrus zests really set the king cake apart from a typical cinnamon roll or donut styles and bring it more into the realm of classics like Haydel's. Yum!
I hope you enjoy creating your own homemade gluten-free king cake and would love to hear about the results! Happy Mardi Gras!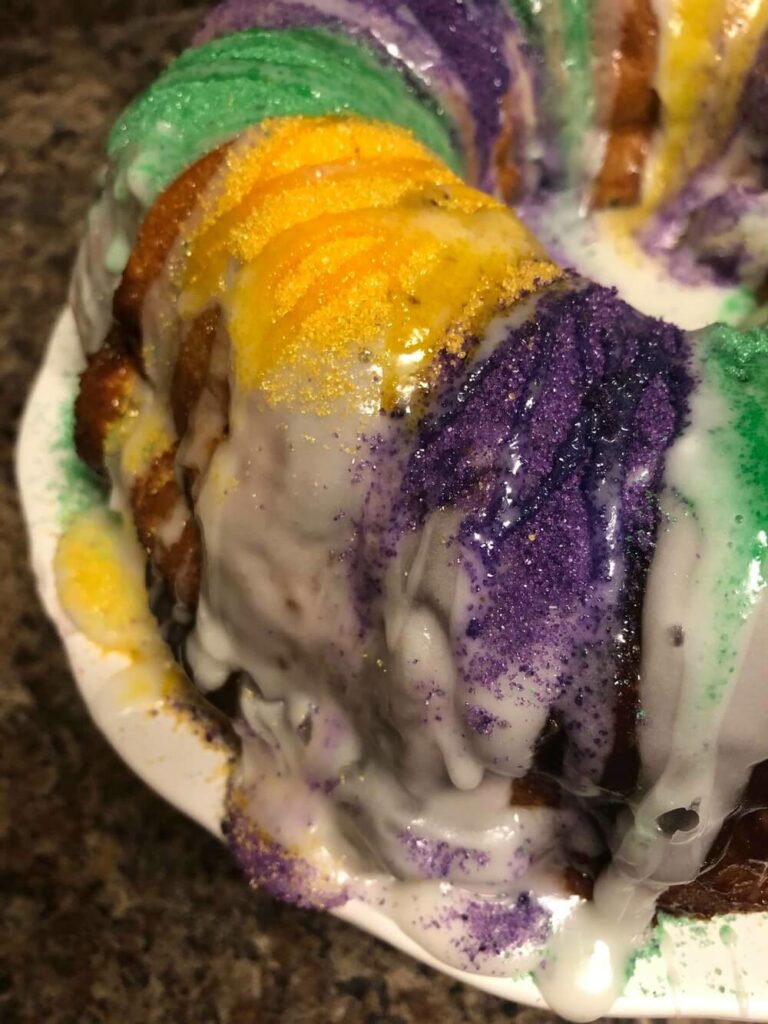 Ingredients
Cake:
3 ½ cups Gluten Free Bread Mix of your choice
½ cup butter, divided (one stick)
2 tablespoons cinnamon
¾ cup white sugar, divided
¼ cup light brown sugar
½ teaspoon vanilla
1 ½ cups milk
1 ½ teaspoons fast rise yeast (included in most mixes, check yours to confirm)
½ teaspoon salt
2 large eggs, room temperature
1 teaspoon cider vinegar
1 teaspoon orange zest
½ teaspoon lemon zest
Glaze:
1 cups powdered sugar, sifted
1 tablespoon milk
1 tablespoon light corn syrup
1 teaspoon almond flavoring (optional)
Sugar Topping:
1 ½ cups white sugar
Purple, Green, and Yellow food coloring
3 sandwich size plastic storage bags
Directions:
Cake:
1. Prepare a standard size bundt pan by spraying with thoroughly cooking spray and lightly coating with either cornmeal or GF baking flour. Tap out excess.
2. Melt ¼ cup butter (half stick) in a medium sized bowl; add ½ cup white sugar, ½ cup brown sugar, and ½ teaspoon vanilla. Stir to combine, set aside.
3. Warm milk in a small bowl to approximately 100*-110*. It will be warm to the touch but not scalding.
4. Add 1 teaspoon of the remaining sugar and all of the yeast to the milk. Stir, set a timer for 5 minutes and set aside.
5. Pour the bread mix into a mixing bowl of a stand mixer* equipped with the paddle attachment. Add remaining sugar and ½ teaspoon of salt and mix on low briefly, just to combine.
6. Melt the remaining ¼ cup butter.
7. When your 5-minute timer goes off, add milk and yeast mixture to bread mix along with melted butter, room temperature eggs, cider vinegar, and orange and lemon zests.
8. Mix on low until mostly combined, stop the mixer and scrape the bowl well with a spatula. Mix again for on medium-high for 3 minutes. The dough will be similar to a very thick cake batter.
9. Spoon approximately 1/3 of the dough into prepared bundt pan. Sprinkle with half of the cinnamon sugar mixture. Top with another 1/3 of the dough, sprinkle with the remaining cinnamon sugar. Finish with the last 1/3 of dough, smoothing the top with a wet spatula. Spray lightly with cooking spray, cover loosely in cling wrap. Allow to rise in a warm spot for 30 minutes.
10. Preheat oven to 375* near the end of rising time.
11. Bake at 375* for 45-55 minutes, or until a toothpick comes out clean when tested.
12. Turn out onto a cooling rack after 5 minutes, allow to cool completely.
Sugar Topping:
While cake is cooling, divide sugar into 3 sandwich bags. Add the purple, green, and yellow food coloring to the bags, then seal and shake. Add more food coloring, a few drops at a time, until desired color intensity is reached.
Glaze:
Combine powdered sugar, milk, corn syrup, and almond flavoring (if desired). Stir until smooth. Drizzle over cooled king cake then top with colored sugars immediately.
*A hand-held mixer can work also, but add 2 minutes to mix time. Mixing by hand is possible but tough on the arms! Stir for 8 full minutes if by hand.

The following two tabs change content below.
Hi there, I'm Christy! I am a Slidell native and currently live on the north side of town with my husband and our two girls, ages four and six. By day I manage for Panera Bread, and by night I bake and decorate for my home business, The Little Things Cakes. Thank you for stopping by and being a part of our parenting community!
Latest posts by Christy Broady (see all)