Friday night I grabbed Sunnie and her three boys and pretty much forced her into my van so that we could check out Christmas in the Park at Lafreniere Park in Metairie. Somehow I had missed the fact that this light display was happening just right over the bridge. I've been to Bogalusa, to Gulfport, to New Orleans, and missed taking a trip to Metairie, which happens to be my home town!
So we piled the kids in the car (only one of mine wanted to go), and headed across the lake. GPS told us the journey would take a little less than an hour, but do not trust your GPS! It led us to the front entrance of the park and the lights entrance is on West Napoleon. We followed some folks who seemed to know what they were doing and eventually got in line.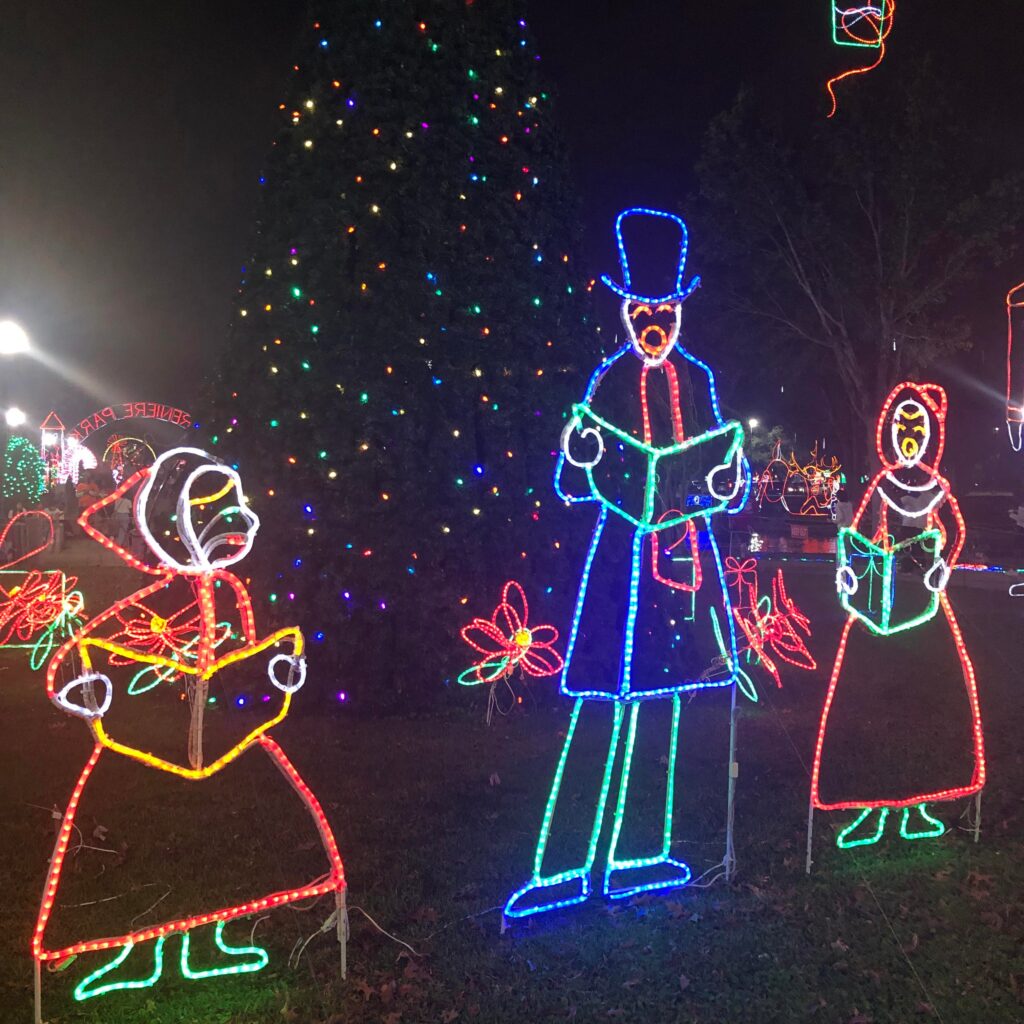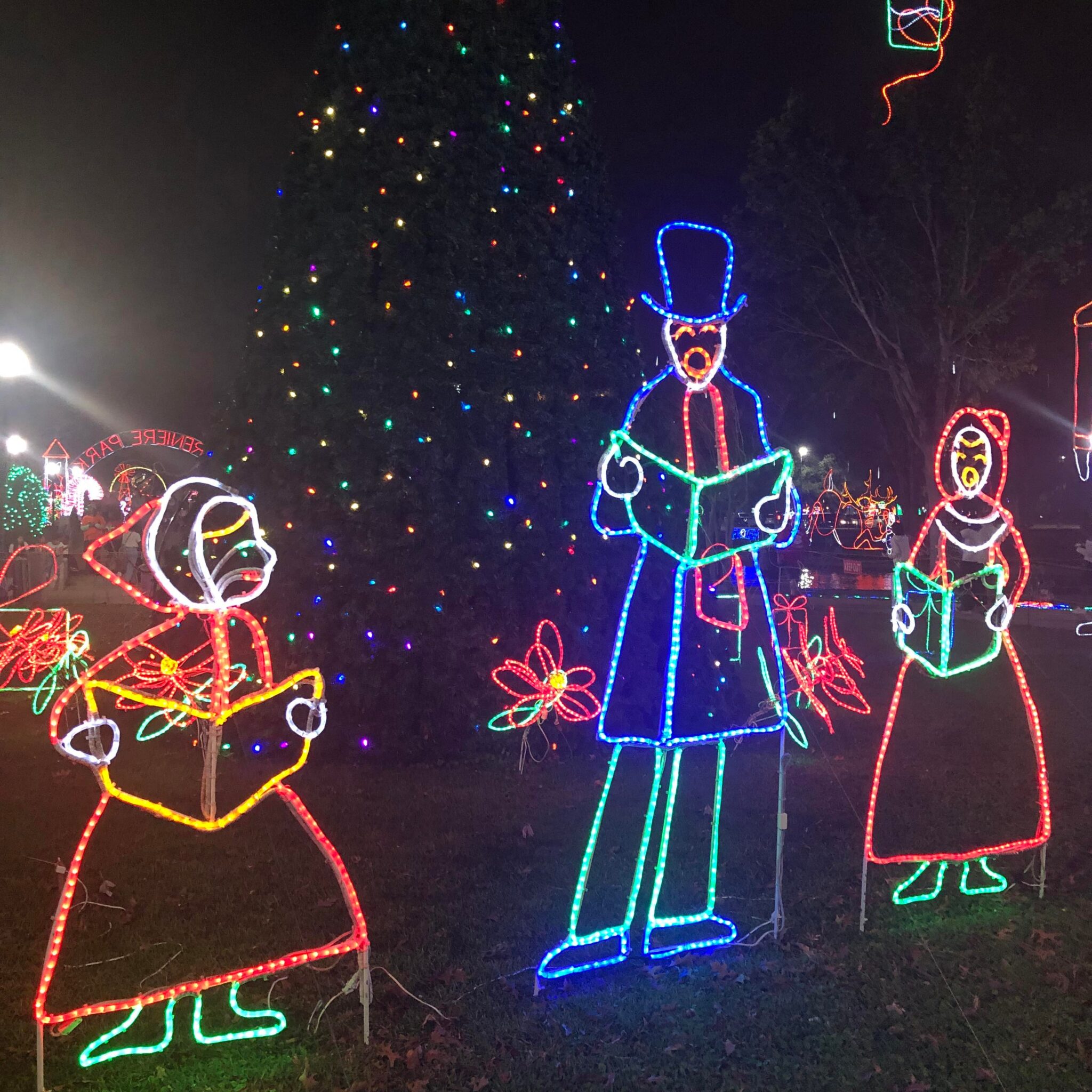 How Long was the Line?
Once we got into the line, it took about thirty minutes to pay and get into the actual displays. It moved steadily and while the kids were little bored they managed and pretty soon we were at the cashier. I brought a credit card and they processed it without me getting out of my car. They do not take cash! Credit cards and debit cards only. You can purchase in-person or online.
Is Christmas in the Park a Walking or Driving Display?
It's actually kind of both! The bulk of the displays can be seen while driving through to the parking lot. Some people also choose to walk up and down these displays but we were content with our drive by. There is also a walking area with more displays, a food court area including Plum Street Snowballs, a Christmas tree, and a pavilion where "snow" rains down every couple of minutes.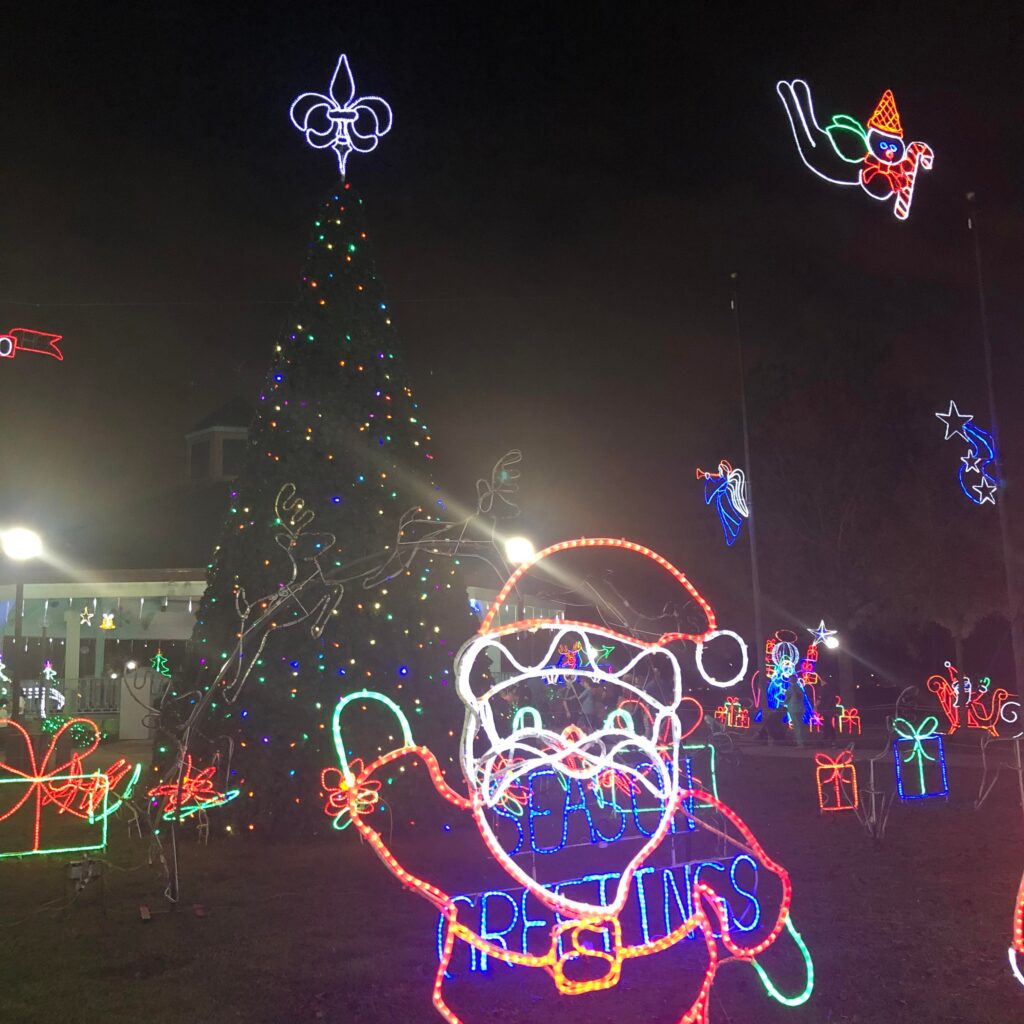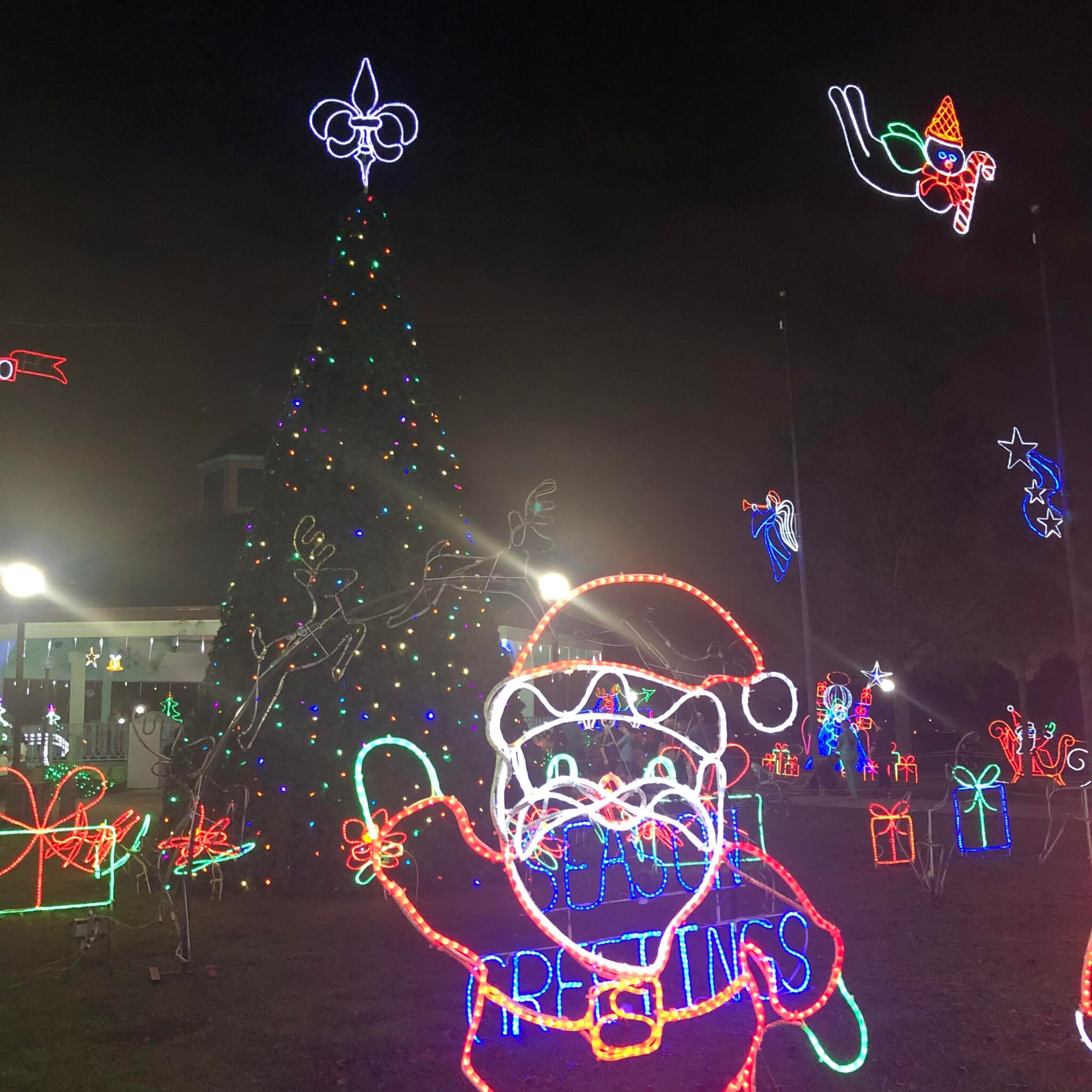 How Was Parking?
We found a parking spot pretty quick. There weren't a ton of spots, but with people coming and going there always seems to be something opening up. There are lot so moving vehicles in this area so hold tight to the kiddos!
What's Included?
The price is per vehicle (this year we paid $10). It includes only the light displays and the snow area. Food is priced separately. The carousel is available for $1/rider.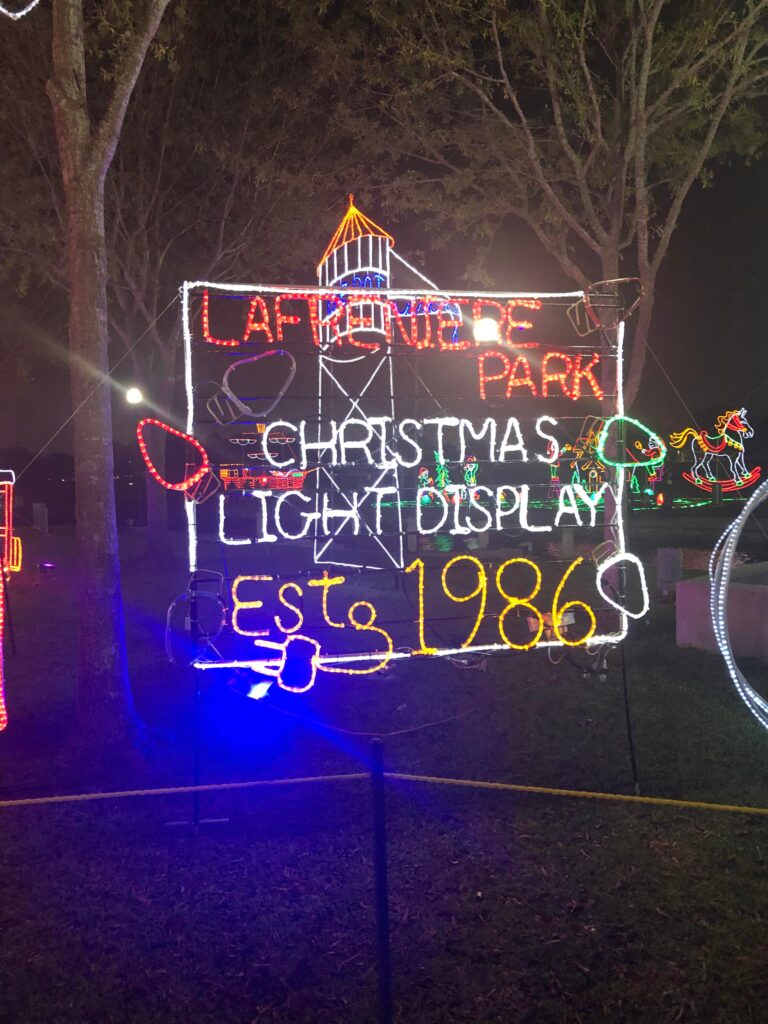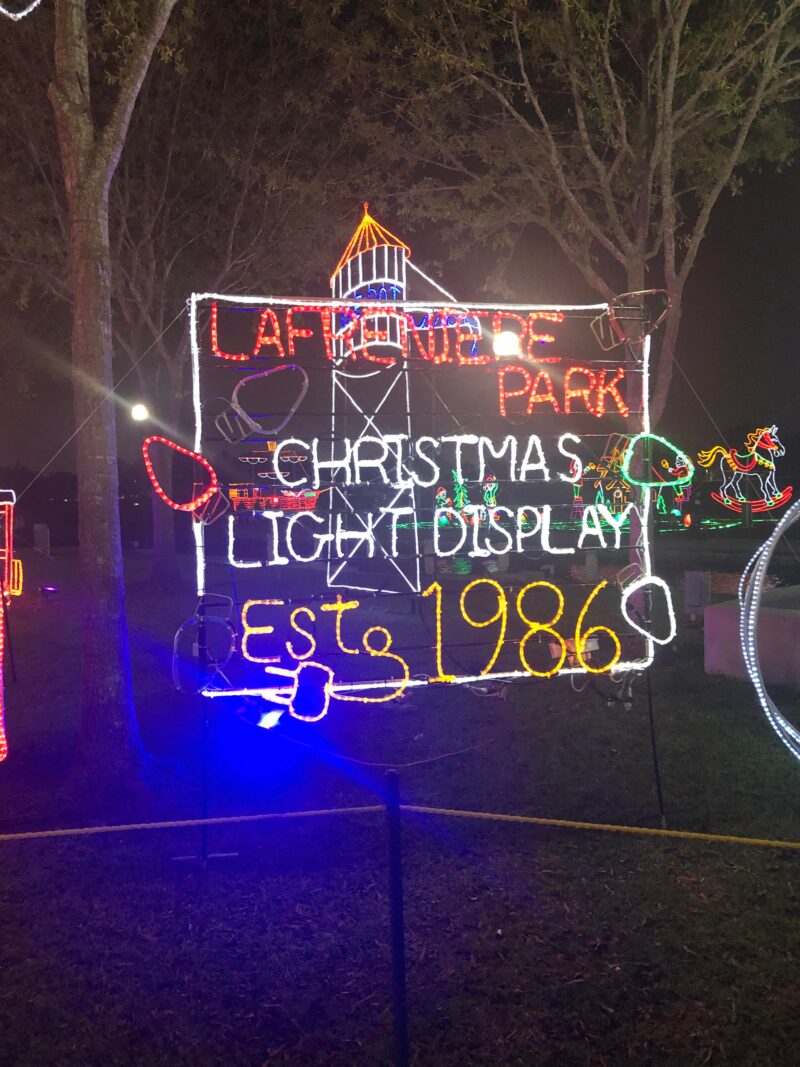 Was it Fun?
This was a very good value for the low entry cost. Over ten million lights for ten dollars! I also like that there was an opportunity for the kids to run around. My kids don't do as well when they're asked to drive a distance, stay in the car, and then drive a distance home. They need an opportunity to get some energy out. Overall this was a fun night and I'm sure it could be extended by eating at the park or even going out to eat at any of the great restaurants available in Jefferson Parish.
Looking for Other Light Displays?
Christmas in the Oaks has brought back their drive thru light display this year.
Gulfport has a beautiful walk-through display that my family goes to every year.
We also have a list of private houses on the Northshore with great light displays.
The following two tabs change content below.
Hi, I'm Katy. Mom to four sweet boys ages 10, 6, 6, and 5. It's a loud, messy, chaotic life. I love connecting with other parents and am so glad you stopped by today!