When football is on the TV the last thing you want to be doing is standing over the stove. Cook this the day before and then just heat it up when the time arrives. This beef chili recipe is complex, but the prep doesn't take long–it's mostly just waiting around for all the flavors to meld together!
Use this recipe the next time you have a big crowd coming over to watch the game or for any reason really. It's also perfect over hotdogs or with corn bread muffins on the side.
Tailgate Beef Chili Recipe
Author:
Prep time:
Cook time:
Total time:
This delicious beef chili recipe is perfect for your next tailgate
Ingredients
2 pounds ground beef
1 pound bulk Italian sausage
2 slices of bacon
3 (15 ounce) cans chili beans, drained
1 (15 ounce) can chili beans in spicy sauce
2 (28 ounce) cans diced tomatoes with juice
1 (6 ounce) can tomato paste
1 large yellow onion, chopped
1 green bell pepper, seeded and chopped
1 red bell pepper, seeded and chopped
1 can of diced green chilies
4 cubes beef bouillon
1/4 cup chili powder
1 tablespoon Worcestershire sauce
1 tablespoon minced garlic
1 tablespoon dried oregano
2 teaspoons ground cumin
2 teaspoons hot sauce
1 teaspoon dried basil
1 teaspoon salt
1 teaspoon ground black pepper
1 teaspoon cayenne pepper
1 teaspoon paprika
1 teaspoon white sugar
1 (10.5 ounce) bag corn chips such as Fritos (optional)
1 (8 ounce) package shredded Cheddar cheese (optional)
Instructions
Saute bacon, onion, and peppers in the bottom of a large stock pot. Add additional oil as needed. Saute until onions are clear.
Crumble the ground chuck and sausage into the hot pan and cook until evenly browned. Season the the meet while it cooks. Drain off excess grease.
Pour in the chili beans, spicy chili beans, diced tomatoes and tomato paste. Add the chili peppers and bouillon. Season with chili powder, Worcestershire sauce, garlic, oregano, cumin, hot pepper sauce, basil, salt, pepper, cayenne, paprika, and sugar. Stir to blend, then cover and simmer over low heat for at least 2 hours, stirring occasionally.
After 2 hours, taste and adjust salt, pepper, and chili powder if necessary. The longer the chili simmers, the better it will taste. Remove from heat and serve, or refrigerate and serve the next day.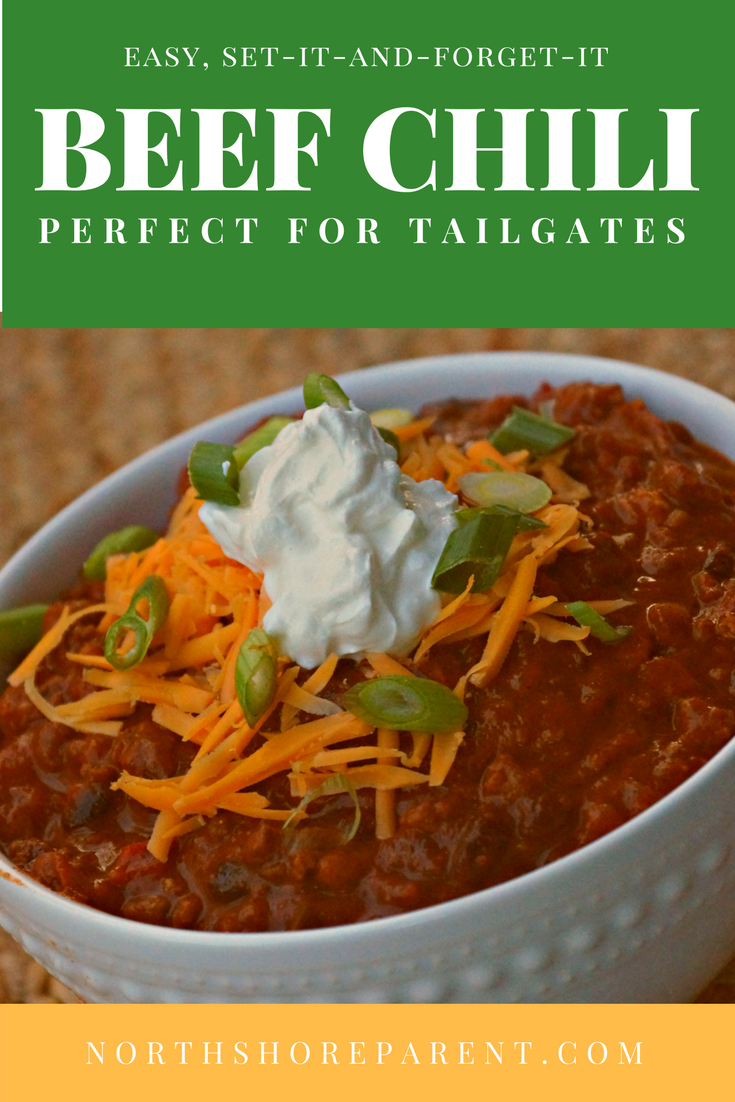 The following two tabs change content below.
Hi, I'm Katy. Mom to four sweet boys ages 10, 6, 6, and 5. It's a loud, messy, chaotic life. I love connecting with other parents and am so glad you stopped by today!