This post is brought to you by Natural Disinfection Solutions. 
Nick Licata will be the first to tell you that he wouldn't be nearly as interested in disinfection if he didn't have kids. He tells me "I can handle it if I'm sick, but it's terrible when your kids are sick."
So what started as just a job turned into a passion for Nick and his business partner Ryan Haggard.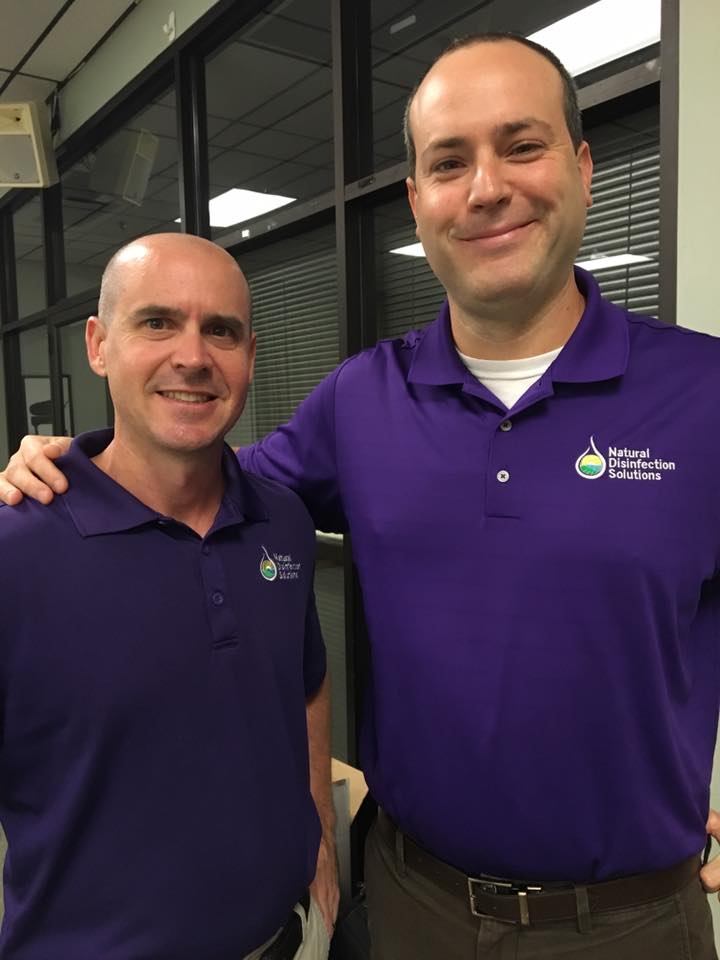 Nick and Ryan have been friends since the second grade. They graduated from St. Paul's together and played soccer together at Millsaps College. After college they started a business selling ultraviolet lights to hospitals. Ultraviolet light is a great way to kill germs–it's very safe for humans and it doesn't create super bugs. The only problem with ultraviolet light is that it's expensive–too expensive for a lot of small business or home owners.  After a while Nick and Ryan started wondering if there wasn't an easier way to get that level of clean. They were certain that daycares, after-hours clinics, schools, and doctor's offices needed a better solution than what they were using–but they probably couldn't afford ultraviolet light. And so they began their search for the best cleaning products on planet. Products that killed the most while protecting kids and adults from dangerous chemicals.
After combing through everything out there, they discovered a few products that met their rigorous standards. They wanted products that were affordable and safe; they wanted products that kill MOST germs (unlike most of the products you find at the grocery store), that didn't aggravate asthma symptoms, didn't destroy fabrics, and didn't create super bugs. Kind of a tall order. They did it, though and they now offer the most cutting-edge cleaning solutions in the world. They offer two fantastic cleaning solutions and they also offer cleaning services for homes and business. Their signature product is BN200–it has just been approved by the EPA and is brand new to the market. When I start describing BN-200 to my friends or family, most people are incredulous. They simply do not believe that a product like this exists. It's better than anything else on the market and that confuses people. Why haven't they heard more about it? The answer is pretty simple–because it's brand new and only available from NDS. In addition to BN-200, they also offer a spraying device that allows you to cover as much area as possible in as short a time as possible–a great option for people who find themselves constantly having to disinfect certain areas or objects.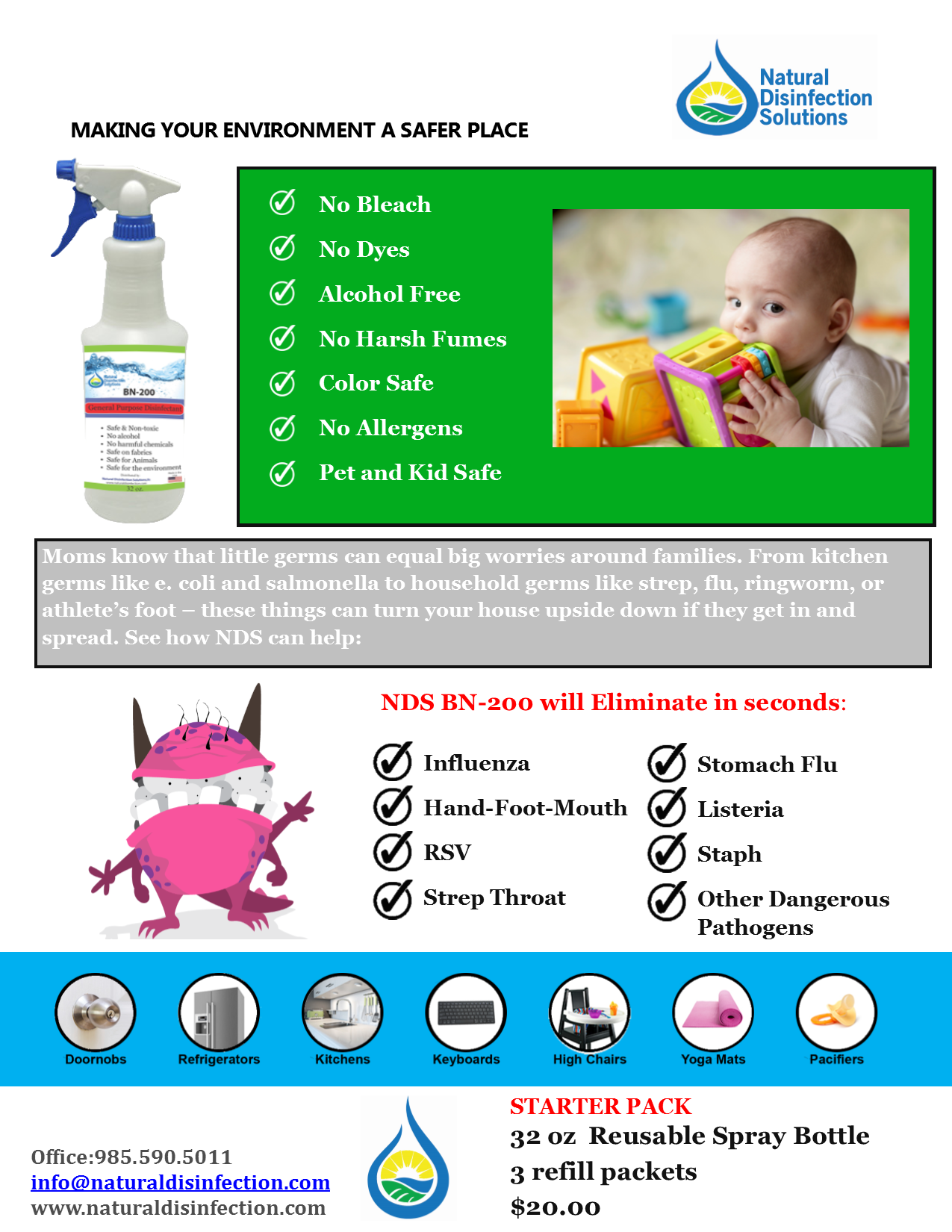 This is clearly a company on the verge of big things. This is the product people will want. Safer than most of the cleaning products on the market and more effective as well. This is what people will want in their homes, schools, churches, and daycare centers. In fact, you might be starting to think right now that you need this product–and so does your child's school, and your gym, and the supermarket! The best part for us is that right now Natural Disinfection Solutions is a local company. You could order a starter pack right now, but you can also have them come and clean your house with their cutting edge products. Tired of your kid getting sick every time they attend the gym daycare? Ask your gym to have them switch to NDS for janitorial service. Do the same at the recreation place that smells like feet–these guys can even clean the air! Someone has to clean–why not go with the best?
For me, there's nothing better than seeing local people do something truly amazing. It's fun to see all the work they've done and think about all the places they're headed next. Join me in supporting this great local business and the guys behind it. Buy their products, like them on Facebook, and tell the businesses you frequent about their top-of-the-line cleaning services.
The following two tabs change content below.
Hi, I'm Katy. Mom to four sweet boys ages 10, 6, 6, and 5. It's a loud, messy, chaotic life. I love connecting with other parents and am so glad you stopped by today!