What kid doesn't love Disney's Frozen? (Seriously, is there one?) So I wasn't at all surprised when my soon-to-be five-year-old requested a Frozen birthday party this year.
Like any other suburban mom of a certain age, I took to pinterest for some ideas. I also came up with a few of my own, and the result was a super fun party that didn't break the bank.
Step one, decorations. Decorating for a Frozen party is as easy as buying or making snowflake decorations and hanging them all over the house. I bought some very inexpensive hanging snowflakes from Party city and added some window clings that I already had in my Christmas decorations stash.
Next up, the food. This is usually where I spend the most money. I served finger sandwiches (we finish each other's sandwiches!), "snownuts" (mini powdered sugar donuts), Olaf noses (carrot sticks), Olaf arms (pretzel sticks), snowballs (white cheddar cheese balls), blue punch, and cake of course. Each food item had a sign in front of it.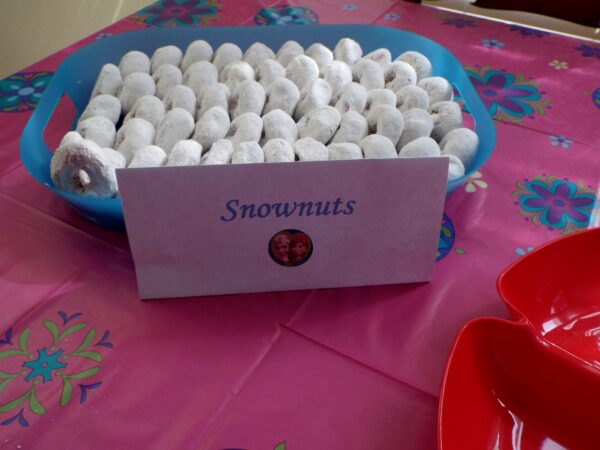 What party is complete without games and/or crafts? I set up a simple craft for the kids to do when they arrived: Do you want to build a snowman? White foam craft balls in 3 different sizes, toothpicks to hold them together in the shape of a snowman, colored pipe cleaners for a scarf, pretzel sticks for arms, and googly eyes. The kids loved it and it didn't make a huge mess. The second game was pin the nose on Olaf. I have an advantage here, my husband is a great artist. He drew a 3 foot Olaf on a piece of poster board and I cut out wedges of orange construction paper for noses. So simple!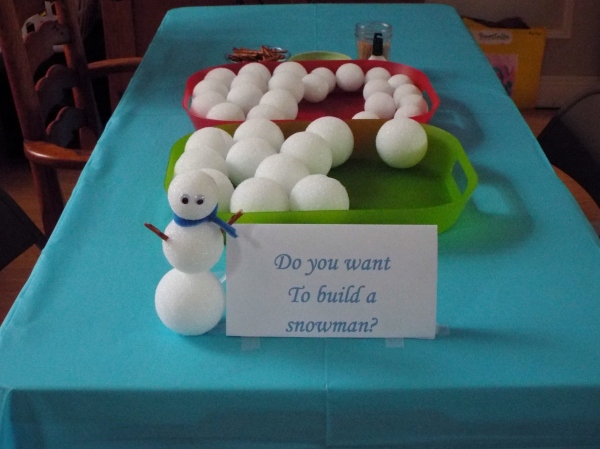 We also did face painting (courtesy of Daddy) and set the mood with a Frozen music station.
At the end of the day, we had a dozen very happy 3-7 year old kids and a mom who wasn't ready to tear her hair out. I call it a win!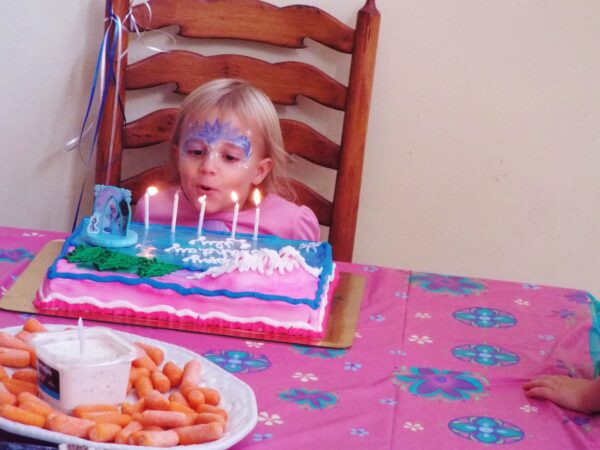 The following two tabs change content below.
Melissa
I am a stay at home mom to two little girls who keep me running. I also care for my elderly grandmother full time. I'm a fan of fitness, mainly because I'm an even bigger fan of cooking and eating. When I'm not busy juggling other people's busy schedules, I can usually be found with my nose in a book or conducting bold experiments in my kitchen, some of which are quite tasty.