Welcome to Glamping With Gigi!
We are at the Bogue Chitto State Park for a few nights. My husband loves to bike and was eager to check out the mountain bike trails up here. Slim and I came along to check out the campground and also to explore the regular trails. We love a good hike! So we loaded up Rosie and headed "north". 

Day 1: My initial observations:
The sites are really nice. All of them come with a sand pad for any tent camping, a fire ring, a grill (ours is new), picnic table, and a camp lantern pole! They are really a nice size with plenty of space between the sites. We like an outside loop site and the view is lovely with the woods behind us. We are in the Upland loop as it's closer to the bike trails. This is not near the river or the ponds, but very wooded and beautiful.
The bathhouses don't have a dedicated restroom area. All of the restrooms are shower rooms with toilets and a sink. This is not a problem with us since we have the glamper but tent campers, this may be hard if you really have to "go" and the five bathrooms are full. They are clean and very spacious. A plus, there are laundry facilities in the bathhouse! There are little lending libraries and a doggie bag receptacle.
There are TRASH CANS!!!! Omg. This is fabulous. Most campgrounds you have one or two dumpsters set somewhere, usually at the front of the loop. It can be a haul sometimes to get to them. There are two nice looking trashcans placed every few sites. Yes, I took a photo. File this under weird things adults are excited about.
We have T Mobile and often have pitiful service at a lot of State Parks, but we have pretty decent coverage. They also have WiFi!
Check in is at 2 and we didn't get here until around 3:30. Tomorrow is our first full day and we are looking to do some exploring! Stay tuned.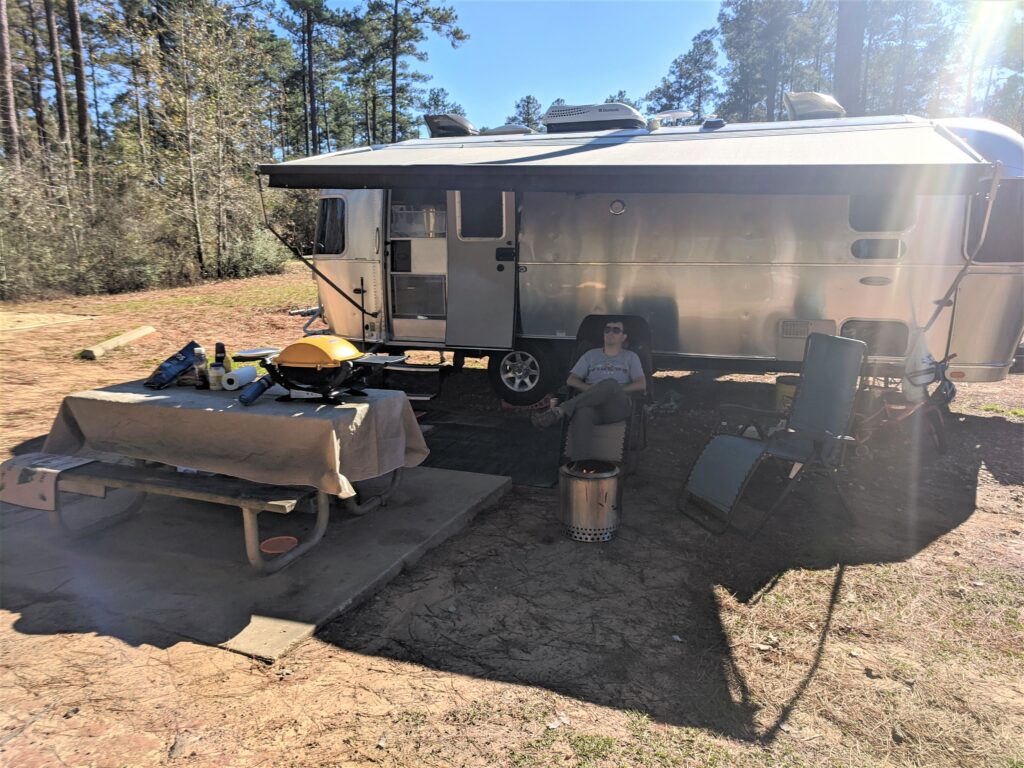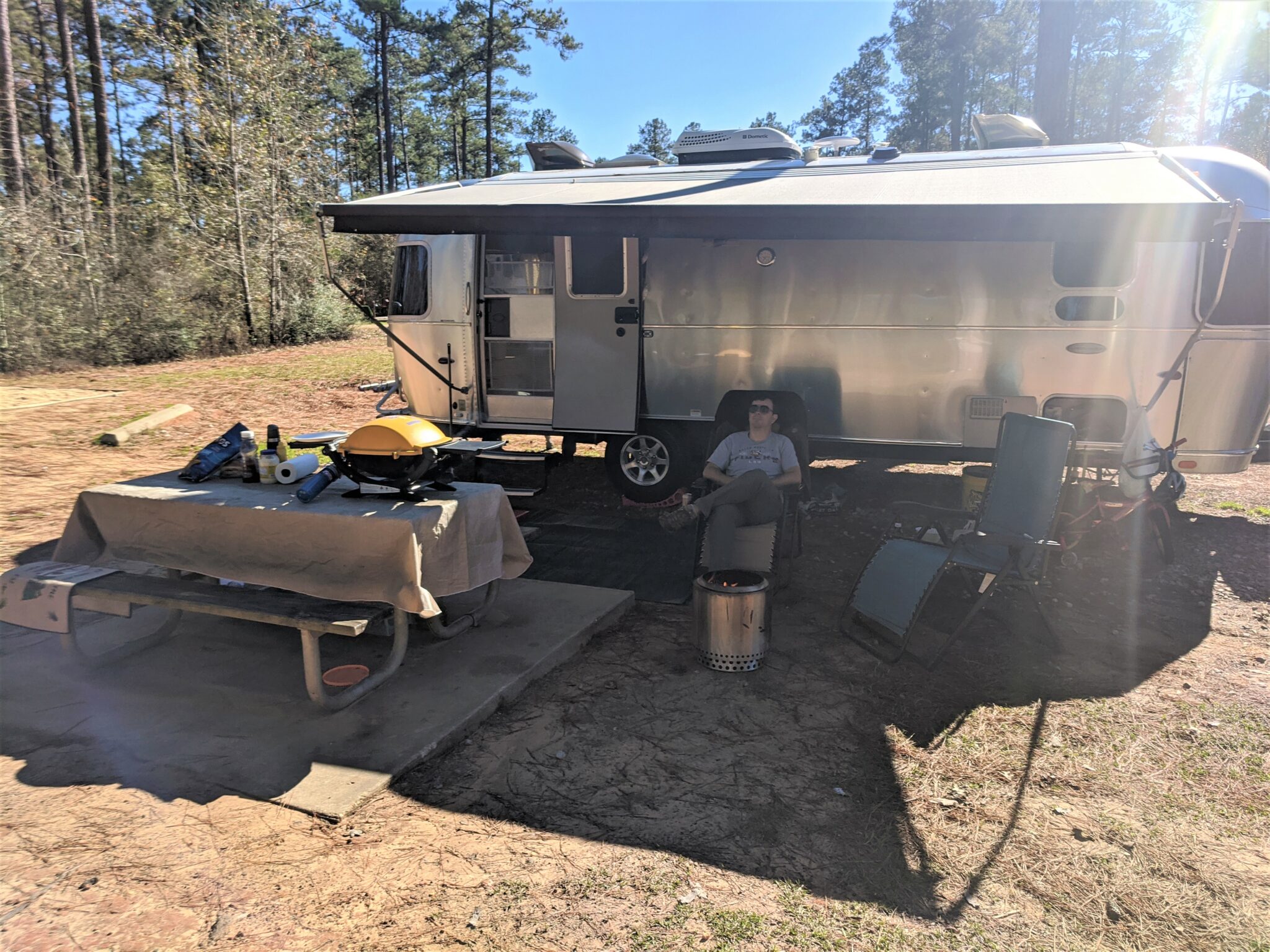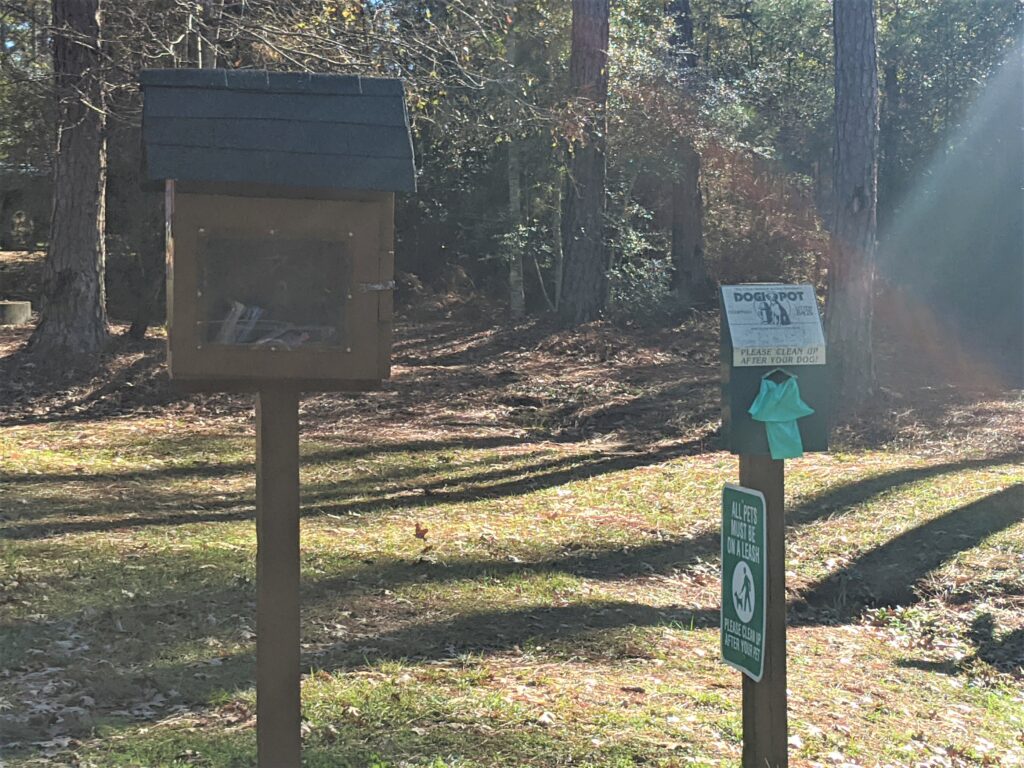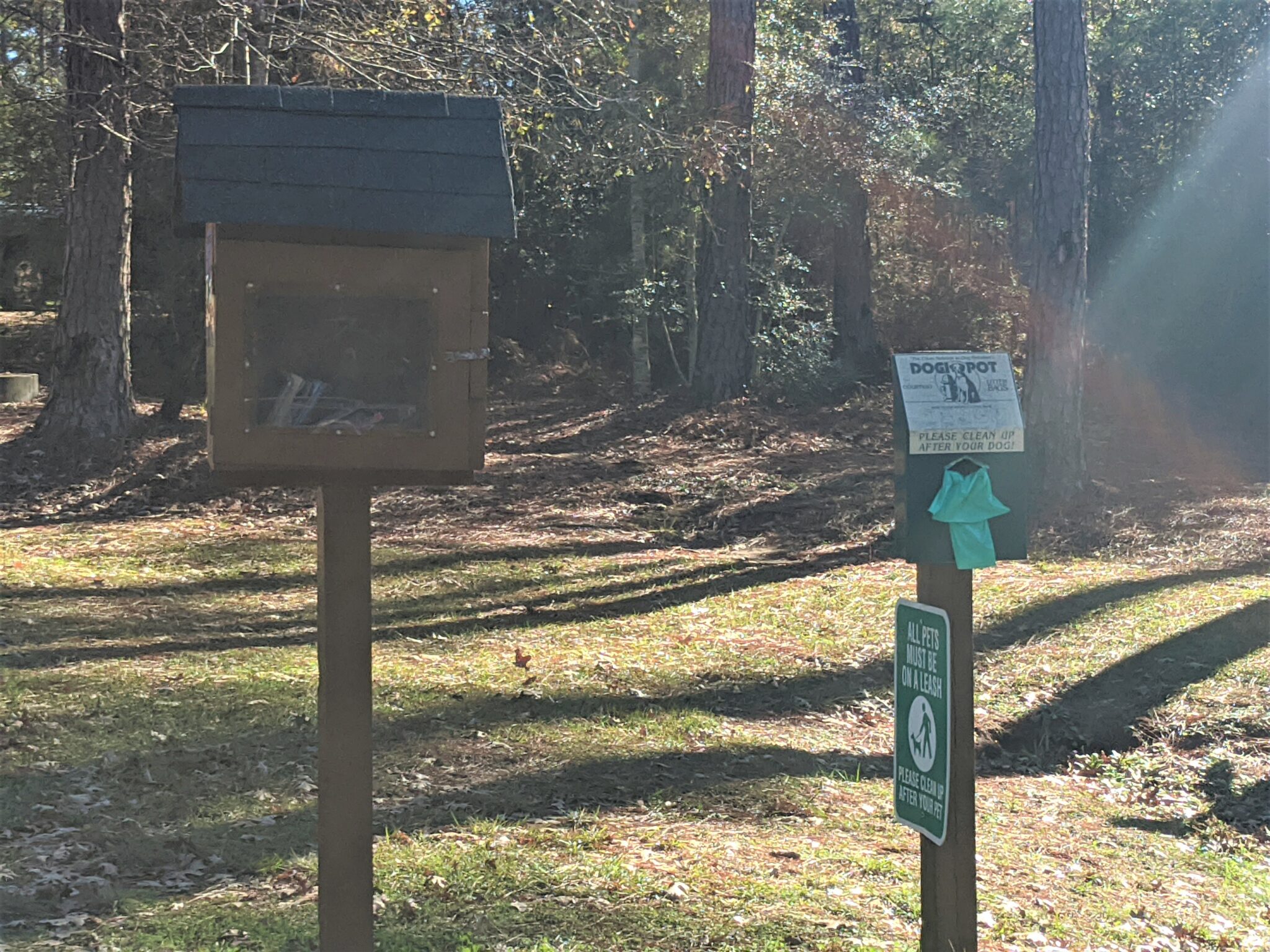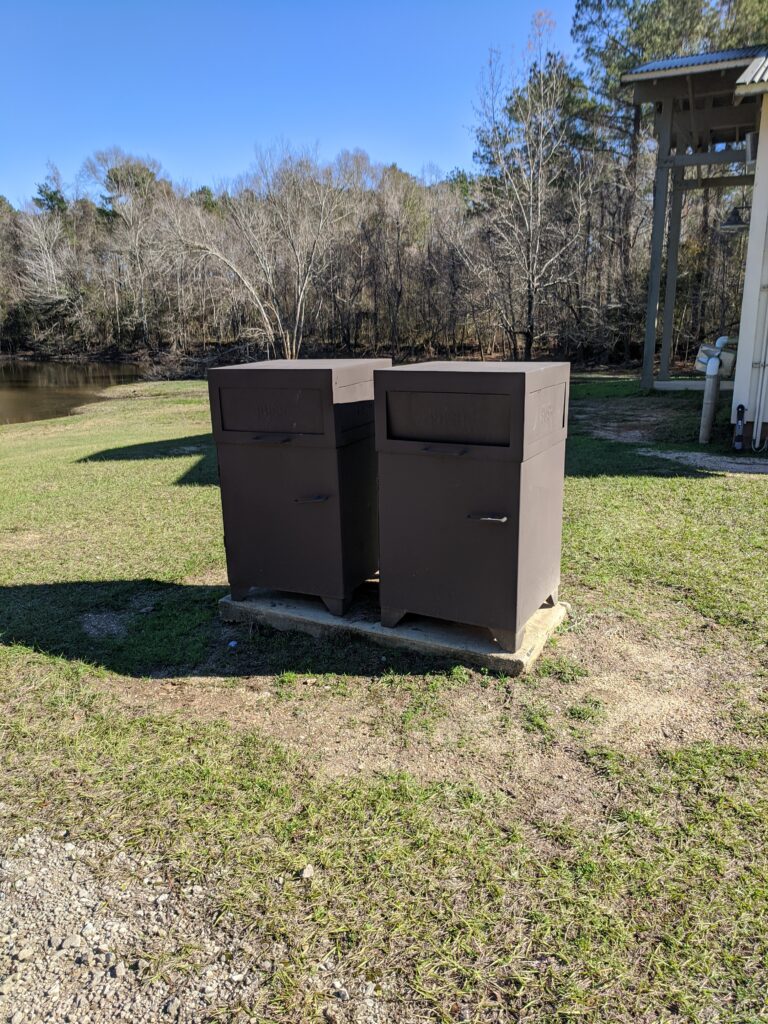 ---
Day 2:
We went exploring this morning, driving to the Day Use areas. There are several little areas and I'll go through each one. This place is HUGE!
The Day Use Area- This is the largest area with the splash pad, water slide, beach volleyball nets and TONS of pavillions for picnics. There are three really large ones that we saw and they are very spaced out. Some are near the water and others near the playground and splash pad. The playground was great and had the rubber tire surfaces. Slim went and hit the splash pad button in 40 degree weather (also with a sign that said no splash pad on Mondays…and it's Monday). Lo and behold, the whole thing started up, including the water slide! Whoops! Nice restrooms again.
Beach Area– The beach area is nice. It's on the river so the sand is grainier and rocky (in case you have never been to anything other than the gulf coast). We were super excited to find tons of great skipping rocks. We spent a while skipping before going off to explore some more. There are restrooms up the path a bit and outdoor showers to rinse off any sand. Picnic tables and a pavilion out there also.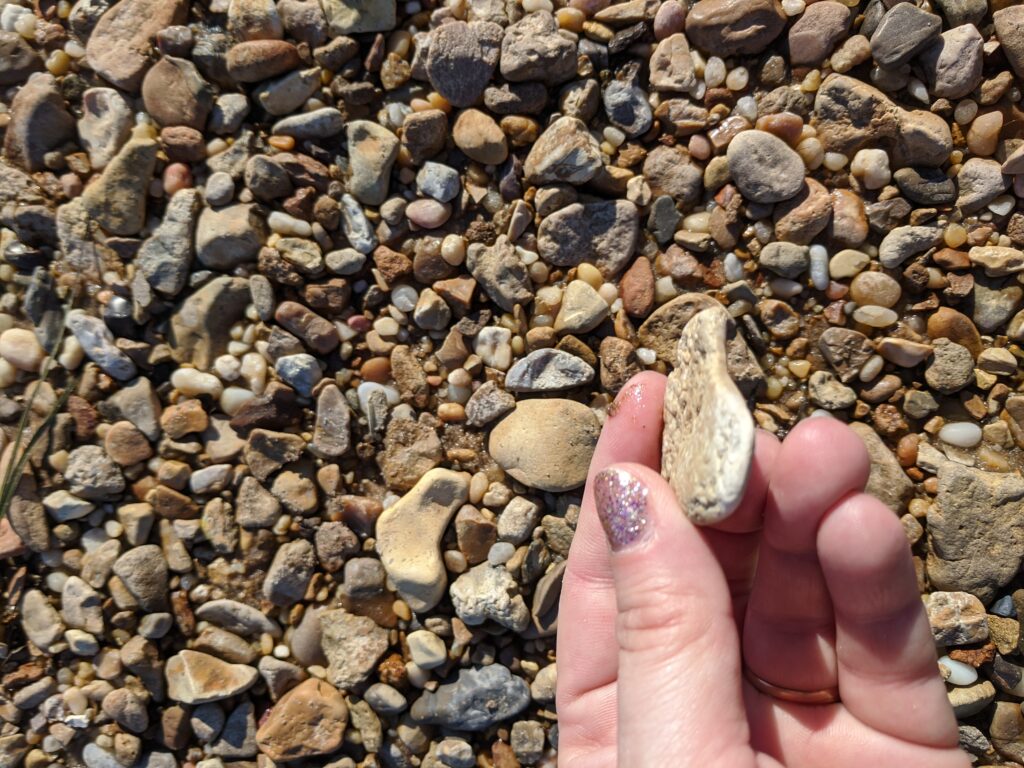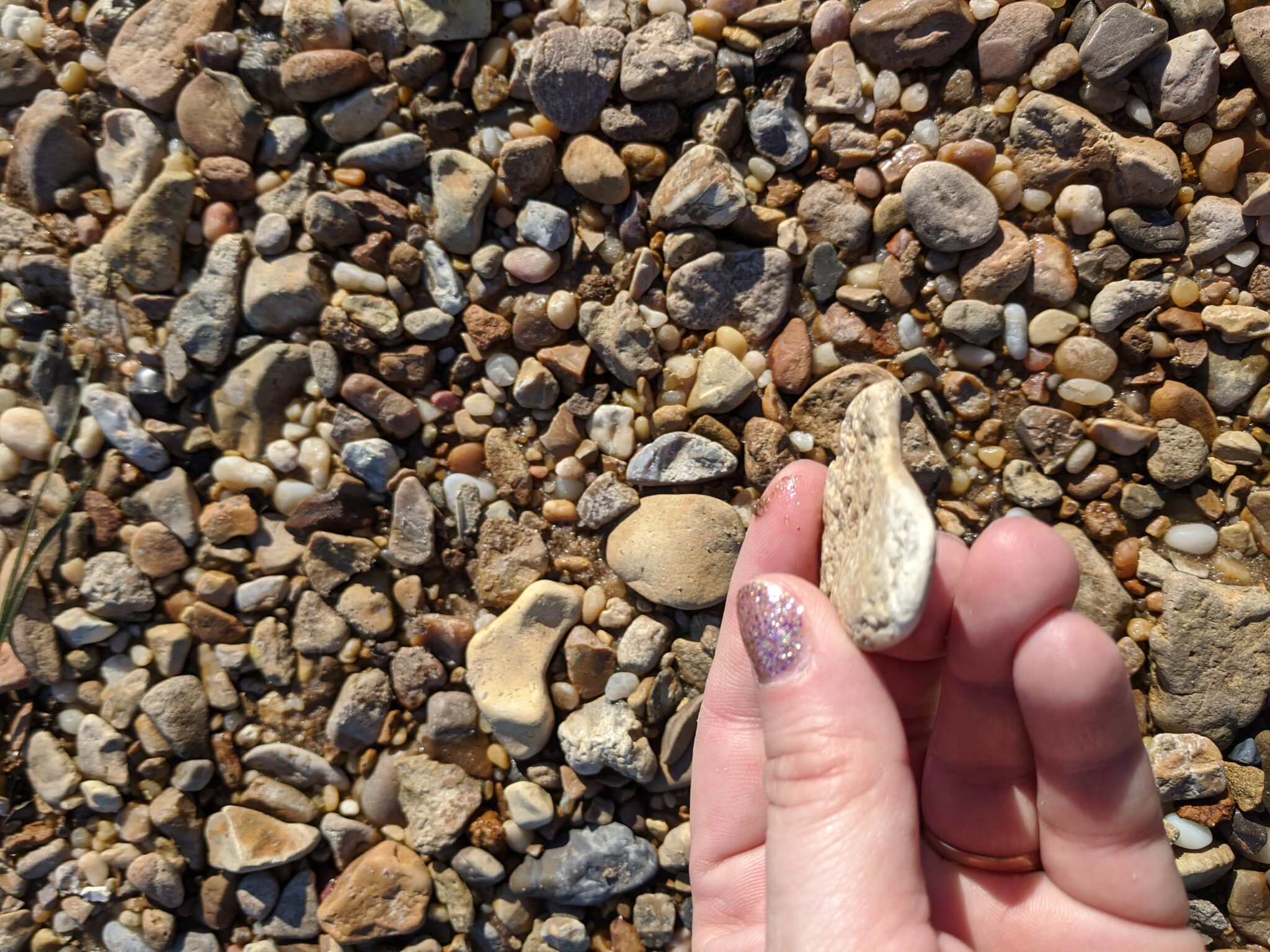 Picnic Area- This was a smaller more isolated picnic area with two pavillions. You can get to the beach from there as well along a little trail. No restrooms.
The Interpretive Area- We didn't know what to expect…dancing, a labrinth? It was a tranquil area that had trails feeding through it, a nice grassy area with canoe or kayak launching, a larger fire pit, restrooms, and a little pier with a shelter that had a few benches. So, perhaps an area that is open to Interpretation depending on who is there. A lovely spot. 
All of these areas are connected by a series of trails for bikes, regular hiking, and horse trails. We went down a few shorter loops this morning. Hubs was headed to do another ride while Slim rests and I read by the campfire. We will probably head out to a longer trail hike this afternoon.
---
By the time Slim woke up we didn't have much daylight so he and I went on a shorter hike right off our campsite. While technically not a path, it was path-ish. It brought us to one of the horse trails and there were some riding by. Since there's no hiking on the horse trails we scurried to the crossroads of the green trail and horse trail and hopped on the green. That lead us to the red trail. When we take Slim hiking we make sure to always talk about the symbols that mark the path. At 5 he can most certainly retrace with lefts and rights and following the symbols. This is super important when hiking with little children or really anyone unfamiliar with hiking trails and how to navigate them. On the map the red and green are marked but in different colors, which was a little confusing but nothing to stress over for us.
Tomorrow we are going to go to the Lower Gorge area of the green trail and try to check out the horse rentals (just for curiosity's sake) before we head home.
---
Day 3:
We drove over to the outlet nearest the Lower Gorge. (The whole loop of the trails is over 5 miles and that's too much for Slim so we do have to relocate our starting points for now). It was surprising how deep this goes down here in Louisiana! There is boardwalk that goes in two directions. Slim chose left. It lead to a "landing area" deck. There was a skinny trail in the red earth to hike up, over and under some logs. It finally dead ends at the top. Very fun and cool to go so high!
Next we went the other direction. Like any park boardwalk, after a rain they are slick. Please always walk carefully. This slows you down, but in nature, what's your hurry!? Very beautiful under the canopy of the trees. We then hopped back on the green trail. There are areas when the green trail is an "everybody" trail. This means that bikes and hikers will share the trail. Just be aware. Seasoned mountain bikers will do the calls to pedestrians to let you know they are coming. As a general rule, just hike to the right like anything else.
The green trail brought us to a crosswalk to get to the other side of the trail over the main road. At this juncture is where you can find the Bogue Chitto Horse Rentals and Stables. They had just sent out a large group with a guide. The stables were nice and it's something we are going to look into for next time.
We headed back to the campsite to start cleaning up to head home. Our Upland loop has sewer hook ups so we can dump and secure everything at the same time. Always a plus.
---
They are doing work throughout the park, probably getting ready for the Spring season. We didn't explore the tubing. It's winter and we had a massive storm the first night. Besides, Slim is too little size wise for my comfort level anyway. I believe there are two companies that tube through the park. They along with the Horse Stables are not affiliated with the state park. They just function within it.
This family will be coming back for sure. We loved it!

The following two tabs change content below.