Over Mardi Gras last year, like half of Louisianians, we went to Disney World. Since we camp/glamp in our trusty Airstream, we opted to bring her to Fort Wilderness for our stay. Here are a few things we think might be helpful for you to know.
Booking a Camp Site
You still have to book way ahead of time like any Resort. We booked our trip over a year in advance. We use a travel agent so she was able to book us. You can send/ call in a wish list of sites that you want, but it is not guaranteed that you will get your set site like at other campgrounds. You also don't find out what site you have until you get there or perhaps the day before. Because it is a Disney Resort, you get complimentary Magic Bands once you book your tickets.
Getting There
You have to drive, right? We decided to give ourselves two travel days on either end of the trip. This was our first really long trip with Rosie the RV so we wanted to make sure we could take our time and have a buffer if something went wrong. For those who are new to this, you have to drive slower when towing as well. The first day we drove the larger chunk and stopped (with a reservation) at O'Leno State Park (410 SE Oleno Park Rd, High Springs, Fl  32643). We got there around 4 and it was beautiful. Had time for a hike to stretch our bodies. Here are our notes from the trip down:
Leave Slidell @ 7 AM
Morning Fuel Stop at 9:30-10:00AM 167 Miles: Buccee's 17 gallons
Lunch Stop/Fuel at 12:30PM-1:30 PM 320 Miles Just Before Tallahassee, Rest Area MM 161 320 miles (12:30) Flying J or Pilot Exit 192 375 miles 20 gallons
Eastern Time Zone
Afternoon Rest Stop 15 min, MM 265 or 294
Arrive O'leano 4:30PM
Leave O'leno state park 7am-8am
Drive 2.5-3 hours 141 miles
Fill up flying J exit 341 or 329
Arrive Disney 10AM
Be patient in line. If you get there before check in, there is an overflow area, but it gets full very quickly. Rosie is smaller, size wise, so we were able to find a spot. It's also the regular Fort parking lot for Hoop Dee Doo and the stables.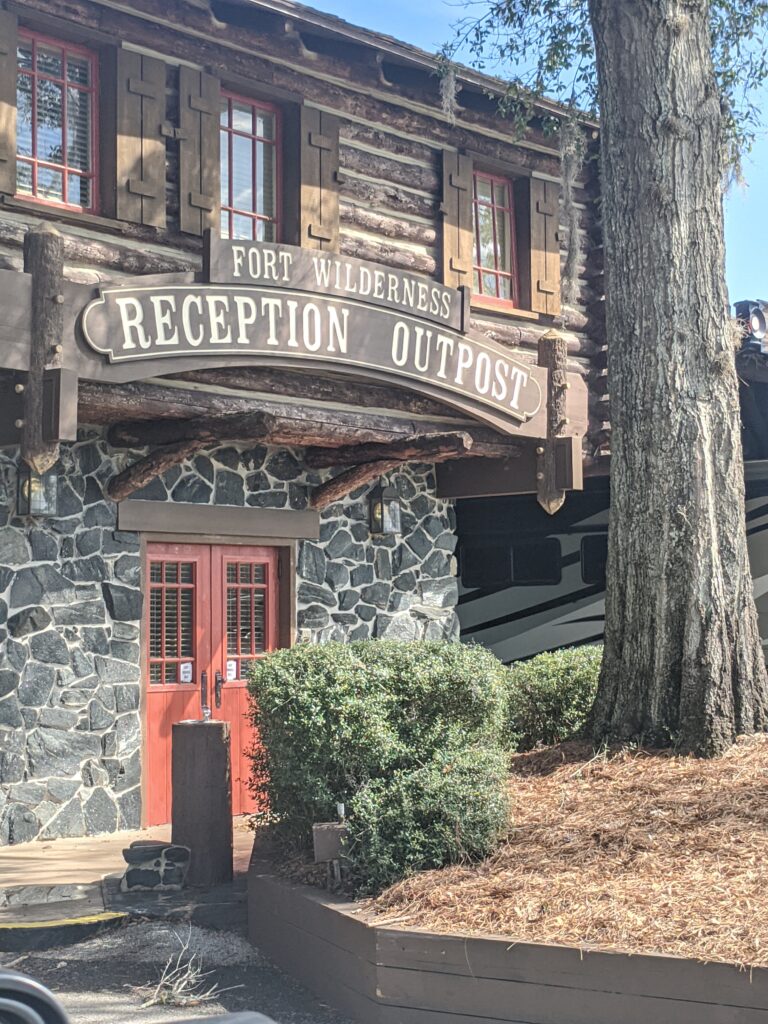 Provisions
For most camping trips we stock our camper before we leave home. Like anything you buy at Disney, there is major sticker shock. I do know people who either stop at the nearby Publix or do a pick up order from WalMart. The pick up situation would stress me out since you are committed to an arrival time. Just load up before you go, y'all. If you do forget something major and don't want to head out to the grocery, the have most anything you would need at the camp store. Just make sure you reaaallly need it. $$$
Campsites
They are all really nice sizes. We were in the cooler months so tree cover wasn't as essential. The slab is a very nice depth and width. Behind the slab is a "tent slab" for those who are tent camping. Each site has a set of trash bins near by. I know I seem to obsess about trash bins but it is a big deal. They do have a weird opening that you need to get used to involving sticking your hand in a hole and pulling a leaver. (That's what she said.) Bring chalk, and decorations. We brought chalk and Slim sort of colored our slab. A lot of people do really fancy art at their sites. And the decorations. We brought our Mardi Gras wreath and some lights. We basic.
Amenities
There are playgrounds, our own pool, bus service from one end to the other, golf carts you can rent, a camp store, comfort stations with laundry, and boats, etc. that you can rent. Not much different that other RV resorts, but of course, it's Disney-fied. There are stables on site, restaurant, bar, and the Hoop D Doo Review, reservations required. If you don't want to do the HDR, once was enough for me as far as the show goes, you can get the exact food from the restaurant/ take out. That fried chicken is legit.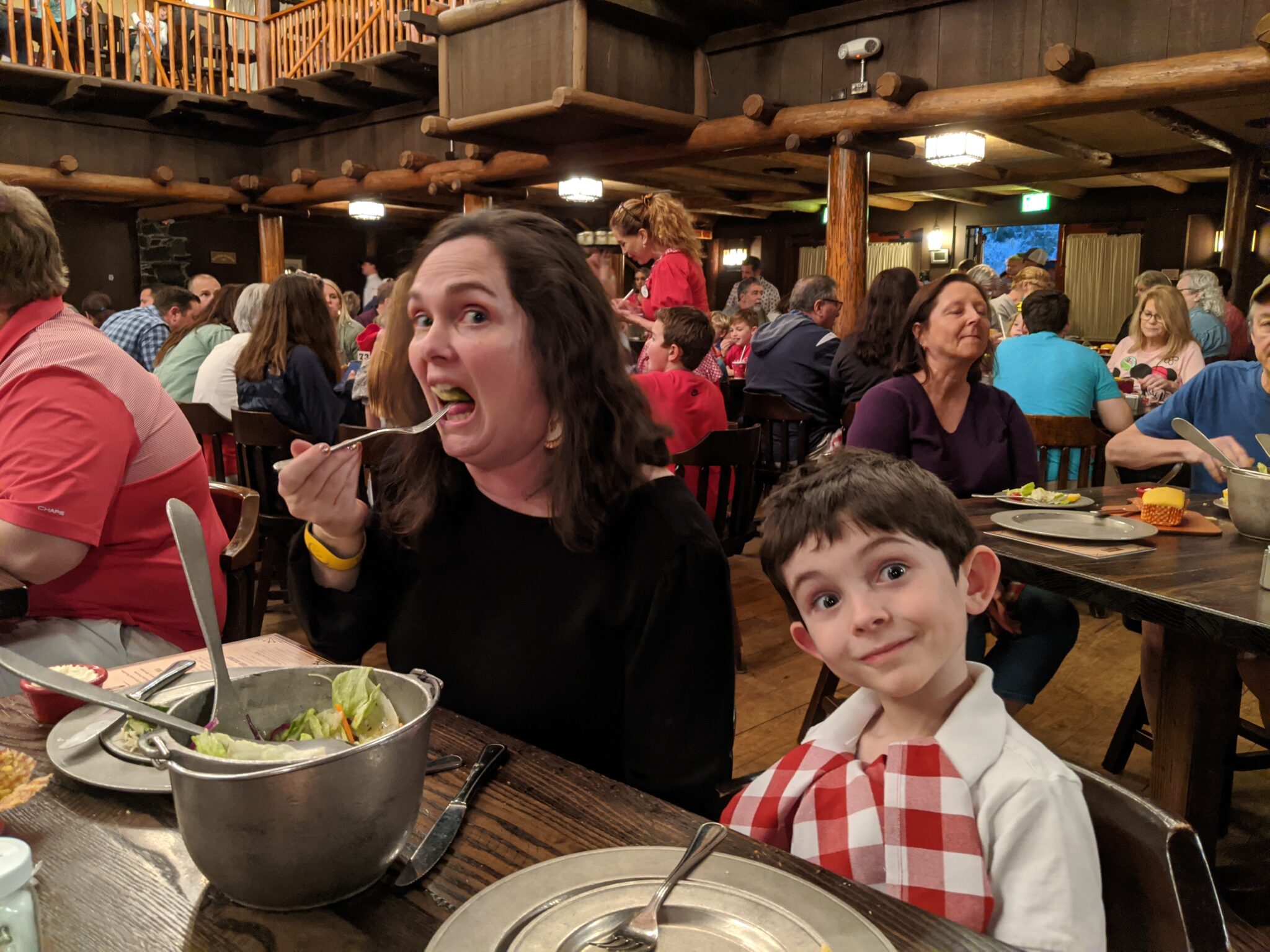 Getting Around
The Fort Wilderness Campground is considered a Disney World Resort. It is connected to other resorts by bus, ferry, and you can always drive to your destination. If you are rope dropping, you may want to drive for Hollywood Studios, Epcot, etc. You can ferry to Magic Kingdom early, therefore I recommend that route. You do need to get to the dock early as the line gets really long. We are early risers so we pretty much just rope dropped every day. We did take the bus to Epcot, but drove to both Hollywood Studios and Animal Kingdom. We did not park hop, so this worked fine for us. Slim is so used to long hikes he did so well with the walking. Proud Mama.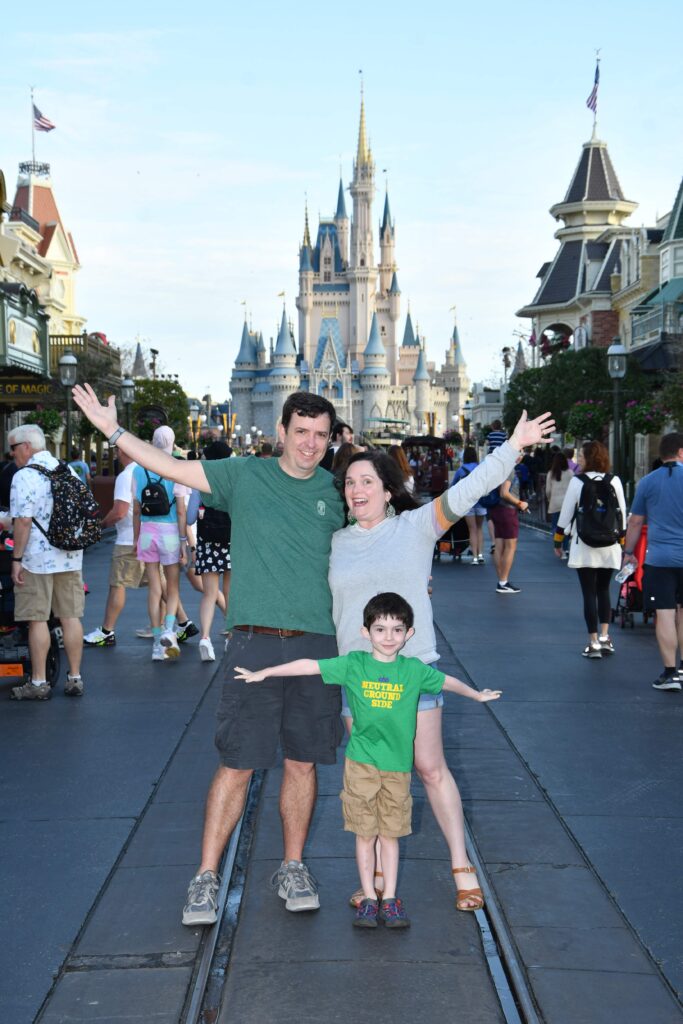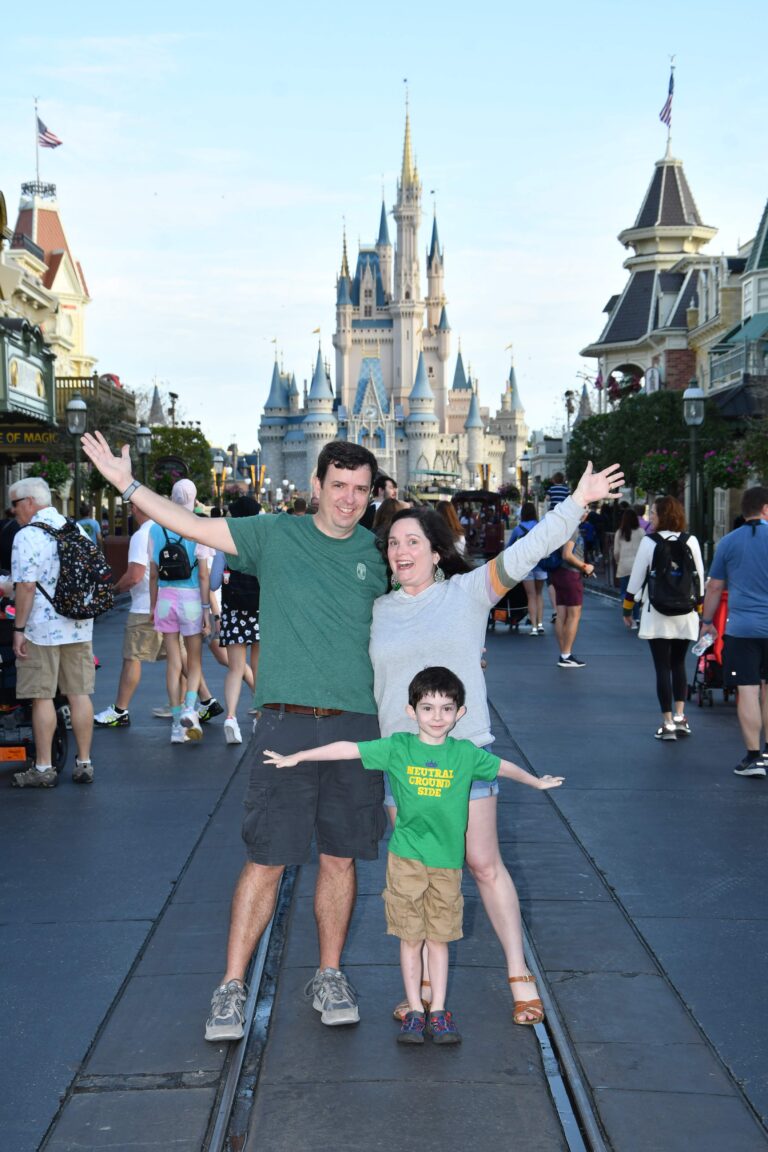 Final Thoughts
We had a BLAST! My husband hadn't been since high school and it's been over twenty years for me. The Campground is super fun and low key, just what we wanted after all the crowds and activity.
Covid-19 Changes
As of today all four parks are open with limited capacity. There is an online booking system for tickets. The way it reads, Park Hopper doesn't seem to be an option right now. But always call as I am not Cast Member. The Campsites at Fort Wilderness are open. Not all resorts are but thankfully with camping, you are in your own bubble anyway. For the latest list of openings see https://disneyworld.disney.go.com/experience-updates/resorts/
The following two tabs change content below.