Halloween is less of a holiday in my household and more of a lifestyle. I'll be the first to admit that the autumn season in general gets preferential treatment. I'm lucky if I don't slide into Thanksgiving, Christmas, or literally any other holiday by the absolute skin of my teeth every single year, but by mid-September, however, I am often overcome with the holiday spirit. I will milk every ounce of harvest from this season, so help me. This has only gotten worse since I've had children. The time-honored tradition of pumpkin-patching is a must. Donning your best autumnal clothing in defiance of the sweltering 80 degree weather, taking in the fresh scents of hay and fall allergens, threatening your children for photo ops. It's always a good time. It's also the moment that you get to choose your Halloween pumpkin, possibly for carving, possibly for painting, if that's your fancy. There are a few old reliables around town that will fulfill this service for you, all good and tried and true.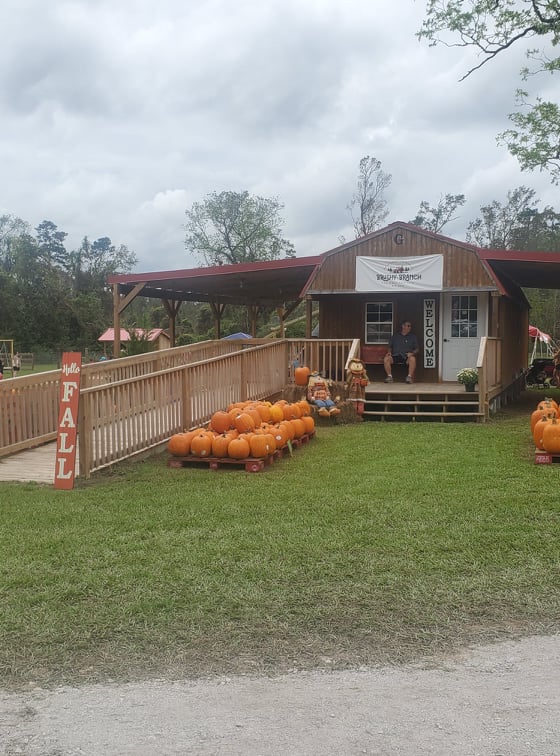 But this year we decided to try out something different, and we're quite pleased that we have. Newcomers to the scene, Brushy Branch Christmas Tree Farm and Pumpkin Patch in Loranger offers not only a pumpkin patch, but an entire cornucopia of classic fall festival activities for little ones. Their opening weekend was an absolute blast, providing my child with ample enough activity that she (if you can believe this) took a nap in the car on the way home.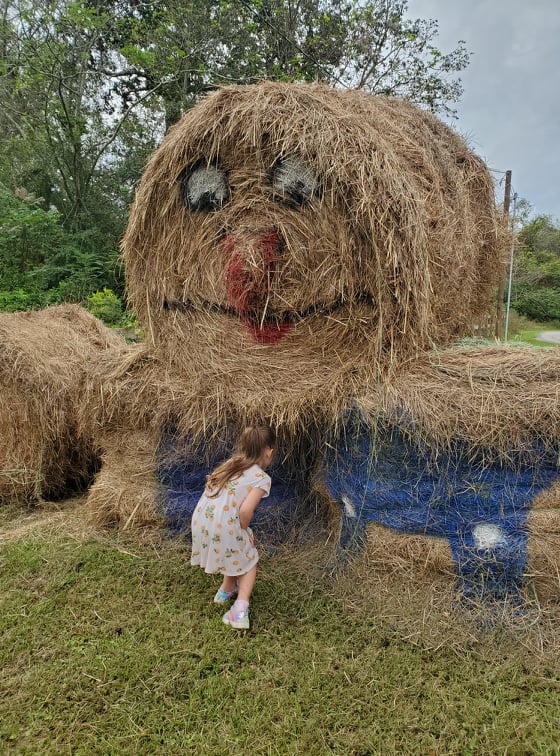 Operating as both a Christmas tree farms as well as a pumpkin patch, Brushy Branch transforms their property into an attraction full of games, animal-petting stations, a bounce house, a hay maze, a giant tube slide, a fully equipped hayride t, and my child's personal favorite, a train ride.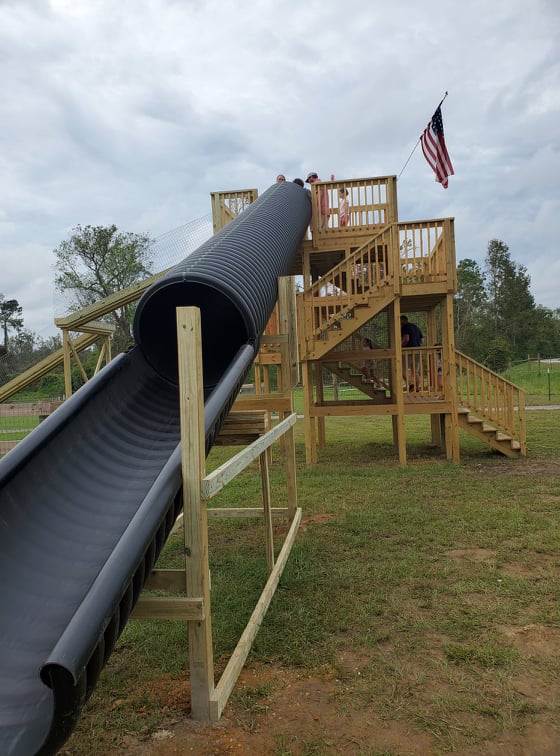 Admission is only $10 per child, accompanying adults get in free. Child-free adults can also attend at $10 a head. With your admission your child can choose a free mini pumpkin (and when I say mini I don't mean palm-sized. I mean baking pumpkin size) from their pumpkin patch. For an additional $2 you can get a little red ticket that earns your child one ride on the train. 
Also in attendance was Big D's BBQ and Too Tiny Kitchen food truck, much to the delight of my husband who lives for anything smoked or slathered in barbeque sauce.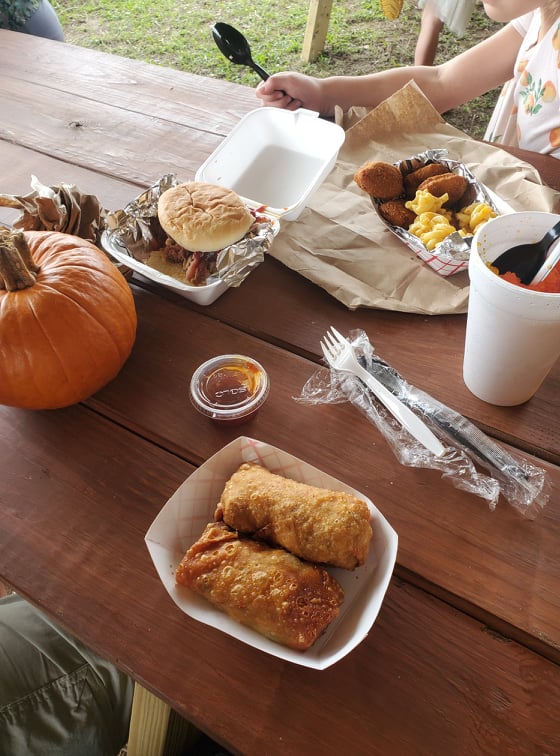 Most important to me, however, was the array of beautiful heirloom pumpkins and gourds on sale for insanely affordable prices. I managed to score a giant gray-teal pumpkin for my front porch display for only $5. The entire operation is run by many smiling and kind faces that take extreme pride in their work and in their farm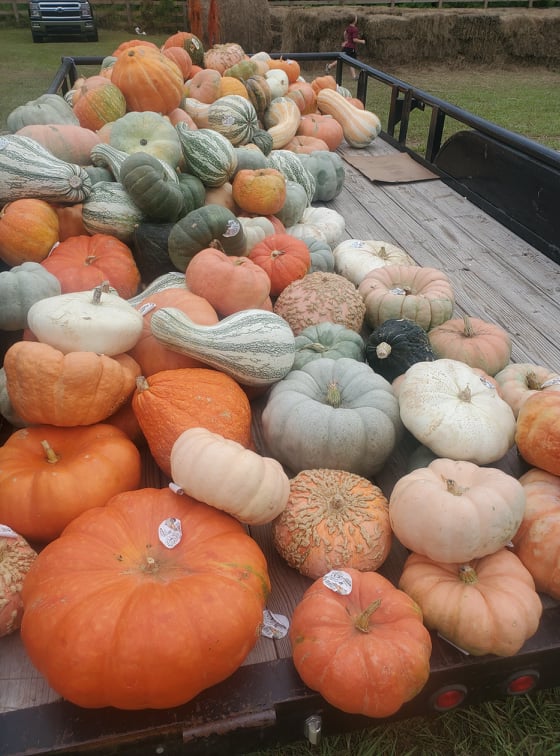 . The family vibe is cozy, the activities are all child-friendly, and the overall experience was incredibly affordable. The moment we left I wanted to return again with the rest of my family and friends in tow. If you're anything like me and you like to take a lot of pictures of your kids, there are plenty of photo opportunities smartly decorated for the autumn season. Brushy Branch also sports a Christmas store for any of you that like to look ahead into the holiday season. It's definitely a must-see for this month, that is if you don't mind a little adventuring into the back roads of Tangipahoa Parish. But isn't that what spooky season is all about anyway?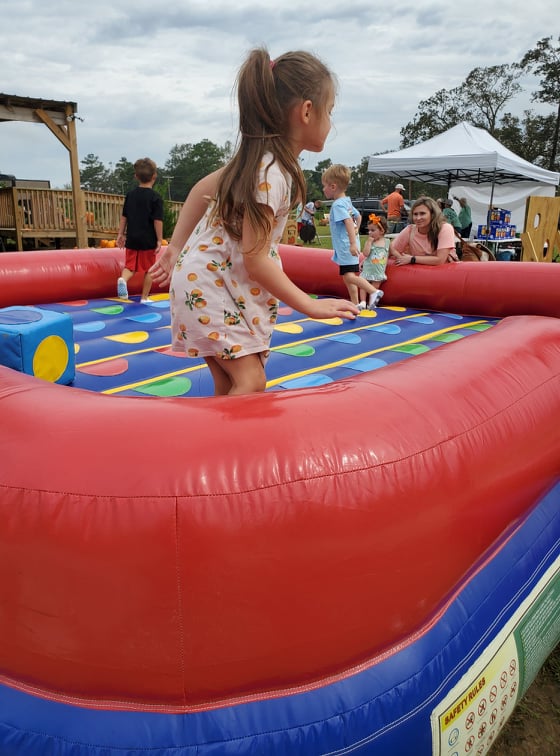 The following two tabs change content below.
Hi, I'm Katy. Mom to four sweet boys ages 10, 6, 6, and 5. It's a loud, messy, chaotic life. I love connecting with other parents and am so glad you stopped by today!