Coquille Park is a wonderful park that serves the communities of Madisonville and Covington. It is located right next to Archbishop Hannan on Hwy 1085. Location: 13505 LA-1085 Covington, La 70433
Details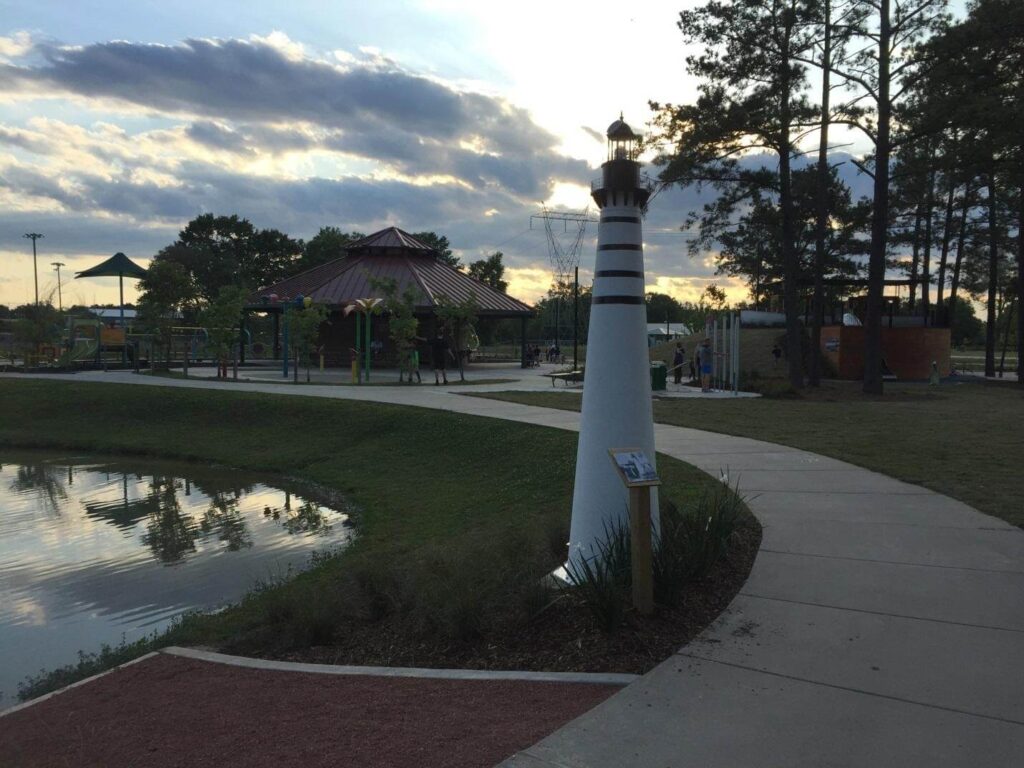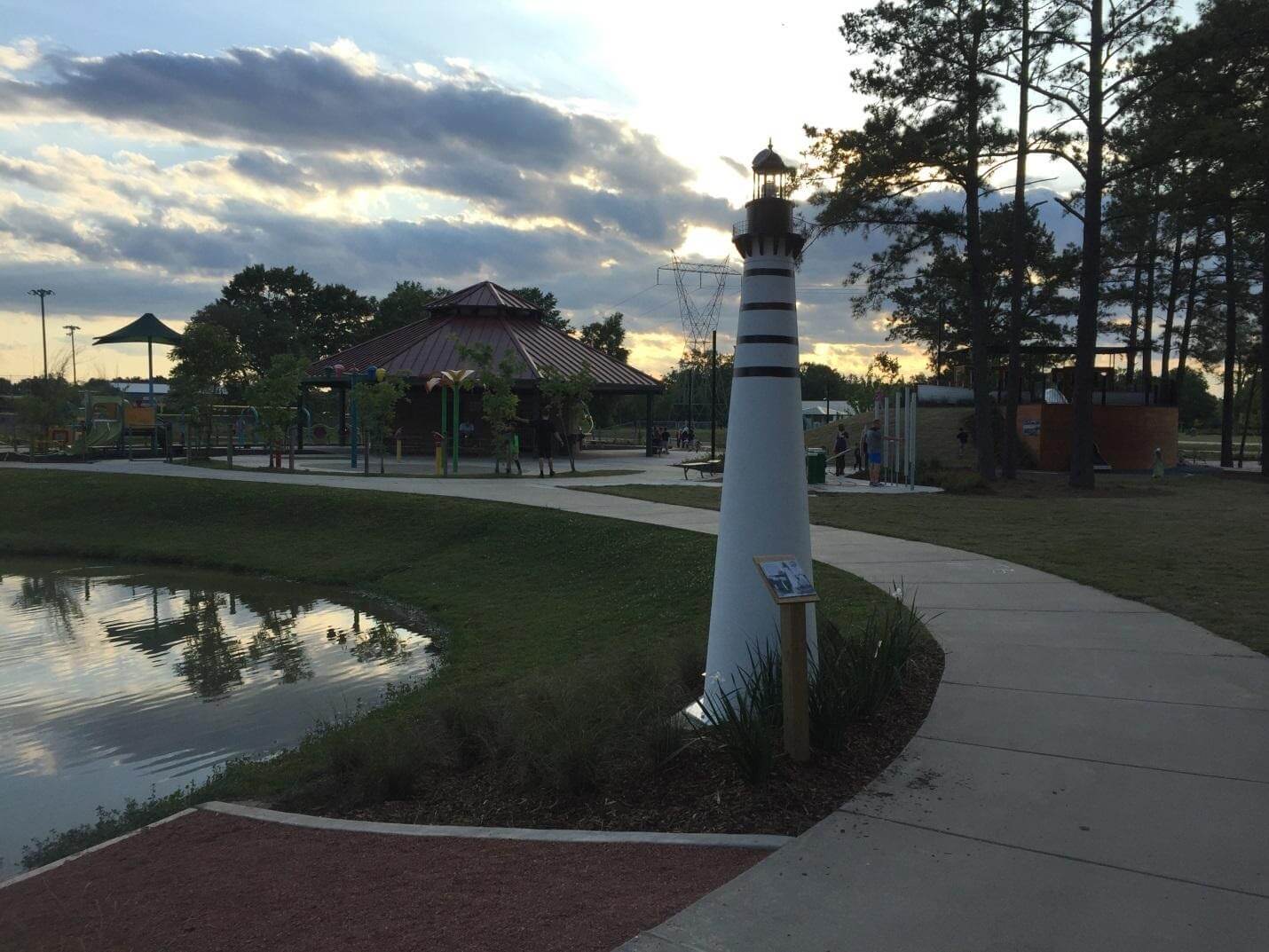 Unique Features: I absolutely love this park because there is so much for kids to do. They have four different playgrounds, swings, sand areas, a splash pad, and even musical instruments for kids to play. Don't forget to bring some change for duck feed, they have that as well!  I also like that there is a fence around the pond so I do not have to worry about my kids going near it.
Swings: Yes, 2 regular, 2 buckets
Surface: Rubber-like mulch material that children can fall on without getting hurt. There is also some pavement, as well as grass.
Water: Yes, there are at least two water fountains and an entire splash pad!
Bathrooms: Yes, there is one near the splash pad/playground, one inside the gym, and one near the softball fields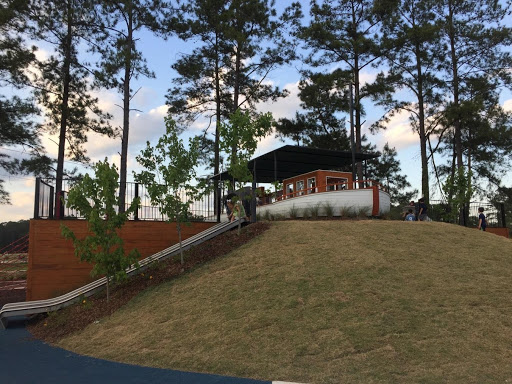 Shade: The small playground is covered, and there are plenty of pavilions to catch shade under. The new wooden boat playground is also surrounded by several trees.
Here is a list of what the park has to offer:
-Splash Pad
-Covered Playground for little ones
-Big Playground for older kids
-Wooden Boat playground with underground slide and tunnels
-Hill for kids who just have to roll down it
-Single Saucer Swing
-Sand Area with plenty of digging tools
-Bucket Swings for Babies/Toddlers
-Regular Swings
-Variety of musical instruments for toddlers and older kids
-Pond with duck feed you can buy from a machine there
-Walking/Biking Trail
Pavilion: There are several pavilions that provide shade. You can also reserve these for birthday parties for a very reasonable cost.
Sports Fields: They have several softball and soccer fields, an indoor gym which includes a basketball court, and a batting cage which is open to the public.
Walking/Bike Trails: There is a nice medium length trail that loops through trees and provides shade. It is paved so you are able to ride bikes with kids, walk with a stroller, or take a jog. The best part about this trail is that you can see your kids the entire time. I know at other parks sometimes the path leads to areas I cannot see and I immediately panic when I can't see them. This will not happen here because it is in an open space which loops around. The older playground is also located right in the middle of this trail, so when your kids get tired, take a break and let them play! Once they are finished, you can hop right back on the path. There are also two pavilions located in the middle, so you can bring a picnic lunch and make a day of it.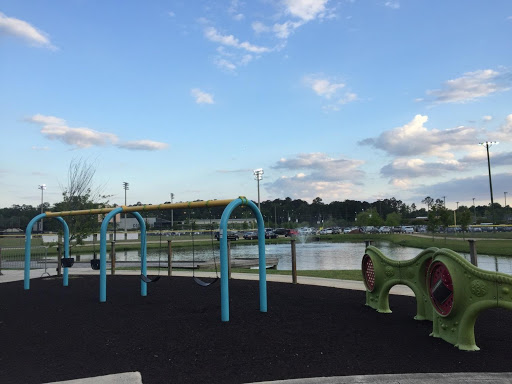 Coquille Park Playground Review
I wanted to share one of the best kept secrets in St. Tammany Parish! Coquille is truly a hidden gem located on Hwy 1085, just next door to Hannan High School. I can assure you it is worth the drive and will provide your child with hours of fun!
When we first moved to Madisonville, I was blown away by how nice and new Coquille Park was. Then in April, they blew my mind even more by adding more playground equipment and activities for kids to do.
Parking at Coquille
There is plenty of parking near the playground at Coquille. If for some reason you cannot get a parking spot right next to the playground, you can always park in the massive softball field's parking lot!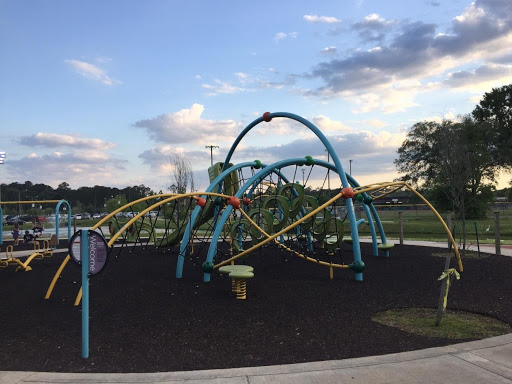 Coquille Park Playground Thoughts
Since Coquille is such a big playground and there are many activities to do, you may be worried about losing your child. The one issue I have run into with my kids is that sometimes they want to be in different places at the same time. I usually tell them to stay in one area at a time and then we rotate "play stations" so that I am not constantly looking for one of them. We usually start at the wooden boat one, then rotate to the big kid/ little kid side by side play areas, and then end it with the splash pad. Other times we may start with the splash pad and then when they get tired of the water they can dry off and go play.
Coquille is my go to park, whether it be for biking, playing, or having some fun in the water, my kids never leave disappointed! It is also nice to look at which is always a bonus for parents. If you would like more information about upcoming events at Coquille Park, please be sure to check out their Facebook page. They also have monthly kid's movie nights in the park!
The following two tabs change content below.