When it comes to playgrounds, few can rival that of Kids Konnection Playground, also known as Koop Park for its proximity to Koop Drive, or Caboose Playground because of the actual train car at its center.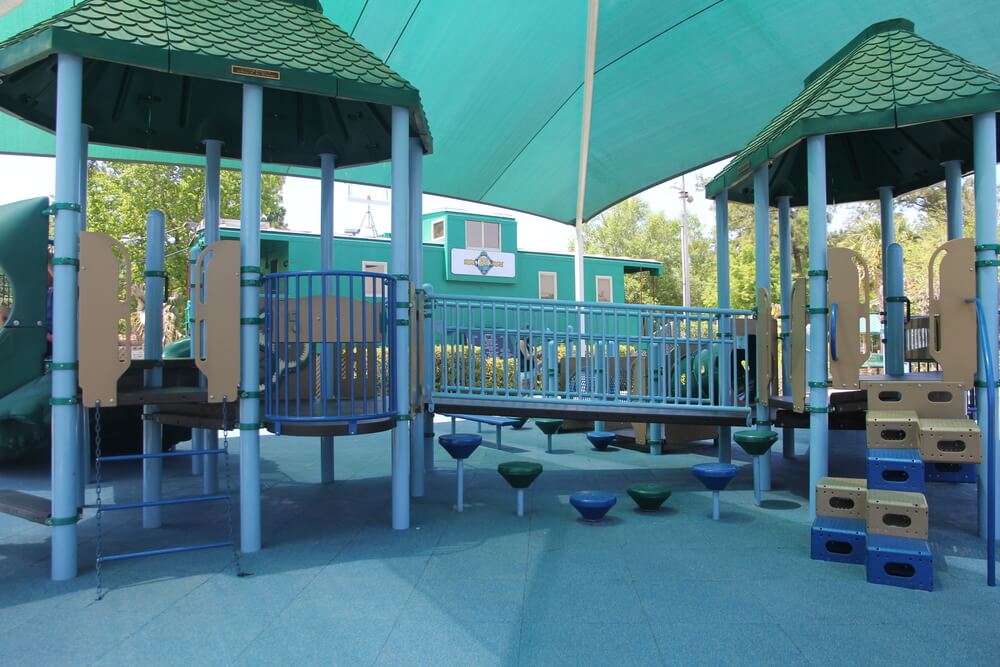 With ample space, seating and a variety of activities to interest children from 2 to 12, it's a north shore favorite among parents and kids.
My daughter grew up spending Sunday mornings at this playground with her dad, giving me that one day a week to get some shuteye. Now 15, she still enjoys the park with her younger cousins.
Details
Ease of Access: Just off Koop Drive, there's ample parking for all its visitors. Or, for the more physically fit families, the playground is adjacent to the St. Tammany Trace and is approximately 4.3 miles from the Mandeville Trailhead.
Recommended Ages: If you enter from the parking lot and head right, this is the area recommended for children ages 5 to 12, while the left is meant for the younger ones, ages 2 to 5. There are no barriers between the sections and children are free to roam to either side.
Hours of Operation: The playground opens daily at 8 a.m., except for Mondays, when it's closed for maintenance until 11 a.m.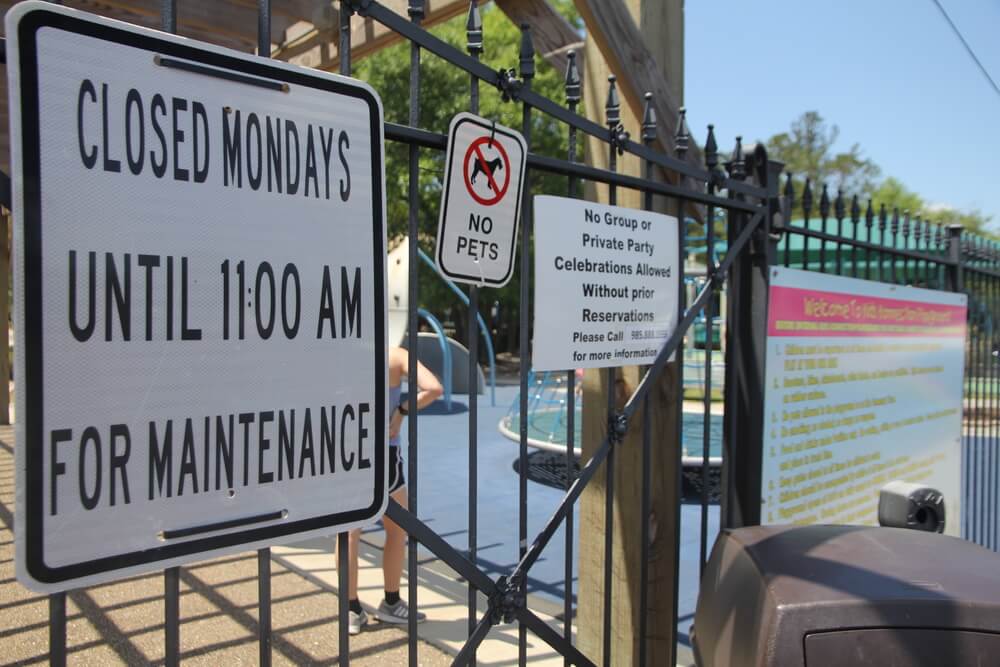 Mom Factor: First and foremost, it has the "mom factor," meaning that parents don't have to stand in misery just to give their children a few moments of safe, outdoor play. There's plenty of seating, both in shade and sun, picnic tables, clean bathrooms, a water fountain and drink machines – everything a parent needs to make it through a few hours at the playground. There are even two hoses available for use when kids get, sticky, sweaty and dirty. A tall chain link fence also encloses the play area. Gate latches are high out of the reach of the little ones.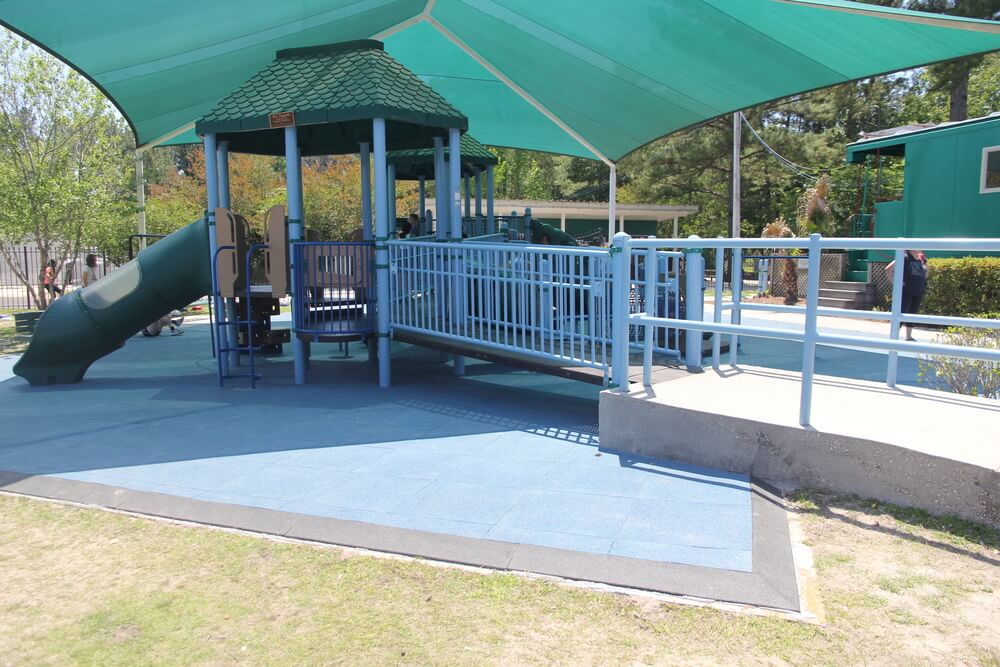 Swings: Two sets of swings can be found here. Meant for the older kids, this side has a coveted tire swing. It's the only one and therefore is rarely unattended. It's also the new, plastic kind that's molded to look like a tire instead of using an actual tire, eliminating the inner tube portion and subsequent fear of rainwater and random critter storage. Next to it are additional swings, including a couple of high back molded plastic swings, great for those who haven't quite mastered swinging on their own. These can also be found on the opposite side of the playground, next to the bucket swings for the younger ones.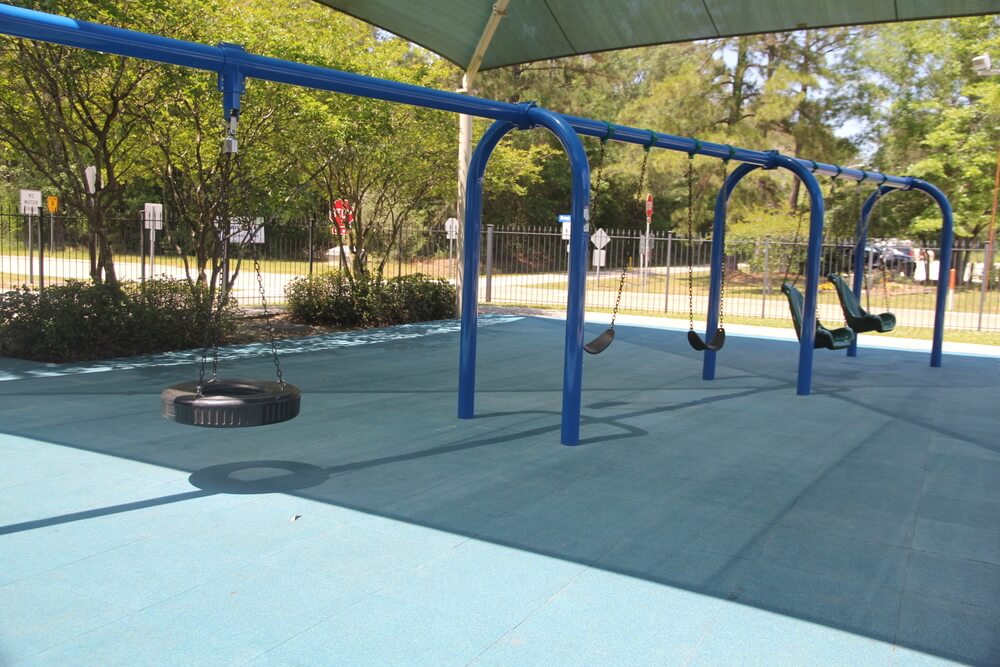 Water feature: For hot days, there's a misting tower at the center, tall enough for adults to enjoy. There's also a water play area and I'll be honest, I don't get it. If you want to be a wet mess, press the water button and watch it spray. I suppose it's supposed to go into the cascading containers, but I only found that it shot out in all directions. None of the nearby kids seemed interested in playing with it. That could change as the temperature continues to rise.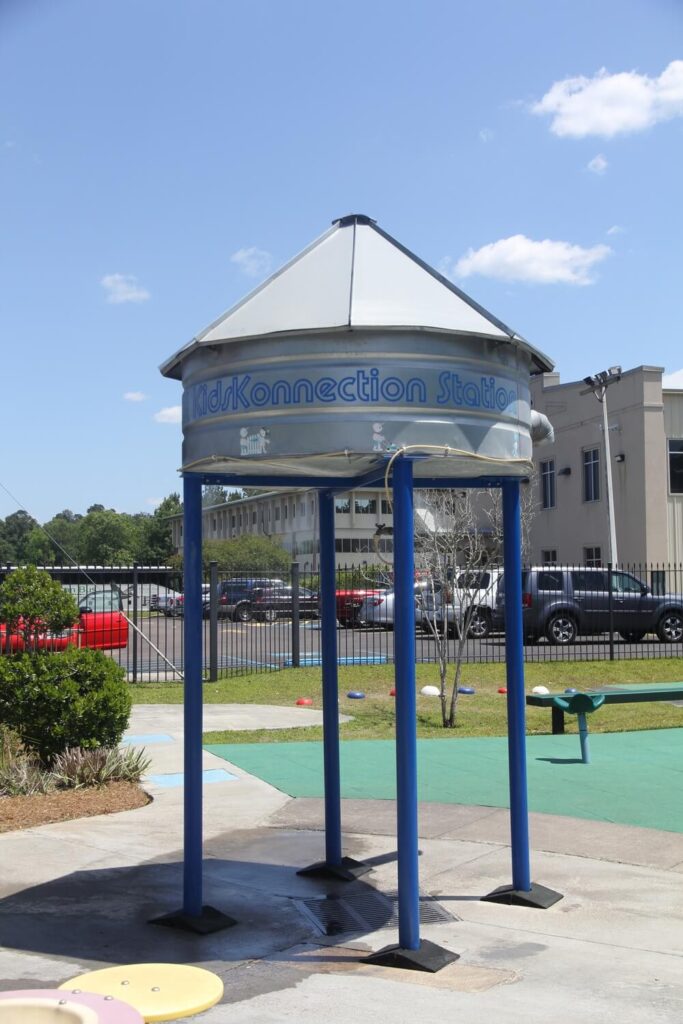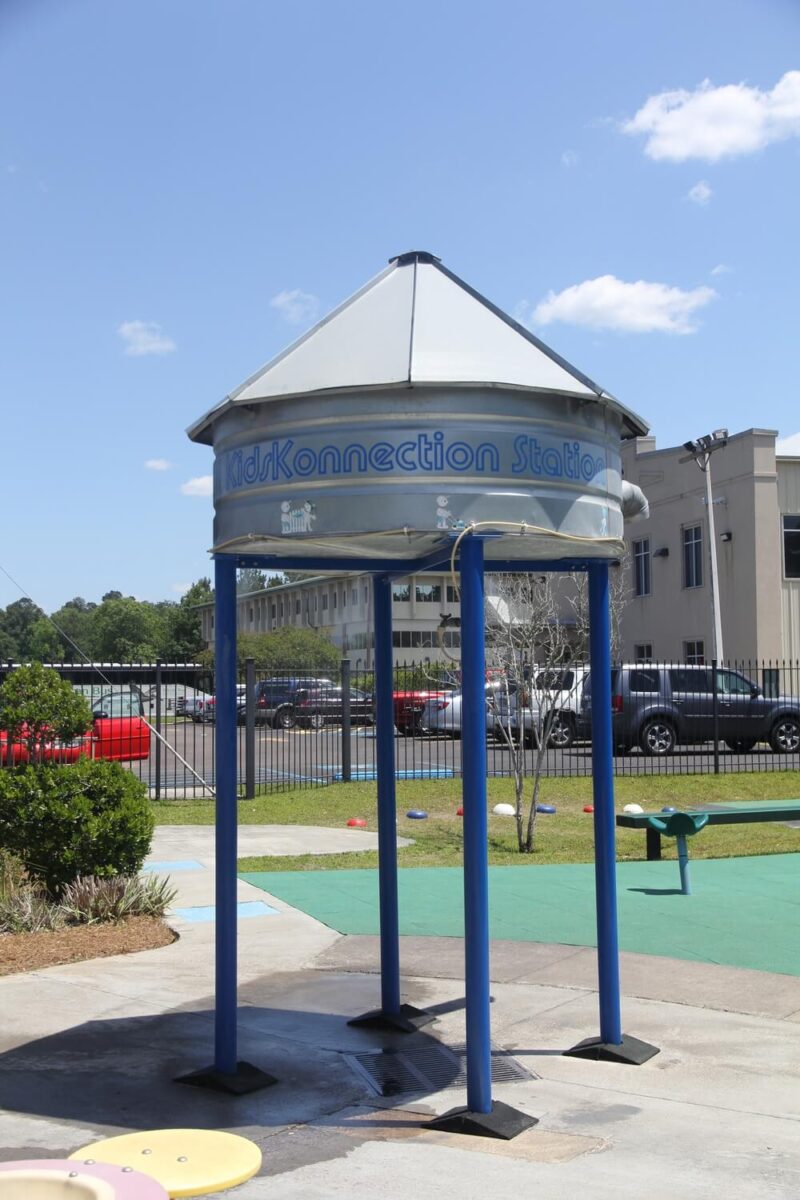 Slides: Koop Park doesn't disappoint in the slide department. There's no shortage of slides in all shapes and sizes for all ages, as well as a variety of ways of climbing up to them on the jungle gyms offered on each side of the park.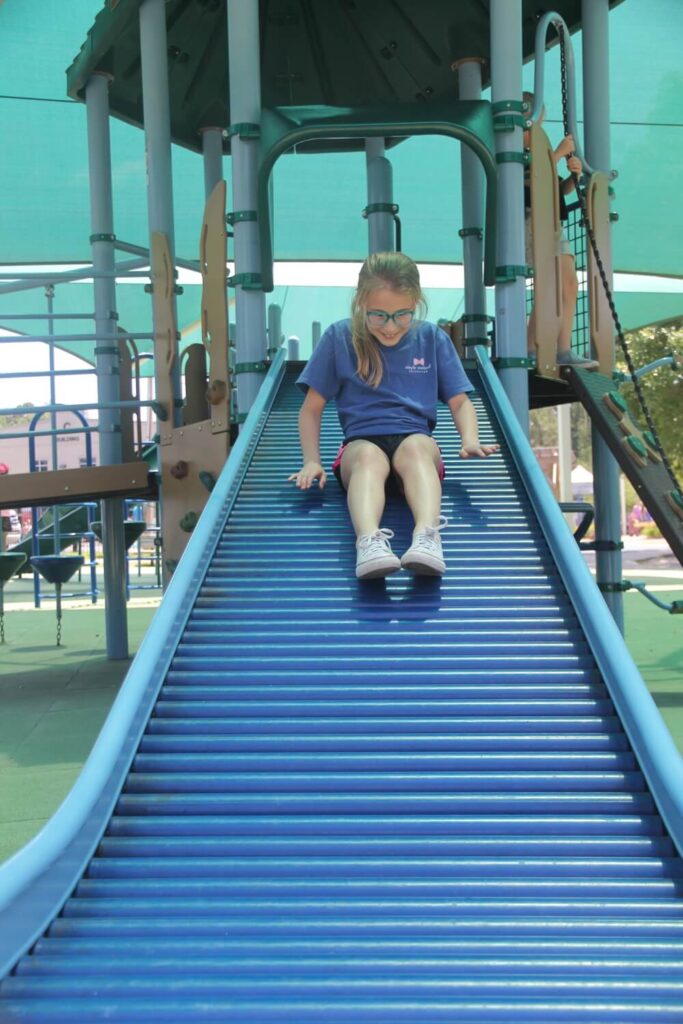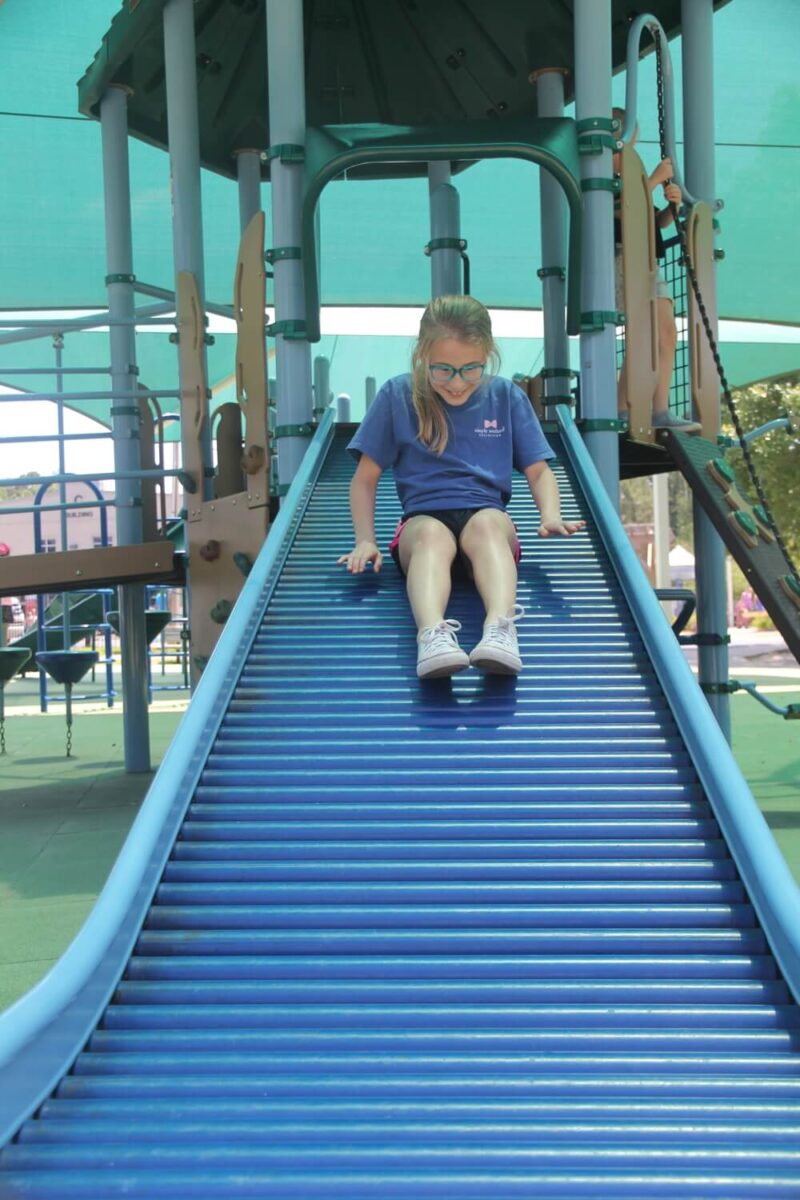 Shade: With surrounding trees, some of the seating is shaded, depending on the time of day, and the spacious picnic area is covered as well.  Much of the play area is covered, but I still recommend slathering on the sunblock.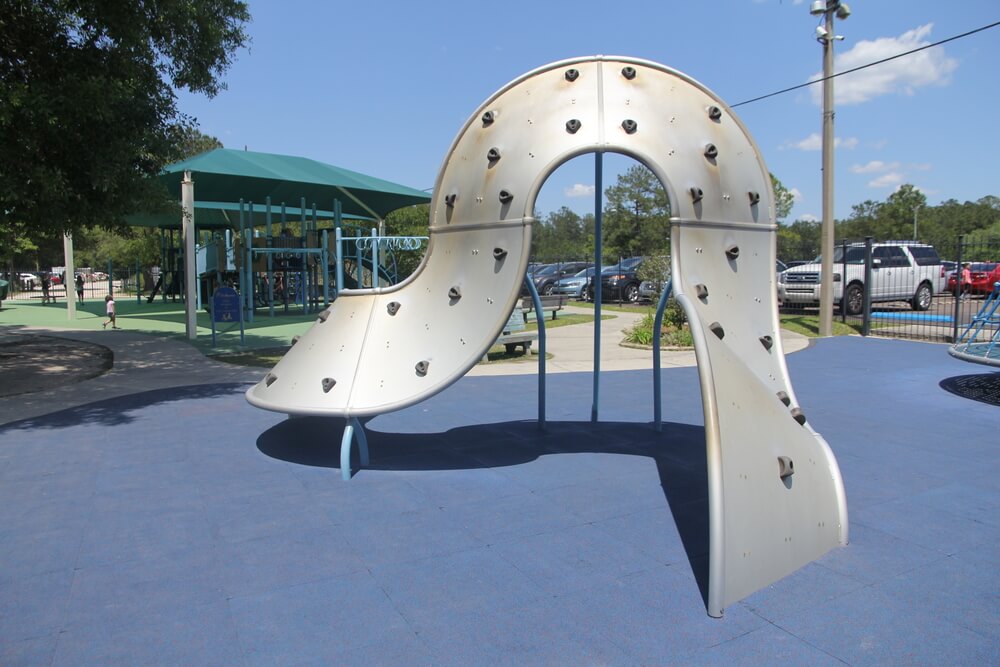 Climbing: In addition to all of the climbing apparatus as part of the two large jungle gyms, this playground also features an irregular shaped climbing wall.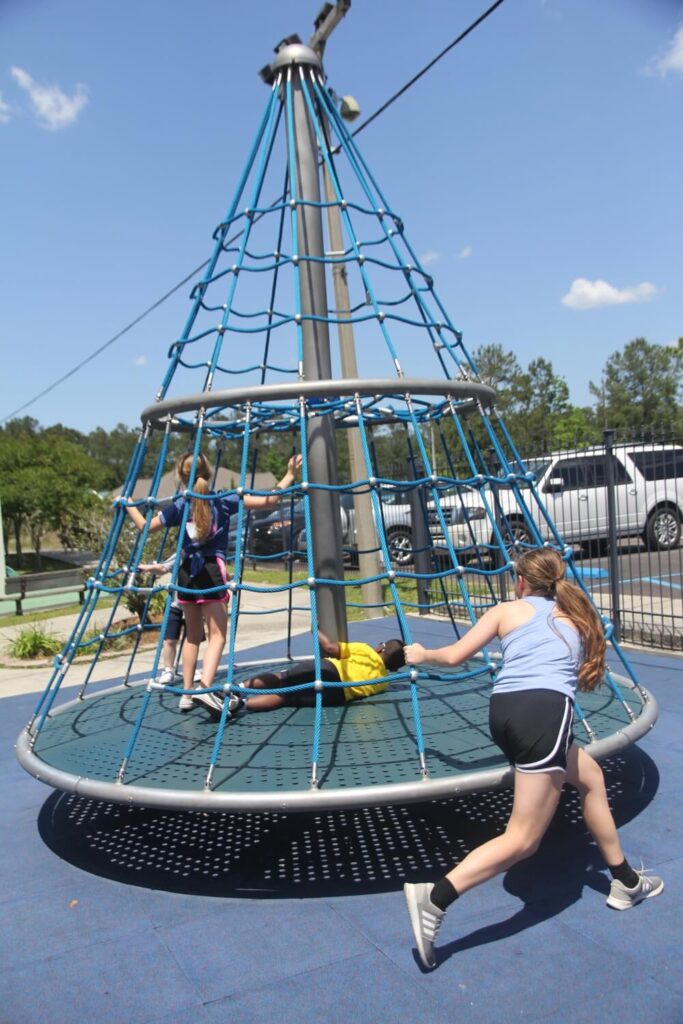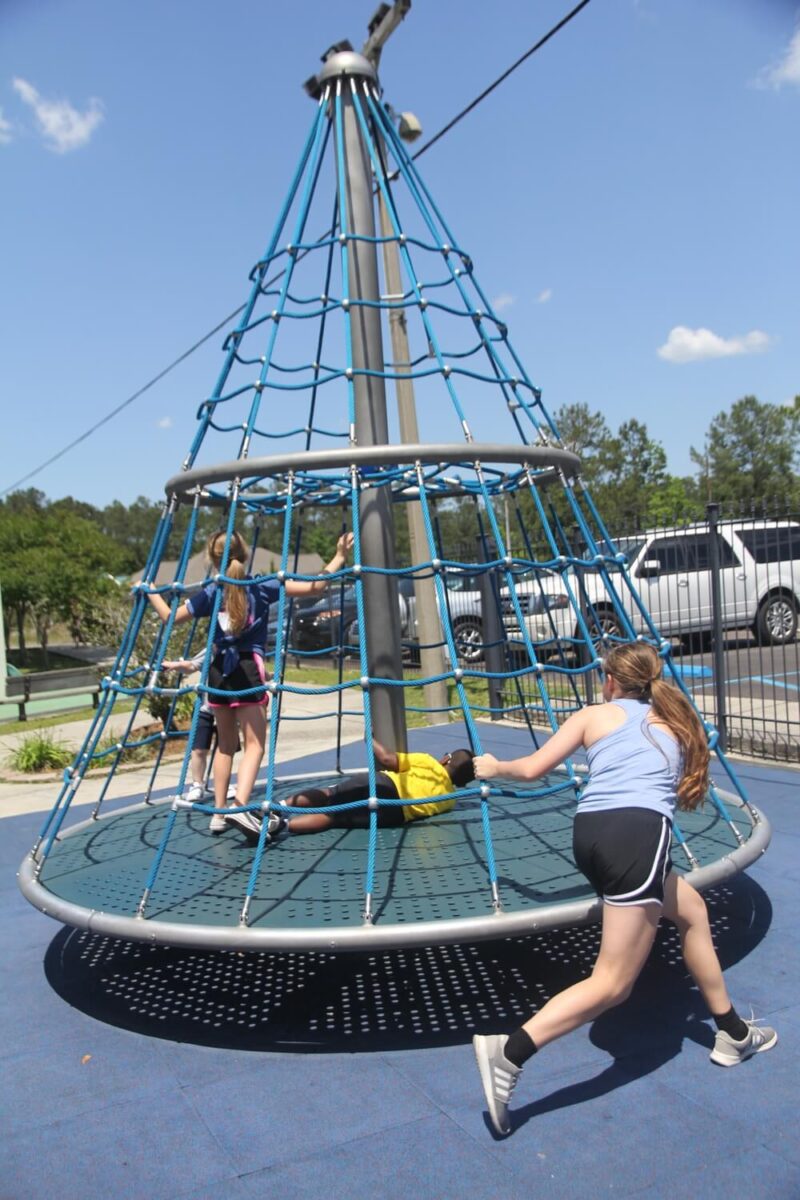 Other Features: As if two jungle gyms, two banks of swings and a mister weren't enough, there are lots of other features to keep the kids busy. A prominent activity is a large, cone shaped spinner. Climbers can scale the cone's ropes to reach the second platform, all while the entire cone spins as quick as an adult can turn it. There are also sit-and-spins, standing wobblers and a Sway Fun that rocks back and forth like a boat sailing through waves. At the parks edges are large painted stones for stepping or skipping over. With all of the other features, it's surprising to see so many kids interested in stepping on stones.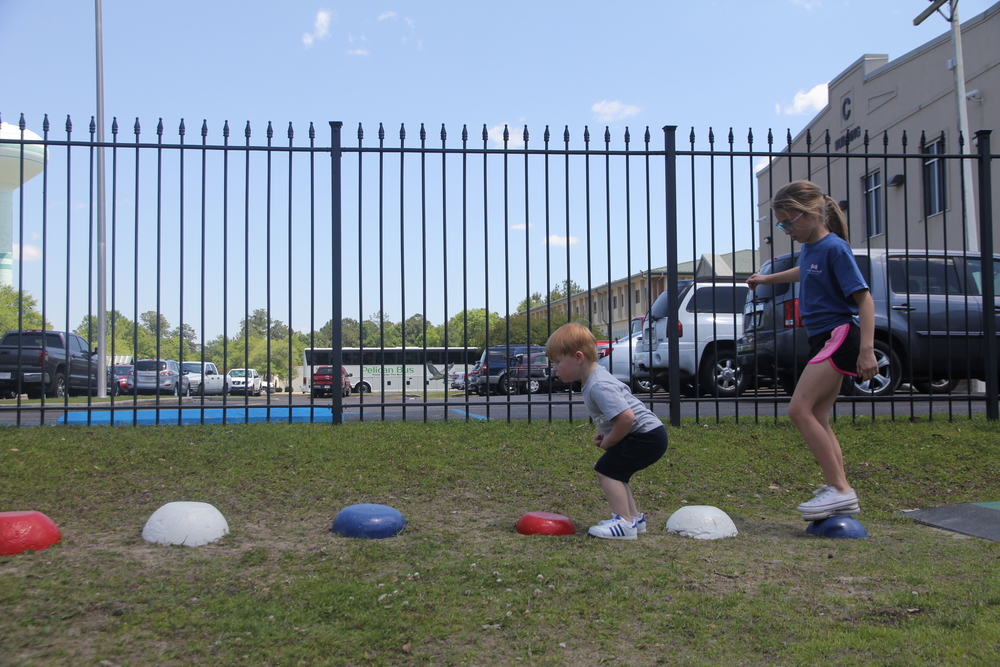 Party Reservations: There's no shortage of parties at this playground. For reservations, call 985-888-1555. 
My Review
After an hour of play in 80-degree heat, I was dragging my niece and nephew from the park with the promise of picking up icees. If you are looking for a place on the north shore to let the kids burn off some energy, I highly recommend adding the Koop playground to the top of the activity list.
The following two tabs change content below.
Latest posts by Amanda Jones (see all)