About the Facility…
–Insta-Gator Ranch & Hatchery Education Foundation is located at
74645 Allen Rd. Covington, LA 70435.
-Climate controlled
-Home to over 2,000 alligators
– Open year round rain or shine (although it is closed for certain holidays)I
How Much Does Insta-Gator Ranch Cost?
Tickets can be purchased on the Instagator website. While we do our best to keep these prices up to date, they may change without our notice.
Adults: $18.00
Seniors & Military: $16.00
Children (12 & under): $12.00
Optional Holding Experiences
Gator Catch Pool: $5.00
Gator Holding with Photo: $5.00
Egg Hatching (Seasonal)
Weekdays: $39.99
Weekends: $49.99
We absolutely recommend adding the gator catch pool to your tickets! While Insta-Gator can be costly, it truly is an experience your child will not forget. The tour guides do a phenomenal job making learning about gators fun and exciting.

What Happens on an Insta-gator Tour
When we go, we typically try and go for about 9:30 and stretch the next two hours out by doing the different activities available. This will also depend on other things such as if you are doing the basic tour like me or doing the catch pool experience, etc. Insta-Gator usually begins with a first-hand account of how eggs are harvested in the Louisiana swamps.
Next you will get to see hundreds of alligators of various ages and sizes. Don't worry, you are protected from them! You will also get the chance to see gators above and below the surface of water; hatchlings of less than one foot to alligators that grow to over four feet in one year, as well as the older gators that you typically wouldn't want to cross paths with. One of the most exciting parts of the tour is watching your tour guide hop into a pen of gators and carefully catch one. He may then look to you for help taping that gators mouth shut.
Visitors also get the opportunity to feed the alligators marshmallows which the kids always thoroughly enjoy! Just brace yourself; the smell in that area can be pretty bad! After that the tour guides will head outside and discuss a few more details about alligators and then give you the opportunity to take a picture holding a small alligator. Once finished, I head over to the bathrooms to wash hands and then we sit at one of the picnic tables for lunch. We usually wrap up around noon to head home.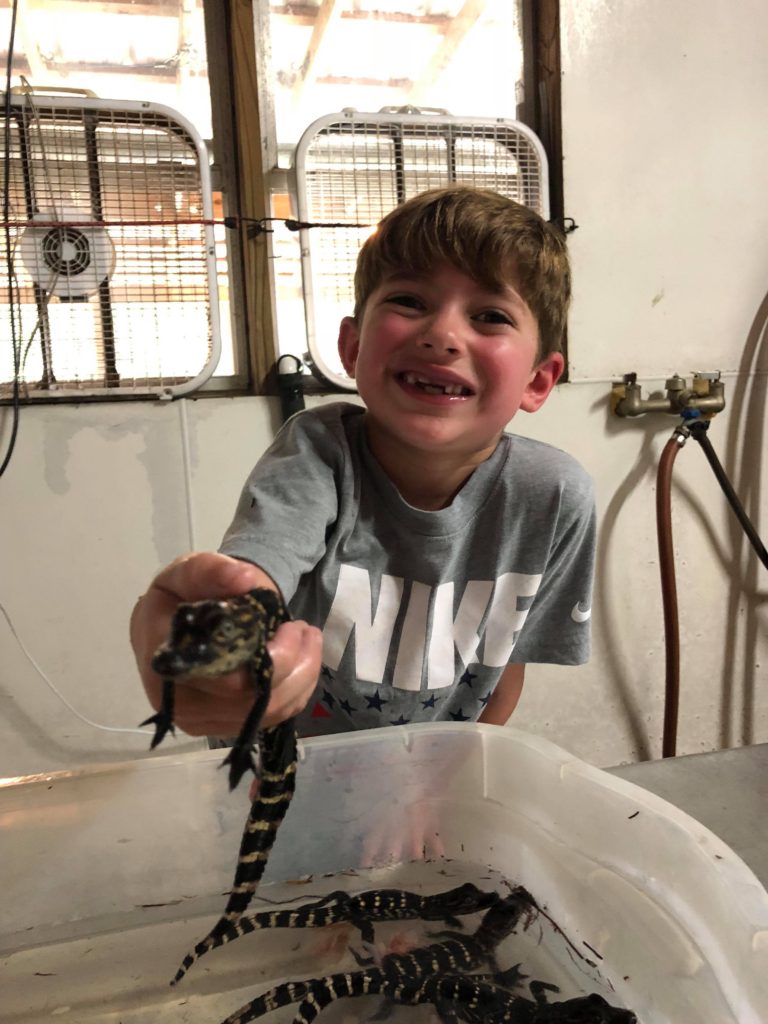 Tips For Your Visit
-Pack a lunch and make a day of it.
-Carry some hand sanitizer; there is a lot of touching going on here!
-Bring a phone/camera to take pictures, there will be a great photo opportunity at the end of the tour.
Insta- Gator is a great activity to save for on a rainy day. Since the facility is mostly covered, it is a good outing to do when it rains and the kids are driving you nuts. If you go in August, you can actually hatch a baby alligator in your hand!
The following two tabs change content below.