I have never kayaked before.  I am not the best at nature nor am I very coordinated. I remember flipping over a canoe as a kid. I was quite nervous to take the plunge and go kayaking, but my daughter and I were pleasantly surprised at how easy it was and how much we enjoyed it. We kayaked on the Bogue Falaya River. So now that I've done it and tried it, I definitely plan to do it again. If you'd like to give it a go, here are a few tips from me for your first adventure: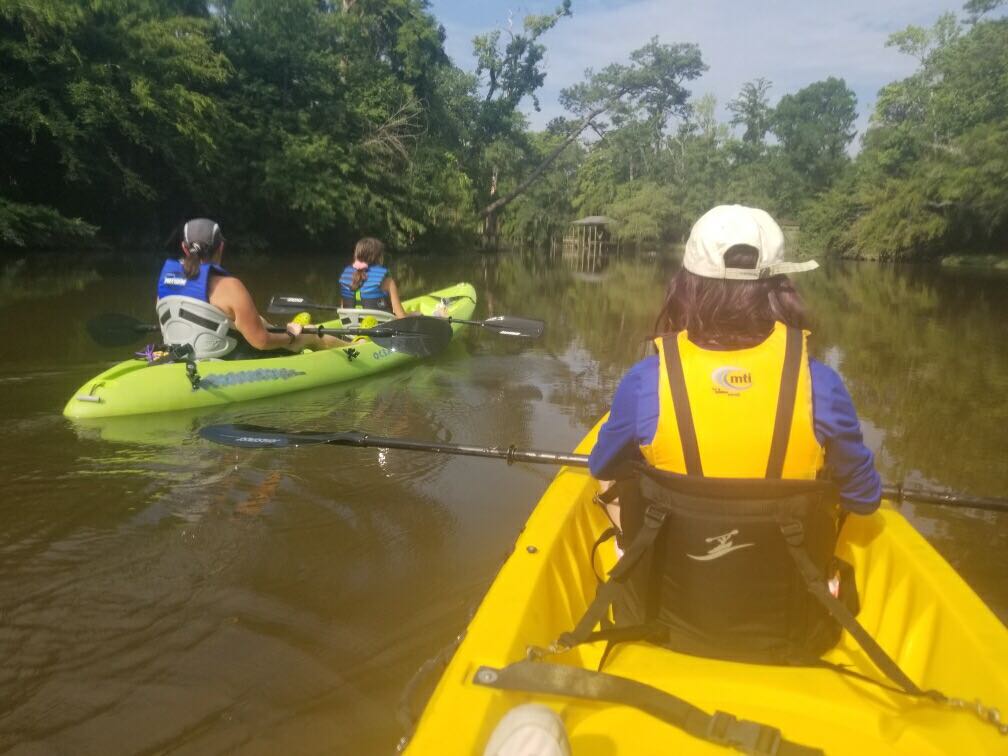 Have a Plan 
Are you renting kayaks?  They are super busy right now. I would check websites in advance and reserve a spot. 
Bayou Adventure. Located in Lacombe, this rental location is close to Bayou Lacombe, Cane Bayou, Bayou Castine, and Bayou Liberty.
Canoe and Trail Adventures This place rents at Chimes.
Honey Island Kayak Tours. They offer tours but they also do rentals in the Honey Island area.
Hydro Sports This place does launch and pick up at the Bogue Falaya Park
Check the Weather
I don't need to tell you why.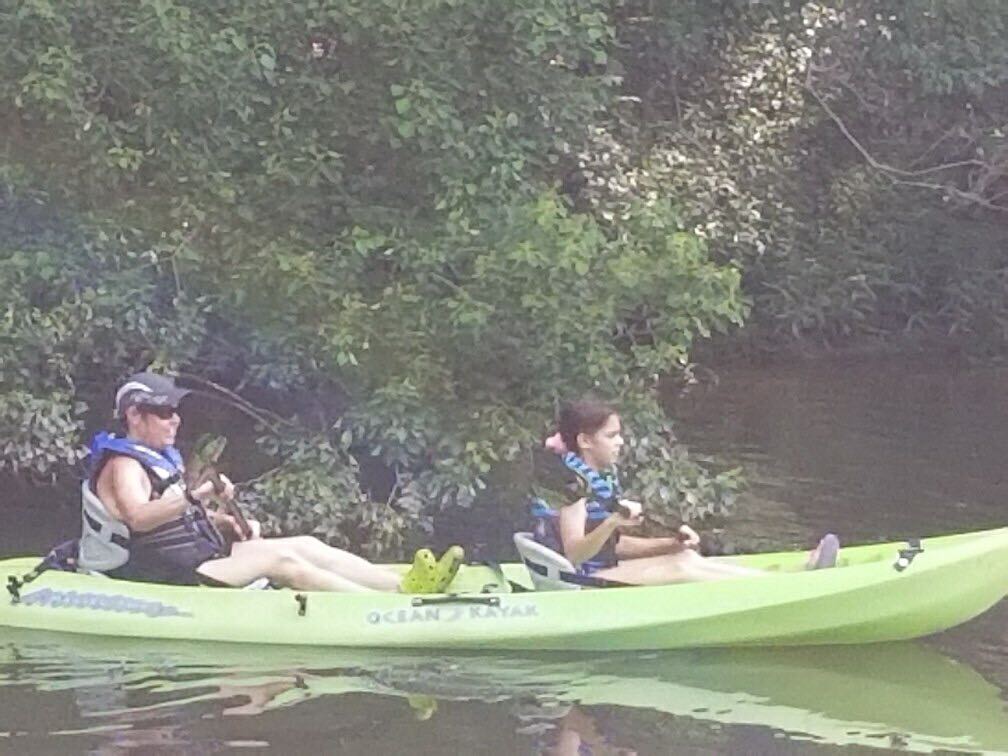 Weekend Will Be Crowded
We went with friends.  They went the weekend before, and it was super crowded. We went on a Wednesday, and we only ran into a few other kayakers.
Sunscreen is a Must
Bring it. Apply it. Reapply it. Otherwise, you might have a sunburn on half your legs.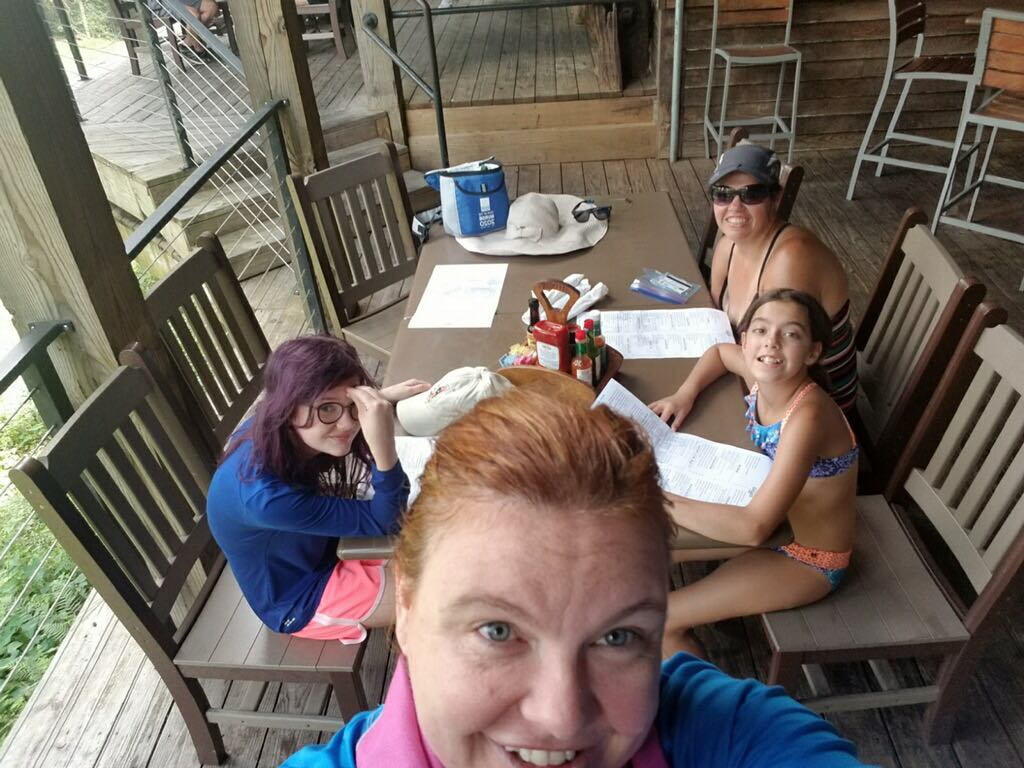 Food and Drinks
Bring drinks and snacks. You can pack a lunch if you want. We chose to dock by Chimes and eat lunch there. Make sure to have money or credit cards if that is your plan.
Life Jackets
Children under sixteen are required by law to wear life jackets. I recommend bringing one for everyone in your party–you never know what could happen!
Have a Plan for Your Valuables
Some kayaks have a pocket for your phone and keys, but these aren't the safest. You could leave them behind in your car. The other option is to purchase a dry bag. A Ziploc bag will last you a couple of moments but not much more than that if it submerges.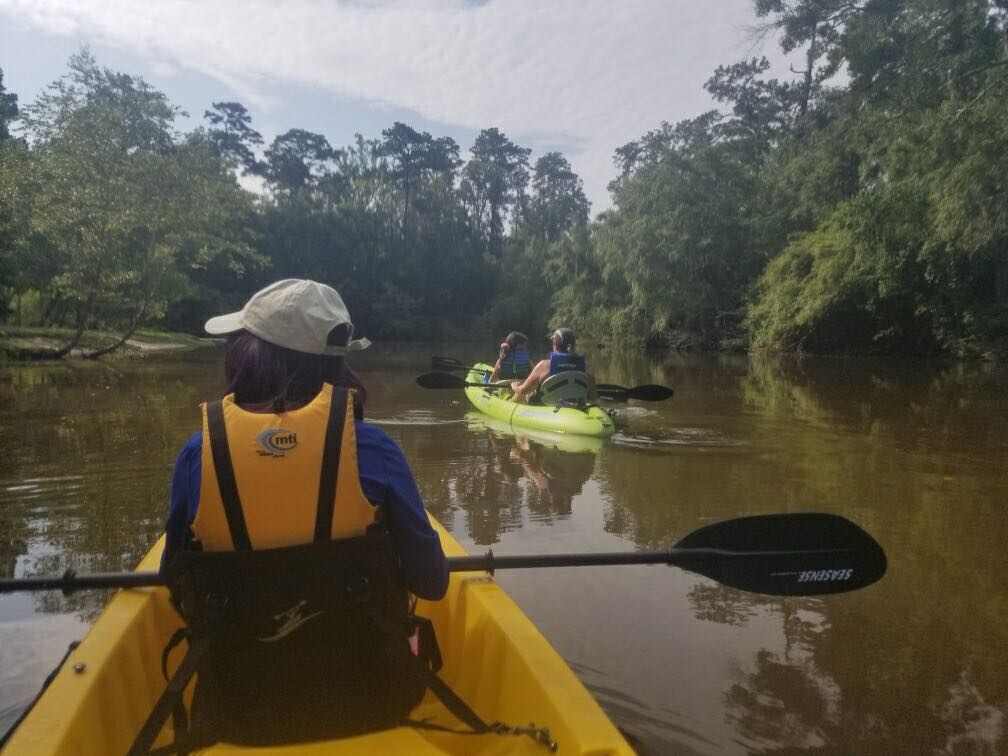 Plan Your Route
Most places that you rent will expect you to return your kayaks back to where you got them. This means that at some point, you will be paddling up river.  
What to Wear
Wear clothes and shoes that you don't mind getting wet. I recommend water shoes if you have them.
Be Prepared to See Nature
We saw some great things. We saw birds, turtles, fish, tadpoles, and tracks for deer and raccoons. We didn't see any snakes, but our friends saw two over the weekend. We all thought we saw a baby alligator. I would just be prepared as to how you plan to react and handle with your kids.
Enjoy the Moment
I left my phone behind so that I just was present with my girl and our friends. This is a great time to just unplug and enjoy nature. If you bring your phone, try to put it away as much as you can.  
We had a great day.  My daughter and her friend enjoyed stopping at the sand bars and playing. We had a great lunch. We really enjoyed the scenery too  If you aren't that coordinated or outdoorsy, I hope that you will give this a try like I did. If you do, I hope that you are as pleasantly surprised as I was!
The following two tabs change content below.
Hi, I'm Katy. Mom to four sweet boys ages 10, 6, 6, and 5. It's a loud, messy, chaotic life. I love connecting with other parents and am so glad you stopped by today!
Katy
Hi, I'm Katy. Mom to four sweet boys ages 10, 6, 6, and 5. It's a loud, messy, chaotic life. I love connecting with other parents and am so glad you stopped by today!