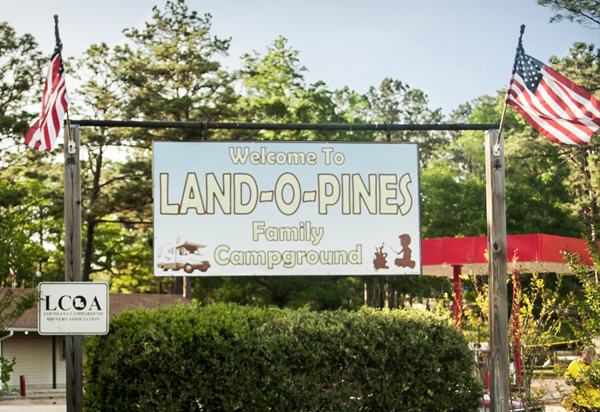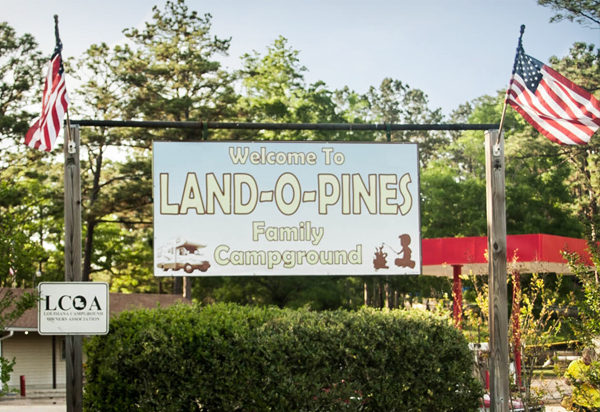 Finally April is behind us, and hopefully all the rain it brought with it, and we now have a chance to enjoy spring and look forward to summer plans. Most of us with families will be looking to head out to whatever getaway we can manage, whether it's camping, time at the beach, or packing up the RV and heading out of town for some scenery.
Sometimes though, it's not as simple as all that, and sometimes we don't quite have the time or the resources "do it big" as much as we may want to. Fortunately, there are several local Northshore options for just such instances. A "staycation" may even be preferred over the trouble of putting miles on the car and sand in its carpets, dishing out for gas money, and being too far away if anything happened closer to home.
Alli and I have looked around and we give you our vote for the most pleasing local family getaway: Land-O-Pines Family Campground, right in our Northshore backyard of Covington north.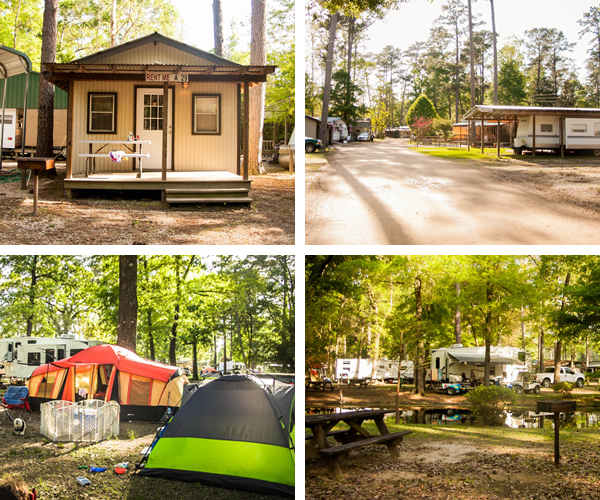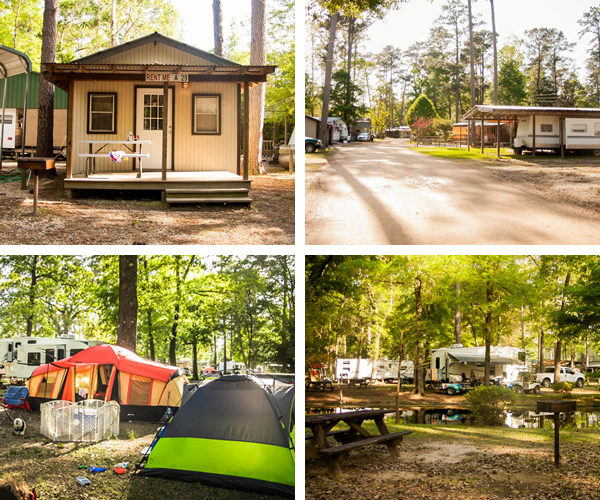 To get business out of the way first, Land-O-Pines offers a variety of staycation options, including the ability to rent a small cabin or stationary camper, space to rent for setting up tents and pop-ups, and of course trailer and camper hook-ups for all varieties of rigs. After walking every inch of the park, we saw great roads, nice wide turns, and spacious accommodations. This is not a cramped park! Additionally, the staff is super-friendly and helpful, the layout of the park is very easy to understand, and maps and other materials are easy to come by. The main office also serves as a small convenience and supply store in case in you get the itch for a snack or lose your can-opener.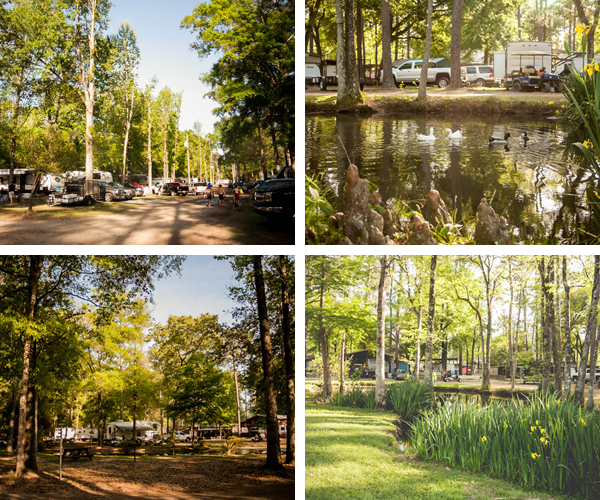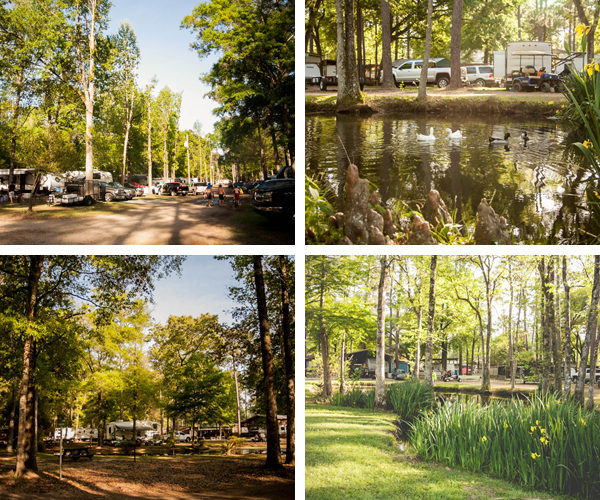 From Alli's snapshots, you can tell that park is kept up and litter-free. Countless tall trees offer lots of shade and a gorgeous view the entire time, and the place smells fantastic. Land-O-Pines is visually everything you'd hope for in a Louisiana campground, and acts as a haven away from what we consider the bustle of big towns like Covington, Mandeville, and Slidell. It is an escape worth at least a Saturday tour for a look-see, and the office is happy to grand you a pass to do just that.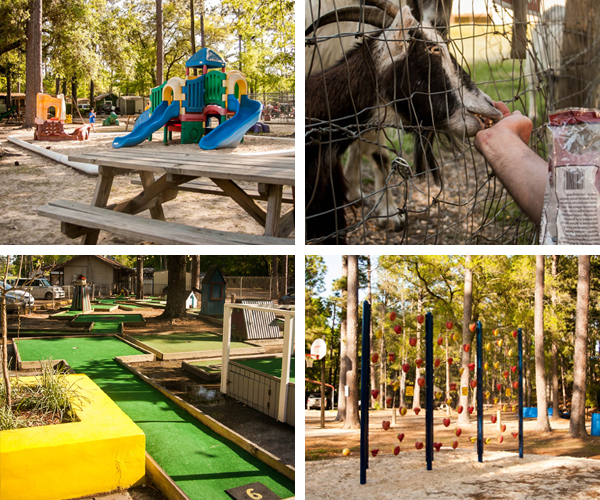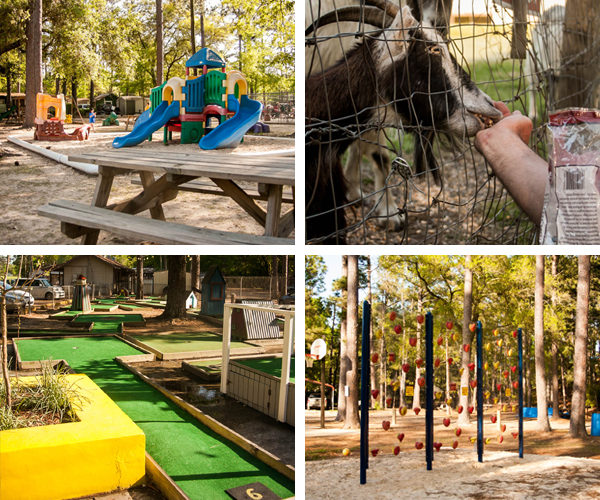 Driving around the park, you'll sense that Land-O-Pines is expressly a family-oriented. A great playground (including the climbing wall you see above) sits next to a family swimming pool as well as a children's pool.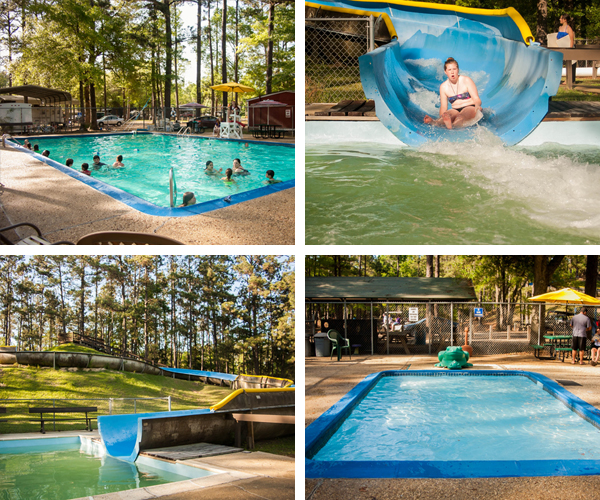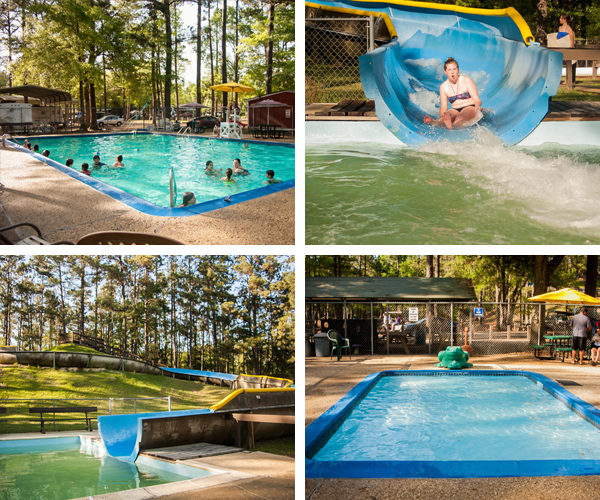 Across the trail is an awesome waterslide that brings you all the way down from atop a hill, and in the same area are goats for petting and feeding, and a mini-golf course.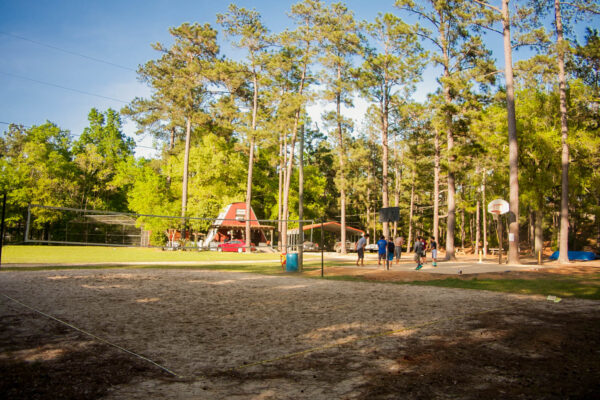 There's also a designated area for throwing horseshoes, a sand volleyball court, a paved basketball court, a fishing pier, a ball-field and a two pavilions where activities like bingo take place.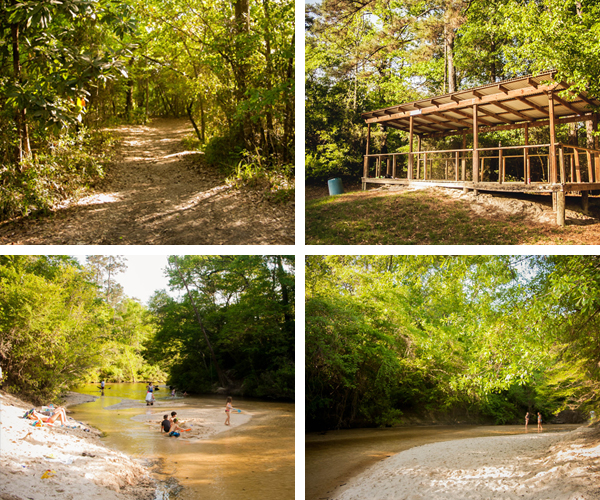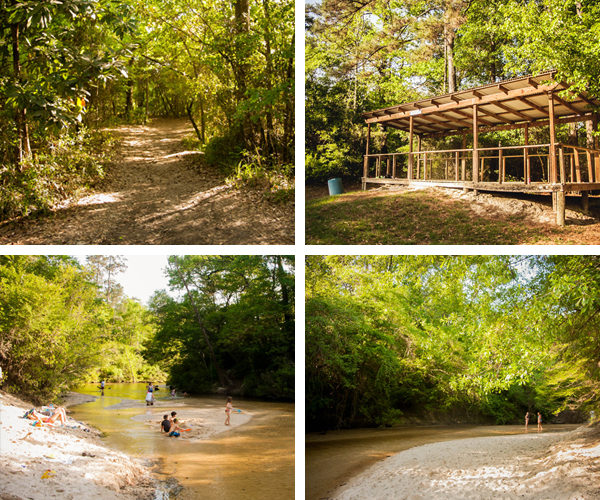 At the rear of the park are two access points to the beautiful Simalusa Creek, which is an outcropping of the nearby Boguefalaya River. Here, you'll find trails to explore, a pavilion for lunch or activities, beaches to lounge on next to clear stream water, and the streams themselves which can be explored and fished at length.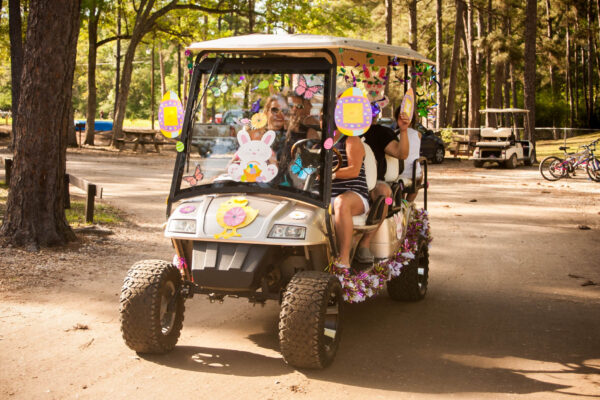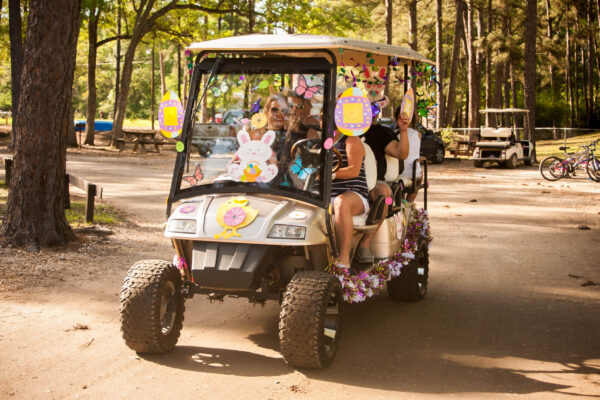 Land-O-Pines also offers an entire year-long calendar of events and shows that guests are able to participate in, including music, holiday-themed events, camper appreciation nights, Mother's Day "wine & canvas" night, fireworks, and so many others that turn Land-O-Pines from just land to camp on to a great family experience. In addition the park offers propane refilling, a dump station for your RV, laundry machines, public washrooms, a snack bar, picnic areas, and (my favorite) the game room that includes arcade machines and pool tables.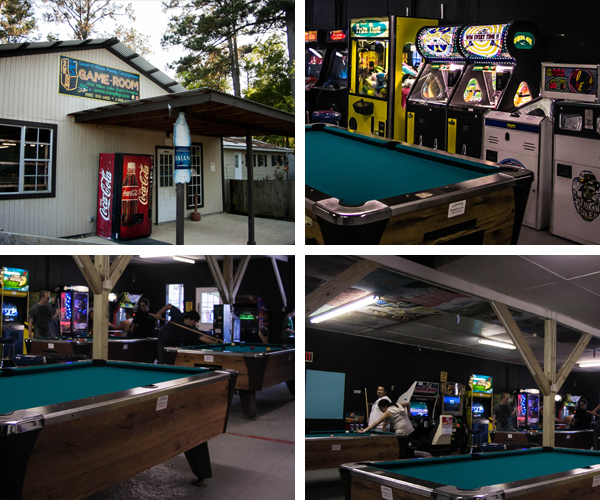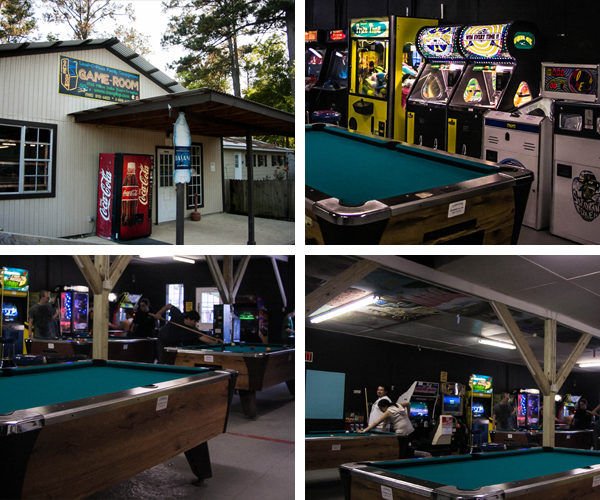 The park office also offers several different categories of "Season Passes" that grant various levels of access to the park between April 3 and September 27, even when you aren't actually staying inside the park. These are good for a day at their beaches, pool use at your convenience, access to Land-O-Pines music events, and more. Give Land-O-Pines a call at 985-892-6023 for more information about any of these details.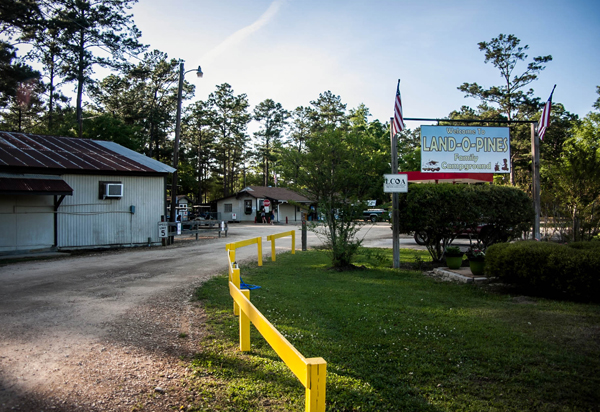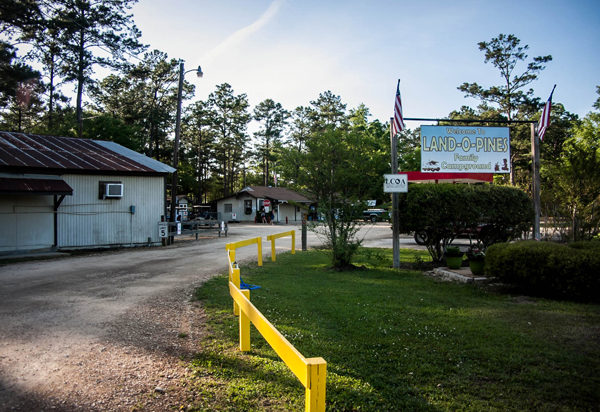 Alli and I chose Land-O-Pines as our favorite Northshore Parent "Staycation Location" because it really has everything a great campground should offer, and at incredibly reasonable prices. You won't have to go far to have a great time with your family, and you won't regret the cost once it's all said and done. You'll come away with beautiful family pictures, hopefully your whole family will have made some local and visiting campfire friends, and you'll feel as though you really got away, even though you were only a half hour from everything familiar.
We really hope everyone here at Northshore Parent gives Land-O-Pines a chance this summer. Everyone here is great people, and they know how to take care of you. Land-O-Pines is a family owned and run affair, and has been 29 years now. Good luck and have fun!
Alli and I also want to thank everyone at Land-O-Pines for being so accommodating and pleasant to work with, we will see you all again soon!
Til next time!
Jordan and Alli, NSP
The following two tabs change content below.
Jordan Madere
Jordan is a multimedia artist and father of a kooky 4-year-old girl named Fiona. He resides in Mandeville, and is a fan of BBQ and sushi, imported beer, retro-gaming, travel, and sci-fi.
Latest posts by Jordan Madere (see all)