Tired of cooking? Looking to feed you whole family with a take out meal? It can add up if you have several children and they all get their own kids' meal. And if your kids are like mine, there's no guarantee they'll eat it anyway! Family meals to the rescue! These meals are designed to feed your whole family at a very reasonable price. Several area restaurants are offering this option. Here's a list:
Family Meals Available in Covington
Coffee Rani
985-893-6158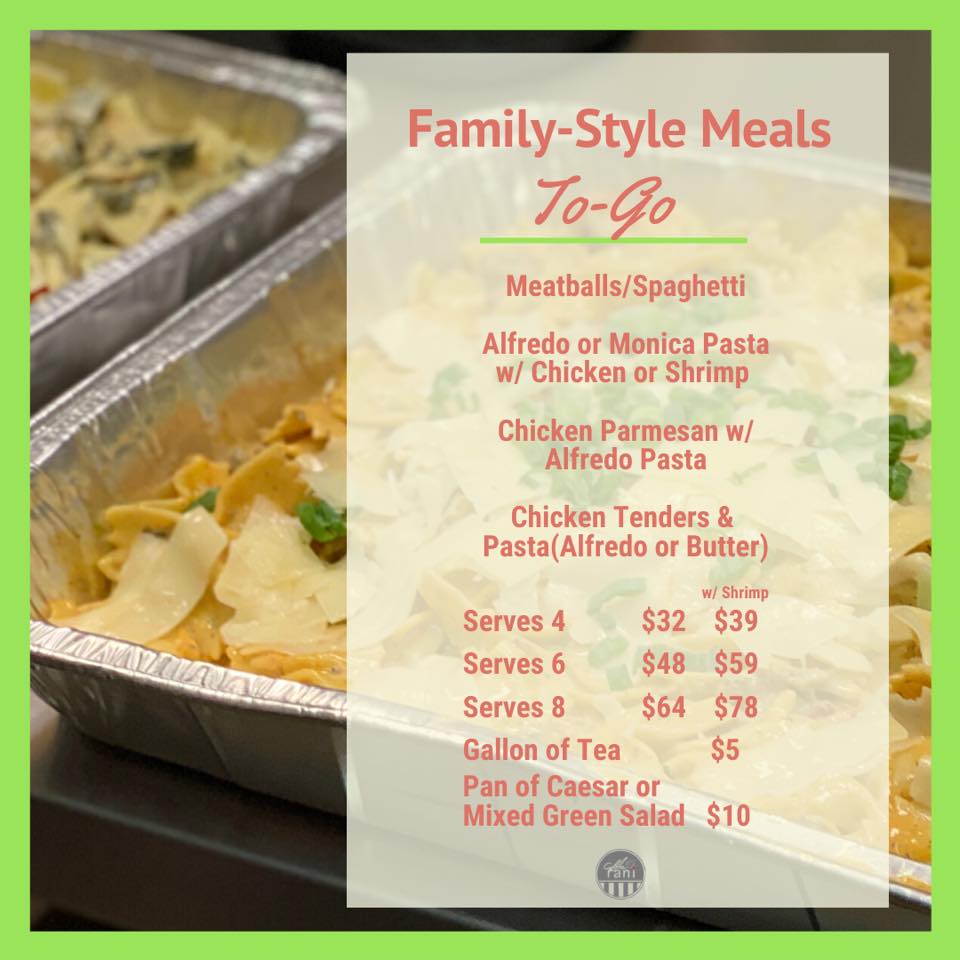 Copeland's
985-809-9659
Family specials offered frequently. Check their Facebook page for most current offering.
Garcia's
985-327-7420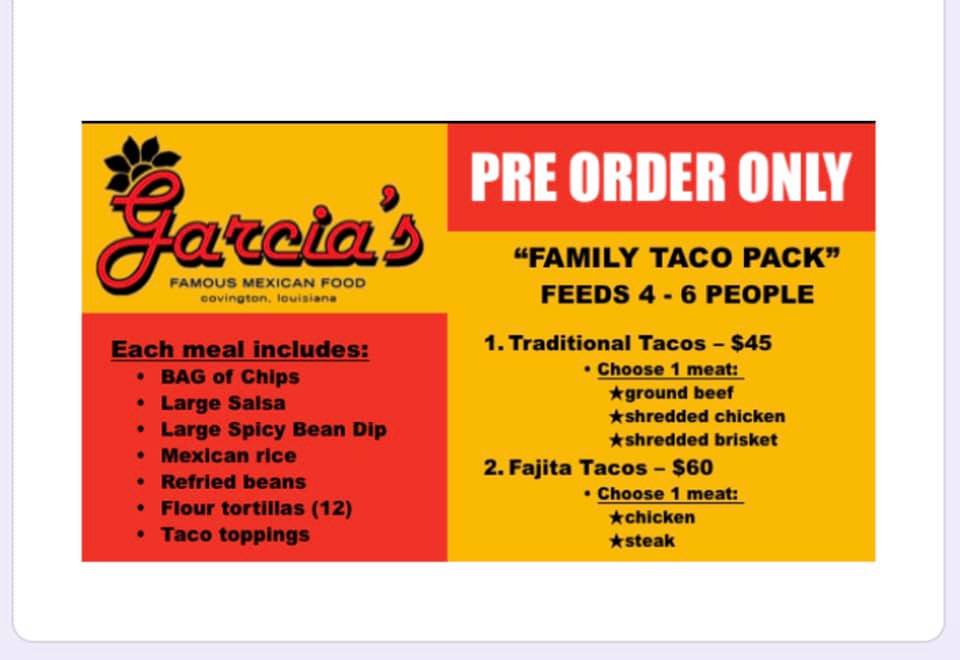 Habneros
985-900-2124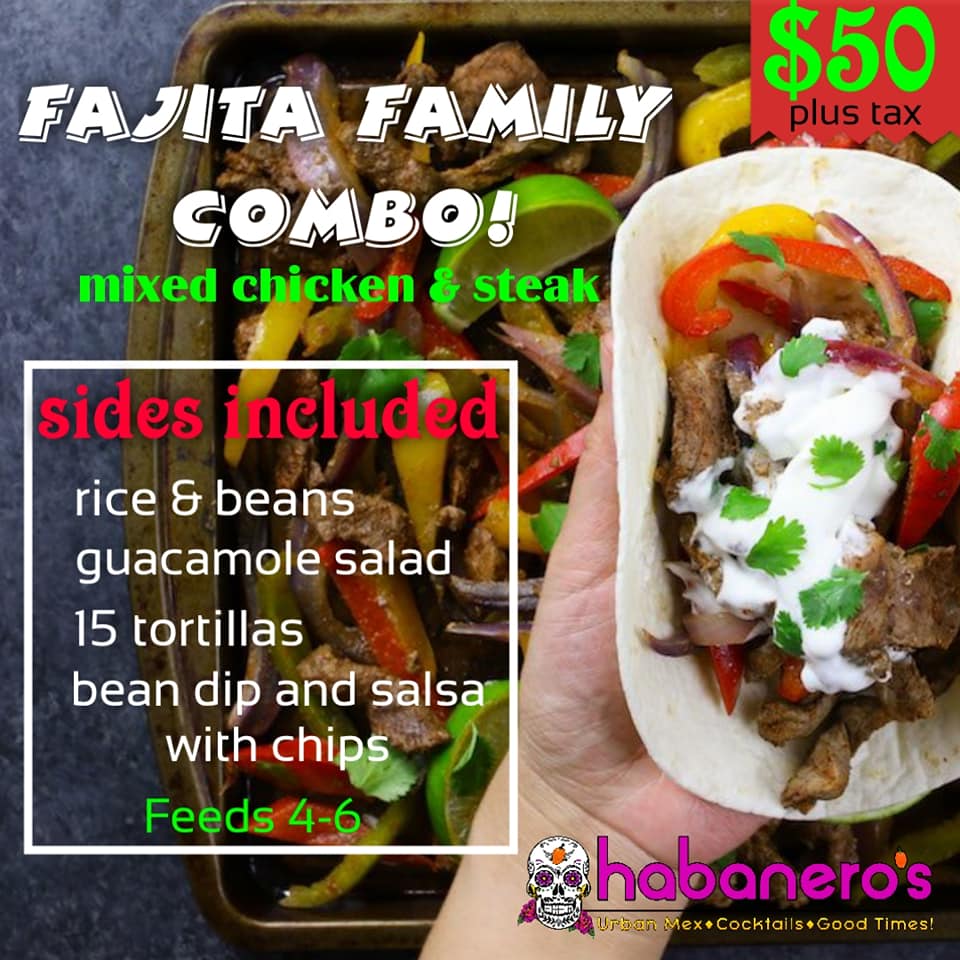 New Orleans Style Seafood Restaurant
985-888-1770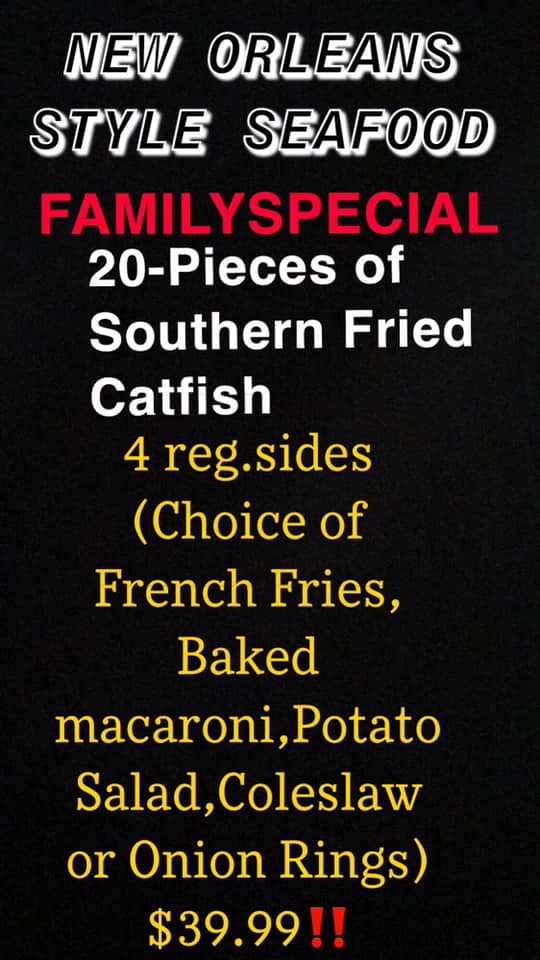 Palmisanos Catering and Cafe
985-900-2350
New specials offered frequently–please check their Facebook page for more information.
Zea's Rotisserie and Bar
985-327-0520
Different family special daily. See their Facebook for today's special.
Family Meals Available in Mandeville
Bosco's Italian Cafe
985-624-5066
From their Facebook page: Bosco's Italian Trio Family Meal Deal
Small (Feeds 4-6) $49.95
Lasagna, 12 mini meatballs, 8 pieces Chicken Parmesan, choice of pasta tray, spaghetti red sauce, penne red sauce, or penne Alfredo.
Large ( Feeds 8-12) $99.95
Same as above just doubled.
You can add a tray of House or Caesar Salad and bread for $15.00.
This will be a regular package, along with others we add weekly!
Cafe Lynn
985-624-9007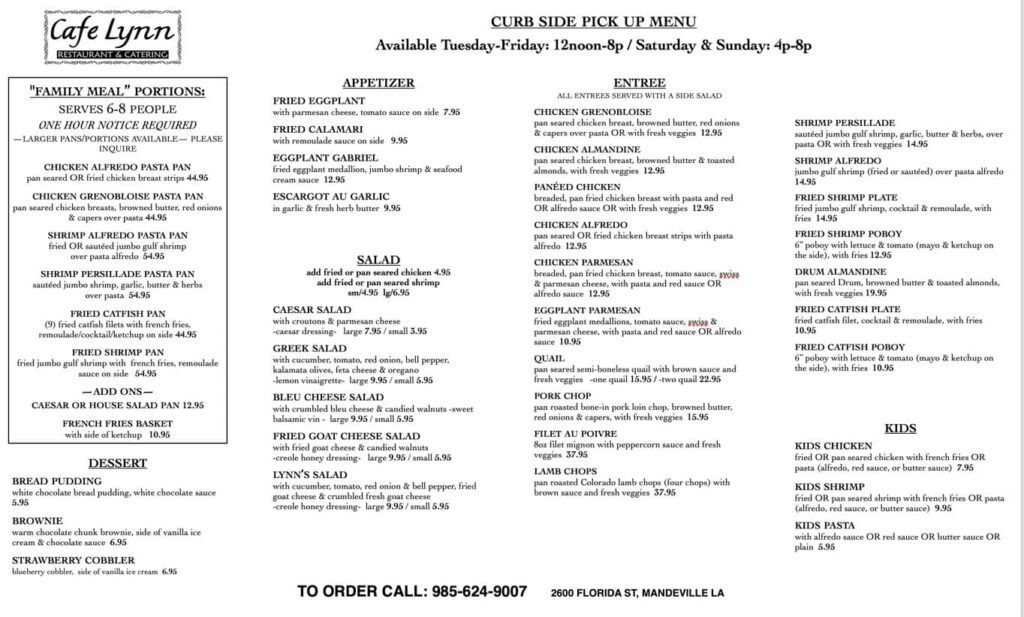 Coffee Rani
985-674-0560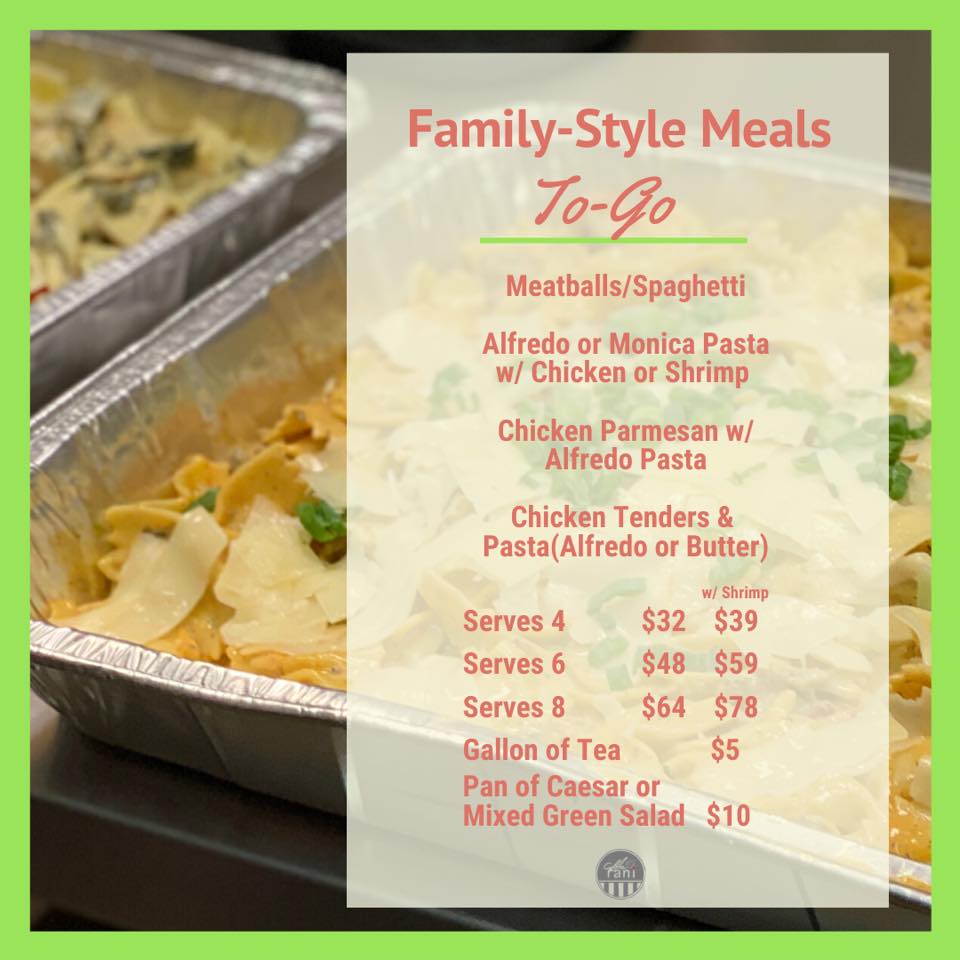 Crazy Pig Southern Kitchen
985-792-7900
Different specials daily. See their facebook page for the latest.
Creole Tomateaux
985-951-2650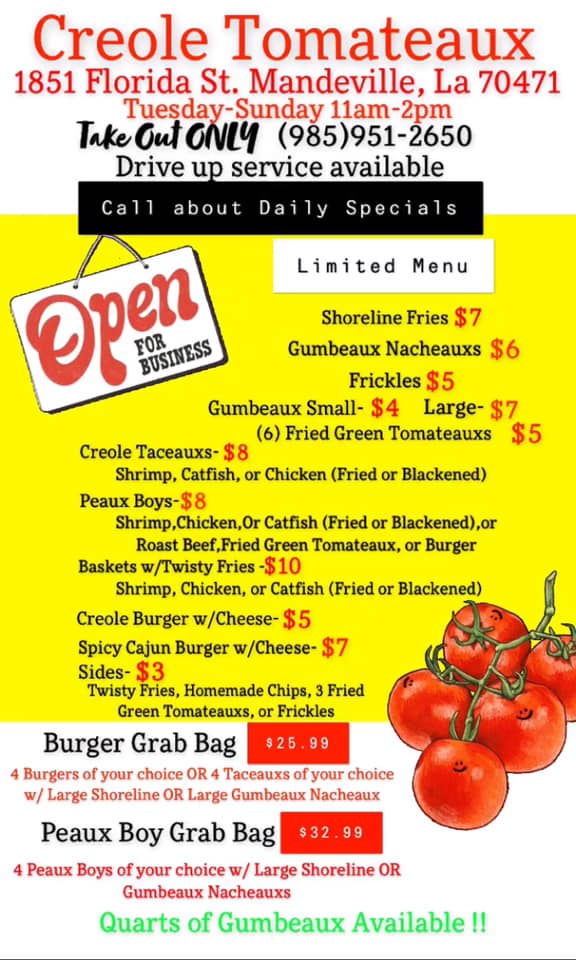 Fazzio's
985-624-9704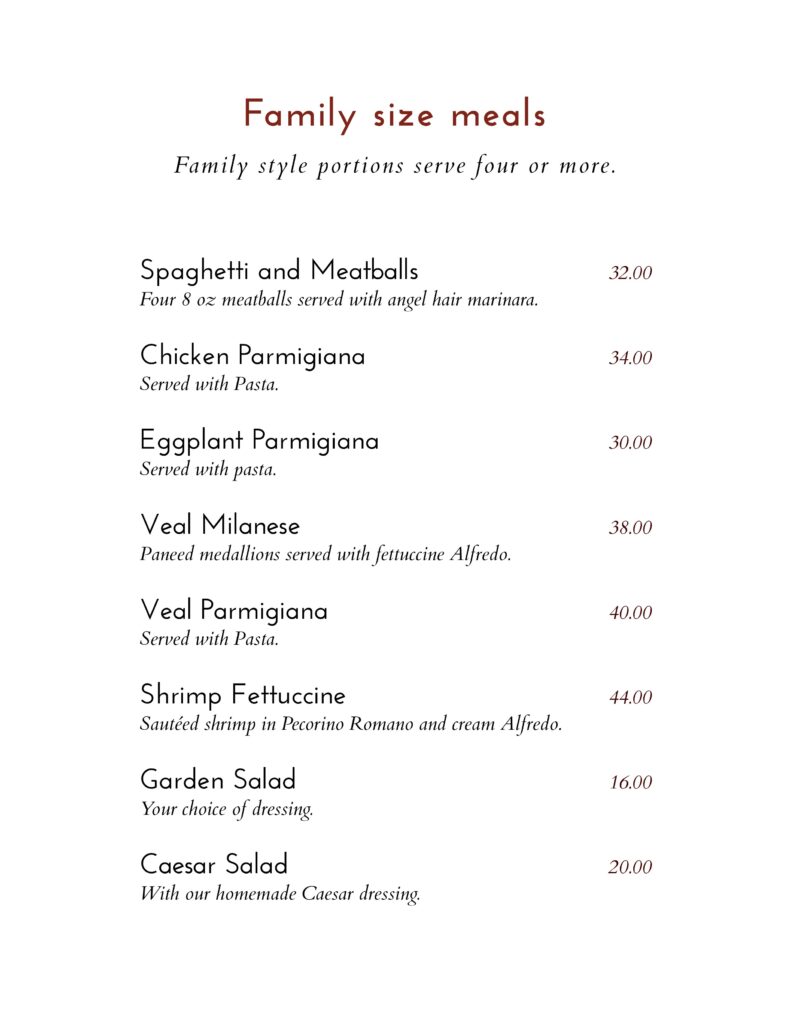 Hambone
985-778-0531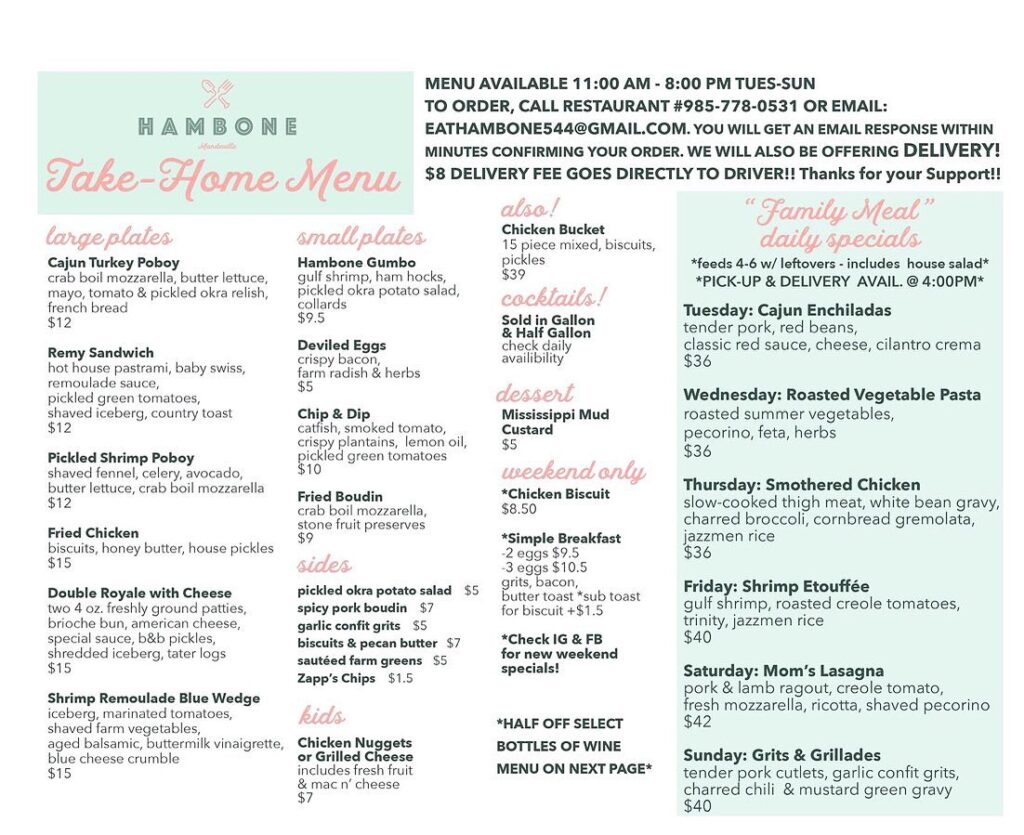 Impastato Cellars
985-845-4445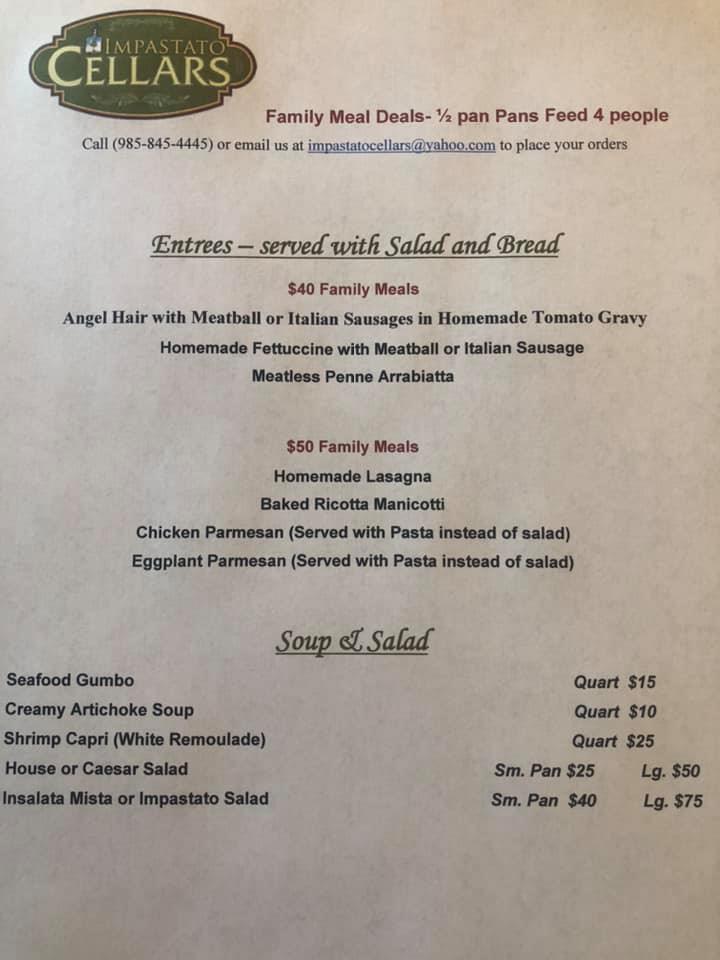 La Carreta
985-624-2990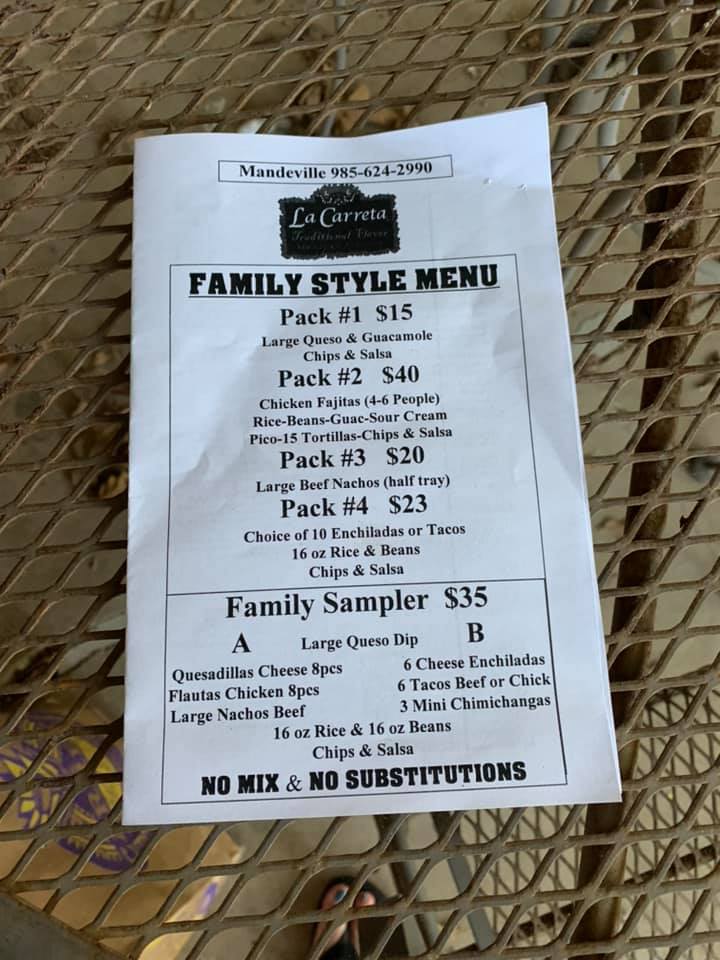 Leonardo's
985-778-2550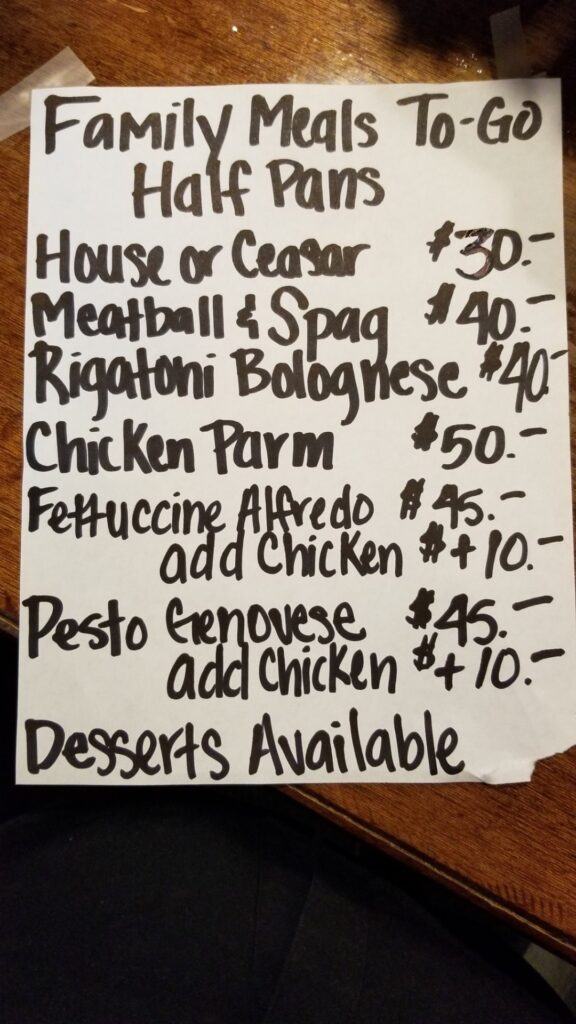 Lunchbox Express
985-951-2120
Alfredo Pasta meal for two. The meal comes with Caesar Salad and Garlic Bread and is only $15, or 2 for $25. To add grilled chicken to any pasta is $3 and blackened shrimp is $5.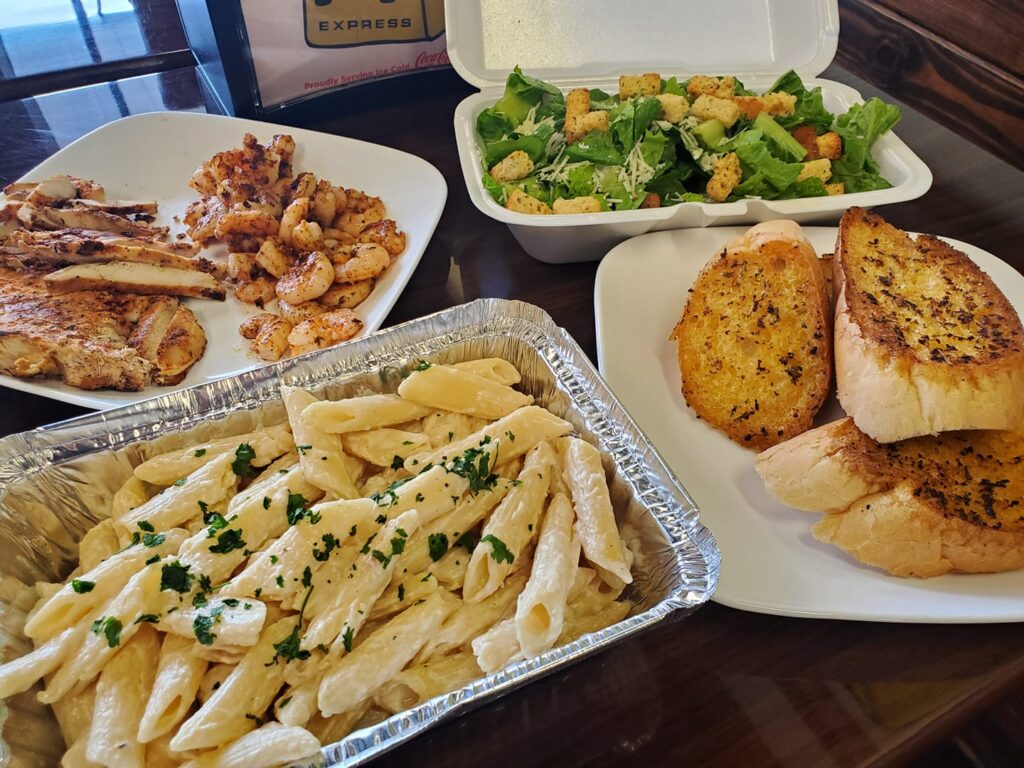 Mi Mamacita's
986-674-1400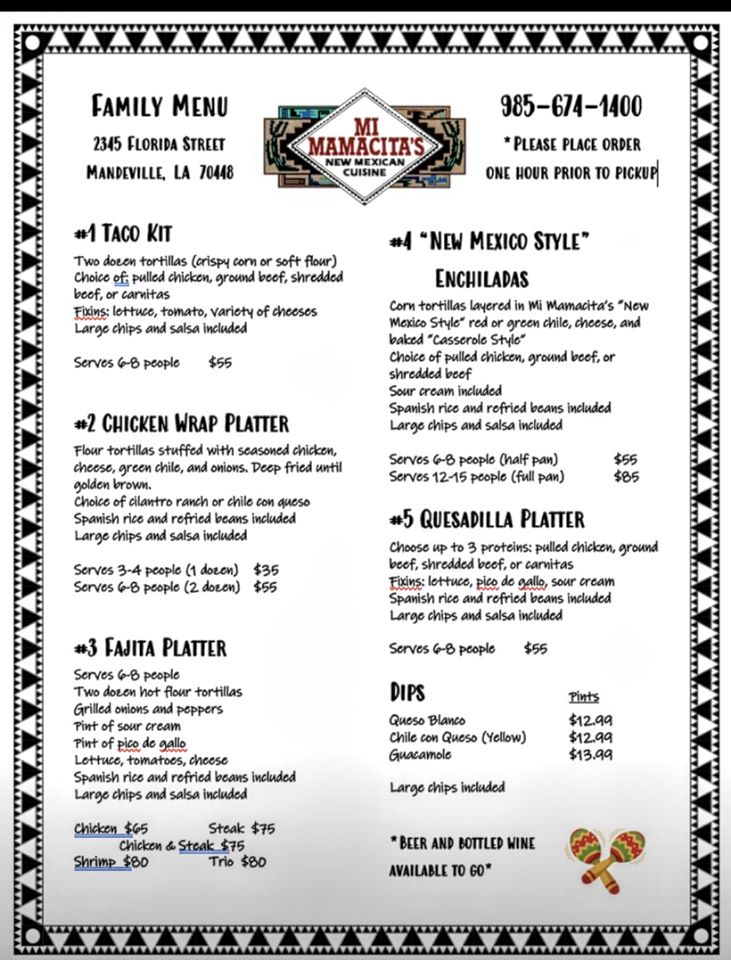 Nan's New Orleans Cafe
985-951-2586
Pontchartrain Po'boys
985-626-8188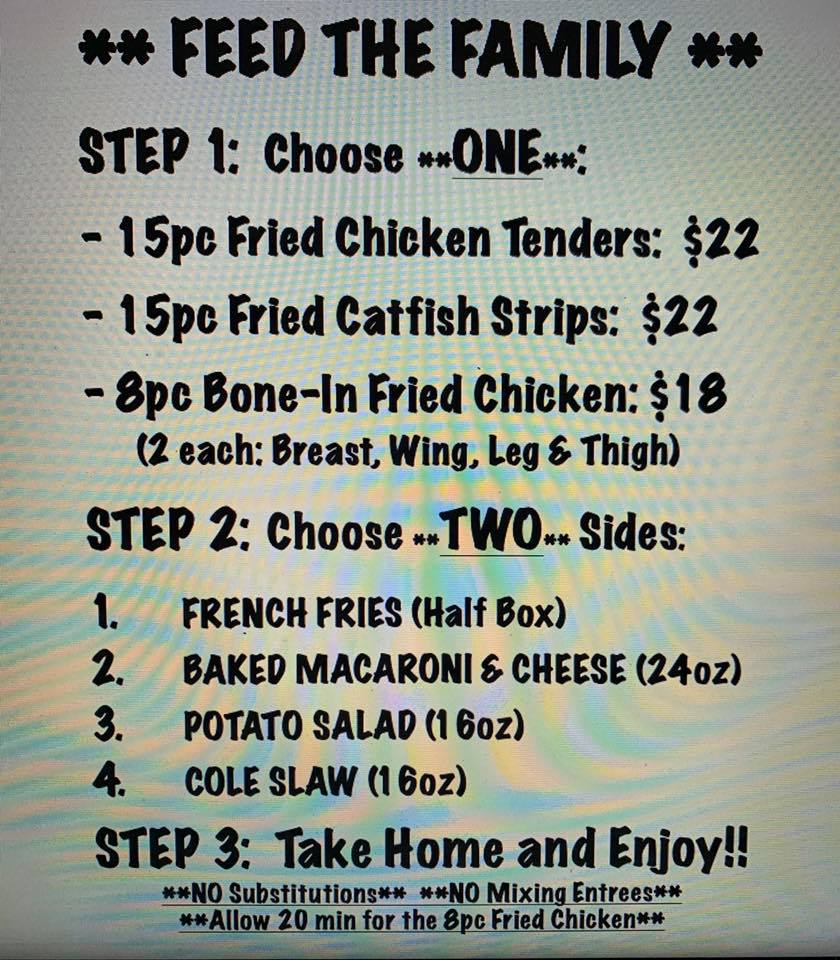 Pot & Paddle
985 778-0492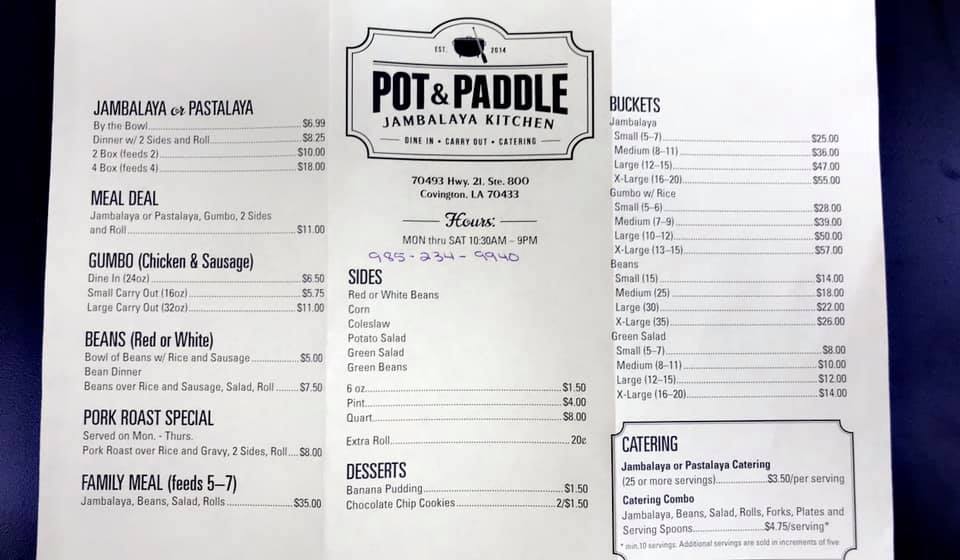 Sticks BBQ
Highway 59 location: 985-951-2277
Highway 22 location: 986-951-2287
See their website for daily family meal specials and other deals that feed a crowd.
Family Meals in Slidell
Carretas Grill
985-847-0020
From their Facebook page:
Family Pack- Pick Two *Trays along with Rice and Beans, Medium Queso Dip for $30
*Tacos*Enchiladas*Flautas*Mini-Chimis*Quesadilla
Fajita Pack- includes Steak and Chicken Fajitas, Medium Queso Dip, Rice and Beans and all its fixings. Comes with Small Chips and Salsa. Easily feeds a family of 4 for $40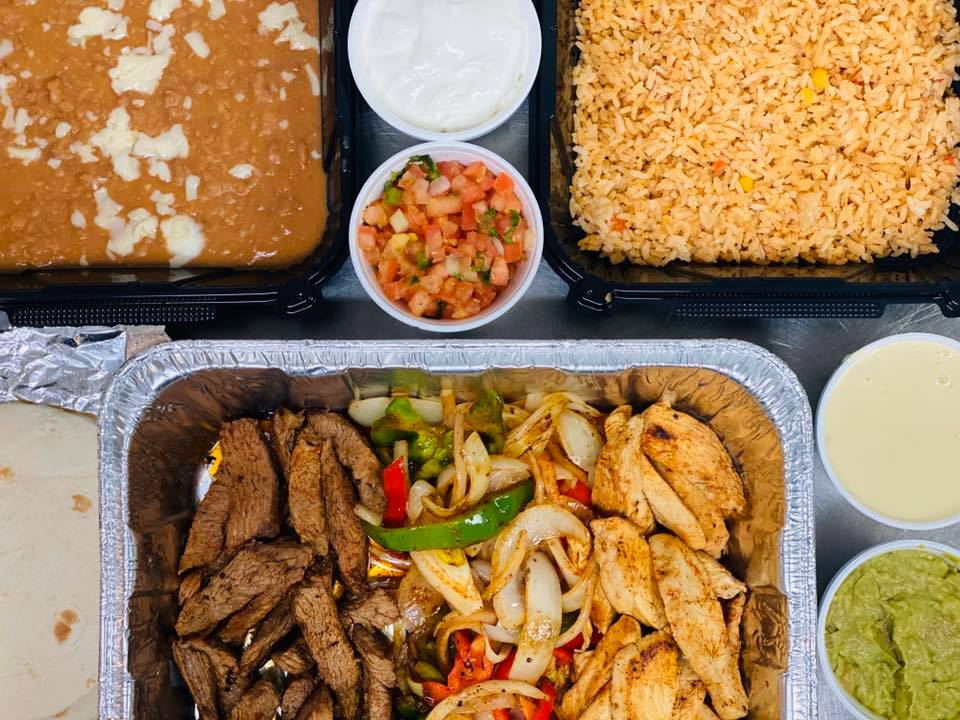 Copeland's
985-643-0001
Family meal special is different each day. See their Facebook page for more info.
Phil's Marina Cafe
985-641-0464
From their Facebook page:
⚓️ 40 JUMBO FRIED SHRIMP with Salad and French Fries
(feeds 4) $39.00
⚓️ Shrimp Po-Boy Deal with 1 quart of potato salad
(feeds 4) $35.00
⚓️ Fried Catfish Deal with salad and French Fries
(feeds 4) $35.00
⚓️ ½ & ½ Dinner Deal with salad and French Fries. 20 jumbo fried shrimp and 20 fried oysters.
(feeds 4) $39.00
⚓️ ½ & ½ Dinner Deal with salad and French Fries. Fried Catfish Strips and 20 jumbo fried shrimp.
(feeds 4) $39.00
⚓️ Chicken Parmesan with salad and pasta with red sauce
(feeds 4) $35.00
⚓️ Grilled Mahi Mahi Deal with salad and steamed vegetables
(feeds 4 ) $39.00
⚓️ Crabmeat Au gratin Deal with salad and Baked Macaroni
(feeds 4) $39.00
⚓️ Spaghetti & Meatball dinner with salad
(feeds 4) $35.00
Speckled T's
985-646-1728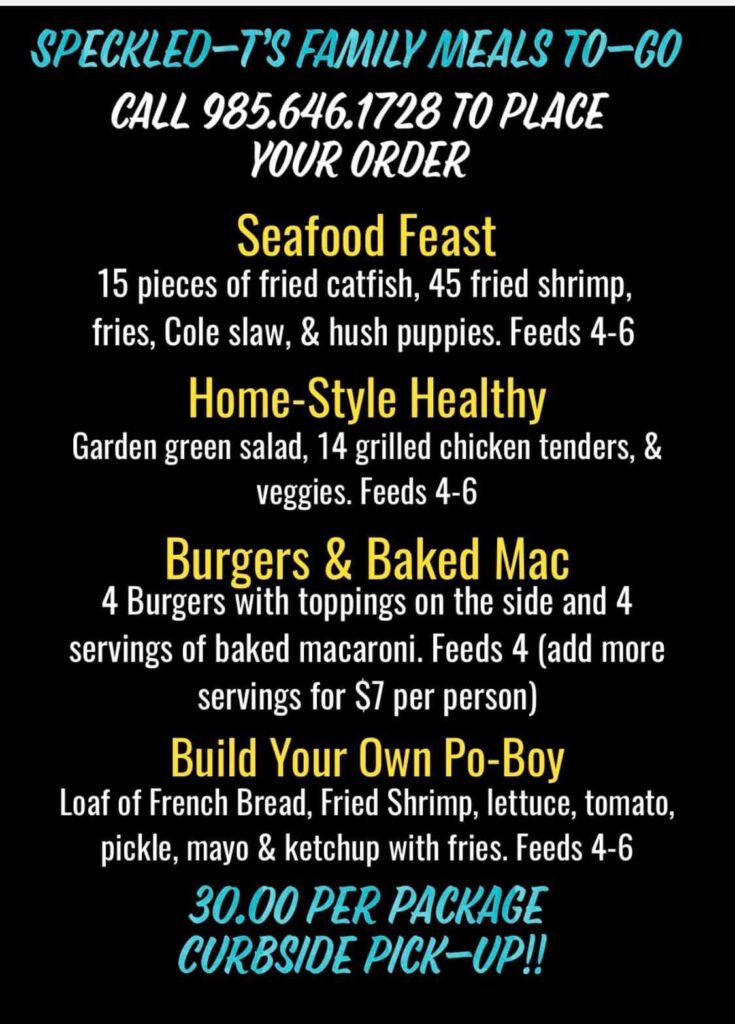 Tacos and Beer
985-641-4969
$30 Family Pack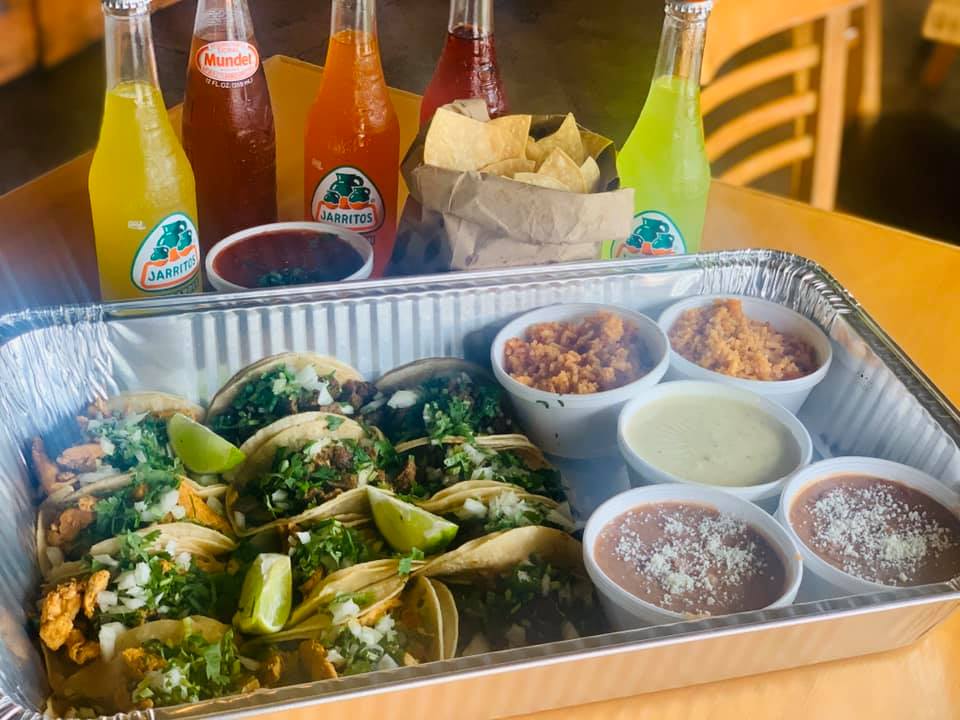 The following two tabs change content below.
Hi, I'm Katy. Mom to four sweet boys ages 10, 6, 6, and 5. It's a loud, messy, chaotic life. I love connecting with other parents and am so glad you stopped by today!