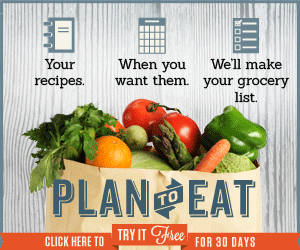 I love the idea of meal planning, sitting down every month with a blank calendar and good intentions. Though good intentions or not, my system always breaks down. Either I lose the paper calendar somewhere or I can't remember which one of my 50+ cookbooks had the recipe I wanted to try in it. Lately I've ended up falling back on my emergency dinners of mac and cheese or breaded chicken cutlets (don't judge!) way too often.
One of my New Year's Resolutions was to recommit to family dinners and get out of my cooking rut. One thing had become clear, I needed an online solution. I already manage the rest of my calendar through my phone and I needed a way to access my meal plan and shopping list that way too.
I started using Plan to Eat a few weeks ago and it is exactly what I was looking for. Plan to Eat is an online meal planning website where you can store all of your favorite recipes. Adding recipes from anywhere on the web is simple and doesn't require much more than clicking a button. After that you just drag and drop your recipes onto the calendar and Plan to Eat generates your shopping list automatically. It's really easy; they even have some little videos to walk you through the process.
If you like having a paper copy of your meal plan you can print it out from the Plan to Eat website, or you're like me and live by your phone, you can integrate your meal plan into Google calendar and have everything in one place. Adding Plan to Eat to our Google Calendar gives my husband instant access to our meal plan, including links to the recipes, which makes it much easier for him to get things started in the kitchen on the nights when he gets home before me (Yay!)
Plan to Eat has a free 30 day trial, so you can give it a try to see if it works for you. A year subscription is $39 or you can $4.95 per month.
The following two tabs change content below.
Kaely
Hi, I'm Kaely, stay-at-home mom (who is never at home) to two spunky children, ages 9 and 4. I'm usually found cruising in my mini-van somewhere along I-12, listening to audiobooks and trying to remember where I need to be next. I grew up in Mobile, Alabama and I've lived on the Northshore for 14 years. I love photography, theatre, and making stuff.