Or a desperate attempt to make everything fit.
The nesting bug has really bitten me good. Nothing too crazy – I'm not trying to renovate my house or anything, although I always have ideas for that, too – but reorganizing areas that have basically been left to collect dust for the last six years. Nesting is supposedly a way for expectant mothers to control what is happening in their home environment. I can see that, but so many people have told us that we won't have time for anything anymore that we need to get things done now before baby arrives. Of course, all the big projects have been getting done by my wonderful fiance,' but it's hard for me to sit still. I try to do as much as he and my body let me. We don't have a big place to begin with, so organizing the space we do have is crucial.
There's baby stuff everywhere post showers. Our daughter's room is essentially ready, but I'll always find ways to tweak things. It's a major feeling of accomplishment to have all of her clothes washed and put away. In the last week, we have done baby laundry up to the first 6 months in size; bought the long coveted dresser with the changer top that we found at Target on clearance for a mere $50; organized baby's freshly washed clothes, blankets, and newborn diapers in it; then stacked up all the boxes and bags of diapers we got as shower gifts in a corner of the nursery that were previously blocking a walkway in our living area downstairs; and we bought a bassinet from a person in the checkout line at a kid's consignment shop who overheard my fiancé's conundrum – the one's we'd seen were too expensive or too frou frou – and got a great deal on a nice, gently used one. The glider and ottoman set got ordered over the weekend, but I still need to make the mobile to hang above the changing area, and finish a painting to hang on the wall in the nursery. Then there's the list of all the small things that the baby books recommend having when you arrive home from the hospital. We'll be shopping again very soon for a list of necessities that we had previously overlooked because we were focusing on the big items.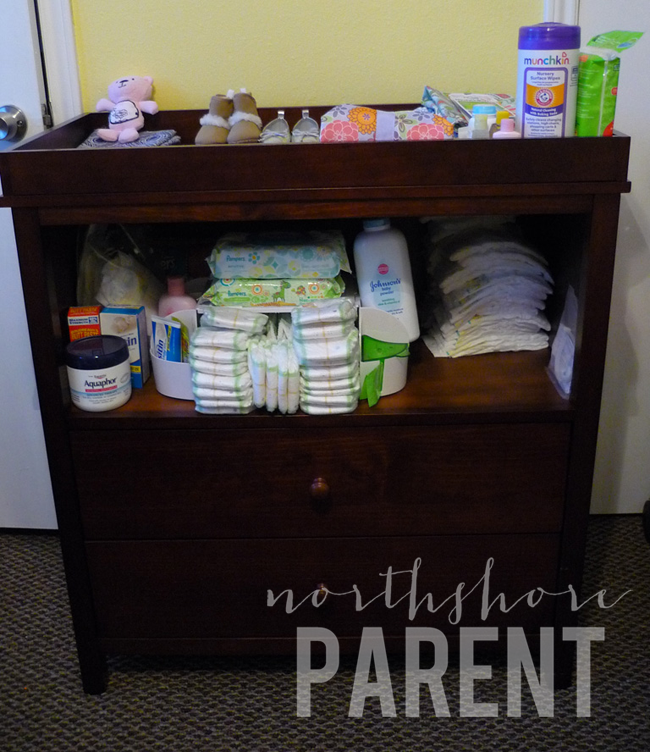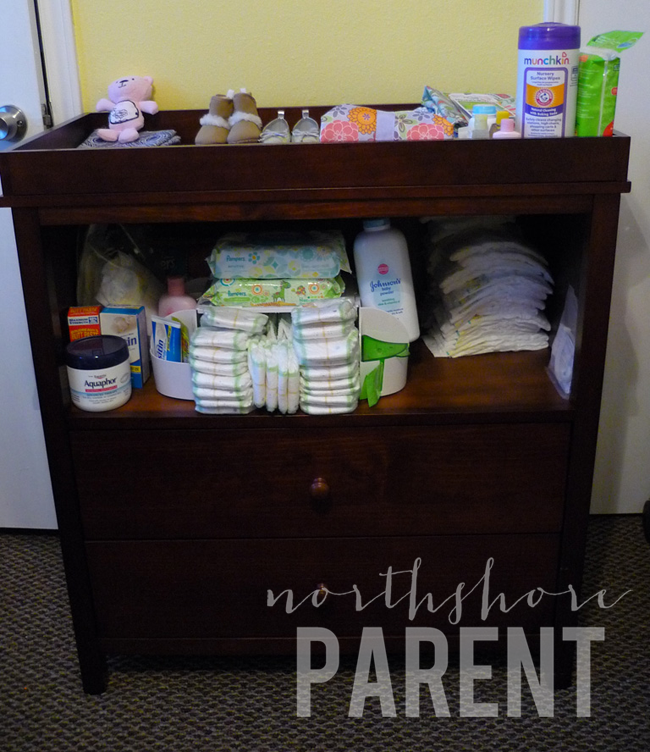 Nesting has not limited itself to the confines of the nursery walls. I went through all the shirts on my closet shelf and refolded and reorganized them. Part of the goal was to get rid of a bunch, but there were only a few that I know I'm no longer interested in in wearing postpartum. It's exciting to daydream about revamping my wardrobe in the future, and donating things to places like the Samaritan Center in Old Mandeville always makes me feel good. Plus, it's a nice tax write off.
Speaking of taxes, the other day I spent some quality time with the file cabinet shredding documents from way too long ago. Turns out, you don't need to keep paperwork for years on end. Who knew? Then the bathroom closet got hit with a reorganization wham. Not only did the shelves get a makeover, I also realized how desperately we need new towels and washcloths! Maybe we can hit up some January white sales. The kitchen needs some reorganization, too, but that's a bit tougher because it's so tiny and already jam-packed with, well, kitchen things. Somewhere in there, we need to make space to store baby's bottles and all the things that go along with them.
Then there's all the other baby prep we need to do, like go through the giant bag of hand-me-down clothes, pick out a birth announcement, choose a pediatrician, get the car seats installed, finish packing the hospital bags, and get cameras and phones ready for plenty of pictures of baby (make room on memory cards). I finally finished my birth plan at 3 o'clock this morning when I couldn't sleep, so that was a big relief. Just remember, the key to organizing, whether you're nesting or not, is that like goes with like. Even if you feel like you're running a marathon while cleaning or organizing, it will all get done – somehow, someday.
The following two tabs change content below.
I started blogging in my early twenties on Friendster, then moved onto Blogger for grad school assignments, and eventually started an art blog for a dream business I might have one day. Now I also have a mommy blog that began when I was pregnant with my daughter/first child. I am a first time mom, a reference librarian, artist, DIY-er, and wife. I grew up in New Orleans and Mandeville.