If you've been reading Northshore Parent, you may or may not have gathered that I am slightly obsessed with children's clothing, particularly smocked stuff. I wore it as a child and couldn't wait to dress my own children in it. When I found out I was having boy/girl twins, I couldn't wait to start shopping for every manner of matching and smocked outfit. So, when Shrimp & Grits Kids contacted me and asked if I'd like to do a review and a giveaway for our readers, I couldn't say "yes" quickly enough.
At 3.5, my twins are still fine with wearing coordinating clothing, but they do have opinions and give suggestions. I narrowed down a few choices from the Shrimp & Grits Kids' website (very, very hard to do; it's all so, so cute) and let them help me pick. My daughter was just in love with the plaid dress with the crabs and buckets. I gave my son the choice of the jon jon (because, they wouldn't come in size 3T if kids weren't still wearing them at 3, right?) or the shorts and polo. He emphatically chose the "daddy shirt" with the embroidered crab and shorts to match his sister's dress.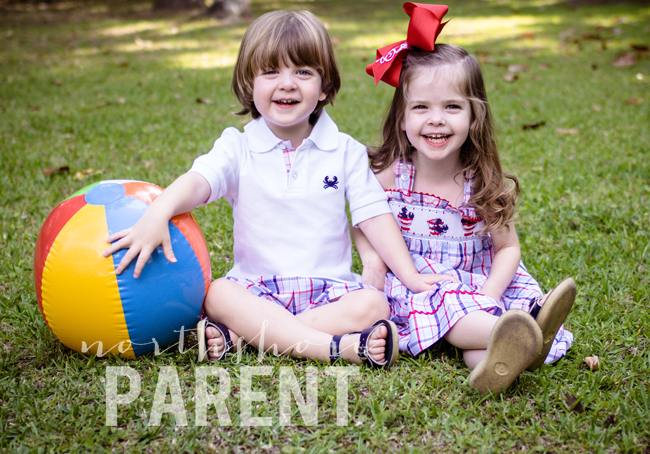 The outfits photographed beautifully on the website, but were even more beautiful in person. The fabric is an airy 100% cotton, perfect for hot summer days. The outfits quickly became favorites, with my little ones requesting to wear them often. And, in the summer, we spend as much time outside as possible, meaning these clothes are really put through the paces. The beautiful, red plaid fabric has neither shrunk, nor faded or bled after numerous washes and lots of playtime. The clothes are as tough as they are adorable.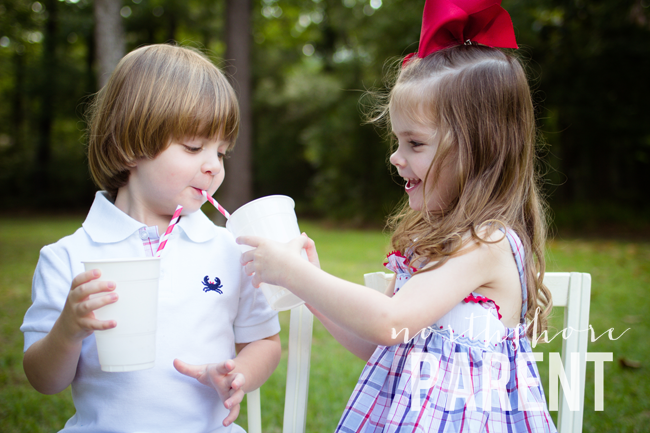 The smocking plate on the dress is just fabulous, with neat, tight pleats and detailed stitching. The blue crabs escaping the red and white sand buckets are perfect for the beach, Memorial Day, the 4th of July, and everything in between, all summer long. And the dress itself is generously sized, with adjustable buttons on the shoulder straps. I wouldn't be surprised if it fit next summer, too. The boy's knit shirt has the fun, preppy detail of fabric that matches the shorts in the vents in the side of the shirt and at the collar. Every detail about the clothes is just picture perfect.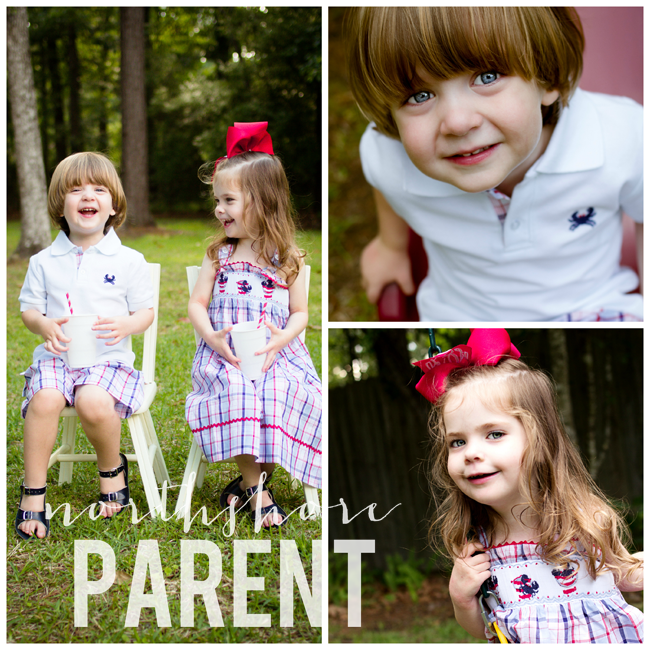 I'm so excited about discovering a new clothing line for my kids that offers timeless style and beautiful quality at a great price, but I'm even more excited to be able to share the love with you, the readers. One lucky reader will win a $50 gift certificate to Shrimp and Grits Kids. Good luck and be sure to check out all of the adorable things for your little ones at www.shrimpandgritskids.com.
The following two tabs change content below.
Aimee
Hi, I'm Aimée, the Special Projects Coordinator for Northshore Parent. If there's a fun giveaway, a kids' clothing review, or a special event, there's a good chance that I'm responsible. I'm a lifelong resident of St. Tammany (except for time at LSU for undergrad and law school) and a mom to 3 little ones, ages 6, 6 (yes, they are twins, and no, they are not identical) and 2. Thanks for reading Northshore Parent and being a part of our community.