My family is a driving family. We don't fly usually for several reasons. My husband is 6'4" and it's just very uncomfortable for him. I am a car seat safety nut and the hassle of hauling car seats and installing them into airplane seats, with kids in tow, is just not my idea of fun. Not to mention the risk of airport delays –with two busy boys this would actually be one of my nightmares. My husband and I both grew up taking long road trips a few times a year to see family so long car rides are just second nature. We had several years where it was not fun hauling our very young kids on our own road trips. I won't lie, we had moments when we had a screaming kid in the car. I mean, you never know if you will get an easy traveler or not, but we were successful in many ways in making things easier! In our family Dad drives and I ride shot gun. I am the copilot and my main job is keeping the kids entertained.
We all know that young kids don't need to be plugged into screen time for hours and hours on end. While I do let my kids have moments of screen time during really long road trips, I make every effort possible to provide them with non-screen activities and to keep screen time at a minimum. Here are 10 suggestions for non-screen time entertainment for your next road trip!
The Dollar Tree type stores should be your first stop for non-screen time items when preparing to travel with little kids. Check out these ideas I found below. For about $15 you can get yourself armed with a bag full of entertainment for your kids while you are on the go!
Stringing Beads
Hit up the arts and craft section for some foam beads and pipe cleaners. The kids can practice stringing the beads onto the pipe cleaners and can create lots of fun little shapes. This site has some cute ideas for inspiration. If your kids are older you can get the beads with letters on them and have the kids spell out words as they string the beads. You could also get kids to work on fun jewelry. I would recommend a hinged plastic pencil box to use as a lap tray for this. Educational Bonus: this is great for fine motor development for all ages.
Craft Stick Building
Grab a pack of colored popcicle sticks and a pack of adhesive backed Velcro.  Put some Velcro on the ends of the popcicle sticks and the kids could build shapes with them. Get your kids to construct all the typical regular shapes.  Then challenge them to make their own fun irregular shapes. Here's  great site for inspiration. The plastic pencil box works well to make a lap trap for this too. Educational Bonus: practice colors, shape names and counting shape sides and vertices.
Sticker Books
Every kid loves stickers and there is a huge variety to pick from at stores. Grab several packs and let your kids go to town sticking them on paper. Encourage your child to make a scene and create a story to go along with what the stickers are doing.  You could make them their own sticker book so that they can reposition the stickers if you want! This tutorial looks very easy.  Educational Bonus: peeling and positioning stickers is great for fine motor development.
Travel Games
I pick up a few portable travel games any time I see them. I once found some Road Sign Bingo dry erase boards that I purchased at The Dollar Tree but you could print your own from here! 
Educational Bonus: recognizing and identifying signs is a good pre-reading skill.
License Plate Game
My oldest loves to make lists and catalog things he always loves keeping track of all the license plates he sees on trips.  Here is a good printable for a map of the USA to color in each state as you see the license plate. 
Educational Bonus: learning where the states are positioned on a map.
Looking for more helpful tips for taking a road trip with kids? Check out our post on how to do it right.
Coloring and Activity books
Kids don't color enough anymore. It is such a simple activity but often overlooked. I do not recommend using crayons in the car. One lost crayon can melt quickly and easily in a parked car and ruin your interior. Washable markers or even colored pencils work better for my family. I let mine pick out their coloring/activity book – my older son tends to pick mazes and word searches and my younger one selects actual color pages. Then I pick out a workbook since most of our longest road trips are in the summer. My kids tend to have that summer slide where they lose some writing skills.
Educational Bonus: fine motor skill of coloring and writing plus the extra activity in the workbooks
Audio Books
Some kids can't read on their own yet, and even if they can, they may get carsick while reading. Or maybe your kids are like mine and think something different is special. Audio Books are fun for road trips. Check out the public library's catalog of kids' audio book CDs. 
Educational Bonus: listening to books counts as reading for young kids! Pause the story and ask your kids questions to make sure they understand everything and get them to recall back parts of the story for you.
Portable Lego Kit
Grab a container and a small base plate and a few handfuls of legos. Jot down a few ideas of things your kids can build and give them the ideas if they need them. I like this tutorial for a semi-permanent travel lego box using a metal lunch kit that I found here.  
Educational Bonus: constructing things is a great early math skill.
Would You Rather Game
This is a great way to get your kids talking. We once had a card game similar to this that came in a kid's meal from a fast food place. This free printable has some cute questions on it. When we play this everyone in the car participates however the non-driving grown up controls the list. Educational Bonus: Encourages thinking and imagination
Fun Snacks
I know, I know! Food shouldn't be used as a boredom buster, but I allow it every now and then– especially on an 8 hour road trip. There are certain snack and treat foods that I rarely ever buy, but I tend to stock up on a few for road trips. If I don't get the prepackaged snacks then I will buy the full size and package them up in little containers for the kids.
Educational Bonus: You can teach your kids to add up all the money you will save by NOT buying snacks at each gas station pit stop. Wink Wink.  
You can still plan for some whining and of course to hear "are we there yet" a million times. Still plan to turn around a few hundred times and help kids. But, all in all, try to have some fun while driving as a family and remember a little bit of planning can help make your trip very successful!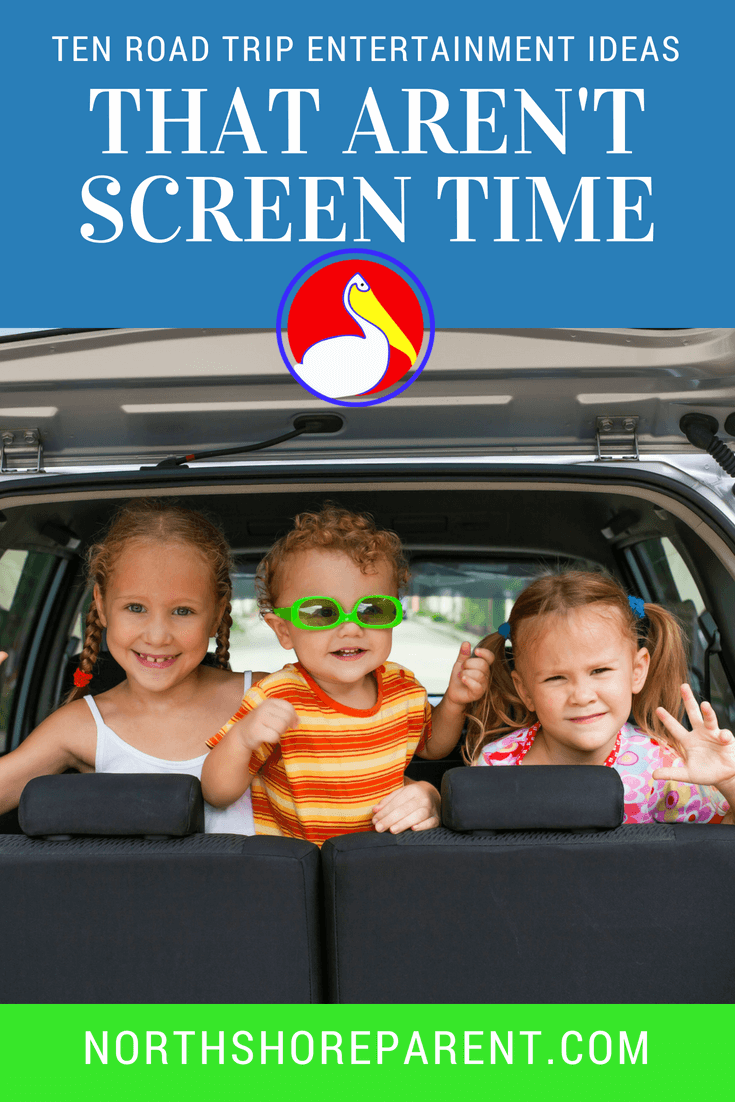 The following two tabs change content below.
Hi, I'm Katy. Mom to four sweet boys ages 10, 6, 6, and 5. It's a loud, messy, chaotic life. I love connecting with other parents and am so glad you stopped by today!