As we approach the peak of the Mardi Gras sesason, you might start to hear a little debate: do you prefer Endymion or Bacchus? Are you more of a Nyx person or Muses? These are, of course, silly arguments. There are so many wonderful parades in our area this time of year–why pick? But there is one parade I wanted to tell you about that you might not ever get a chance to see: The Walmart Special Needs Parade in Covington.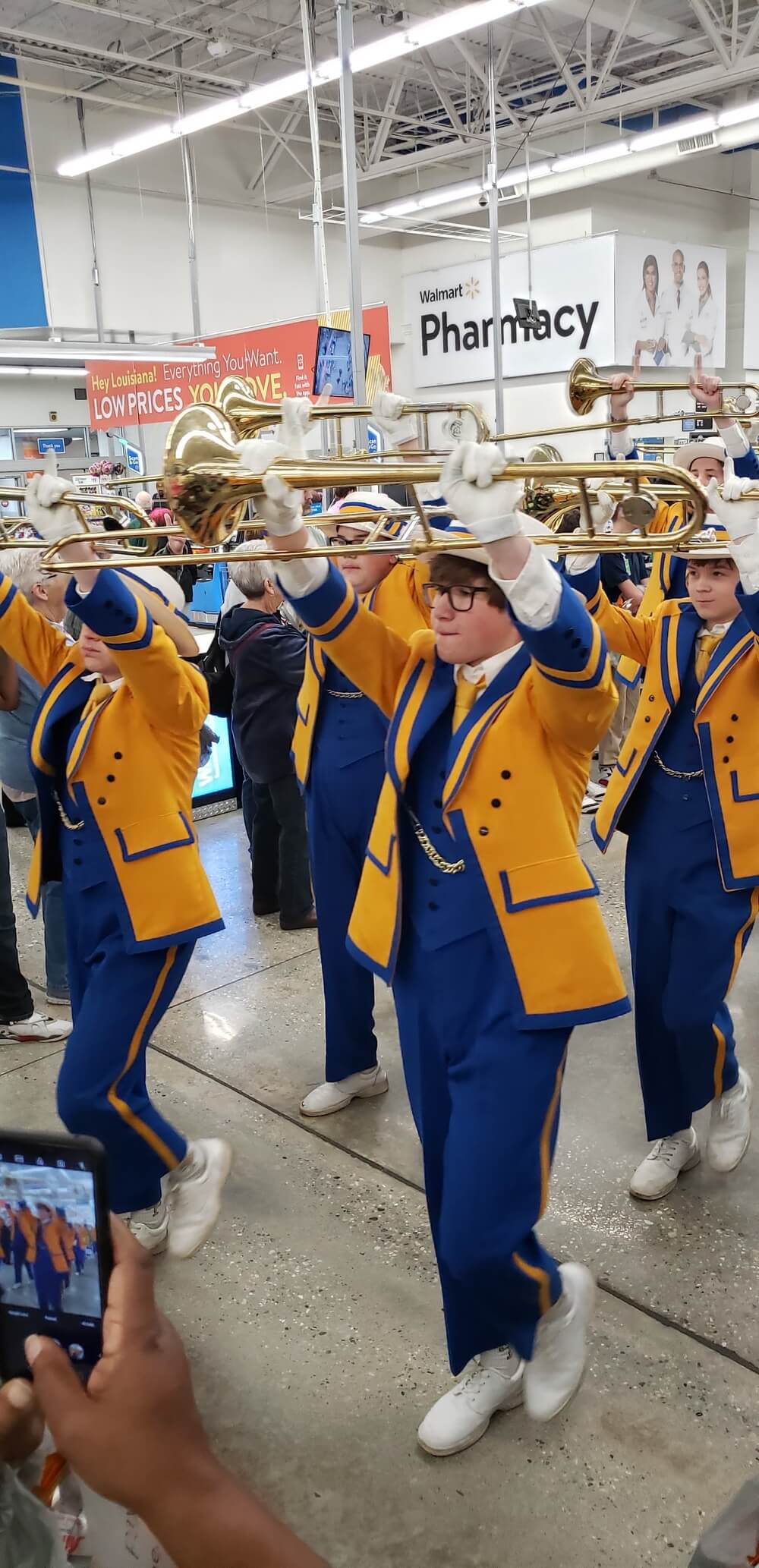 When I first heard about this parade I didn't know what to think. I assumed it was in the parking lot and even then I had trouble imagining how it would work. It is, in fact, held inside the store so even people with temperature issues can enjoy this special celebration. Now some random lady might be there to pick up bananas when suddenly she hears the band start to play. I love that idea.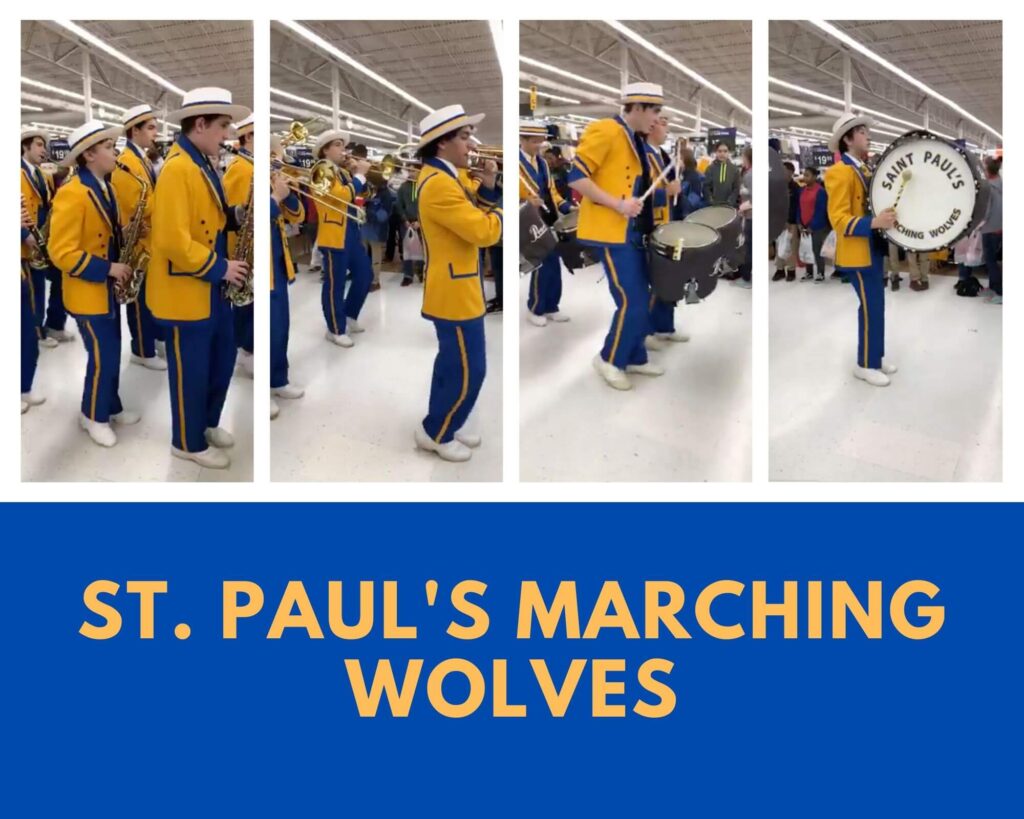 And speaking of the band. . . they really are incredible. The St. Paul's Marching Wolves take time out of what I'm sure is a very busy schedule and bring their moves to this little community parade. The effect is electric. You can feel the instruments playing and almost without meaning to. . . you start bopping along.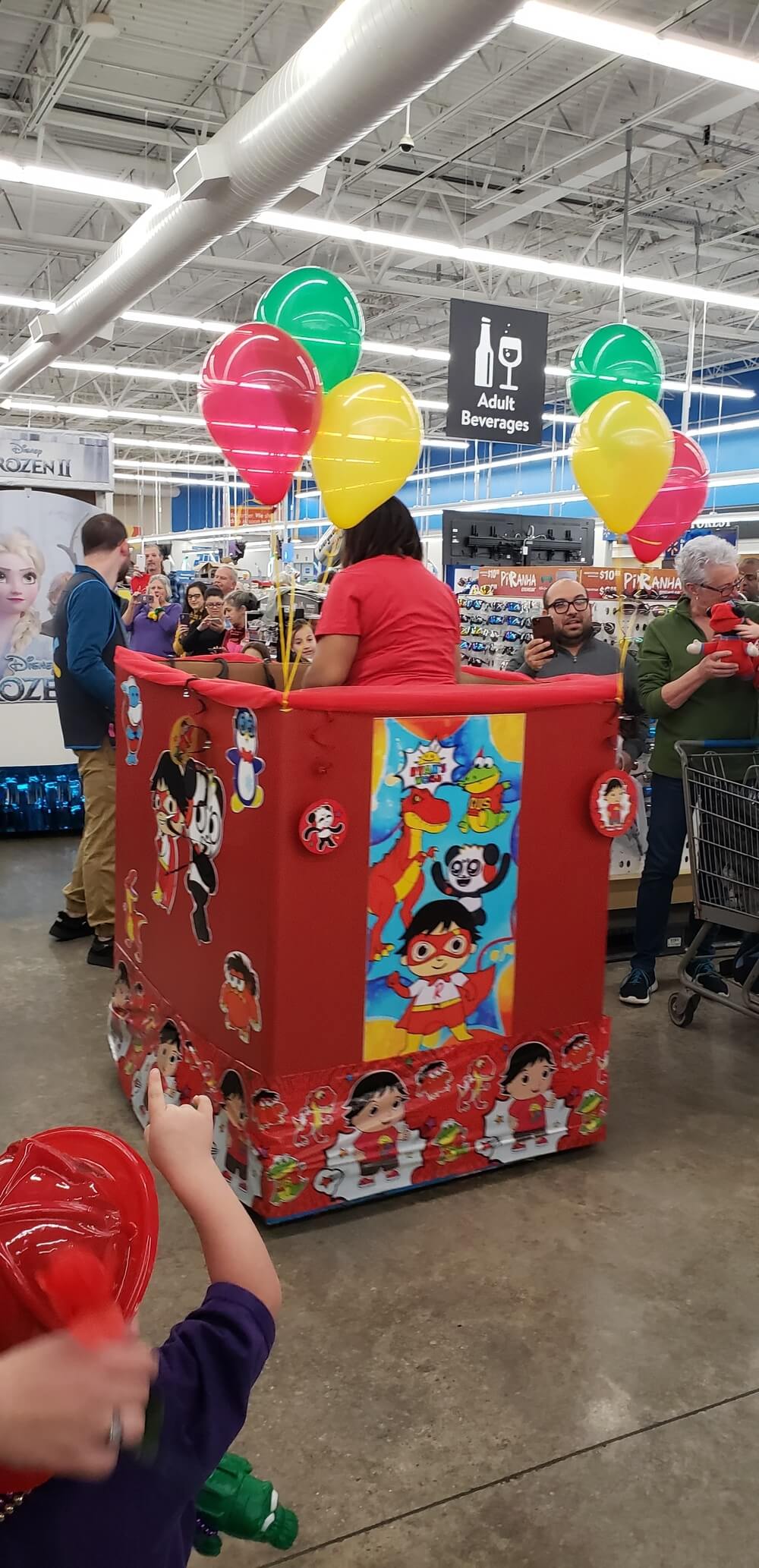 The staff at Walmart goes all out as well. Shopping carts and stock movers are commandeered and become "floats." Promotional materials of all kind are re-imagined in all sorts of ways. A cut out for the latest Avengers movie inspires a super-hero float. Styrofoam plates from the break room become float decorations. Seeing their ingenuity is at least half the fun.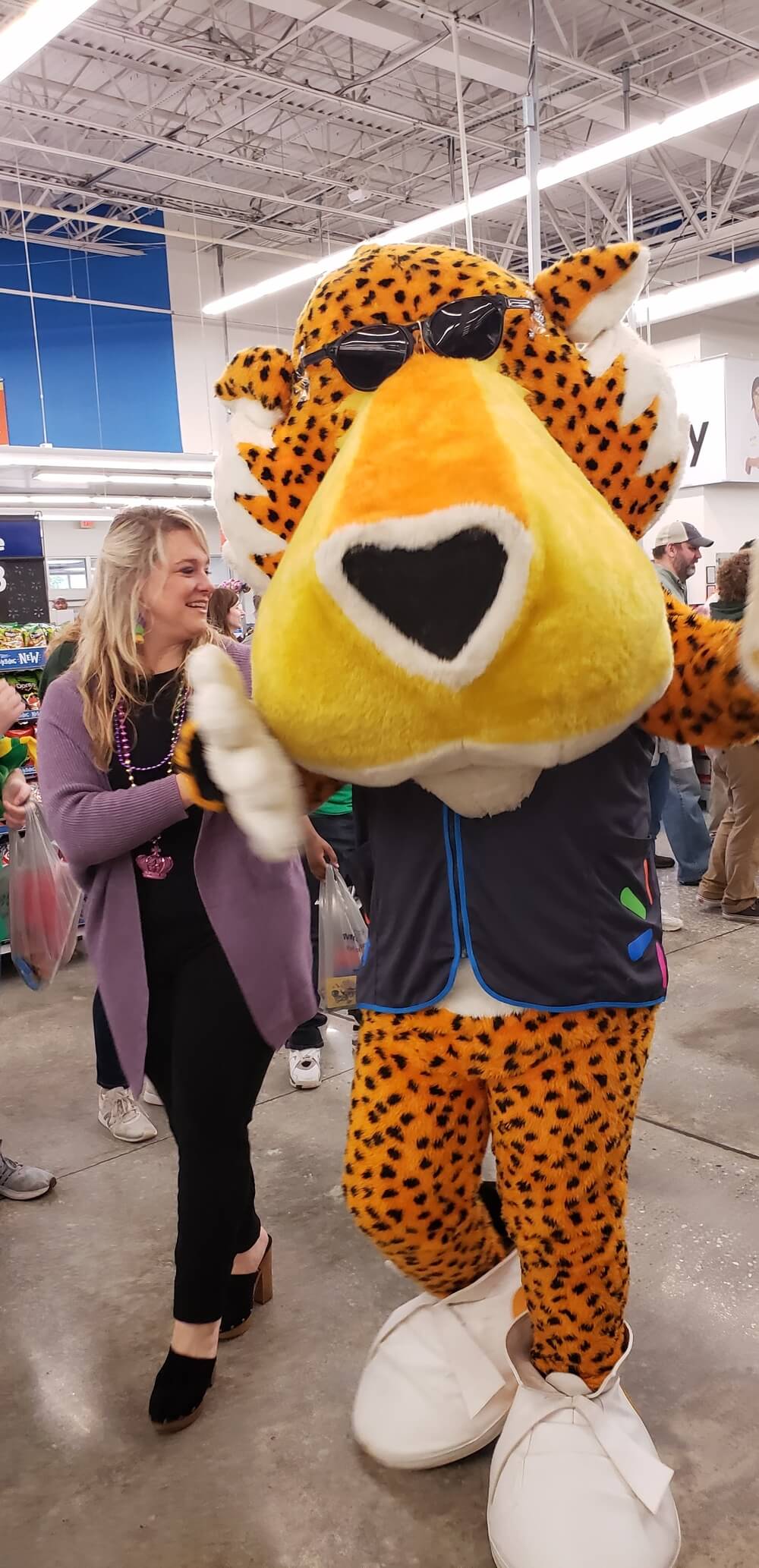 And some of you are probably asking why? Why would a for-profit business disrupt their day, their employees, and even their customers to throw a Mardi Gras parade in the middle of a week day? Well there's simple reason: they do it for special needs kids. All over town special needs kids (and some adults) are loaded up on buses and transported to this one-of-a-kind event. For some of them this will be the only parade they have access to. Transportation, handicap access, sensory issues, and weather conditions can all make regular Mardi Gras parades too much for a person with special needs to attend. This parade, with the help of faculty and staff of local schools, works hard to make sure these individuals have a chance to enjoy Mardi Gras. To say this is one of my favorite events of the year is an understatement. To see the community coming together like this to make this happen is truly magical.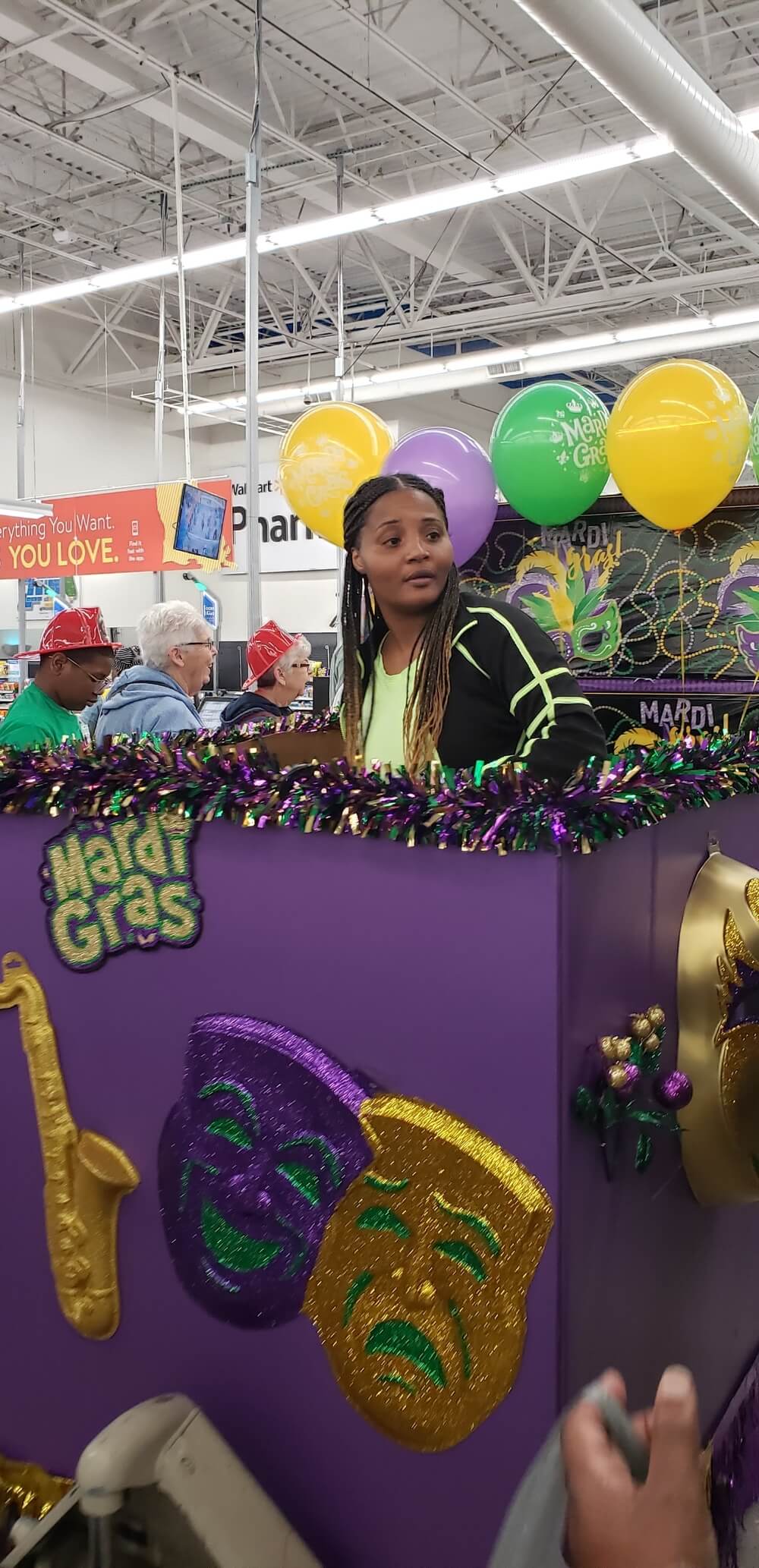 So if you happen to find yourself in the middle of a parade when you just went for a carton of milk, take a minute and soak it up. You're witnessing one of the best and least-known parts of Mardi Gras.
For more great Northshore Mardi Gras content, please see our full guide located here.
The following two tabs change content below.
Hi, I'm Katy. Mom to four sweet boys ages 10, 6, 6, and 5. It's a loud, messy, chaotic life. I love connecting with other parents and am so glad you stopped by today!