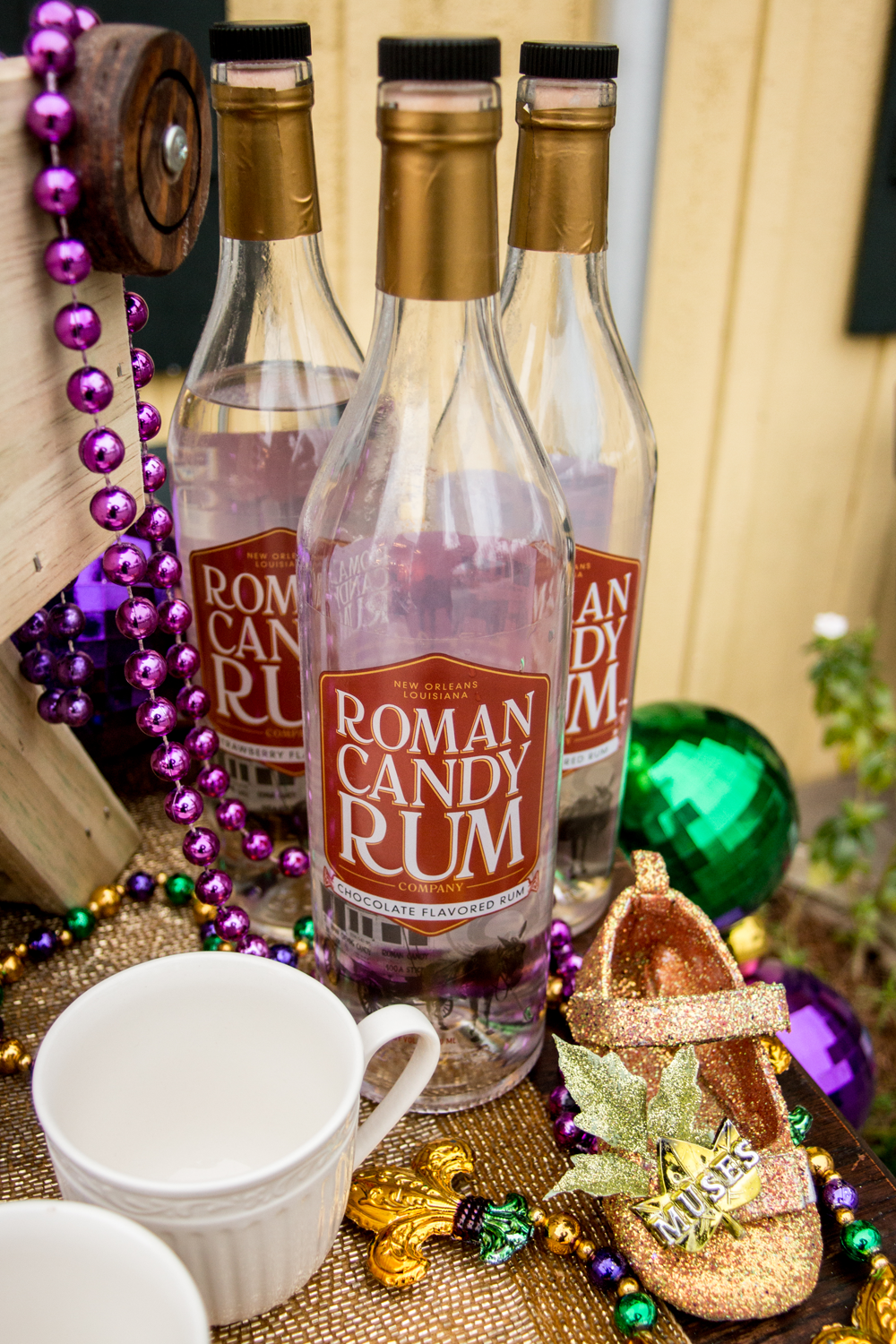 For some people it's Christmas, but here at Northshore Parent we think Carnival is the most-wonderful time of the year. To celebrate we put together a fun photo shoot featuring a ton of our favorite local products and boutiques.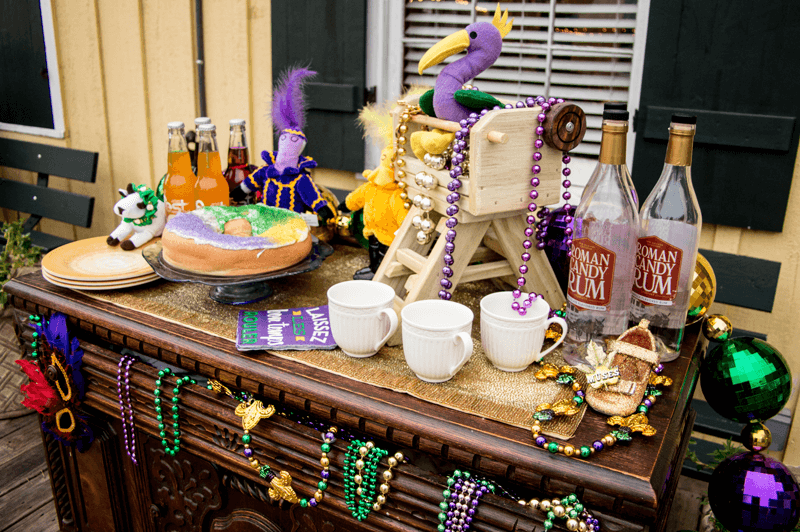 You don't need much to celebrate Twelfth Night–some king cake and some tasty things to drink are plenty. Here we have King Cake, Roman Candy Rum (add the chocolate to coffee for a tasty treat), and some Fest Cola for the kiddos. I'm working on a post right now about Roman Candy Rum and y'all are going to love the story of this great New Orleans company. If you're looking for a very traditional King Cake recipe similar to McKenzie's, we have one for you here. If you'd like to know who in town makes the best King Cake on the Northshore, the writers of Northshore Parent did a taste test a few years back and you can view the results here.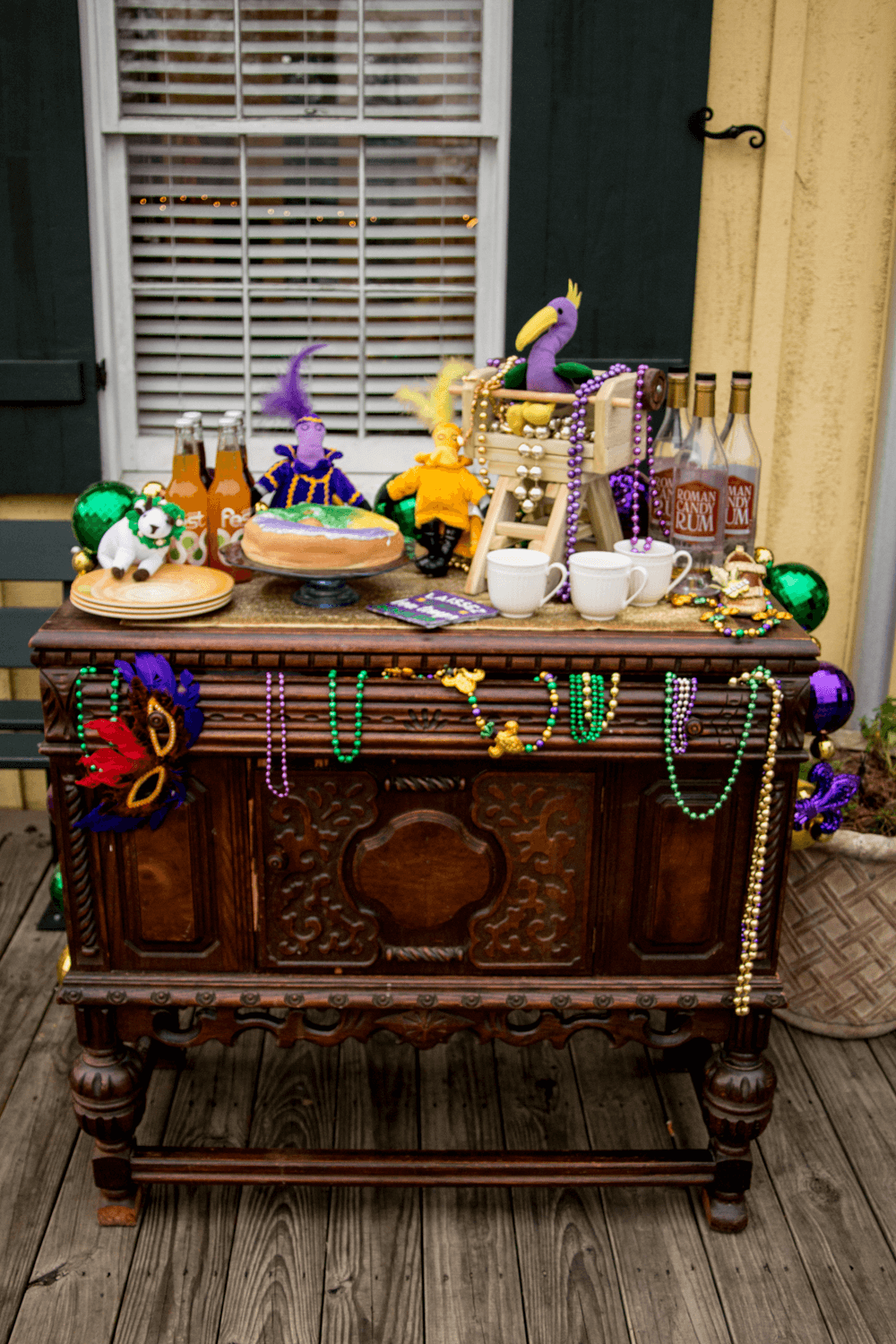 Look at that spread! Nellie is ready to party.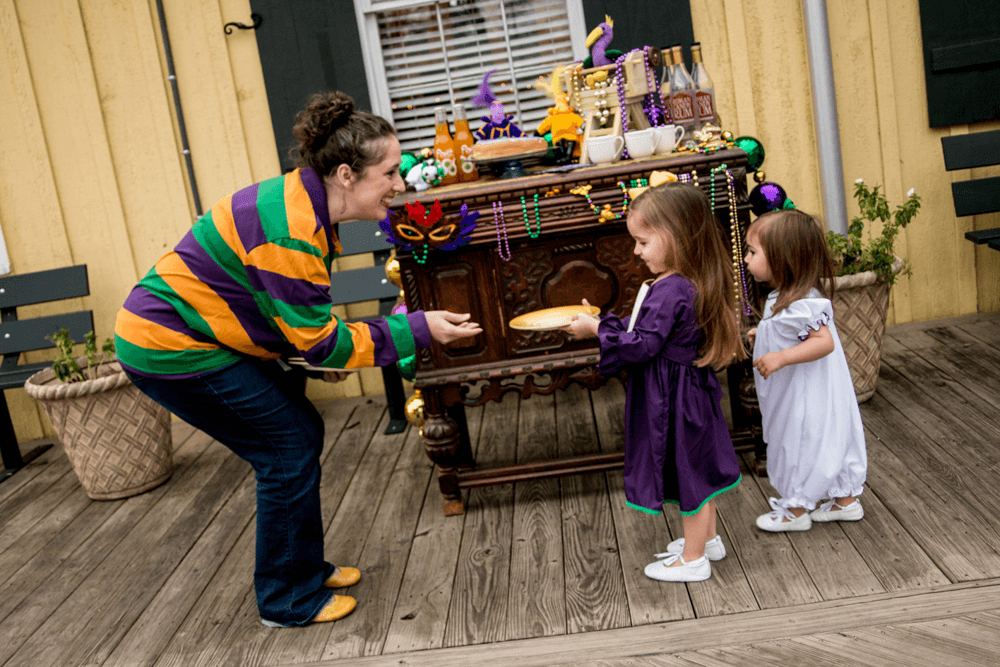 These adorable girls are ready for their first treat of the season.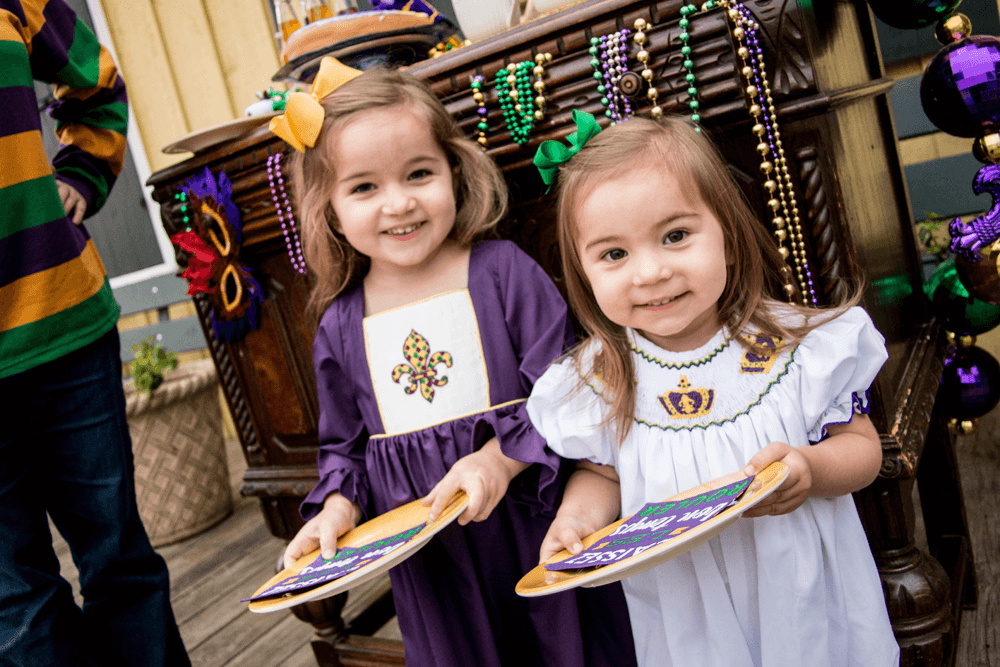 These lovely ladies are dressed by Southern Smocked Company. Did you know Southern Smocked is owned by a Slidell Mom?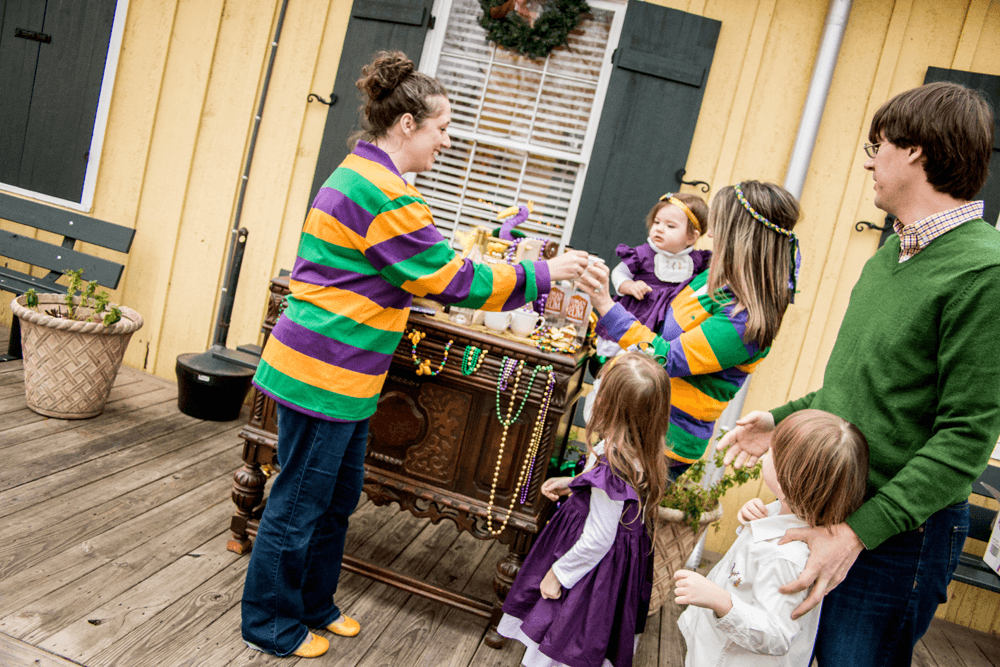 This is writer Aimee and her family ready to party! This is Aimee's favorite time of year. Aimee's shirt is from Perlis and mine is from Mandeville Party Company.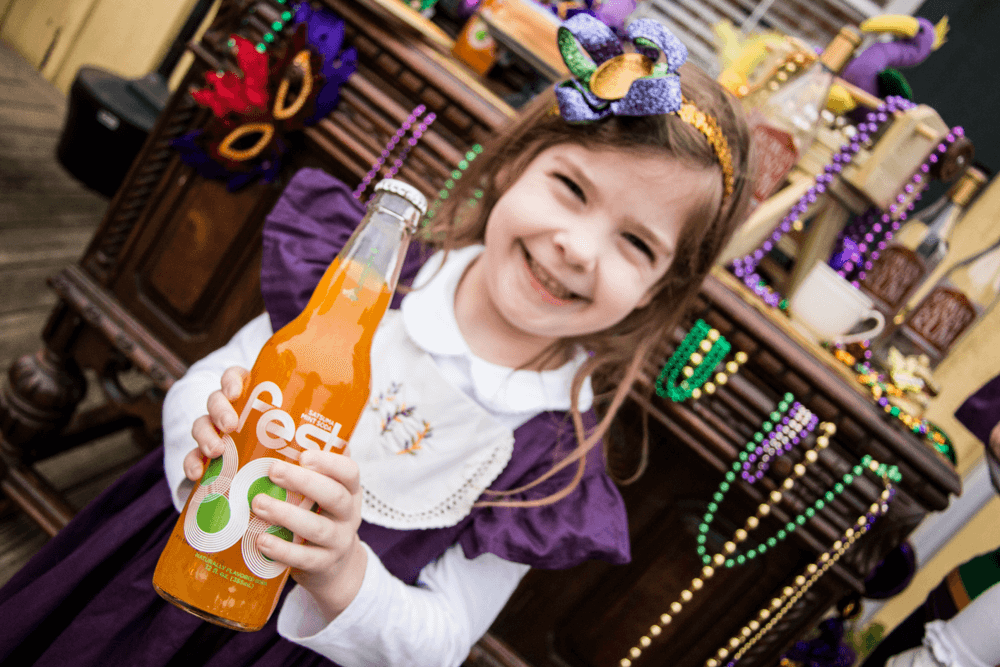 Fest Cola is a great addition to any celebration. No corn syrup here! It's sweetened with Louisiana cane sugar. It's also a totally local product–the owners live right here in Madisonville! You can read all about Fest and its owners in this article we published last year.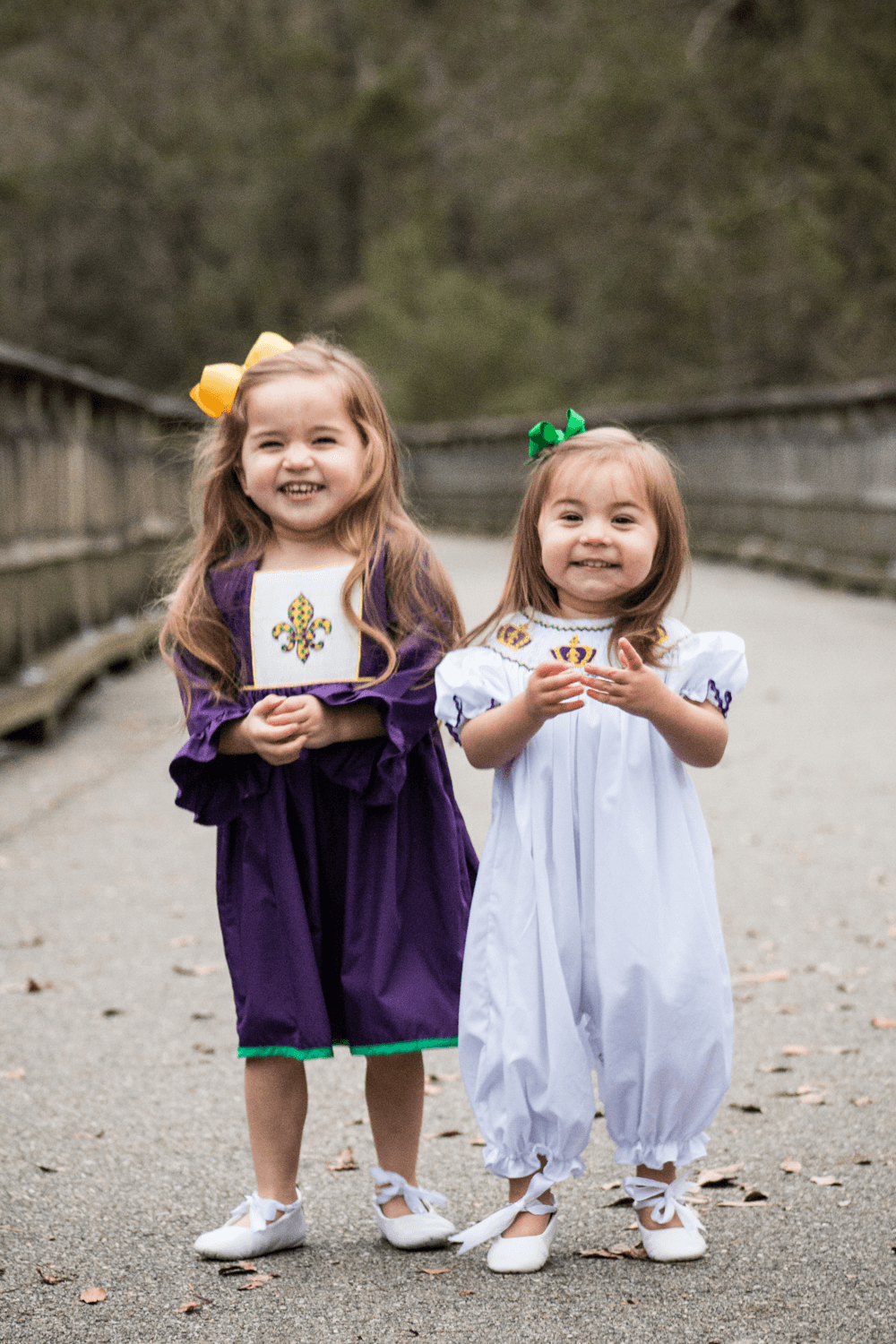 These two are ready for their first parade!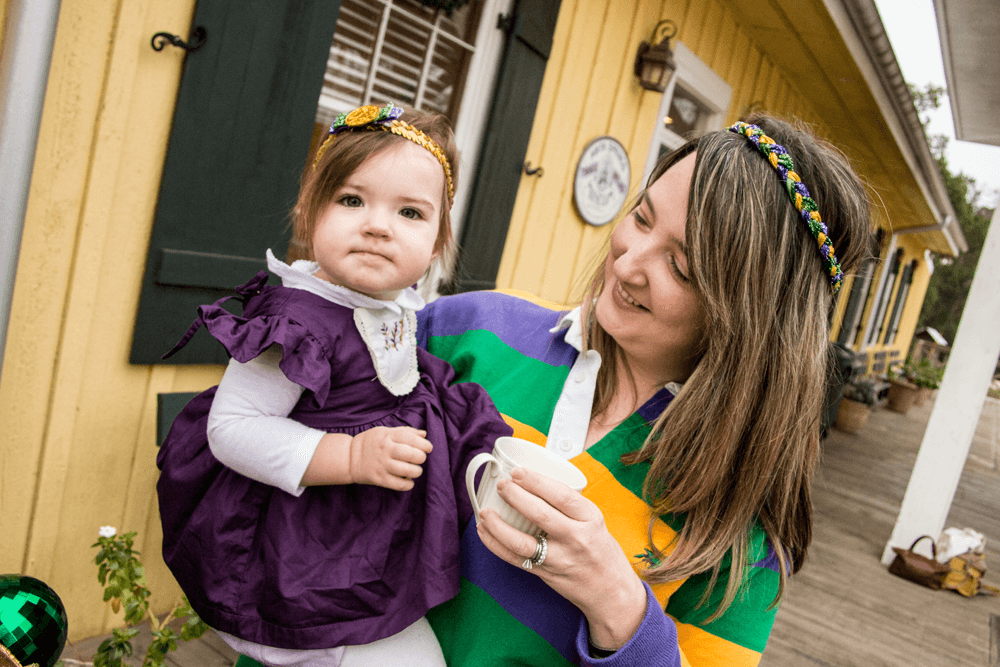 Aimee's cutie is dressed to impressed as well–all three of her kiddos are wearing outfits from Oliver + June. Oliver + June is a true Northshore original making a huge splash in Children's clothing. You can read all about the four Madisonville moms who started Oliver + June in this post.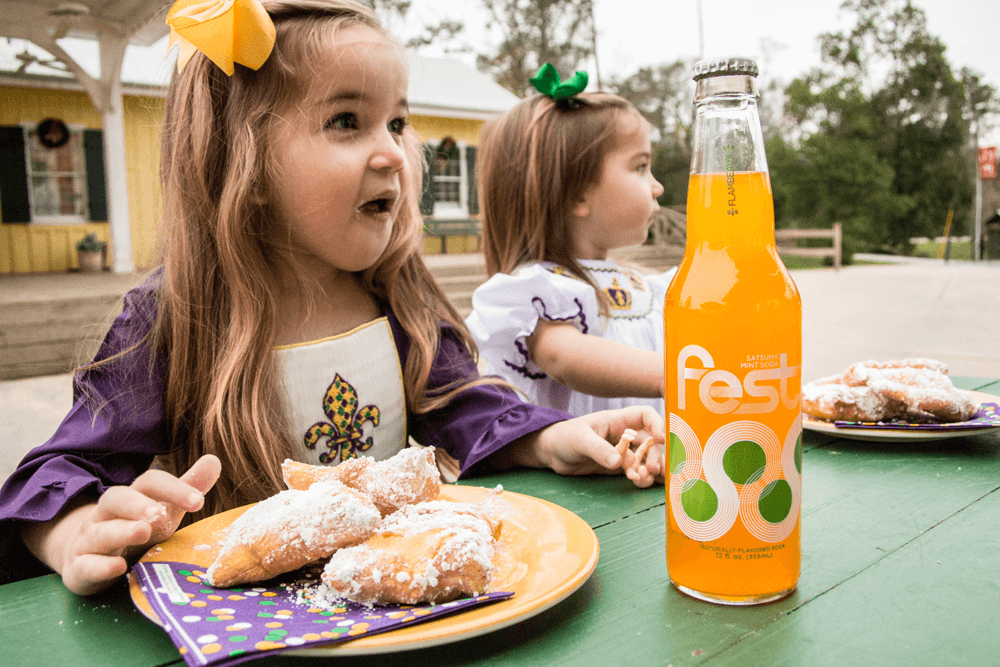 Beignets make a great stand-in if your kids can't have King Cake.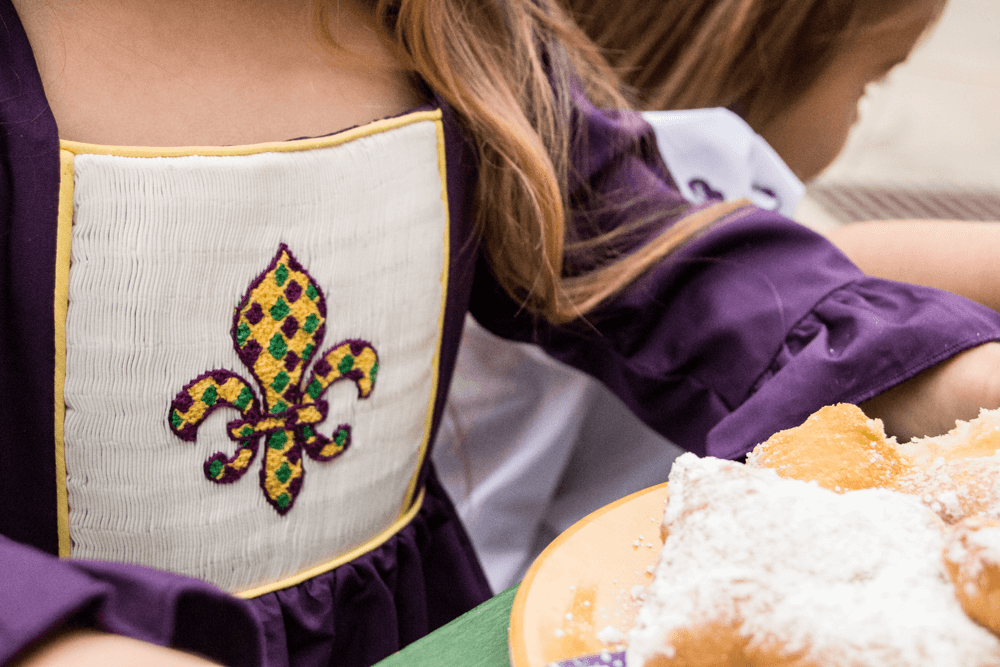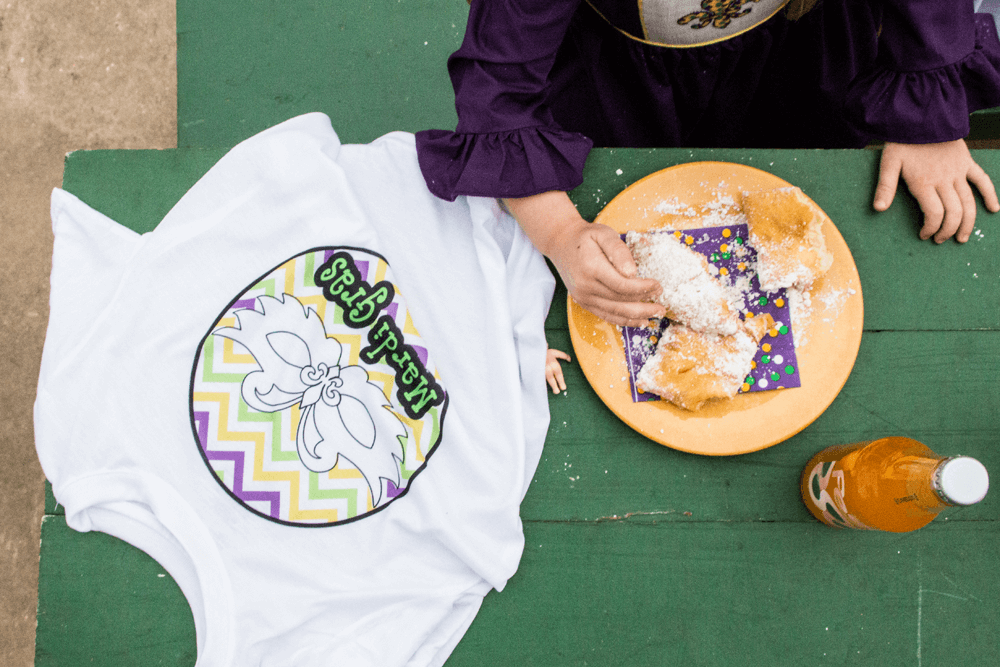 Looking for a fun and easy Mardi Gras activity to do with the kids? These shirts from Little Boy Luke are the answer! Kids can color them and make their own designs! If they use washable markers they can be done over and over or you can use fabric markers if you're looking for something more permanent. You can have your child's name put on them as well. To see all your options, visit the Little Boy Luke Facebook page.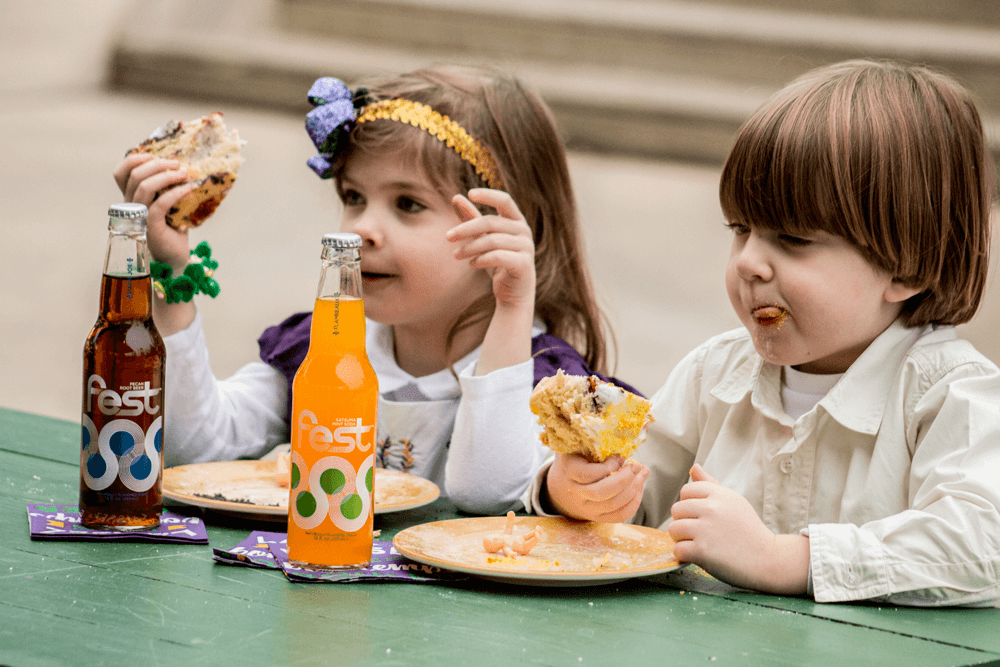 King Cake is delicious, but you can do a fun activity with the kids that's almost as good–dress up some cinnamon rolls with icing and powdered sugar. We used donuts from Donut King for ours and they came out great! For this and some more Mardi Gras activities to do with the kids indoors, check out this post Allison wrote two years ago–her first post ever for the site!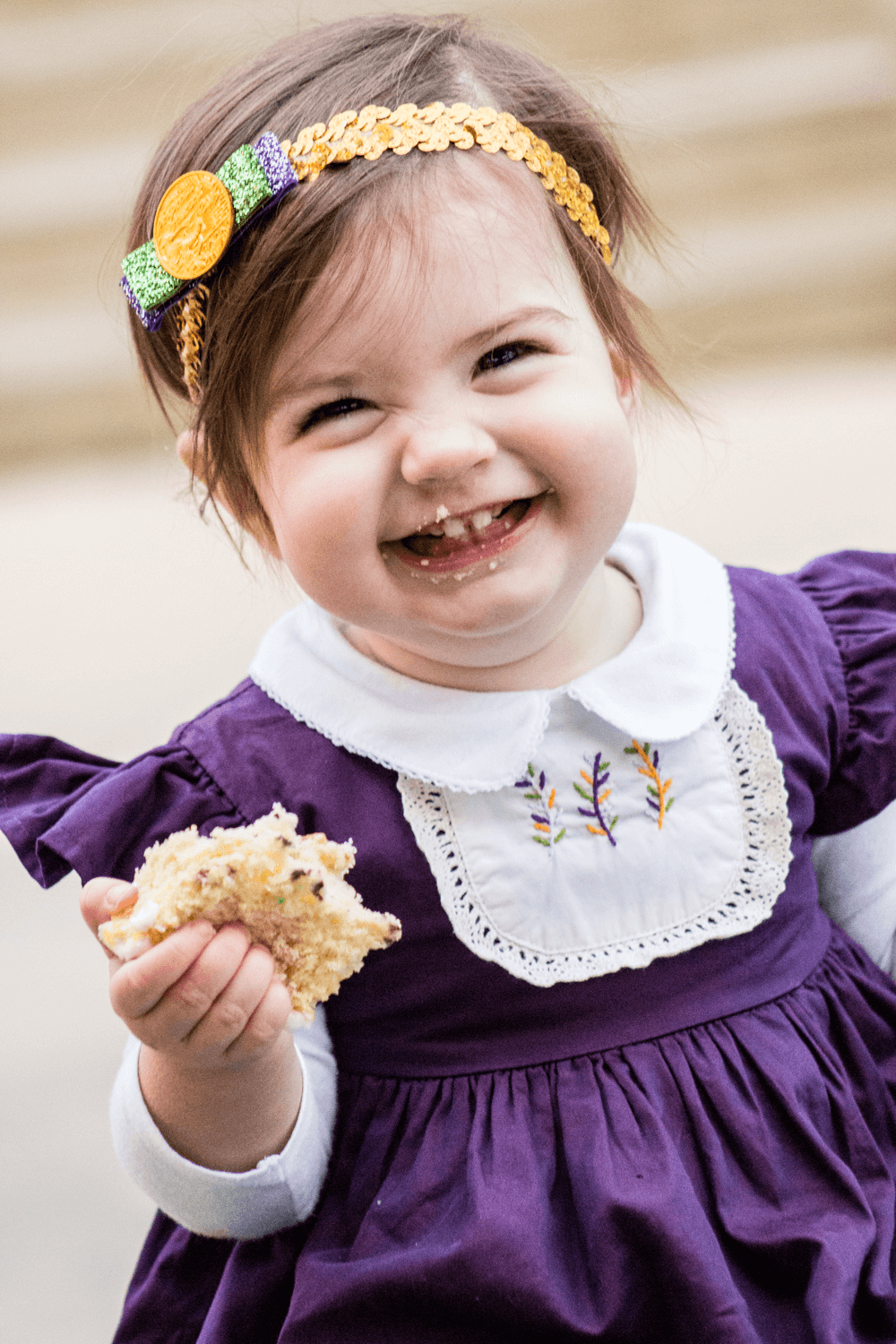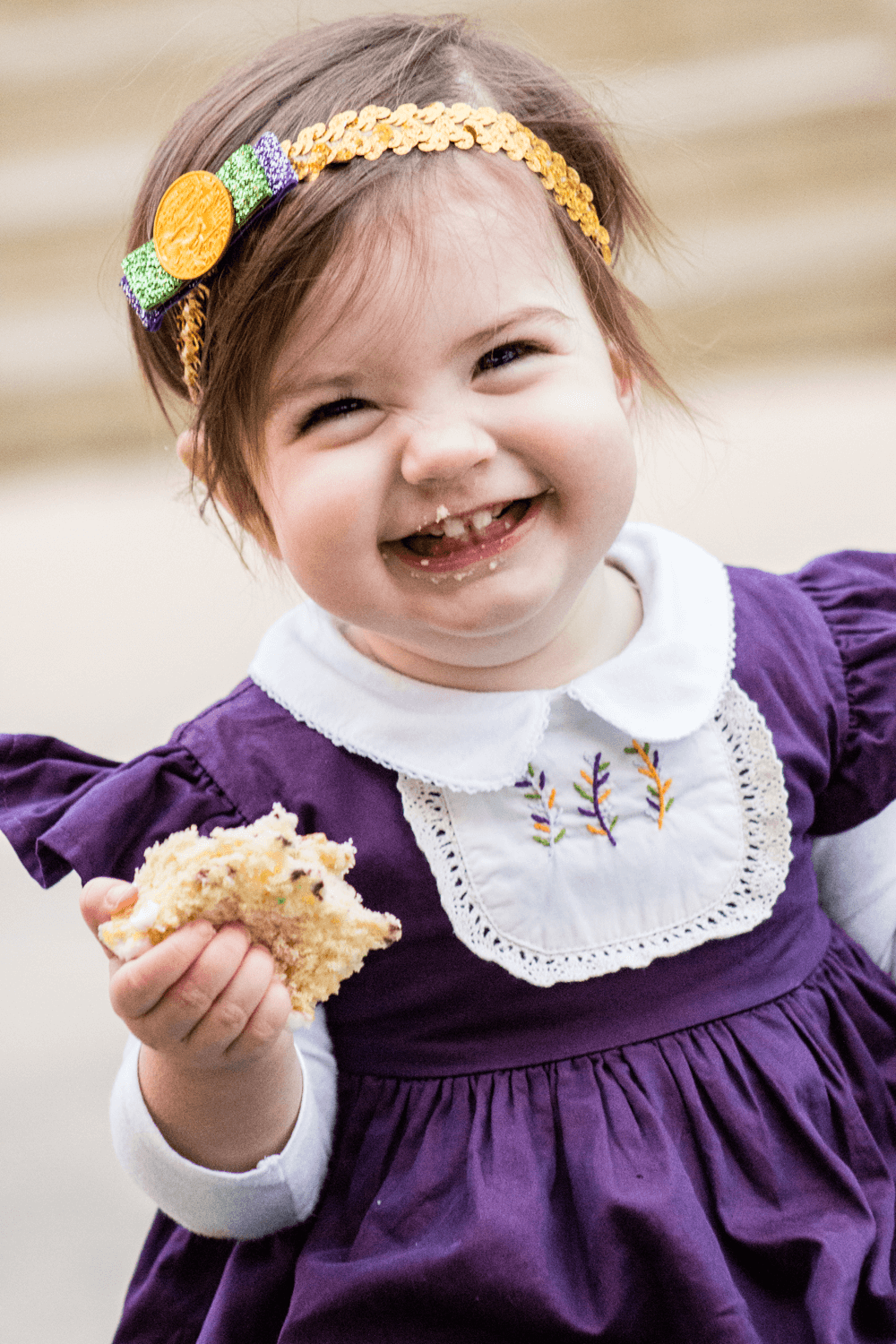 How sweet is this face? Her mama Aimee made this headpiece and we'll be sharing a tutorial on how to make your own later this month. Believe it or not, Aimee's post on how to make a big boutique hair bow is one of the most-popular posts on our site!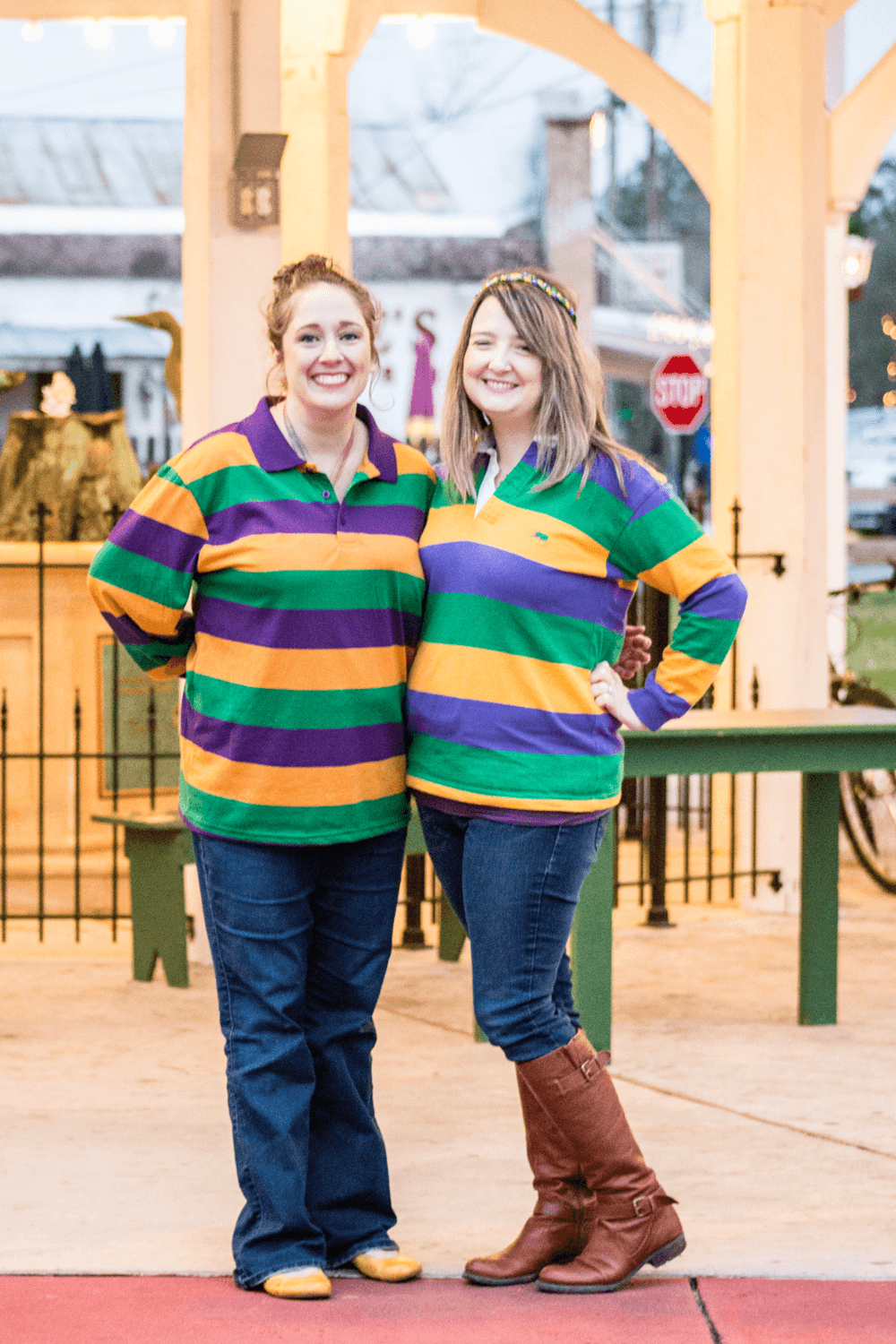 One of the best parts of the season is the chance to visit with friends–both along the route and at parties before and after. What parades are must-see for you? Push-Mow in Abita is a personal favorite of mine, but this year I'm going to branch out and check out some new ones as well! You can check out the full Northshore Parade schedule here if you're still deciding which ones you want to go to.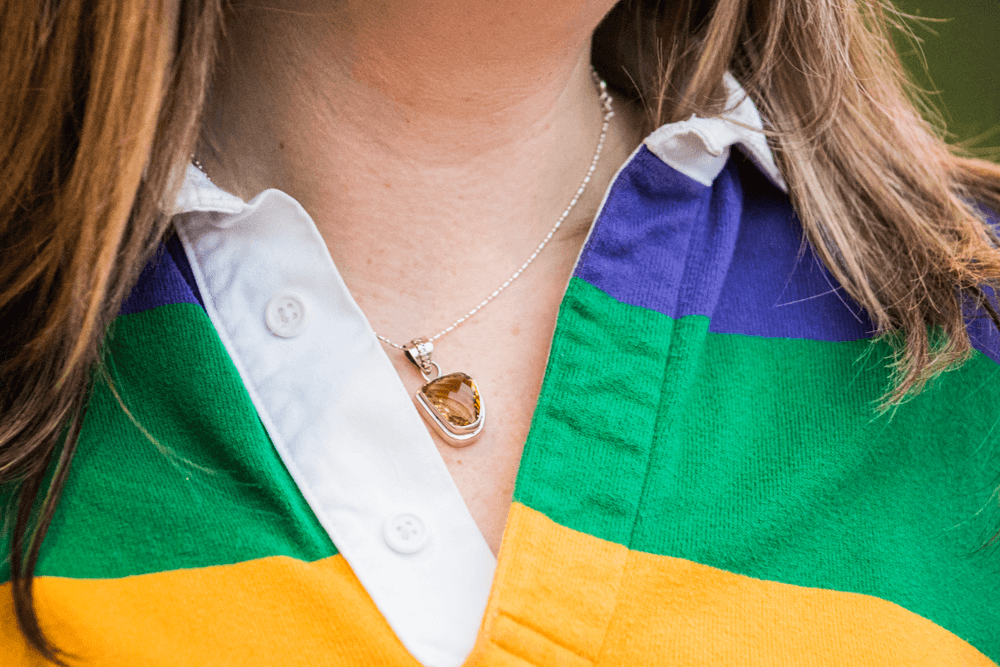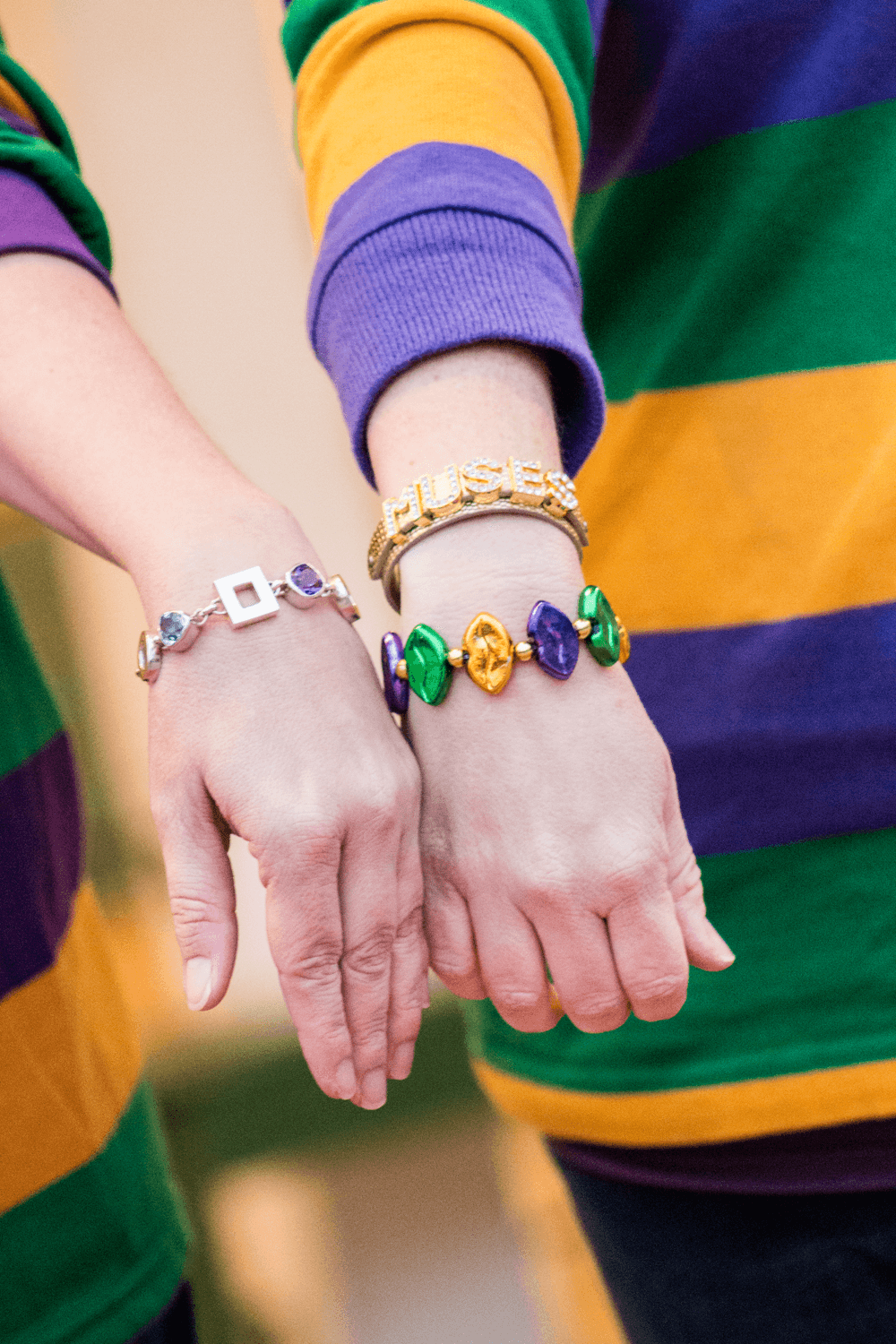 Part of the fun of Mardi Gras is mixing your favorite nice jewelry with the costume stuff. My bracelet and Aimee's necklace are from new Mandeville business Fancy Lulu. They offer beautiful artisan jewelry and a great price point. I love their stuff because I know exactly what I'm getting–genuine semi-precious stones and metals and that won't turn my skin funny colors.
So that's it, folks! Twelfth Night is tomorrow night and we hope you enjoy it as much as we enjoyed putting this post together for you. It's gonna be a great (if cold) Carnival!
The following two tabs change content below.
Hi, I'm Katy. Mom to four sweet boys ages 10, 6, 6, and 5. It's a loud, messy, chaotic life. I love connecting with other parents and am so glad you stopped by today!