My oldest son recently turned five, and he had very specific ideas about his birthday party. All of our birthday parties have been at our home, but he wanted to have this one at the Louisiana Children's Discovery Center in Hammond. The Discovery Center is one of his favorite places, and I said sure. I was a little concerned that people wouldn't want to make the drive, but no one really seemed to care. Even our friends from Chalmette came!
I didn't really know what to expect, but I walked away from the party very happy with our choice. We ended up getting a membership, which allowed us to get a much cheaper party rate. Plus, now we can go as much as we like–especially this summer when it's hot outside. The price included use of the party room for one hour, plastic tablecloths, a balloon bouquet and a gift for my son, unlimited play in the museum for all guests, and a party attendant. This was the most basic package. One thing I was concerned about was that the smaller package was for 30 guests – including adults. There was another package for 60 guests, but I had no idea how many adults and children would attend! If you go over your total, you're expected to pay museum admission for an extra guests. I was so confused as to what to choose! I called the Discovery Center, and they advised that if you're inviting mostly children, the smaller package would be fine, where as the larger package is good for when there are lots of adults to invite (like grandparents or extended family). We chose the package for 30, and it turned out fine. We ended up having about 35 guests, and the room was a little cramped, but it really wasn't bad.
When I arrived for the party, all I had to do was give our party supplies to our attendant, and she set up the whole room. It was so nice! I brought food for a snack buffet, but the room was actually too small. The attendant actually makes plates for the children (and adults, if they like), so I wish I had just brought apples and goldfish for the kids to munch on. I paid extra to have drinks supplied, which included Capri Suns for the kids and Coke/Diet Coke/Sprite for the adults. In hindsight it would have been much cheaper to just bring my own, but it was nice to have one less thing to bring with me.
For me, the party attendant was the best part of the day. She was wonderful! I didn't have to worry about a thing. The children played in the museum as they arrived, and when it was time, our attendant got on the intercom and had all the kids meet at the front desk. They paraded through the museum to the party room. All the food and drinks were ready, and when it was time, she cut and served the cake. They also bagged up all the gifts to take home. It couldn't have been easier! After cake and ice cream, the kids got to go play until they were ready to leave.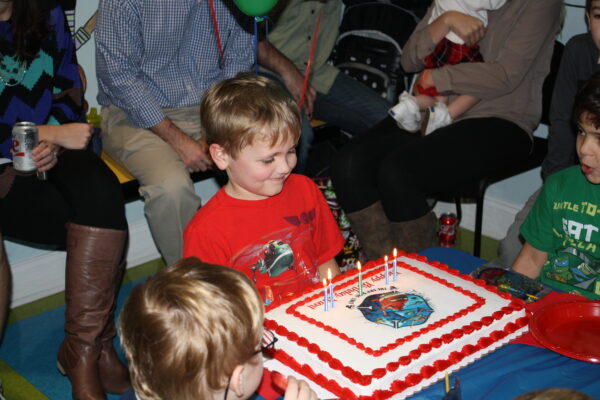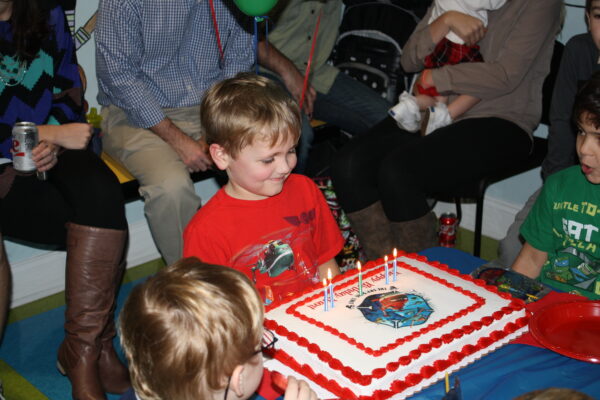 I have to say that this party was hands-down the least stressful party I've ever thrown. And most importantly, my son had a blast. I'd highly recommend the Discovery Center for a birthday party and am glad to have listened to my son and tried it!
Looking for more great ideas for birthday parties? Check out our birthday party guide that has tons of information on venues, cakes, decorations, and more. 
The following two tabs change content below.