Let's be honest. Being a new or expecting mother is not always easy. It can be physically and emotionally stressful in so many ways, even when you're over the moon about your new bundle of joy. But there are some great perks: buying baby clothes is pretty much one of the best things ever, and so is planning and decorating a nursery! Since we're focusing on new moms this month, I thought I'd share pictures of the two nurseries I created for my boys.
When our first son was born in 2009, we were renting a 100 year old home in the Lower Garden District in New Orleans. We lived there for his first year before moving to the Northshore. I loved that quirky old house! Just for fun, here's the "before" picture of our first nursery. We used this back bedroom as a storage room while we got settled. We'd only lived in this home for one month when we found out we were expecting! The former tenants had left tape up on the walls that I had to scratch off with a razor blade. There was also a huge unexplained hole in the wall not pictured. Good times!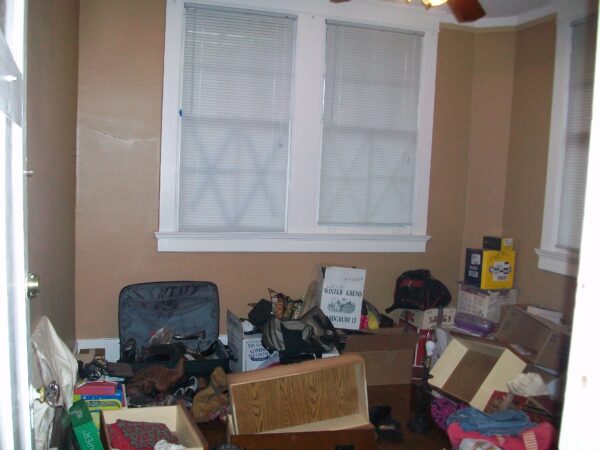 Yikes! These pictures were taken before I had a fancy camera! Brant's bedding was the first detail I picked out. I always think it's easier to choose fabric for a room first. I ordered the bedding from JC Penney, and they still sell it almost six years later! For his name sign, I took a piece of plywood and covered it with fabric. I then painted wooden letters and simply adhered them to the board. So easy! The crib was actually mine from when I was a baby, as was the little rocking chair that my mom painted.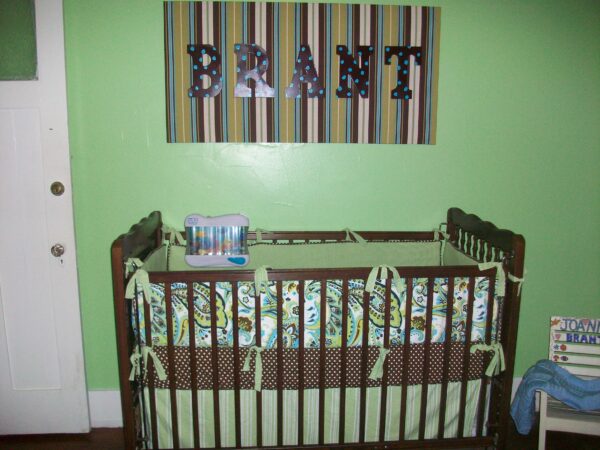 The glider in the corner was my mom's. It's actually a light blue color, but I covered it with fabric that matched our nursery. Don't be too impressed – I used a staple gun to do it! It was super easy. I also bought the dresser at an old junk shop in NOLA. It was hideous! It originally lived in a hotel and had holes drilled in the top from a mounted TV. I patched it up, primed it, and painted it. It's been painted several times since – it's now red and in his big boy room!
Another view of the nursery. The rug was purchased from Walmart for less than $100. The laundry hamper was originally light blue and belonged to my nephew until I spray painted it brown. (It's also gone through several colors since this picture was taken.) The bookcase is a cheap pressed wood piece purchased from Big Lots. I've been asked before if you can paint pressed wood, and the answer is yes! Just be sure to use a good primer first (I only use Zinsser primer). I painted the little picture frames, and art above the bookcase are framed tickets from when my husband's favorite baseball team, the Marlins, won the World Series.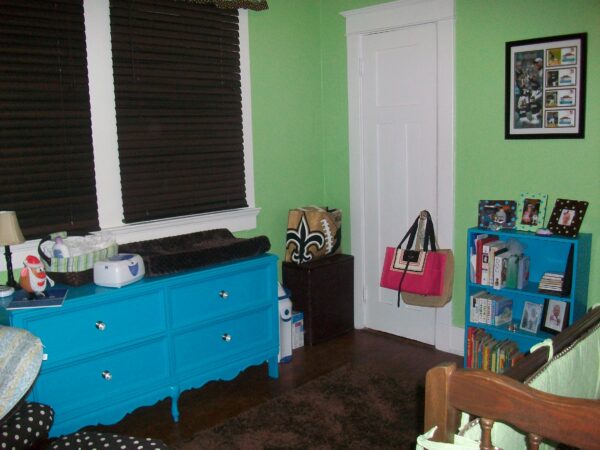 About two years ago I got pregnant again with another boy. By this time we were in our current home, and I was excited to decorate another nursery. I was determined to make another beautiful (to me) room on a budget. Here's the before picture from when we saw the house for the first time. I'm sure you're all sad to know that the red fan got kicked to the curb.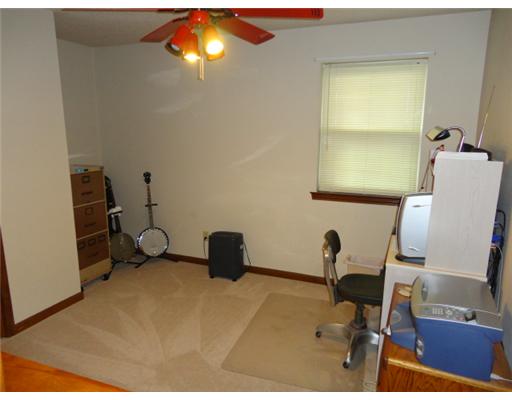 It took me a while to decide what I wanted to do, but it ended up being one of my favorite rooms in the house. The bedding was my big splurge of the room. I bought a Jenny Lind crib from Amazon and painted it navy blue. A friend of mine was so surprised that I would buy a brand new piece of furniture only to paint it, but it's what I wanted! I also worked for hours and hours cross stitching my son's name. It took a long time, but I love the way it looks once we got it professionally framed.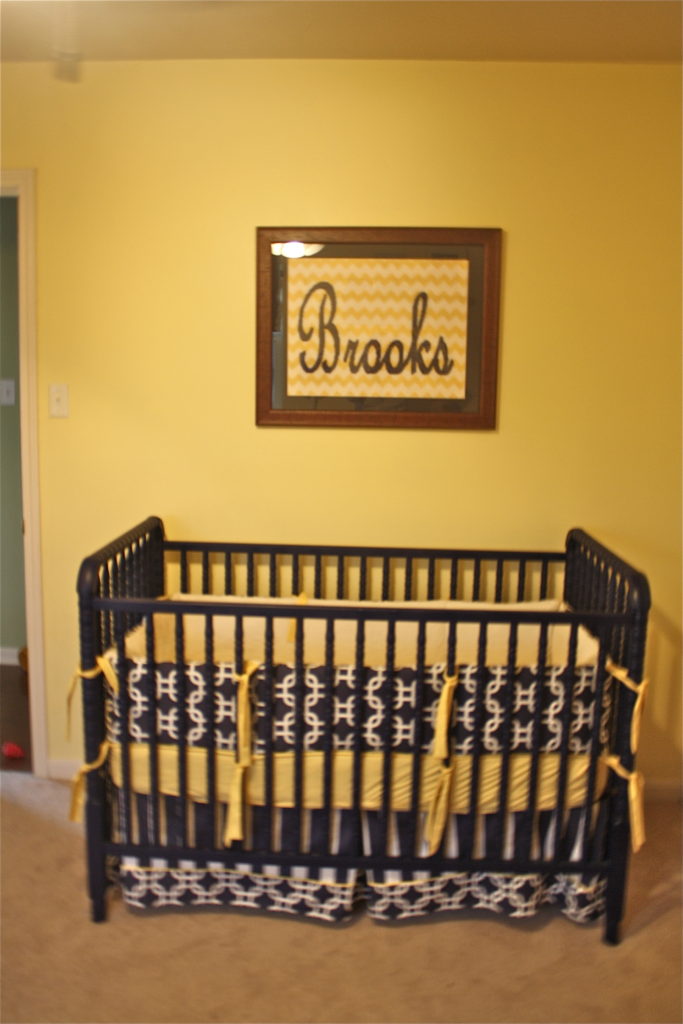 The dresser came from White Elephant, my favorite junk shop. I painted and glazed it and even did the same to the original hardware. It's one of my favorite pieces that I've ever worked on. I bought the shelf from Kirkland's, painted it, and used it to display some special books. The little flower arrangement was made by a close friend for my baby shower. I also hung up some sentimental outfits – the gown he wore home from the hospital and the bubble he wore for his dedication at church. My mom painted the Fat Albert painting (I'm from Pensacola, and my husband and I  love the Blue Angels. They actually inspired the color scheme!). I made the roman shade using fabric and blinds. I'm not going to lie – that was one of the more difficult projects I've ever done! Keeping those stripes straight about drove me nuts, but I do love the finished product.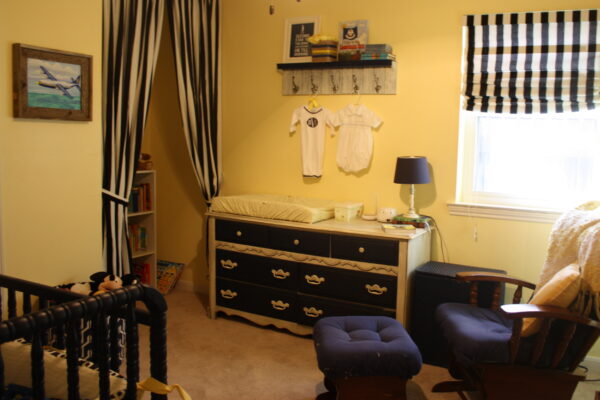 At first I was baffled by this little nook in the room. I'm not sure why the builder didn't just make the closet bigger, but it turned out to be a happy accident once I turned it into a reading nook! I made those curtains myself, thank you very much. I'm no seamstress, so if I can do it, anyone can. I made the B for his first birthday party and repurposed it in his room. I also sewed a navy and yellow pillow for the floor, but I got rid of it once I realized it actually hindered my crawling baby from getting to his books. I love pretty things, but I try to put function over form in our home, and especially in our kids' rooms.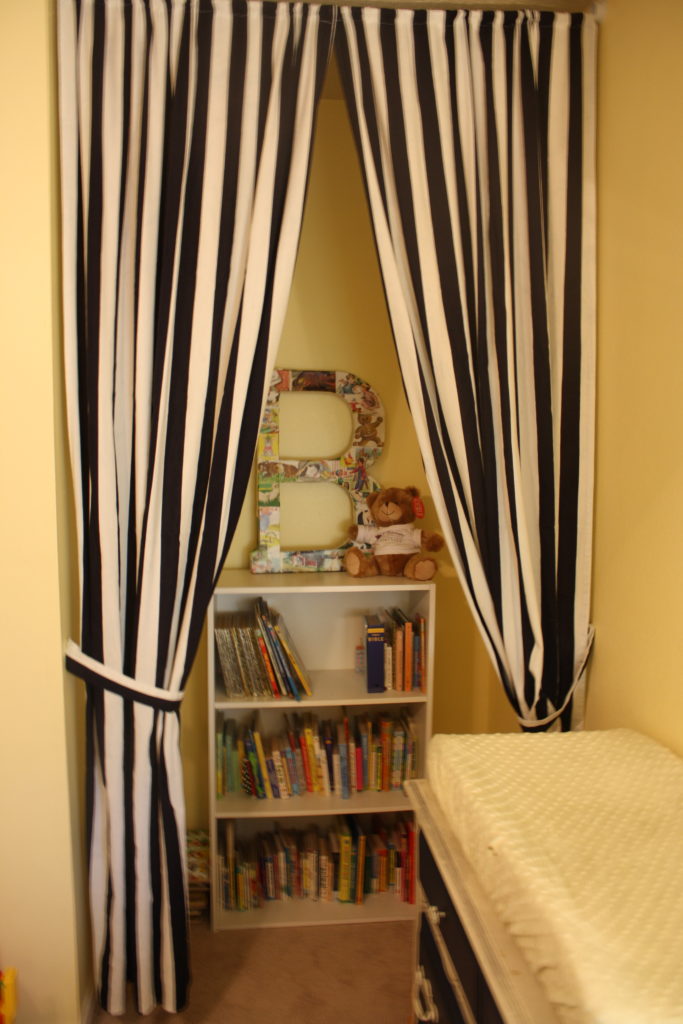 Once again I used my trusty staple gun to cover the glider. And there's the same laundry basket, now painted navy! That's even the same lamp base used in our first nursery, just painted and glazed with a new shade.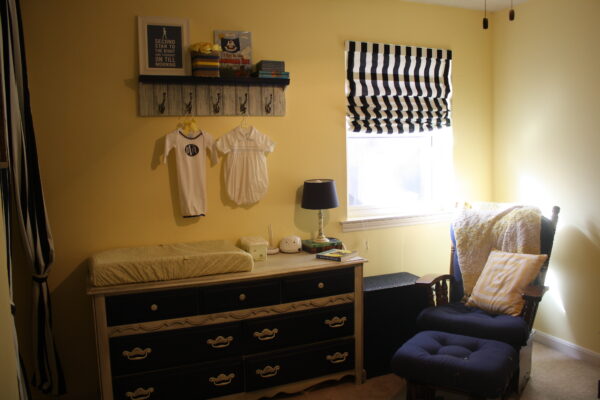 Well, I hope you enjoyed seeing my nurseries (and my pathetic photography skills)! If you don't have baby fever after this, I hope you at least have nursery fever!
The following two tabs change content below.