In my opinion, the Barn Hill Preserve Pumpkin Patch is 100% worth the drive. Located in Ethel, Louisiana, the Preserve is about an hour and a half to two hour drive, depending on where you live on the Northshore. I know that sounds a big daunting, especially if your kids are younger, but you really can make a full day of it. Last weekend my family and I decided to be spontaneous and make the drive and I'm so glad we did! We had a great time and definitely plan to make it a fall tradition.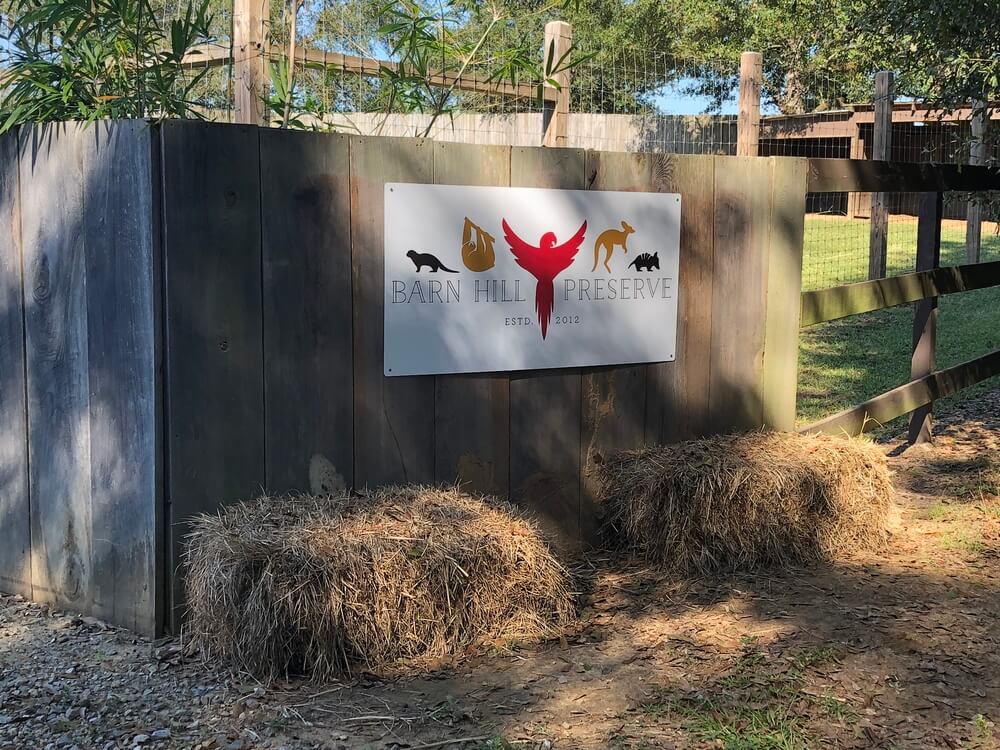 The pumpkin patch is open from 9:00-4:00 every Saturday and Sunday in October and November. Entry is $15 per person, which sounded a bit steep at first but I left feeling the price was justified. There were animal encounters, a corn pit, pumpkin painting, trick-or-treating, and lots of other activities.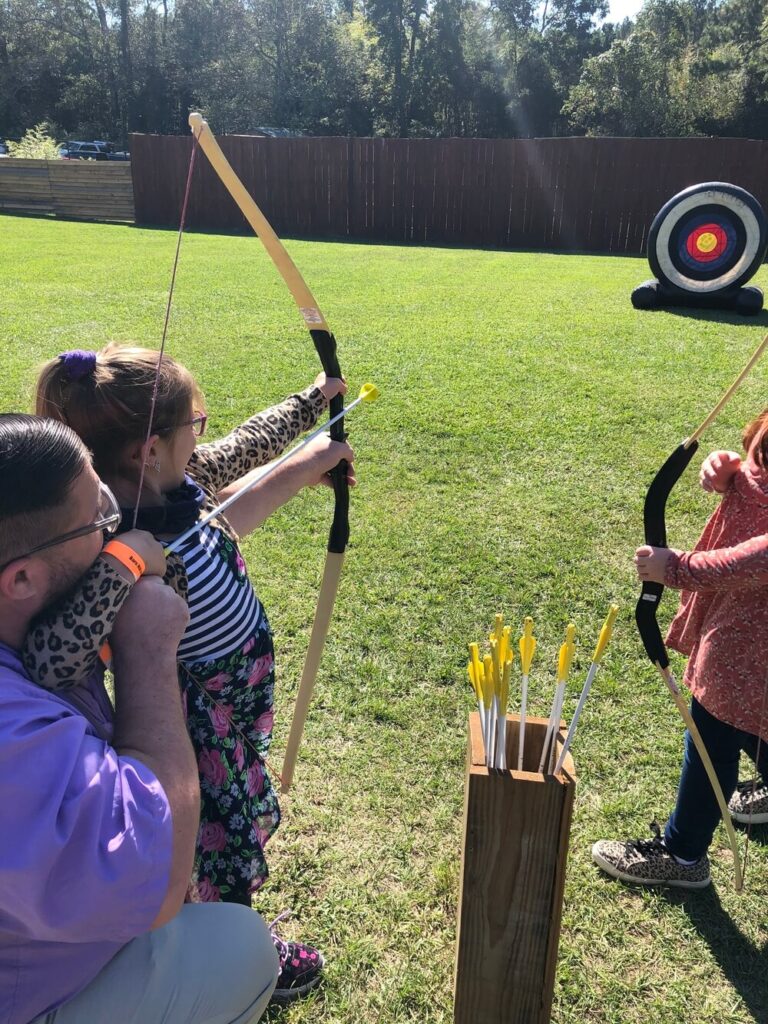 We arrived around 10:30 am and it only took us about 15 minutes to park and pay. There was a bit of a line to get in, but it moved quite efficiently. Upon getting to the front, I was pleasantly surprised to find they take both cash and card options, as I was unable to get a firm answer to this question on their website or social media before arriving.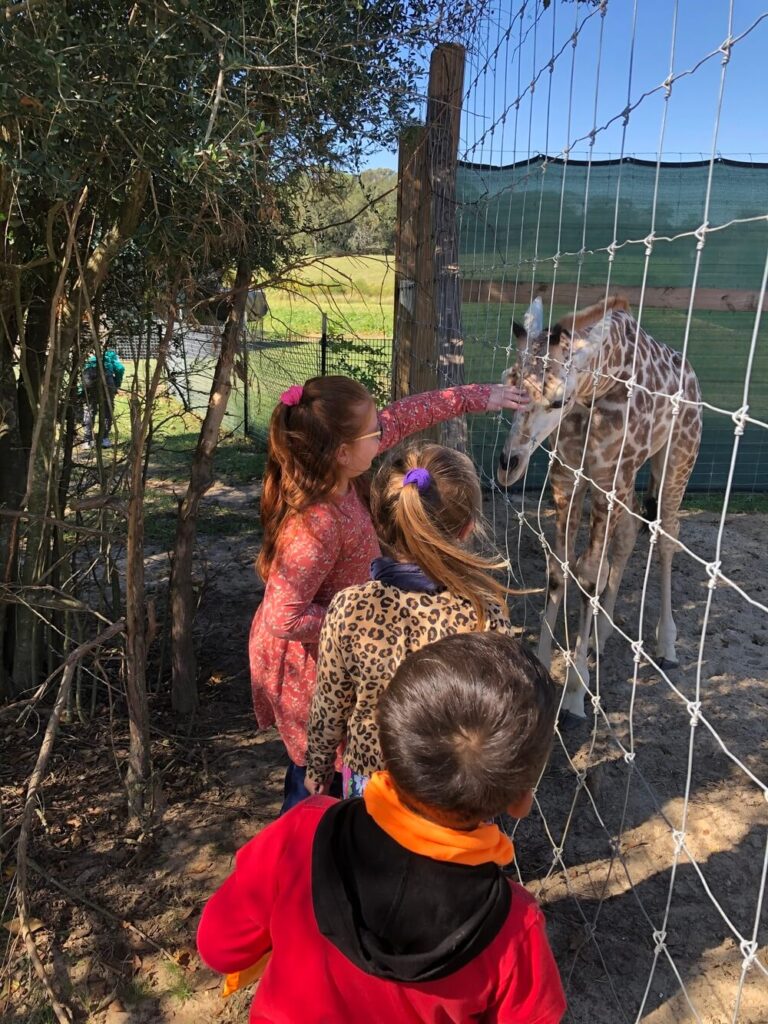 We started the day by practicing our archery, then enjoyed zoo-like enclosures featuring a lynx and a pair of very friendly otters. After that we found our way to the Kangaroo Walkabout, which we unanimously agreed was the highlight of our trip. Kids and the adults alike delighted in getting up close with baby goats, kangaroos, and even a giraffe! We even got to feed the baby goats, which was such a sweet experience.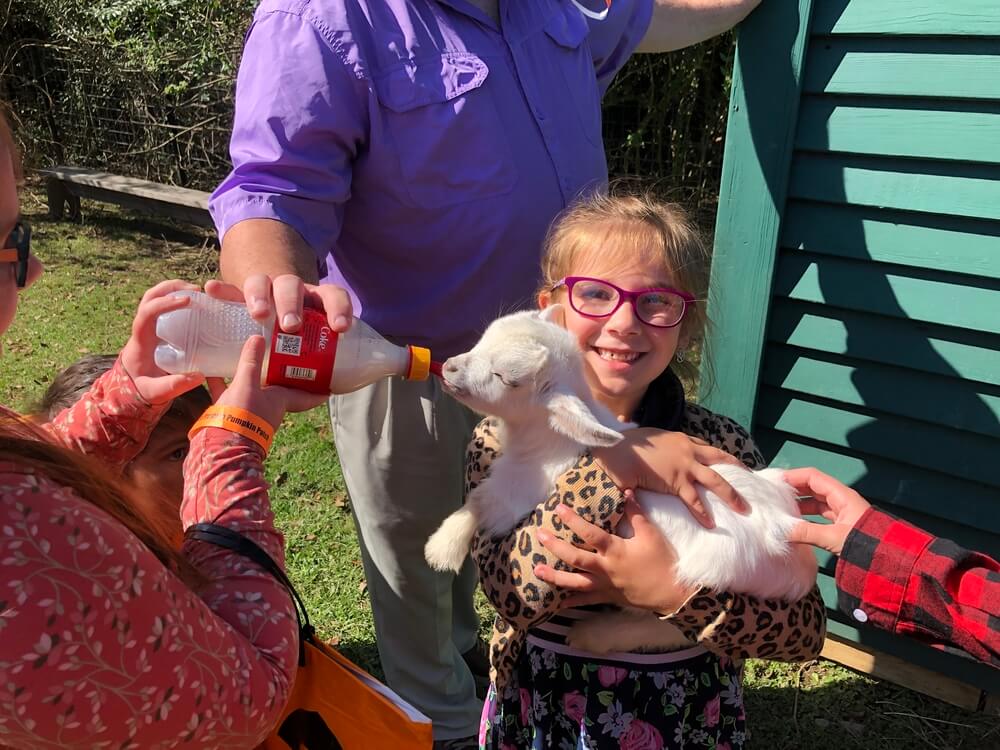 We then walked down a rocky path to the actual pumpkin patch, which had its ups and downs. From afar, it was beautiful. Between the stunningly perfect weather providing a cloudless blue sky, to the lovely bright greens and oranges of the pumpkins, it made for gorgeous photos. Up close, it was a bit less perfect; we were frequently side-stepping gooey smashed pumpkins and large ant piles. That said, in the end everyone found their perfect pumpkin. There were picnic tables set up where we could have painted them, but the thought of even semi-wet paint entering my vehicle was enough for me to veto that activity.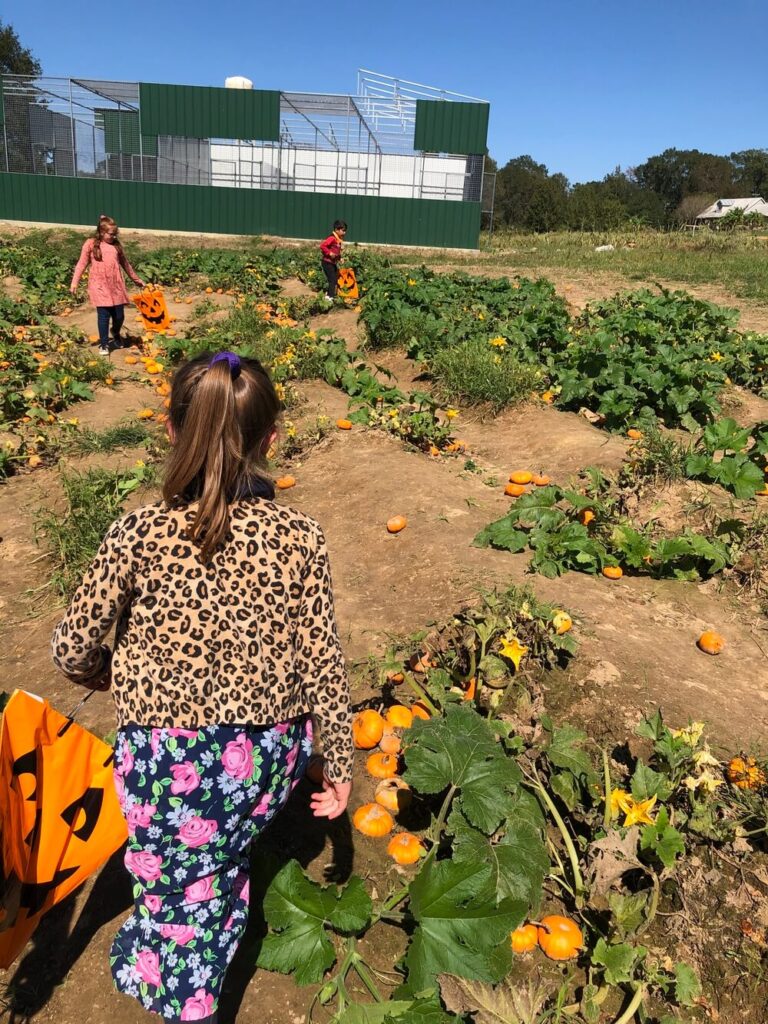 On-site food options limited, but the preserve does permit outside food and drink. We weren't sure what to expect, so we brought a picnic lunch. It was perfect and there were multiple options for seating. If picnics aren't your jam, they do offer freshly grilled hamburgers and cheeseburgers for $5 each. There was also a mobile bar on site serving coffee, tea, soft drinks, and mock-tails, as well as a selection of sweet treats.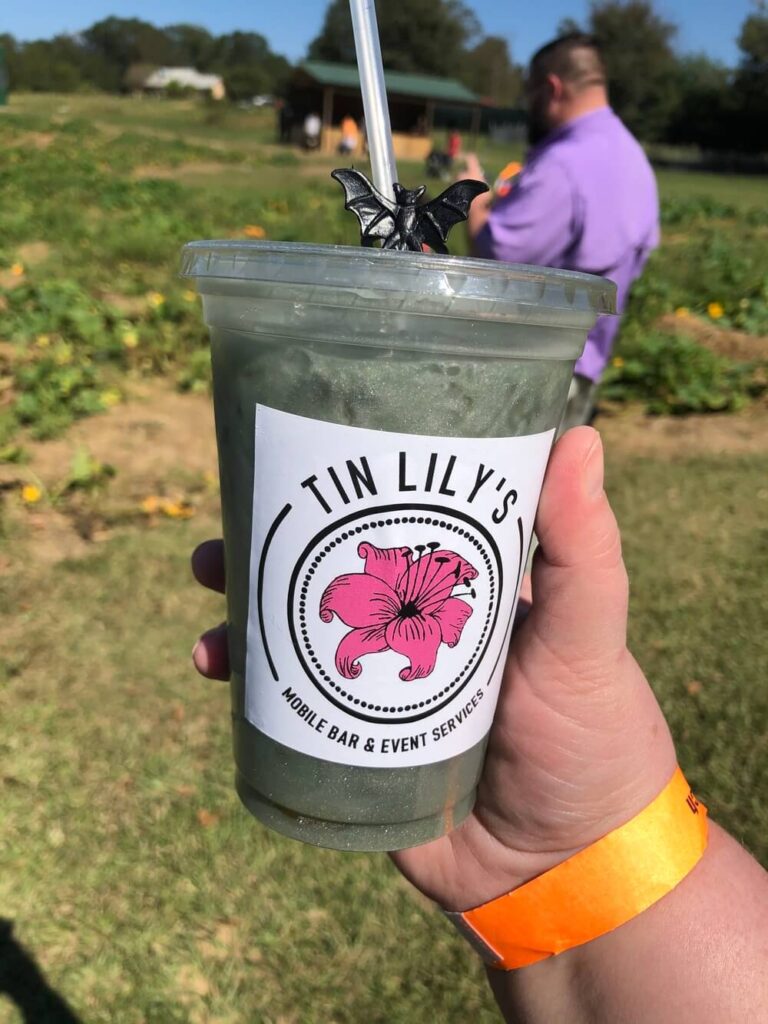 There were a few things I didn't love: like the only bathrooms being two portapotties at the entrance. I don't know about your kids but mine are terrified of the things, which caused us to make an early departure. There weren't any directions as to where to find things, like the animal show we got lucky and stumbled upon or the corn maze we never did locate. A map or signage would have been hugely helpful. Lastly, though the crowds weren't bad, people tended to bunch up around activities and it was difficult to social distance at times. More and more people arrived as the day went by, so my suggestion would be to arrive first thing on a Sunday morning to avoid the bigger crowd.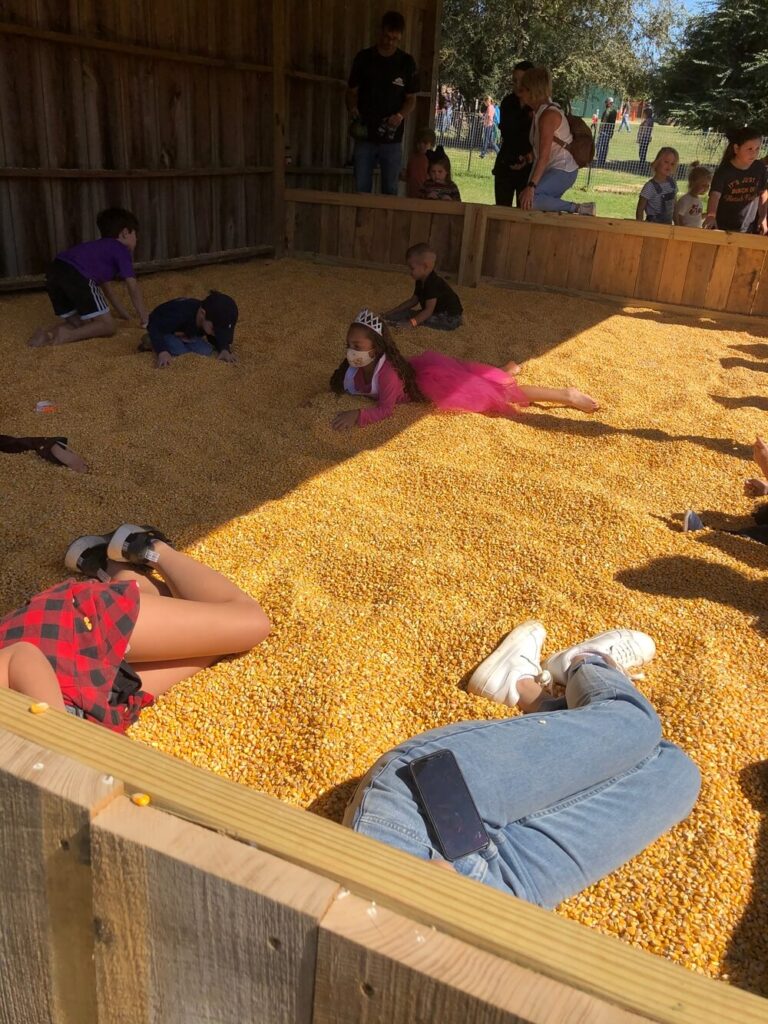 Overall, my family had a great time at Barn Hill Preserve's pumpkin patch! Our highlights were the Kangaroo Walkabout, the otters, and all the great photo ops. I'm looking forward to going again next year and having an even better time now that we have this experience under our belts! What do you think, would you make the drive?
The following two tabs change content below.
Hi there, I'm Christy! I am a Slidell native and currently live on the north side of town with my husband and our two girls, ages four and six. By day I manage for Panera Bread, and by night I bake and decorate for my home business, The Little Things Cakes. Thank you for stopping by and being a part of our parenting community!
Latest posts by Christy Broady (see all)