Southern Live Oaks
The south is full of magnificent oak trees–in fact, they are almost an emblem of the south. They set the scene for many a southern movie or TV show. Their long, beautiful branches grow down and then up giving them their unmistakable look.
Live oaks can live a very long time. Some live oaks are estimated to have lived for hundred or even a thousand years which is pretty amazing if you think about it. They have to survive droughts, floods, hurricanes, and tornadoes to live that long.
The Largest Oak Tree in the United States
But it was only a few years ago when I heard that the largest Oak Tree in the United States is actually located right here in Mandeville, Louisiana. Pretty cool, huh?
The largest Oak Tree in the United States (currently) is called the Seven Sisters Oak Tree. It was originally called Doby's Seven Sisters when the Doby family owned the property but it has since been renamed. It is the "president" of the Live Oak Society which means it is the largest Oak Tree registered with them.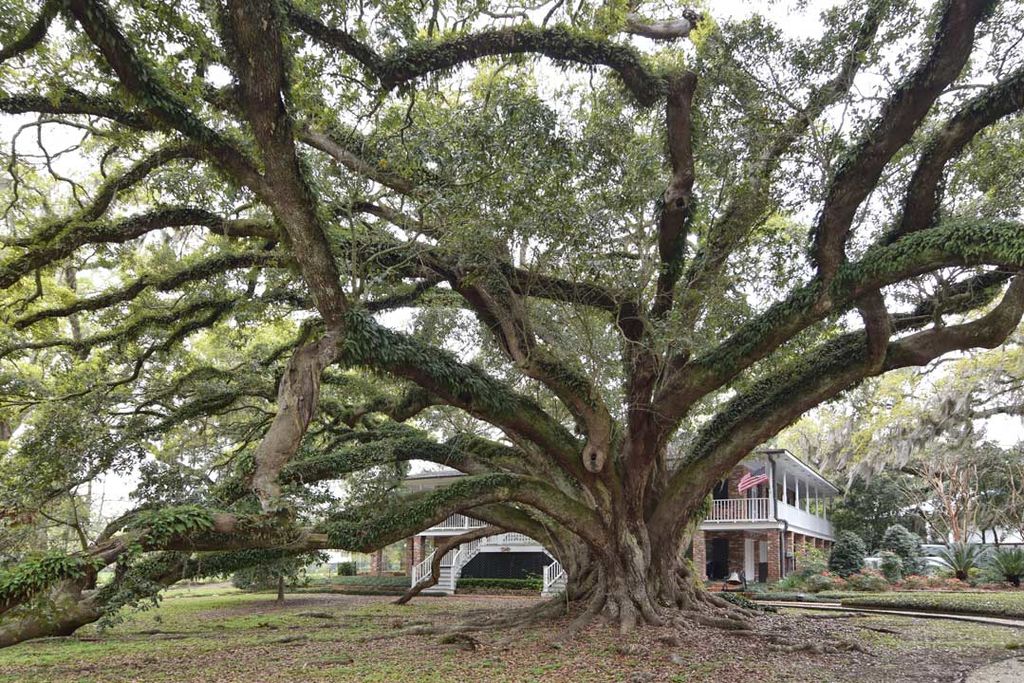 How Big is the Seven Sisters Oak?
At last measurement, the Seven Sisters Oak Tree was thirty-nine feet around and fifty-seven feet high. The limb spread is greater than one hundred fifty-three feet. Foresters estimate it to be about 1200 years old! At one time it was suspected that the tree was actual several trees that had grown together but a study done in the 1970s disproved this theory.
Where is the Seven Sisters Oak Located?
If you want to visit the Seven Sisters Oak Tree, unfortunately it is located on private property. You CAN see it from the street, however. It is located in the Lewisburg neighborhood right near the lake. If you drive down Fountain Street towards the lake, you will see it on your right. There are a couple of large Oaks on the property so look for the biggest one! It's fairly close to the house on the property as well. Be a good citizen and do not trespass!
This might be a fun drive to take if you're tired of being cooped up in the house. You can go see the largest Oak in the US and not even leave the comfort of your car!
The following two tabs change content below.
Hi, I'm Katy. Mom to four sweet boys ages 10, 6, 6, and 5. It's a loud, messy, chaotic life. I love connecting with other parents and am so glad you stopped by today!