Maybe you've seen the sign on Highway 59. Maybe you've even driven past. It's possible you've meant to go for years but just haven't made it over. In that case, now may be the time. Or this summer when you're looking for something to do with the kids. I think I can safely say that I've never seen anything quite like the Abita Mystery House. I brought our writer Sunnie along with me to shoot video and she described it as "weird, dirty, magical, and inspiring." That seems accurate.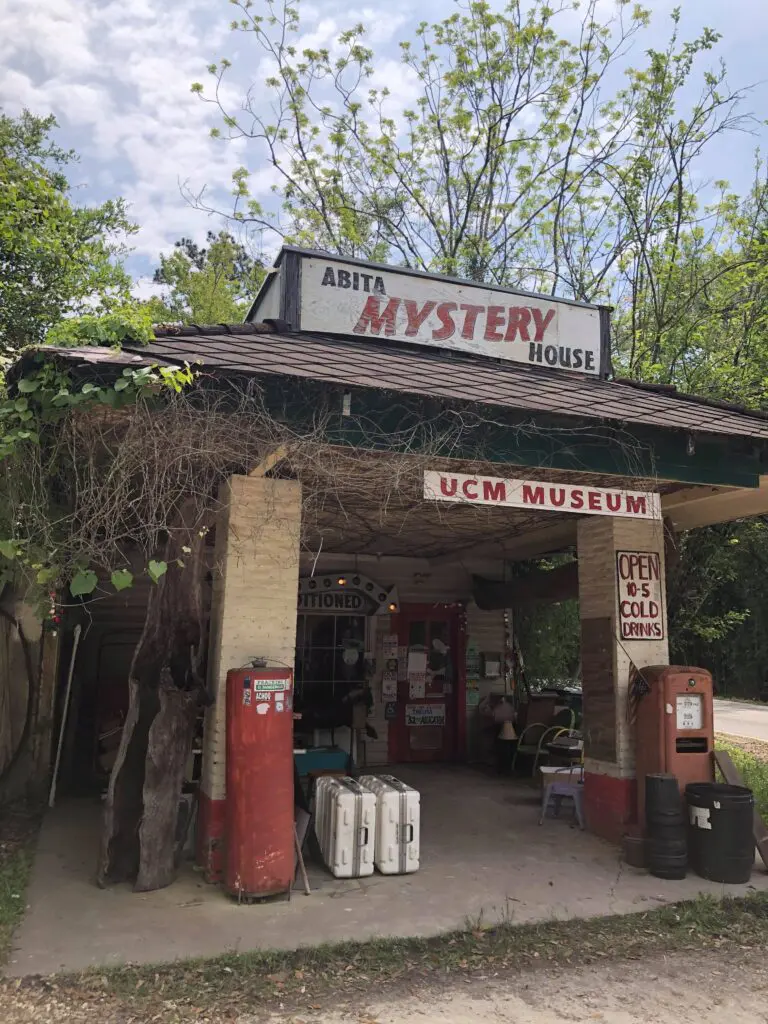 Who Created the Abita Mystery House?
The Mystery House itself is the brain child of John Preble, a local artist and musician who has lived in Abita Springs since the 1970s. When we visited the Mystery House he was hanging out in the gift shop so we got a chance to chat with him a little.
What's Inside the Abita Mystery House?
The main exhibits of the Mystery House are these tiny scenes under glass. You press a button and the scene comes to life in some way. My favorite was a trailer park with a huge swirling tornado, but there scenes of all kinds and the little one with us enjoyed pressing all the buttons. The Mystery House, however, has a lot more than this. The walls and even the ceilings are covered with what most of us would call junk but it somehow takes on a magical quality under the arranging of Mr. Preble. You might find a ceiling covered with old keyboards or a a display of fifty bottle caps. There are old video games (bring a few quarters because you kids will desperately want to play a few). The are probably hundreds of paint by number paintings from the 1950s.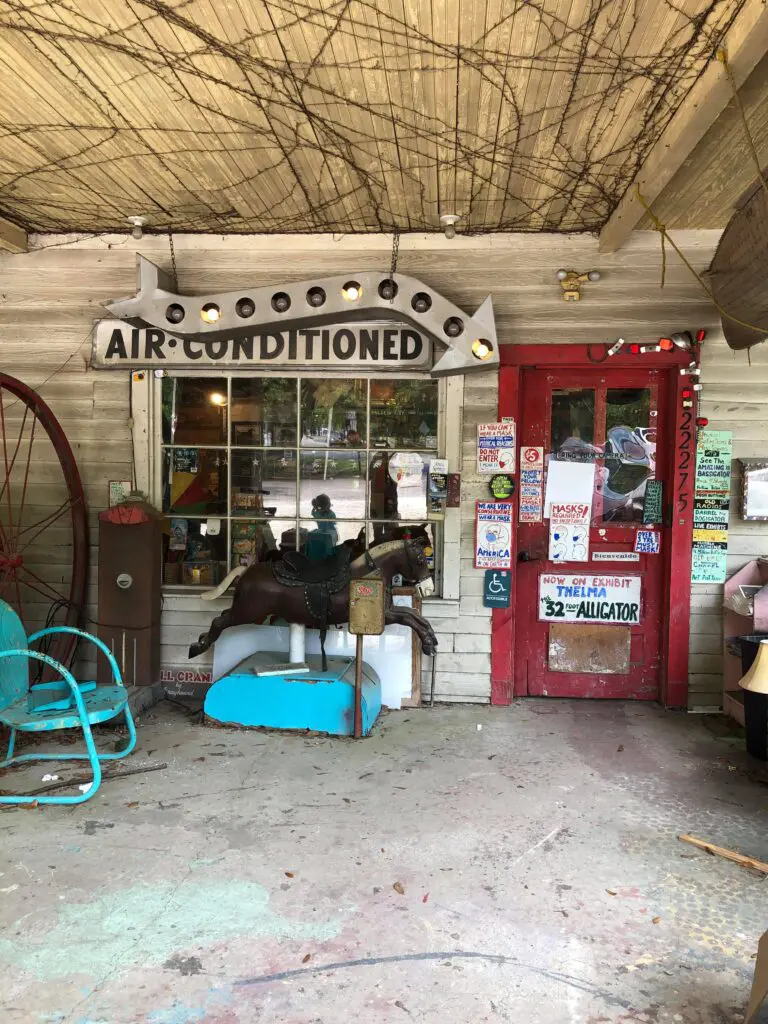 There are a large number of alligator sculptures that have been turned into something else. For instance, a squirrel-a-gator. There's an impossibly large alligator outside–I assume it was too big to fit inside. There are also many robots made of junk. Children in the elementary school will probably enjoy finding all of these strange and wonderful items and pointing them out to you. If you are a homeschooler I can see this being a jumping off point for making your own delightful creations out of "junk."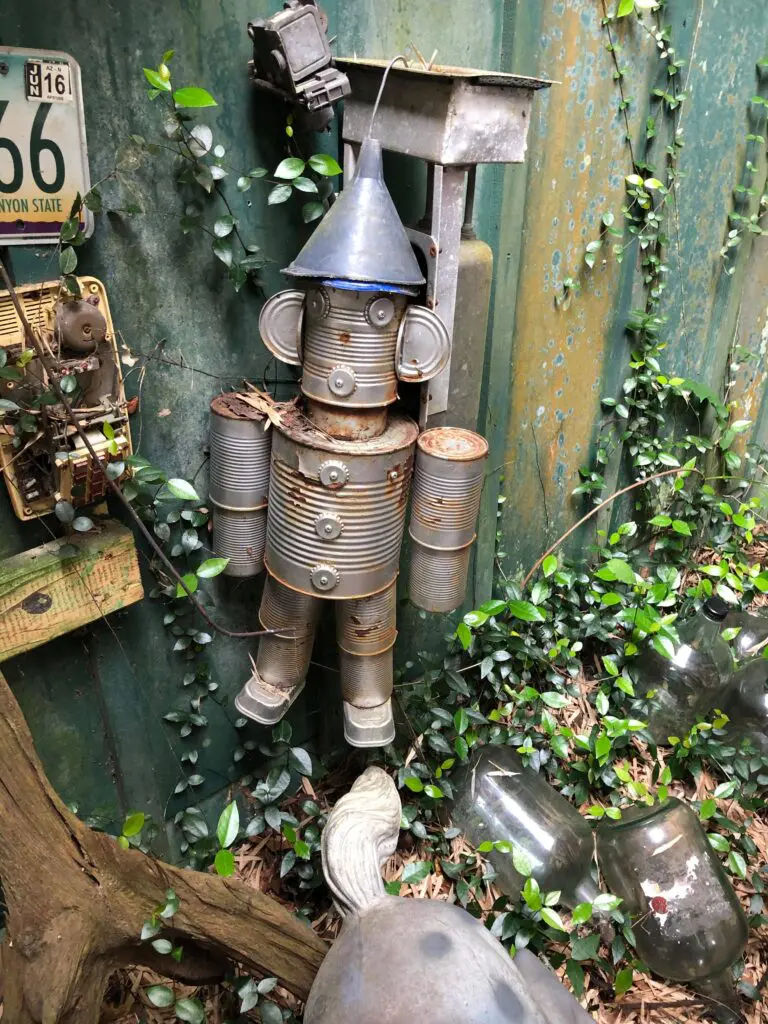 How Much Time Does it Take to See the Abita Mystery House?
I am sure that I haven't done a great job of describing the place. It's pretty indescribable! I do think that most people will get its humor and wackiness and find something about it that they enjoy. It's probably a great place for tome instagram photographs as well. You should budget anywhere from 1-2 hours for you visit to the Mystery House.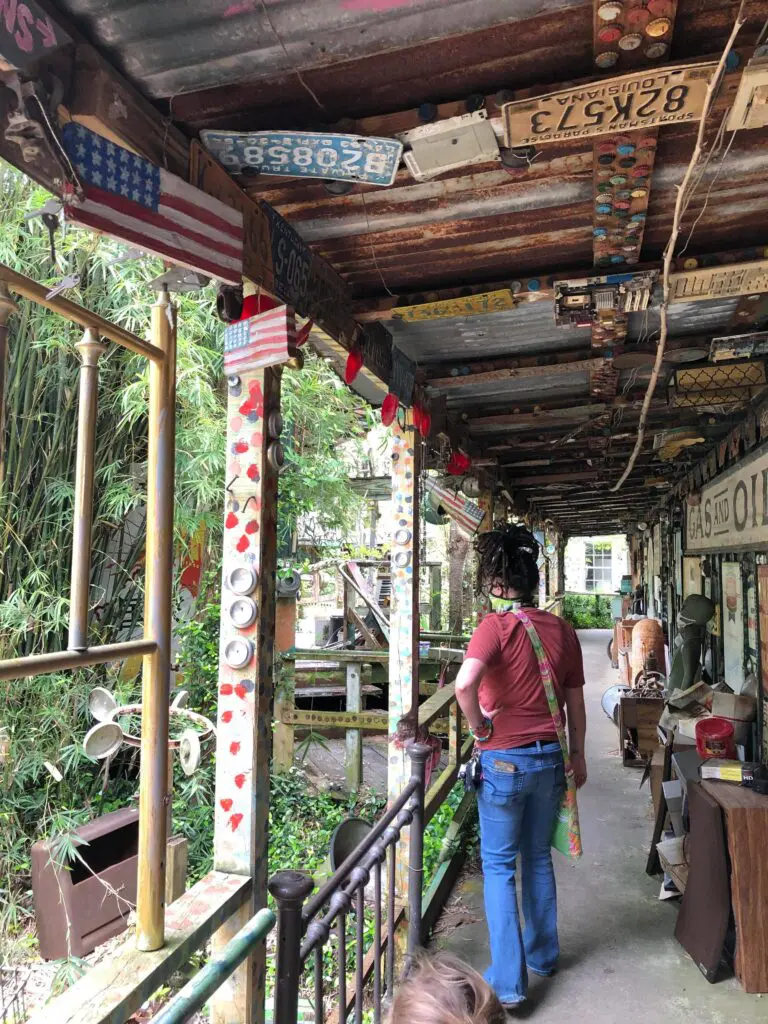 What is there to Eat Near the Mystery House?
There is a little picnic table in the yard inside the Mystery House but I didn't ask if you could bring food or drink in. There are three little restaurants in Abita that you could have lunch in: Abita Cafe, Abita Brew Pub, and Mama D's Pizza. All are good but the Cafe is my personal favorite.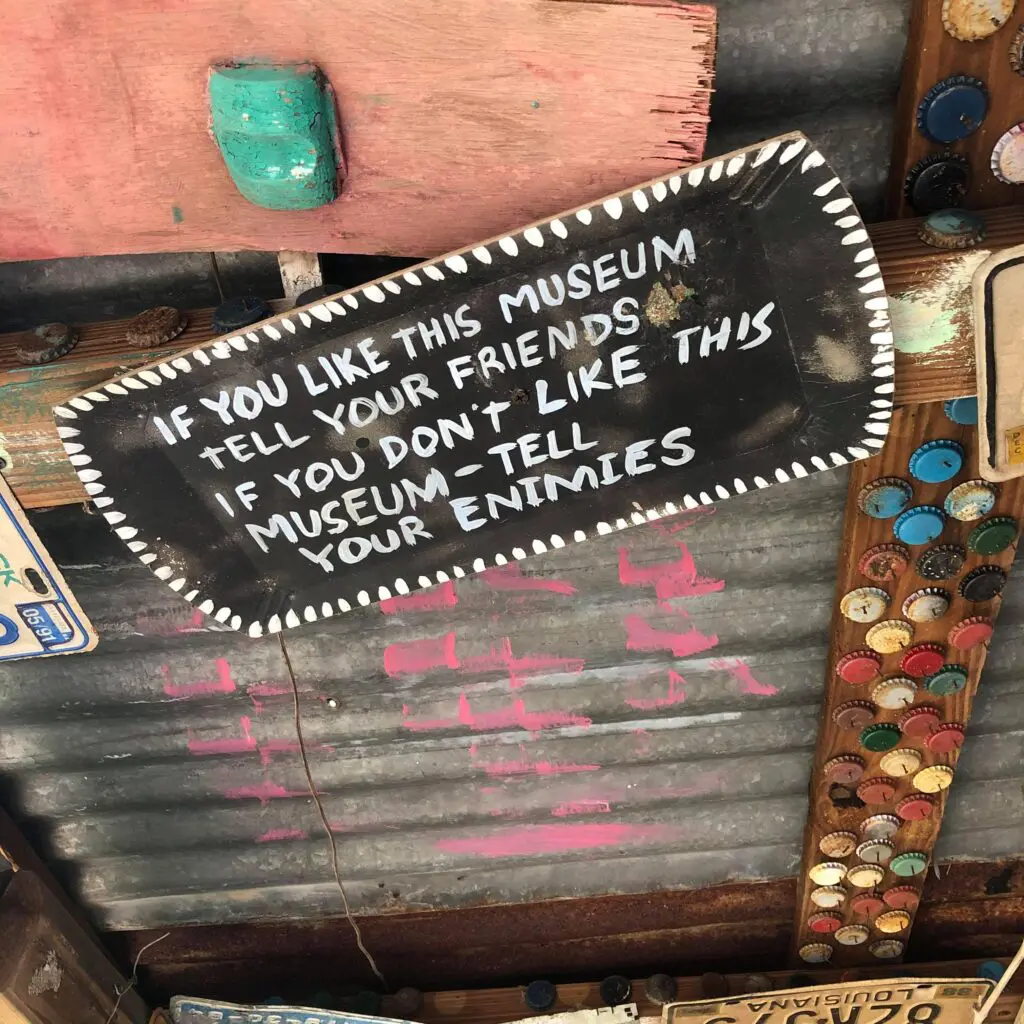 Other Attractions Near the Abita Mystery House
The Abita Trailhead Museum is just a few blocks away and has rotating exhibits and information about the town of Abita Springs. It's free to visit and there is also a playground and seasonal splash pad in that area.
There are brewery tours available at the Abita Brewery on Highway 36. This is about five minutes from the Abita Mystery House
Insta-Gator Ranch is an Alligator farm located about eight minutes from the Mystery House.
The following two tabs change content below.
Hi, I'm Katy. Mom to four sweet boys ages 10, 6, 6, and 5. It's a loud, messy, chaotic life. I love connecting with other parents and am so glad you stopped by today!